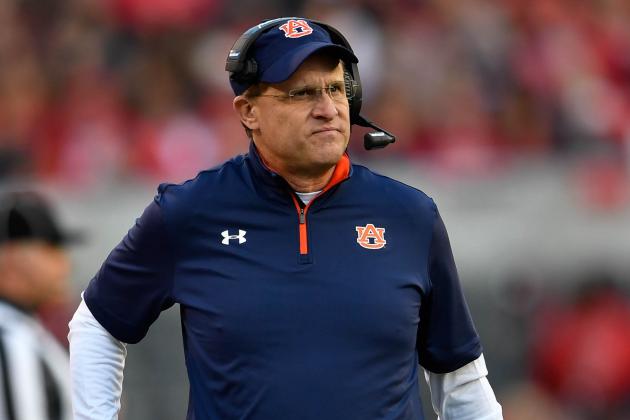 Dale Zanine-USA TODAY Sports
Auburn head coach Gus Malzahn
Saturday morning, Auburn controlled its SEC West and College Football Playoff destiny.
By Saturday night, Auburn not only had both of those dreams dashed by Georgia, but it became the punchline to every bad offensive joke.
The Tigers managed just 164 yards in the 13-7 loss to Georgia, went three-and-out five times in the second half and had its other two drives result in a pick-six to open the half and a four-and-out on its last drive of the game.
"Our defense played outstanding, but our offense didn't get it done today," head coach Gus Malzahn said in emailed quotes following the game. "It's as simple as that. We didn't get a first down in the second half. Give them credit, they had a good plan, but we didn't do a good job executing and doing the things that we need to do. Third downs, 2-of-12 on third downs, obviously that was the worst of the year. We just didn't make any explosive plays."
Can Auburn embrace the role of national title spoiler when it faces intrastate rival Alabama—which clinched the SEC West by virtue of Auburn's loss—in Tuscaloosa in two weeks?
Nope.
Yes, Auburn's loss on Saturday was without the SEC's leading rusher in Kamryn Pettway, who missed the game with a leg injury suffered late in last week's win over Vanderbilt. It was with a quarterback in Sean White, who not only was fighting through a shoulder injury that clearly hadn't healed but was rattled by a Georgia front seven that was getting consistent pressure. It was also with wide receivers who were plagued by drops—perhaps shocked that the ball was even getting there in the first place.
As Charles Goldberg of Auburn's official site noted on Twitter, White's injury was a big factor in its offensive ineptitude:
Gus Malzahn said quarterback Sean White didn't throw to his receivers in practice for the second straight week. 'He's not 100 percent.'

— Auburn Gold Mine (@AUGoldMine) November 13, 2016
With Alabama A&M as the hangover game following the Georgia embarrassment, Auburn has two weeks to get healthy and dial up something different for its bitter rival.
But if getting healthy is the first priority, this is going to get ugly in Bryant-Denny Stadium.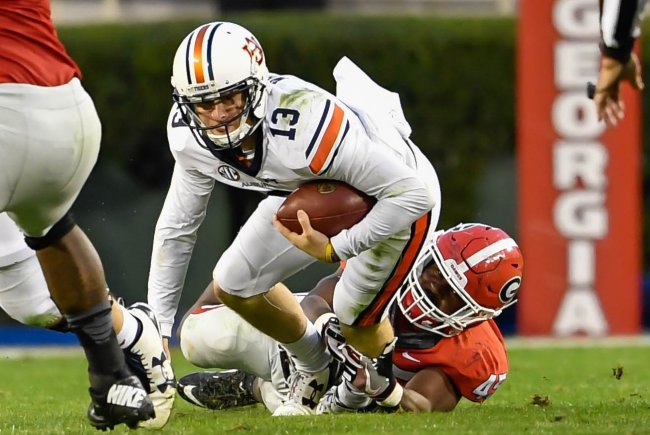 Dale Zanine-USA TODAY Sports
It was clear that White hadn't thrown in practice, because his timing with his wide receivers was off all night. How will the 20 passes, and hits that he took versus Georgia, impact his practice time next week and during Iron Bowl prep?
Probably not well.
Pettway is even more critical, and his absence was obvious on Saturday.
"It changed, but we've been pretty good on offense this year," Malzahn said in emailed quotes. "It's kind of a 'next man up' mentality. I think [Johnson] ran hard. He did some good stuff. We just never got in a rhythm. We never got in our pace. We were fighting uphill offensively."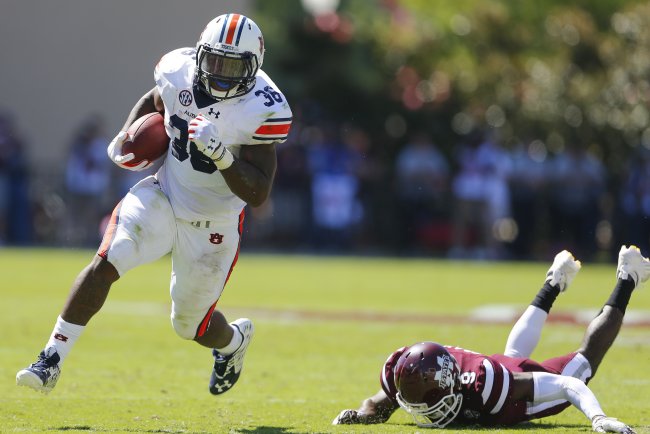 Butch Dill/Getty Images
With its big 240-pound bruiser at full strength, Auburn's multidimensional rushing attack can mask many of its deficiencies in the passing game. Other than the obvious benefit of administering a pounding to the center of any defensive line, it allows fellow running back Kerryon Johnson—who is not at 100 percent while nursing an ankle injury—to settle in to a more suitable role as an edge threat.
That recipe is the one that, through October, had Auburn on a similar rushing game progression that the 2013 Tigers had despite not having the threat of a mobile quarterback this year. It stretched defenses side to side while also wearing out the interior with Pettway—essentially achieving the same goal as it did in 2013 when Nick Marshall thrived as a running quarterback for the Tigers.
Injuries changed that.
That won't be good enough to beat Alabama, though. With lateral threats in the front seven, including end Jonathan Allen and linebackers Tim Williams and Ryan Anderson, the Crimson Tide is built to shut down teams that thrive with multidimensional running threats.
Just take a look at what the Tide did to Mississippi State on Saturday.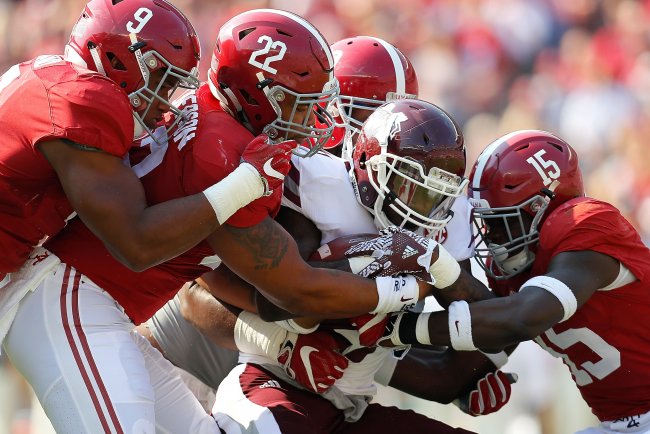 Kevin C. Cox/Getty Images
Bulldog quarterback Nick Fitzgerald was fresh off three straight 100-yard rushing performances but managed just 15 on Saturday, and the Bulldogs as a team gained just 94—2.7 yards per carry.
That offense does the same thing as Auburn's, even though White is not as much of a threat to run. The use of tempo, motion and multiple power and edge options off every play are all common goals that Mississippi State and Auburn share.
Auburn ruined its own SEC West and playoff champions by laying an offensive egg in Athens.
With a battered quarterback, a bruised running back and confidence that disappeared, Auburn's chances to play spoiler in two weeks in its state championship game versus Alabama seem about as likely as getting a first down in the second half in Athens.
Even if the unthinkable happened and Auburn were as able to spring the upset, Alabama would still have a chance to impress the selection committee in the SEC Championship Game the following week.
Clemson's loss to Pitt on Saturday changed the landscape of college football and made the job of the College Football Playoff selection committee more difficult. No longer is the picture as clear as it was with four undefeated Power Five teams. Now it must choose at least one "flawed" team from a major conference.
If that team is a one-loss Alabama, which stumbled to its rival but rebounded for the SEC title, that's probably a championship-caliber resume this year.
That stumble isn't happening, though.
Not with Auburn's offense in shambles.
Quotes obtained firsthand unless otherwise noted. Statistics courtesy of CFBStats unless otherwise noted. All recruiting information is courtesy of Scout. Odds provided by Odds Shark.
Barrett Sallee is the lead SEC college football writer and national college football video analyst for Bleacher Report, as well as a host on Bleacher Report Radio on SiriusXM 83. Follow Barrett on Twitter @BarrettSallee.