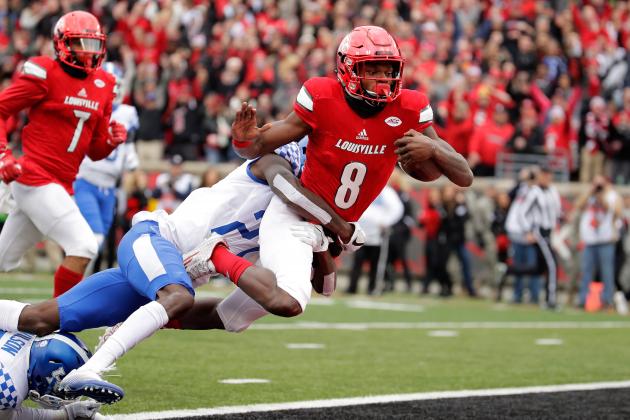 Andy Lyons/Getty Images
Will Lamar Jackson get tackled from behind in the race for the Heisman?
In Week 13 of the college football season, we're thankful for overtime games at the Horseshoe, Lamar Jackson's ability to look incredible even in defeat and all of the points between Syracuse and Pittsburgh.
But not everyone is feeling grateful this holiday weekend.
Ole Miss, SMU, North Texas, Arizona State and Texas all dropped to 5-7 after suffering losses by a margin of at least three touchdowns. Texas and North Texas still have a chance to play in a bowl game based on APR score, but they won't take any momentum with them into the postseason.
Elsewhere, Auburn became the fourth consecutive team Alabama held without a touchdown, Adoree' Jackson scored all sorts of TDs against Notre Dame, and the Big Ten is still looking good to send two teams to the College Football Playoff.
With only 17 games left before bowl season, there were winners and losers left and right in Week 13. We'll continue updating this list until the end of the Massachusetts vs. Hawaii tilt. Brownie points for anyone on the East Coast who makes it that late into the night.
Gregory Shamus/Getty Images
Curtis Samuel was the hero for Ohio State.
It wasn't the prettiest game, but it sure was fun.
For most of regulation, Ohio State's best source of offense was Michigan quarterback Wilton Speight's penchant for throwing the ball to the wrong team. Malik Hooker got his third pick-six of the season on a play-action pass from the end zone. Then, late in the third quarter, Speight set up the Buckeyes for their second score of the day when Jerome Baker intercepted a pass and returned it to the Michigan 13-yard line.
Michigan's two touchdown drives in regulation weren't that much more impressive. One was jump-started by a 44-yard Jabrill Peppers kickoff return, and the other only required 22 yards after a bizarre decision by Buckeyes head coach Urban Meyer to fake a punt inside his 20.
Ohio State's usually reliable Tyler Durbin missed two chip-shot field goals, but he drained a 23-yarder to force overtime. Once there, Ohio State remembered how to move the ball, scoring two touchdowns in the span of seven plays.
Quarterback J.T. Barrett was responsible for most of Ohio State's yards from scrimmage, throwing the ball 32 times and rushing 30 others for a combined 249 yards. But when it mattered most, Curtis Samuel was OSU's savior.
Samuel had the 18-yard run to set up the touchdown in the first overtime. And he had quite possibly the most incredible eight-yard gain in college football history, changing directions and running backward multiple times to set up a 4th-and-inches. And it was Samuel who scampered in from 15 yards out to (presumably) clinch a spot in the College Football Playoff for the Buckeyes.
On the flip side of that coin, Michigan will likely need to settle for a trip to the Rose Bowl. Despite wins over No. 6 Wisconsin, No. 7 Penn State and No. 9 Colorado, UM won't get in with two losses and no conference championship.
Maybe the Wolverines will get lucky with chaos in the ACC and Pac-12 title games and the effective Big 12 title tilt between Oklahoma and Oklahoma State, but that's their only hope to get back into the Top Four in the final rankings.
Associated Press
Tyrell Goodman used to be the best WR for the Zips. He has struggled as their QB.
One month ago, Akron was 5-3 and in great shape for a bowl berth. But after the team lost starting quarterback Thomas Woodson to a shoulder injury, backup QB Tra'Von Chapman to a neck injury and three consecutive games, it was up to senior wide receiver Tyrell Goodman to guide this team to the postseason in a road contest against Ohio.
It didn't go well.
Goodman avoided committing any turnovers, but Akron's offense couldn't make a dent in Ohio's defense until it was too late. The Zips didn't have a first-half drive go for more than 22 yards and finished the game with twice as many punts as points (6-3).
Shockingly, defense kept the Zips in it. They had given up at least 38 points in each of their six losses, but they managed to hold Ohio to a season-low nine points. Ohio moved the ball a bit better than Akron, but that's the equivalent of saying a turtle is better at sprinting than a snail. Neither team did much of anything until a string of four straight solid drives in the fourth quarter.
In the end, Akron had a chance to win and probably should have.
Goodman hit JoJo Natson in the end zone for what appeared to be the go-ahead score, but he went up so high and awkwardly for the ball that he was unable to hang on to it. Ohio took over on downs one play later and took one knee to seal the 9-3 victory, clinching the MAC East Division and shutting Akron out of bowl season.
Associated Press
No. 6 Rokeem Williams helped Miami win its sixth straight game after starting the season 0-6.
Do you suppose getting quarterback Gus Ragland back from a torn ACL was an important moment in Miami's season?
Prior to Ragland's return, the RedHawks were 0-6 and averaging a mere 17.0 points per game. Most of those games were against teams that eventually became bowl-eligible, but they even lost to FCS school Eastern Illinois. Since getting him back, though, they are 6-0 and averaging 29.8 points per game.
Their passing yardage is actually worse during the six-game winning streak (212.3) than it was during the losing streak (243.5), but Ragland kept them from turning the ball over, throwing 15 touchdowns without an interception. They committed 14 turnovers in the first six games but only coughed it up four times in their last six, including a turnover-free game against Ball State on Tuesday night.
Ragland threw for a career-high 380 yards with three touchdowns in the 21-20 win. Fifth-year senior wide receiver Rokeem Williams had 130 yards and no touchdowns in Miami's previous nine games, but he saved his best for last, hauling in six catches for 145 yards and two scores.
But it was seldom-used Sam Shisso with the game-winning, bowl-clinching catch. The senior entered the day with 12 receptions in his entire career, but he had a 27-yard touchdown grab on 3rd-and-14 to help give the RedHawks the 21-20 lead with 5:44 remaining.
Just like that, Miami became the first team to ever win six games in a season after losing its first six. Teams with .500 records usually aren't expected to do much in bowl games, but we may need to adjust presuppositions for this one.
Associated Press
Jake Browning and Washington had the Apple Cup won by the end of the first quarter.
It was a bit of a surprise that Washington State was still ranked in the latest edition of the CFP Top 25. LSU dropped from No. 16 to unranked for a one-possession loss to Florida, but Wazzu merely slipped one spot for a 14-point loss to Colorado. But that decision made the Apple Cup a little more marketable as a battle between No. 5 Washington and the No. 23 Cougars.
By the end of the first quarter, though, we were searching for something more entertaining to watch.
The Huskies scored touchdowns on each of their first four possessions to open up a 28-3 lead. Dante Pettis didn't return any punts for touchdowns in this one, but he did finish the opening frame with two catches for 79 yards and two scores as well as a completed pass for 50 yards.
Though the contest was almost unwatchable, it was exactly what the doctor ordered for Washington's CFP application.
The Huskies' strength of schedule has been an oft-recited issue over the past several Tuesdays. Nonconference wins over Rutgers, Idaho and Portland State did nothing to help this team's case. The Huskies have not yet played No. 9 Colorado, and they lost to No. 12 USC, meaning their best wins came against No. 22 Utah and No. 24 Stanford.
As such, they desperately needed to avoid a nail-biter against Washington State and did so with a 45-17 rout. Jake Browning's case for the Heisman crashed and burned a few weeks ago, but he was stellar with 292 yards and three scores without a turnover. Even more impressive, the Huskies stifled Luke Falk, limiting Washington State's QB to 269 yards passing and a season-worst three interceptions.
They still need to win the Pac-12 title game and may need to pick up style points in the process, but look for the Huskies to at least temporarily ascend into the Top Four in the penultimate CFP rankings.
Bob Levey/Getty Images
Derrius Guice ran all over Texas A&M.
If you want to know if LSU is going to win a game, look no further than the rushing stats.
In the Tigers' four losses, they have averaged 149.5 rushing yards, 4.5 yards per carry and a grand total of one touchdown. In their six wins prior to Thanksgiving, though, those numbers were 287.2, 7.2 and 23, respectively.
So, when Derrius Guice had three carries for 65 yards and a touchdown on LSU's first drive of the game against Texas A&M, it was only a matter of time before his team would improve to 7-4.
Guice finished the day with a career-high 285 yards and a career-high four touchdowns, pacing LSU to the 54-39 win. The Tigers rode their horse hard in the second half, stringing together five consecutive touchdown drives that went at least 50 yards each.
In LSU's last five wins, Guice has averaged 183.8 yards and 2.4 touchdowns. Leonard Fournette may end up with the better NFL career, but Guice is to thank for the continuation of Ed Orgeron's career as the head coach of this program. The Tigers announced Saturday morning that they were removing the interim tag and hiring Orgeron full time.
If LSU lost to the Aggies to fall to 6-5 with three losses in its last four games, maybe that doesn't happen.
Chris Covatta/Getty Images
Charlie Strong has likely coached his final game at Texas.
In retrospect, that season-opening win over No. 10 Notre Dame might have been the worst thing that could have happened to Charlie Strong and Texas.
From that point, expectations for the Longhorns were too lofty. They jumped as high as No. 11 in the AP Top 25 before suffering the first of their seven losses. Five of those defeats came by a one-possession margin, including a near-win in the Red River Rivalry vs. Oklahoma. But closing the season with three straight losses to West Virginia, Kansas and TCU was more than enough to cost Strong his job as head coach.
Rumors of his imminent termination had been swirling for months, so it wasn't a surprise to anyone when the Longhorns handed Strong his walking papers to sign Houston's Tom Herman. The team announced both moves Saturday. Between what it paid to get Strong away from Louisville and how much it'll owe him in severance, the move could cost the university as much as $30 million.
Following a 31-9 home loss to TCU in the season finale, though, it probably felt like a small price to pay. Stud running back D'Onta Foreman went over 2,000 yards for the season with 165 yards rushing, but the rest of the team laid a gigantic egg. TCU was only 1-of-11 on third down, but the Horned Frogs ran right through Texas. Both teams attempted 46 rushes each, but TCU gained 120 more yards and had four touchdowns to Texas' zero.
Based on APR score, it's still possible 5-7 Texas would be one of the 80 teams invited to a bowl game, but getting into the postseason on a technicality is not what the Longhorns had in mind for Strong's third campaign.
Rey Del Rio/Getty Images
Zach Terrell guided Western Michigan to an undefeated regular season.
Zach Terrell's name never comes up in the Heisman conversation because Western Michigan's strength of schedule was nothing special, but there was not a more surgically precise quarterback in the country this season.
Terrell is leading the nation in completion percentage at 71.7, including a 19-of-25 performance with three touchdowns in Friday's 55-35 win over Toledo. He has attempted 318 passes and only threw the ball to the opposing team once. At 3,086 yards with 30 touchdowns, you could make the case that he has been the most lethal passer of the past decade.
Again, no one makes that case because of the level of competition, but the Broncos remain undefeated and will face Ohio next week with the hopes of capping off a 13-0 record.
No. 21 Western Michigan didn't just win its game, though. It also benefited from the other games involving Group of Five teams vying for the automatic spot in the Cotton Bowl.
No. 19 Boise State lost 27-20 at Air Force and now won't even have a chance to play for the Mountain West Conference championship. Likewise, No. 20 Houston lost 48-44 at Memphis and was eliminated from the AAC title game.
It's still possible that either Temple or Navy would finish ahead of Western Michigan for winning the AAC championship, but it's looking like the Broncos control their chance at a New Year's Six game.
Steven Branscombe/Getty Images
Tommy Armstrong Jr. and Nebraska never got going in a blowout loss to Iowa.
Rather than finishing strong after an overtime loss to Wisconsin and a 62-3 loss to Ohio State, No. 16 Nebraska opted to leave a turd in the Big Ten's CFP punch bowl.
The Cornhuskers suffered a 40-10 blowout at Iowa. They gave up nearly twice as many yards as they gained (408-217), completed 37.8 percent of their passes and averaged 2.9 yards per carry.
Here's a microcosm of how poorly things went for Tommy Armstrong Jr. and Co.: Iowa's Akrum Wadley ran for a 75-yard touchdown with just under five minutes to go in the first quarter. Nebraska went three-and-out on the ensuing possession. And on the first play of Iowa's next drive, C.J. Beathard connected with Riley McCarron for a 77-yard score.
In the span of two plays, the Hawkeyes scored more points than the Cornhuskers scored in the entire game, and nearly outgained them, too.
That 7-0 start to the season feels like a lifetime ago, and it's likely that this loss will knock Nebraska out of the Top 25, damaging the Big Ten's case for sending two teams to the CFP.
There's a good chance that both LSU and Iowa jump into the Top 25 on Tuesday, but as things stand, Wisconsin's only win over a CFP Top 25 team was the aforementioned overtime victory against Nebraska.
The Badgers would get their best win of the season if they take the Big Ten championship, but would it be enough to finish ahead of Washington or Oklahoma now that the win over Nebraska doesn't look anywhere near as good?
Moreover, Ohio State's resume will lose a little bit of luster if Nebraska drops out of the Top 25. The Buckeyes should still finish in the Top Four with wins over Michigan, Wisconsin and Oklahoma, but could that change in the strength of the Nebraska win bump them to No. 4 and an immediate matchup with No. 1 Alabama?
Maybe it doesn't make any difference, but these are questions we wouldn't be asking if Nebraska had taken care of business against Iowa to remain comfortably inside the Top 25.
Sean Gardner/Getty Images
Nick Mullens saved his best for last.
Of the 18 teams that entered Week 13 with five wins, North Carolina State and Southern Miss were least likely to become bowl-eligible with a sixth victory, as far as Las Vegas was concerned. According to Odds Shark, NC State was a 9.5-point underdog at North Carolina, while Southern Miss was supposed to lose by 15 points to Louisiana Tech.
They had other plans.
The Wolfpack had more than their fair share of bad losses this season, blowing fourth-quarter leads in defeats to East Carolina and Boston College, missing a game-winning field-goal attempt against Clemson and falling to Florida State after dropping one of the easiest fourth-quarter interceptions a defensive back could ask for.
Against the Tar Heels, it appeared they were headed for another disaster. Thanks to two rushing touchdowns from Matthew Dayes, they led 28-7 at the start of the fourth quarter, only to watch the Tar Heels score two quick touchdowns and get the ball back into NC State territory with a chance to tie the game.
The defense clamped down, though, and held on for a bowl-clinching 28-21 win.
The victory for Southern Miss wasn't anywhere near as dramatic. The 15-point underdogs won by a 15-point margin, outscoring the Bulldogs in each of the four quarters. Senior QB Nick Mullens had missed the last two games with a concussion, but he was lights-out in the final regular-season game of his career.
He completed 29 of 33 pass attempts for 342 yards and three scores. He also rushed for a TD in the 39-24 win, carrying the Golden Eagles into their second consecutive bowl game.
At the start of the week, it didn't look like we would get to 80 bowl-eligible teams, but these two teams defied the odds to make it close.
Christian Petersen/Getty Images
Samajie Grant and Arizona tore through Arizona State's rush defense like a knife through hot butter.
Make no mistake about it: This wasn't the first time Arizona State lost a game because its defense was atrocious.
The Sun Devils entered the final week of the regular season allowing an average of 38.4 points per game, but most of that damage had come against their secondary. Their pass defense was the worst in the nation by far, giving up 382.9 yards per game. But partially due to the fact that opponents move the ball so easily against them through the air, they were marginally above average at stopping the run, allowing 131.4 yards per game and 4.1 yards per carry.
In a must-win rivalry game against Arizona, though, the Sun Devils were gutted on the ground en route to a 56-35 loss.
Arizona QB Brandon Dawkins only attempted eight passes, the last of which came with 5:30 remaining in the second quarter. Why bother to pass when you can average better than 11 yards per carry?
Excluding the two kneels at the end of the game, the Wildcats rushed 46 times for 516 yards and seven scores. Three different players had at least 126 rushing yards and two touchdowns, including junior running back Zach Green, who had 128 yards in his previous five games combined.
Despite opening the season 5-1 with wins over Texas Tech, California and UCLA, Arizona State will now almost certainly miss out on bowl season thanks to six consecutive games in which it allowed at least 37 points while failing to score more than 35.
Justin Berl/Getty Images
There were a few touchdowns to celebrate between Syracuse and Pittsburgh.
Last December, Syracuse traveled to Pittsburgh and lost by a score of 72-61, so why is everyone so fired up about Saturday's 76-61 win for the Panthers?
Wait, that's a football score?!
And here we thought that 66-59 game between Oklahoma and Texas Tech last month would be the craziest score of the year.
There were so many touchdowns between the Orange and Panthers that the kickers got worn out. Both Chris Blewitt and Cole Murphy missed their final extra point attempts of the game, but it's hard to blame them after a combined 20 touchdowns.
Syracuse QB Zack Mahoney threw for 440 yards and five touchdowns—all five to Amba Etta-Tawo—while running for 49 yards and two more scores, but it wasn't nearly enough to keep pace with the Panthers.
Excluding the Mahoney interception they returned for a touchdown early in the second half, the Panthers had 10 offensive drives that resulted in TDs. On average, they only needed 3.8 plays, went 60.6 yards and took 86.4 seconds off the clock. Take out the 10-play, 65-yard drive that took nearly five minutes, and those numbers drop to 3.1, 60.1 and 63.6, respectively.
Each of their scoring drives went for at least 35 yards, but six of them required three plays or fewer. And how about this: Pittsburgh averaged 1.29 points per offensive snap, scoring 76 points on 59 plays.
This shouldn't be a surprise, but the 137 combined points set a new FBS scoring record.
Some of the revenue Pittsburgh earned from the game should go toward getting the scoreboard operator a massage. He had to work harder than most of us did this week.
Andy Lyons/Getty Images
Lamar Jackson had 452 total yards in a losing effort.
If someone you follow on Twitter is campaigning for anyone other than Lamar Jackson for the Heisman because Louisville lost its regular-season finale to Kentucky, go ahead and unfollow that contrarian.
Yes, he threw three interceptions and coughed up a fumble, but Louisville's defense had already given up 31 points by the time Jackson committed his first turnover. After 36 minutes, he had 236 passing yards, 117 rushing yards and three total touchdowns. But the Cardinals defense was so atrocious that he needed to start forcing the issue and got sloppy.
(And don't even try to count the final interception against him. Louisville got the ball back down by three with 12 seconds left, and he got picked off on a 63-yard heave down the field.)
The loss dropped Louisville to 9-3, which is a disappointing finish, given how fun this team was to watch in its first 10 games. Let's be honest, though: Take Jackson out of the equation and the Cardinals are probably no better than 2-10.
He threw for 3,390 yards with 30 touchdowns and ran for another 1,538 yards and 21 scores. In case addition isn't your thing, that's a total of 4,928 yards and 51 touchdowns.
For sake of comparison, Nebraska went 9-3 and finished the season with 4,633 yards and 41 touchdowns as a team.
It may be tempting to instead vote for the best guy on a squad that goes 13-0 or 12-1, but it would be a mistake. There's a reason we all but unanimously handed Jackson the Heisman a month ago, and it's because there was not a more electric player in the country.
It's not his fault his defense rolled over and died, allowing Kentucky to score on seven different drives that went at least 60 yards.
Jayne Kamin-Oncea/Getty Images
Adoree' Jackson had quite a few all-purpose yards against Notre Dame.
While one Jackson lost a lot of Heisman votes in the eyes of some, another Jackson picked up a ton of them.
Adoree' Jackson, USC's version of Jabrill Peppers, had his fingerprints all over the box score in the 45-27 win over Notre Dame.
Jackson was heavily involved in the offense in his first two seasons, but he entered Saturday with four carries for 37 yards and no receptions—unless you count his four interceptions. Against the Fighting Irish, though, Jackson had one carry for 12 yards, one 52-yard touchdown reception, three punt returns for 66 yards and a score, and four kick returns for 161 yards and a score.
He finished the day with 291 all-purpose yards, three touchdowns and one Heisman pose.
The Trojans also got a 51-yard touchdown run from Ronald Jones II and a 33-yard pick-six from Ajene Harris. It was a big-play type of day for the three-loss team that has found favor in the eyes of those who love to ignore what happened during the first month of the season while complaining about who deserves to go to the CFP.
Ronald Martinez/Getty Images
Every time Navy's offense took the field, it ended with a touchdown.
No one expected SMU to go to a bowl game this season. The Mustangs went a combined 3-21 the past two seasons and were sitting at 2-4 in early October before upsetting Houston en route to improving to 5-5. All they needed to do was win a home game against No. 25 Navy to extend their season into December.
Evidently, nobody told their defense.
Excluding the kickoff return that John Brown III fumbled, Navy scored a touchdown every time it got the ball.
SMU kept pace for a while and even took a 24-21 lead after that fumble, but a pick-six and a missed field goal in the third quarter helped the Midshipmen blow open the game.
They weren't short possessions, either. Nine of their 10 touchdown drives went for at least 51 yards. The one exception was a 39-yard drive that only took one play.
Per usual, Navy did the bulk of its damage on the ground. Thirteen different Midshipmen combined for 496 rushing yards and nine touchdowns. They were 7-of-8 on third-down conversions, and the one "failed" attempt was a kneel on 3rd-and-14 with 10 seconds remaining.
SMU is now out of the running for a bowl game, while Navy remains in the picture for a New Year's Six appearance. The Midshipmen will face 10-2 South Florida next Saturday for the AAC title with a chance to jump Western Michigan for the Group of Five's spot in the Cotton Bowl.
Brett Carlsen/Getty Images
Trace McSorley threw for a career-high 376 yards in Penn State's win over Michigan State.
Despite Nebraska's ugly loss to Iowa on Friday night, Saturday played out about as well as it could have for the Big Ten to send two teams to the CFP.
Ohio State's double-overtime win over Michigan was the first ingredient in the conference's recipe. A Michigan victory would have meant the Wolverines had taken the East Division and become the favorites to win the conference championship, in which case the Big Ten would likely only send one team to the national semifinals.
But an Ohio State blowout would have weakened Michigan's resume while also hurting the other three teams in the Big Ten vying for a spot in the Top Four. A hard-fought victory for Ohio State was the perfect outcome.
Then, in the late-afternoon games, Penn State and Wisconsin took care of business, setting up a head-to-head showdown for the Big Ten championship.
Neither team got out to a great start. The Badgers were down 17-7 at halftime, while the Nittany Lions trailed 12-10.
But the home favorites dominated the second halves by a combined margin of 59-0. Wisconsin picked off Minnesota's Mitch Leidner four times in the second half and ground to the 31-17 win with three fourth-quarter rushing TDs. And Penn State's Trace McSorley threw four second-half touchdowns as the Nittany Lions ran away from the Spartans.
If Wisconsin wins next Saturday, it will improve to 11-2 with wins over Penn State, LSU, Nebraska and Iowa. If Penn State wins the game, it would be the 11-2 team with victories against Ohio State, Wisconsin and Iowa. The Badgers would arguably have the better case for a spot in the Top Four, but either one would finish comfortably ahead of the Big 12 champion with a shot at beating the Pac-12 champion for the fourth spot in the CFP.
As it should, it'll all come down to the final week. But aside from Clemson's refusing to gift the Big Ten with a loss to South Carolina, it couldn't have asked for a better Saturday.
Wesley Hitt/Getty Images
Shea Patterson may be a Heisman winner one day, but he won't be playing in a bowl game this year.
So, perhaps the Rebels shouldn't have burned Shea Patterson's redshirt after all.
Two weeks ago, it looked like a brilliant decision to turn to the true freshman after senior QB Chad Kelly went down for the season with a knee injury. Patterson led the Rebels to an incredible fourth-quarter comeback against Texas A&M to improve the team to 5-5. With games remaining against Vanderbilt and Mississippi State, a sixth win and a trip to Bowl Land appeared to be a matter of time.
Those opponents had other plans.
After losing by three touchdowns to the Commodores, Ole Miss was destroyed 55-20 by the Bulldogs in the Egg Bowl. Patterson didn't play poorly, though. He did throw two interceptions, but he had 393 total yards and two scores.
Unfortunately for the Rebels, it was jack squat compared to what Nick Fitzgerald did.
Mississippi State's dual-threat QB ran for 258 yards and two touchdowns and threw for another 109 yards and three scores. He led the Bulldogs to four consecutive touchdown drives in the first half, opening up a lead they would never relinquish—not that Ole Miss tried particularly hard while getting outscored 28-0 in the second half.
(Ole Miss may want to consider a new halftime ritual next season. In its seven losses, its was outscored in the third quarter by a combined margin of 95-10.)
According to ESPN's research notes, it had been more than a century since Mississippi State beat Ole Miss by at least five touchdowns, last happening Nov. 3, 1916, in a 36-0 shutout. Making history in that regard isn't how the Rebels wanted to end their season.
Justin Edmonds/Getty Images
Utah couldn't penetrate Colorado's defense.
Defense has been Colorado's biggest friend en route to the 2016 Pac-12 South title.
The last time the Buffaloes gave up more than 24 points in a game was in late September. Along the way, they held Stanford to five points, Oregon State to six and UCLA to 10. And in a must-win game against Utah, their bend-don't-break approach was more crucial than ever.
The Utes got down inside the Colorado 30 six times, were in the red zone five times and ran a total of 10 plays inside the Colorado 5-yard line. On those six drives, they only came away with 15 points, thanks in part to a missed field goal and a fumble.
Were it not for a Boobie Hobbs' 55-yard punt return for a touchdown, Utah would have been dead and buried early in the fourth quarter, despite 339 yards of total offense.
Troy Williams hadn't been the most accurate passer in the country, but Colorado made it look like Utah's quarterback was playing with a broken arm. Williams only completed 13 of 40 pass attempts, and he was 8-of-30 until he started hitting underneath routes against the Colorado prevent defense on the final possession. Colorado's Tedric Thompson intercepted two passes and had a third go right through his hands.
The Buffaloes will need to bring it on defense to beat Washington in the Pac-12 Championship Game, but they would make things even messier in the CFP picture if they pull it off.
Kevin C. Cox/Getty Images
It was a long afternoon for Auburn in the Iron Bowl.
No. 13 Auburn has had one of the better offenses in the country this season. Led by Kamryn Pettway and Kerryon Johnson, the Tigers entered the Iron Bowl averaging nearly 300 rushing yards and just under 475 total yards per game.
Though No. 1 Alabama has had one of the best defenses in the nation, some teams have been able to move the ball against it. Ole Miss scored 43 points and gained 522 yards against the Crimson Tide back in mid-September, and Arkansas went for 30 points and 473 yards in October.
Auburn was hoping to add a November outlier to that list, but it didn't come close in the 30-12 loss.
Pettway and Johnson combined for 56 yards on 20 carries. Two quarterbacks and a fullback combined to complete just seven of 19 pass attempts with nearly half of their 116 yards coming on one 55-yard Eli Stove reception. The Tigers finished the game with 182 total yards and only seven first downs.
Auburn did have four field goals, but only one of them came off anything that can be considered a drive. The Tigers lost three yards after a 58-yard punt return by Stephen Roberts. Two other field goals came shortly after Jalen Hurts interceptions. And the fourth scoring drive was the result of Stove's aforementioned big play.
Aside from that, it was all Alabama, per usual. Regardless of what happens against Florida in the SEC Championship Game, the Crimson Tide will be in the CFP. Frankly, it's hard to imagine their losing their grip on the No. 1 ranking even if they fall to the Gators next week.
Joe Robbins/Getty Images
Austin Appleby spent much of Florida's loss to Florida State taking hits like this one.
It wasn't all bad news for the SEC East. Kentucky shocked Louisville, Missouri knocked off Arkansas and Vanderbilt put up 45 points on Tennessee to become bowl-eligible. But for the rest of the SEC's lesser half, Week 13 was anything but lucky.
Saturday's first game saw Georgia fall at home to Georgia Tech after allowing two touchdowns in the final seven minutes. Nick Chubb and Sony Michel combined for 258 yards and two scores, but a missed field goal on the opening drive of the game and a pair of fourth-quarter interceptions sealed the Bulldogs' fate in the 28-27 loss.
Fast-forward to the evening matchups, and it was a rough night for Florida, Tennessee and South Carolina.
Florida's offense has been struggling all season, but it was an outright disaster in the rivalry-game loss to Florida State. The Gators were 0-of-12 on third downs and had only amassed 152 yards of total offense before a meaningless 55-yard drive at the end of the contest. Of the points they did score in the 31-13 loss, seven came on a fumble returned for a touchdown and three others came shortly after an interception of Seminoles quarterback Deondre Francois.
Tennessee's offense was more impressive than Florida's, as Joshua Dobbs connected on 31 of 34 pass attempts for 340 yards and two touchdowns. But after jumping out to an early 21-7 lead, the Volunteers couldn't help themselves against Vanderbilt's offense. Excluding the end-of-half/game possessions, the Commodores scored on six of their next seven drives, closing the game on a 38-13 run.
South Carolina was awful on both offense and defense in its 56-7 loss to Clemson. Deebo Samuel connected with Bryan Edwards to avoid the shutout, but Clemson's Dabo Swinney and Deshaun Watson were the ones doing all the laughing. Tigers wide receiver Mike Williams had three incredible touchdown receptions in the first half.
As a result of all those losses, the division's only hope of sending a team with fewer than four losses to a bowl game would be for 8-3 Florida to beat Alabama in the SEC Championship Game. Best of luck with that one.