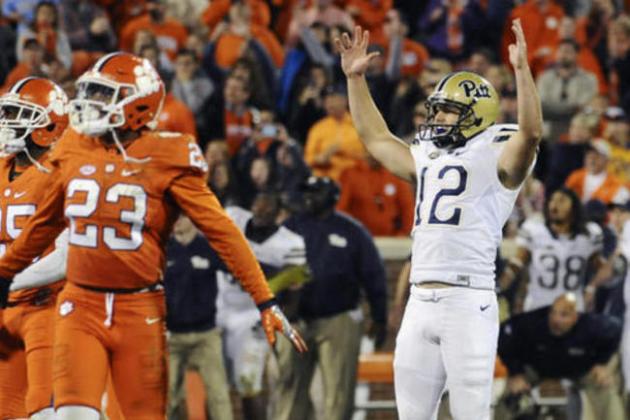 Associated Press
Chris Blewitt and Pittsburgh kick-started a crazy night of upsets in Week 11.
So, you thought this was going to be a boring slate of college football games, did you?
As always, the football gods had other ideas. There were only two contests this week between ranked teams, yet three of the Top Four, five of the Top Nine and seven of the Top 17 teams lost in one of the most wildly unpredictable weeks this sport has ever delivered.
We've all thrown our fair share of stones at the College Football Playoff selection committee over the past few weeks, but we do not envy their job. Provided they have Alabama at No. 1 again Tuesday night, it'll be tough to argue for or against everything thereafter.
But Week 11 wasn't just an endless supply of losers. There were also a good number of big winners in the form of dual-threat quarterbacks, unstoppable running backs and a conference that's suddenly rising from the grave it was put in before the season.
Read on for the rest of your biggest Week 11 winners and losers.
Associated Press
Jarvion Franklin led the Broncos on the ground Tuesday night.
If Western Michigan is going to row the boat all the way to the Cotton Bowl, it'll be because of teamwide rushing assaults like it had against Kent State on Election Day.
Dominating on the ground is nothing new for the Broncos. They had averaged 245 yards and three touchdowns per game through their first nine wins.
But they're usually equally dominant through the air. Senior quarterback Zach Terrell entered the night with 23 touchdowns against just one interception. He had a completion percentage of 71.6 and was averaging better than 262 passing yards per contest.
That part of their game was nowhere to be found against the Golden Flashes. Terrell was just 6-of-13 for 83 yards—his worst performance since a 59-3 loss to Iowa in September 2013.
Jarvion Franklin and Co. had his back.
Western Michigan ran the ball a Navy-like 64 times for 329 yards and four touchdowns en route to the 37-21 win. Franklin led the way with 134 yards and a score, but four different Broncos scampered to paydirt as they ran Kent State to death.
They had three scoring drives of at least 12 plays, including a ridiculous 20-play touchdown push that ate up nine minutes and eight seconds of the third quarter. Of those 20 plays, 19 were runs, as they chipped away at Kent State for the comeback win.
Western Michigan is 10-0 with regular-season games remaining against Buffalo and Toledo. Win both of those contests and the Broncos will likely draw Ohio in the MAC championship game with a New Year's Six bowl at stake.
Nick Cammett-USA TODAY Sports
Van Edwards Jr. and the Zips just can't get that elusive sixth win.
Once upon a time in late October, it was only a matter of time before Akron would secure a berth in just the third bowl game in school history. After winning a road tilt against Ball State, the Zips were 5-3 with games remaining at 1-6 Buffalo and at home against 1-8 Bowling Green.
Instead of taking care of business against Buffalo, Akron was destroyed on the ground by Jordan Johnson (282 yards) in a 41-20 upset. The Zips followed that with a 48-17 loss to Toledo.
Surely they could beat Bowling Green, though, right? The Falcons had yet to defeat an FBS team and had road losses by scores of 77-3 against Memphis and 77-10 against Ohio State. They entered the contest on a seven-game losing streak, including a 45-20 loss at 2-6 Northern Illinois one week ago.
However, Akron ran out of quarterbacks and became turnover prone in a 38-28 home loss.
Starting quarterback Thomas Woodson was listed as questionable before the game and lasted just one drive before handing the reins to Tra'Von Chapman. Late in the first half, though, Chapman was also knocked out of the contest when he fumbled on his 2-yard line, setting up the Falcons to take a 21-10 lead on the next play and ensuing extra point.
For the rest of the game, senior wide receiver Tyrell Goodman—who had attempted just one pass in his collegiate career—was the one taking snaps. He had a couple of nice completions, including a 64-yard bomb that helped tie the game at 28 early in the fourth quarter. But he also had a fumble that Bowling Green returned for a touchdown and threw interceptions on each of Akron's final three possessions.
Six was the magic number the Zips were seeking, but instead of getting that sixth win, they committed six turnovers and were saddled with their sixth loss. What once seemed inevitable now seems almost impossible, as Akron would need to win at 7-3 Ohio on Nov. 22 to qualify for a bowl game.
Christian Petersen/Getty Images
Joe Williams was one of three players with that surname to help the Utes knock off Arizona State.
Thursday night's #Pac12AfterDark game was bonkers before viewers even had a chance to settle into their seats. Utah fumbled on the first play from scrimmage on a botched snap. Arizona State followed it with an interception six plays later, only for Utah to give it right back on another fumble. All told, there were three turnovers and no points in the first five minutes.
But after being held scoreless for the first quarter, Utah cruised to a 49-26 win thanks to three guys with the surname Williams.
The most well-known of the bunch is senior running back Joe Williams, who retired from football two weeks into the season. That only lasted a month, though, before he returned to annihilate opposing defenses. He has rushed for at least 172 yards and a touchdown in four consecutive games, including averaging 12.1 yards per carry with two scores against the Sun Devils.
Meanwhile, junior quarterback Troy Williams set career highs in both yards and touchdowns, throwing for 296 yards and four scores without an interception. He had struggled in recent weeks, throwing for just 42 yards against Oregon State in mid-October. But Arizona State's nation-worst pass defense has a knack for bringing out the best in quarterbacks.
Not to be outdone, junior defensive back Marcus Williams had one of Utah's two interceptions and led the team in tackles with nine.
The Utes improved to 8-2 and still control their own destiny to reach the Pac-12 title game.
Streeter Lecka/Getty Images
After a great start, Mitch Trubisky and the Tar Heels were bitten by a strange curse.
As SportsCenter tweeted after North Carolina's 28-27 loss to Duke, 17 has been the unluckiest number in college football this season. Dating back to Arkansas' Week 4 loss to Texas A&M, the team ranked No. 17 in the Associated Press or College Football Playoff polls has now lost eight consecutive games. It was the second time North Carolina suffered that fate, as the Tar Heels were also obliterated 34-3 by Virginia Tech in a Week 6 hurricane tilt.
That curse is just about the only explanation for how North Carolina lost the rivalry matchup, as Mitch Trubisky and the Tar Heels looked unstoppable early.
After four drives, UNC's junior quarterback was 12-of-15 for 200 yards and three touchdowns. At that point, Trubisky had a touchdown-to-interception ratio of 29-2 dating back to the 2014 Quick Lane Bowl, and the only picks thrown during that time came in the aforementioned weather-induced blowout loss to the Hokies.
Over the final 38 minutes, though, he was 12-of-18 for 97 yards with two interceptions. As a result, the Tar Heels managed just two field goals on their final seven drives, one of which was set up by a 75-yard kick return.
Reaching the ACC title game was always going to be an uphill battle. They entered the week with the same conference record as Virginia Tech (5-1), but the Hokies held the head-to-head tiebreaker with winnable home games remaining against Georgia Tech and Virginia. But with Virginia Tech's loss to Georgia Tech Saturday, North Carolina would have entered the driver's seat to win the division.
After this loss to the Blue Devils, though, North Carolina can all but say goodbye to any hopes of being the Coastal Division team to thwart Clemson's quest for the CFP.
Alex Menendez/Getty Images
Freshman QB McKenzie Milton has UCF back in a bowl game.
With the possible exception of Kansas, no team in the country was worse than UCF last season. The Knights ranked 126th out of 128 teams in points scored per game and 118th in points allowed. They went 0-12, losing by an average margin of 23.8 points. They even lost a home game to a Furman team that went 4-7 in the process of finishing next-to-last in the FCS Southern Conference.
As Kansas demonstrated by falling to 1-9 with a home loss to 2-8 Iowa State, it's not easy to bounce back from being that bad. But UCF pulled it off, becoming bowl-eligible with its 24-3 win over Cincinnati.
Special teams and defense have been huge for the Knights all year. They shut out South Carolina State in the season opener. In an early win over East Carolina, they returned both a kickoff and an interception for a touchdown and got a safety. Last week against Tulane, Drico Johnson returned both a fumble and an interception for a touchdown in the 37-6 victory.
This week was more of the same. UCF forced three Cincinnati turnovers and blocked a punt that was returned for a touchdown. The Bearcats finished with more total yards than the Knights (327-305), but UCF buckled down on defense when it needed to the most.
It was a borderline must-win for the Knights, as they have difficult matchups remaining against Tulsa and South Florida. Regardless of what happens in those tilts, though, Central Florida will be playing in a bowl one year after a winless season.
Dave Reginek/Getty Images
This was about as comfortable as Giovanni Rescigno looked against Michigan State.
There are train wrecks and then there's Rutgers.
It's one thing to get blown out in shutout losses to Ohio State and Michigan. Both the Buckeyes and Wolverines have destroyed their fair share of likely bowl teams this season, smoking Maryland (once each), Hawaii, Tulsa and Nebraska by a combined margin of 294-15. Losing 136-0 in back-to-back contests to those CFP contenders wasn't fun for the Scarlet Knights, but it was at least understandable.
Losing 49-0 to Michigan State is a different story.
Rutgers had looked competent in its previous two games, scoring 32 in a nail-biter against Minnesota before coming within a touchdown of knocking off Indiana for a third straight season. But that team was nowhere to be found in the ugly loss to a Michigan State squad that entered the week with seven consecutive losses.
Junior quarterback Giovanni Rescigno completed just six of his 16 pass attempts for 40 yards. Michigan State gained just as much on Rescigno passes, returning two interceptions for 40 yards and a score.
The Scarlet Knights had more punts (nine) than first downs (eight).
With Penn State on the docket for next week, it would hardly be a surprise if Rutgers suffered its fourth shutout loss of the season.
Joshua Gateley/Getty Images
Baker Mayfield kept Oklahoma atop the Big 12 standings against Baylor.
The Big 12's chances of sending a team to the College Football Playoff started somewhere between unlikely and improbable this week. No. 11 Oklahoma, No. 13 Oklahoma State and No. 16 West Virginia were within striking distance in the CFP standings, needing a lot of help from the Top 10 squads.
But a trio of wins Saturday kept alive the conference's weak pulse.
Oklahoma became the latest team to take advantage of Baylor's sad excuse for a defense, dropping 45 points on the Bears en route to a win by a three-touchdown margin. Baker Mayfield led the attack by completing 80 percent of his passes for 300 yards and two scores. He also had one of Oklahoma's four rushing touchdowns.
West Virginia got one heck of a fight from Texas, but the Mountaineers managed to hang on for a 24-20 road victory over a five-win team with hopes of becoming bowl-eligible. They jumped out to an early 17-3 lead, but WVU quarterback Skyler Howard had a disastrous third quarter, throwing all three of his interceptions in that frame. But the 8-1 Mountaineers survived when Shane Buechele's Hail Mary attempt hit the turf as time expired.
A little later, Oklahoma State held on for dear life for a 45-44 win over Texas Tech when the Red Raiders missed an extra point that would have tied the game in the final two minutes. Mason Rudolph threw the ball well (395 yards, two touchdowns) in a contest where neither team played much defense.
In addition to chaos in the Top 10, perhaps the best news for the conference is Oklahoma closes the season with games against Oklahoma State and West Virginia. Maybe they'll cannibalize each other a bit, but chances are good that one of these three will finish strong to get within shouting distance of the Top Four before kicking back and rooting for carnage in the various conference championship games.
Marc Lebryk-USA TODAY Sports
Richard Lagow had Indiana in position to knock off Penn State but couldn't finish the job.
It wasn't the prettiest game, but the best back-and-forth tilt of the early window came between No. 10 Penn State and Indiana.
The Hoosiers lost four fumbles in the first half—three of them in Penn State territory and the other on their own 6-yard line—yet somehow managed to enter halftime in a 14-14 draw. They even briefly led by 10 points late in the third quarter after a touchdown drive that was fueled by a shocking career-long 52-yard pass by Wildcat quarterback Zander Diamont.
Despite the sheer number of mishaps in the first half, Indiana had a chance to shock the world. The Hoosiers kept Saquon Barkley under wraps, limiting him to 58 yards on 33 carries. They picked off Trace McSorley twice, turning one into a touchdown and getting down to the PSU 1-yard line before stalling out on the other drive.
As has been the case too many times over the past 14 months, though, the Hoosiers couldn't seal the deal. They gave No. 1 Ohio State, No. 7 Michigan State, No. 9 Iowa and No. 14 Michigan all they could handle one year ago, only to come up short in all four upset bids. They gave No. 10 Nebraska a run for its money on Oct. 15 but ended up losing by five.
Given all the almost upsets over the past two seasons and all the fumbles in the first half of this game, it was hardly a surprise when the final nail in the coffin was yet another fumble—the final one returned for a Penn State touchdown.
The Nittany Lions outscored Indiana 31-7 over the final 16:09 en route to a 45-31 win, keeping hope alive for a spot in the Big Ten title game. Indiana, meanwhile, fell to 5-5 and has to prepare for a brutal game against Michigan in one week's time.
Kevin C. Cox/Getty Images
Alabama's Jalen Hurts had a field day against Mississippi State.
There's still a lot of football left before the SEC title game, but if LSU beats Florida, and Tennessee beats both Missouri and Vanderbilt, it'll be the Crimson Tide against the Volunteers in the Georgia Dome on Dec. 3.
And if the starting quarterbacks for those teams play as well as they did Saturday, buckle up for one heck of an exciting affair.
Alabama's freshman QB Jalen Hurts had the game of his life in the 51-3 rout of Mississippi State. He threw for a career-high 347 yards and a career-high four touchdowns while also rushing for 100 yards and a fifth score. It was the first time this season the Bulldogs allowed an FBS opponent to throw for at least 300 yards.
According to ESPN's College Football Twitter account, it was the first time in Alabama history that a player threw for 300 yards and rushed for 100 yards in the same game.
Given how great Alabama's defense has been—the Crimson Tide have allowed one more touchdown on defense (13) than they have scored on returns of fumbles, interceptions, punts and kicks—that type of play from Hurts makes this team even more untouchable.
Tennessee senior QB Joshua Dobbs matched Hurts by accounting for five touchdowns against Kentucky.
Dobbs only attempted 17 passes, but he threw for 223 yards and three scores. He was just as deadly with his legs, rushing for a season-high 147 yards and two touchdowns. Unlike Alabama, Tennessee needed just about all of those scores to emerge with a 49-36 win over the Wildcats.
Peter Casey-USA TODAY Sports
Virginia Tech couldn't slow down Georgia Tech's run game.
Win and you're in.
That was the mandate for No. 14 Virginia Tech for a home game against a 5-4 Georgia Tech team that entered the week without a win over an FBS opponent that is currently .500 or better. Coupled with North Carolina's Thursday night loss to Duke, a win over the Yellow Jackets would have clinched the ACC Coastal Division for the Hokies.
Instead, they took that gift from the Tar Heels and flushed it right down the toilet.
The final margin (30-20) doesn't look too awful, but this was a rout from the beginning. Virginia Tech fumbled the opening kickoff, and it was all downhill from there. Georgia Tech scored on four of its first six possessions, while VT's only decent drive in the first half ended with a blocked field goal. The Rambling Wreck opened up a 20-0 lead, and the Hokies never came close to making it a game again.
What was strange about how the contest played out is Virginia Tech entered with a strong rush defense, especially at home. The Hokies had held Liberty, Boston College, East Carolina and Miami to a combined total of 257 rushing yards and one score. But Georgia Tech's triple-option gave them fits, resulting in three rushing touchdowns.
They still control their destiny. A home win over Virginia in two weeks or a North Carolina loss to North Carolina State would be enough for Virginia Tech to play in the ACC title game. But the Hokies blew a chance to wrap that up.
Tyler Smith/Getty Images
Dabo Swinney cannot believe some of the calls against his team in the upset loss.
The horseshoe that had been up Clemson's you-know-what for the past few months finally ran out of magic when Chris Blewitt's game-winning 48-yard field goal put Pittsburgh ahead 43-42 with six seconds remaining.
The Tigers survived scares from Auburn, Troy, Louisville, North Carolina State and Florida State to get to 9-0, but even 580 passing yards from Deshaun Watson wasn't enough to keep them undefeated.
Watson didn't help matters by throwing two interceptions in the end zone and a third in the red zone, but neither did some questionable officiating.
Clemson's Ben Boulware was flagged for a personal foul for allegedly tackling Dontez Ford after the whistle on what would have been a third-down stop. Pittsburgh scored a touchdown on the extended drive. A few drives later, Clemson was called for defensive holding on 3rd-and-10 when replay showed there wasn't contact where the hold was called. The Panthers scored a touchdown on the next play.
For nearly the entire second half, Clemson's fans were booing the referees after every play. It didn't help their frustration that not a single flag was thrown against Pittsburgh in the second half.
But the Tigers still should have won the game. It's easy to blame the refs, but blame the secondary, too. Clemson made Pitt's Nathan Peterman look like Peyton Manning. The senior quarterback threw for 308 yards and five scores without a pick, even though he had never thrown for more than 287 yards or more than four touchdowns in his career.
The Tigers had 33 first downs and converted on 12 of their 18 third downs. They punted just three times. But a failed 3rd-and-1 followed by a failed 4th-and-1 on their final possession doomed them.
They'll drop out of the Top Four in Tuesday's CFP rankings. Is there enough time left for Clemson to get back in position for the playoff?
Joe Nicholson-USA TODAY Sports
Jake Browning and Washington were just one of several dominoes to fall in the CFP puzzle.
Alabama will remain No. 1 after a 51-3 blowout of Mississippi State.
Beyond that, the CFP picture looks like something only Pablo Picasso could have painted.
No. 2 Clemson lost to unranked Pitt. No. 3 Michigan left its offense at home for its first true road test of the season, losing 14-13 to unranked Iowa. No. 4 Washington was soundly beaten by No. 20 USC, 26-13. No. 6 Louisville beat Wake Forest 44-12, but only after scoring 34 points in the fourth quarter. No. 8 Texas A&M lost to Ole Miss, which came into Saturday under .500 at 4-5. No. 9 Auburn lost to unranked Georgia.
The only Top 10 teams that didn't look bad were Alabama and a Big Ten gaggle of Ohio State, Wisconsin and Penn State. But it's not like the Big Ten will send three teams to the national semifinals, so at least one of the squads that struggled or lost Saturday should end up vying for a chance at the title on Dec. 31.
Is Louisville a serious candidate for the CFP, even though it still needs another Clemson loss just to play in the ACC title game? Does the Big 12 control its destiny for a spot? How many more weeks like this does Western Michigan need to get into the conversation?
Yes, that's how insane this week was. We have to dip our toe into the MAC just to find a team other than Alabama that is dedicated to winning games.
Bruce Thorson-USA TODAY Sports
Tommy Armstrong Jr. was back with a vengeance for Nebraska.
Seven days ago, we thought Tommy Armstrong Jr.'s career might have ended before our eyes.
After scrambling for a first down and landing awkwardly on his head and shoulder, Armstrong lay motionless on the ground for several minutes before being removed from the field on a stretcher. He underwent tests and eventually reappeared on the sideline in street clothes, but no one could have guessed we'd see him play Saturday.
Not only did he suit up, but Armstrong also had an incredible performance after back-to-back duds against Wisconsin and Ohio State.
Granted, he didn't even make it to halftime against the Buckeyes, but over the prior two games, Armstrong was 16-of-46 (34.8 percent) for 227 yards, no touchdowns and three interceptions. Apparently that scary fall had a Henry Rowengartner-like effect on his throwing arm, though, because he was on fire in Nebraska's 24-17 win over seven-win Minnesota.
Armstrong completed 70.4 percent of his pass attempts for 217 yards and two scores with no picks. And if you thought he might be skittish about running after last week, think again. He also scooted his way around the field for 61 rushing yards and another touchdown.
Despite the consecutive losses, Nebraska is still in the running for a New Year's Six bowl. With Auburn, North Carolina and Virginia Tech all potentially playing their way out of that position with losses Saturday, getting to 10-2 with wins over Maryland and Iowa might be enough for the Cornhuskers to sneak back into the Top 12.
Dale Zanine-USA TODAY Sports
There's a good chance this Sean White pass attempt was an incompletion.
With star running back Kamryn Pettway sidelined by a leg injury, No. 9 Auburn could not figure out how to move the ball in a 13-7 loss to unranked Georgia.
The Tigers had a 15-play, 80-yard touchdown drive that exhausted much of the first quarter. Kerryon Johnson ran it well, capping off the push with a three-yard score.
But after gaining 124 yards on their first three possessions, the Tigers amassed a total of 40 yards on their final nine drives. Their final first down of the game came with 3:51 remaining in the second quarter.
Just let that one sink in for a second.
Georgia came into Saturday allowing an average of 25.9 points per contest. The only teams the Bulldogs had held to fewer than 24 points were South Carolina and Vanderbilt; and those teams still scored 14 and 17, respectively. That defense held Auburn—which had averaged 326.4 rushing yards over its last eight games—without so much as a first down for nearly 34 minutes.
Auburn QB Sean White completed just six of his 20 pass attempts for a whopping 27 yards. And on the first possession of the second half, he threw an interception that Georgia's Maurice Smith returned 34 yards for a score. So, effectively, the quarterback for a Top 10 team just threw for negative-seven yards.
The other big loser in this game was the Iron Bowl. With Auburn's loss, Alabama clinched the SEC's West and is now all but guaranteed a spot in the College Football Playoff. Had the Tigers won, that regular-season finale at Alabama would have rivaled Ohio State vs. Michigan for most hyped tilt of the season.
Now? Maybe we'll tune in at the end just to see if someone returns a field-goal attempt 109 yards for a score.
Justin Ford-USA TODAY Sports
Quinton Flowers is quietly putting up Heisman-worthy stats.
Led by Quinton Flowers, South Florida has quietly put up a ton of points and is poised to win the AAC. The 8-2 Bulls are averaging 44.0 points per game and have not been held to fewer than 30 points yet.
It was more of the same at Memphis, as they emerged with a 49-42 win.
It was a rough day for all of the quarterbacks in the Heisman conversation, but Flowers was darn near flawless. He completed 24-of-29 passes for 263 yards and two touchdowns. The dual-threat junior also ran for 210 yards and three touchdowns.
Flowers is now averaging a Lamar Jackson-like 220.4 passing yards and 113.1 rushing yards per game with 32 all-purpose touchdowns. And unlike Jackson, who has been racking up stats in blowouts, USF needed every last one of those yards against the Tigers. In fact, they needed three great defensive plays during a final-minute goal-line stand to avoid going into overtime.
The Top 25 has eluded South Florida for the past five years, but this might be the win that pushes it into the polls. If not, maybe dropping 50 on SMU and UCF in the next two weeks will do the trick.
Brett Rojo-USA TODAY Sports
Derrius Guice and LSU ran right through Arkansas' rush defense.
Would the real Arkansas rush defense please stand up?
The Razorbacks have been oscillating between solid and horrendous all season. In game Nos. 1, 3, 5, 7 and 9, they held their opponents to an average of 83.6 rushing yards and 1.2 rushing touchdowns per contest. In games 2, 4, 6 and 8, though, they gave up an average of 342.0 yards and 4.5 scores on the ground.
Unfortunately for Arkansas fans, 10 is an even number, and LSU has some dudes who can run.
Led by Derrius Guice, who set a school record with a 96-yard rushing touchdown, the Tigers ran for 390 yards and five scores against the Razorbacks. Guice had 252 yards and two scores, while Leonard Fournette chipped in 98 yards and the other three touchdowns.
This is the same defensive unit that just held Florida to rushing 12 yards and 10 total points one week ago, but it looked much more like the one that got mollywhopped by Auburn for 543 rushing yards in late October.
The odd-and-even week thing is admittedly stupid, but what other explanation is there for how sporadic this team is? Luckily, its bowl would come in game No. 13, but should we expect a big day from Missouri's backs against Arkansas in two weeks?
Troy Taormina-USA TODAY Sports
It didn't look like Shea Patterson was playing in the first game of his collegiate career.
For more than two months, it seemed we would need to wait until next year to get a glimpse of Shea Patterson—the guy who Scout rated as the No. 1 QB and No. 4 overall prospect in this year's class. With senior Chad Kelly entrenched as the starter for Ole Miss and Jason Pellerin available as an in-case-of-emergency backup, Patterson was destined to take a redshirt.
That is, until Kelly suffered a knee injury that will cause him to miss the rest of the year.
Rather than throw in the towel on a 4-5 season, Hugh Freeze turned to Patterson as the best chance for the Rebels to compete in these final few weeks.
Tim Tebow didn't like the idea, but the true freshman did not disappoint.
Playing on the road against No. 8 Texas A&M, Patterson brought the Rebels back from a 15-point, fourth-quarter deficit. He led them on four consecutive scoring drives, finishing his first collegiate game with 338 passing yards, 64 rushing yards and two scores.
Texas A&M fans learned what it felt like to be on the other end of a magical Johnny Football type of performance.
"It's crazy, my first start—Johnny Manziel was my favorite player growing up," Patterson said, according to AP Sports Writer Kristie Rieken. "It's ironic that I get my first start at Kyle Field. It's awesome."