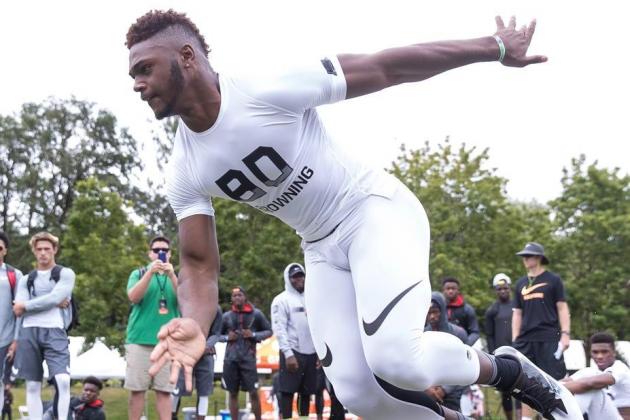 Credit: Student Sports
Kennedale, Texas, 5-star linebacker Baron Browning decided to postpone his verbal commitment, which was scheduled for Tuesday. Browning has a top six of, in alphabetical order, Alabama, Florida, Michigan, Ohio State, TCU and UCLA.
Ask any athlete who's gone through the recruiting process, and he most likely will say the same things to those who come after him.
Take your time.
No need to rush.
This is your decision.
These are messages Baron Browning takes seriously, which is why the coveted 5-star linebacker from Kennedale, Texas, on Monday decided against announcing a verbal commitment originally scheduled for Tuesday. And in speaking with him, it's clear that Browning's just not ready to commit.
And that's fine.
No longer announcing tomorrow, I need some more time to think & weigh my options to ensure I make the right decision for me & my future …

— Baron Browning (@baronbrwnng) November 29, 2016
Browning told Bleacher Report that while he wanted to commit Tuesday, there hasn't been enough for a school to completely separate itself from the rest of the pack. His decision to wait is good news for his top six schools, in alphabetical order, of Alabama, Florida State, Michigan, Ohio State, TCU and UCLA. It gives those schools—and, technically, the 34 other programs that offered him—a chance to make last-minute pitches in what is becoming the 11th hour of recruiting.
It's a shot for programs to deliver home run efforts to the nation's No. 2 outside linebacker, a player who can hold his own at outside linebacker, inside linebacker, safety and—at 6'4″, 230 pounds—cornerback. Browning is an athlete who not only showed his strength in powerlifting competitions, but also showed his speed as a member of his high school track team, running a relay split in less than 10 seconds.
Got word that 5-star LB Baron Browning (@baronbrwnng) ran a 9.92 split as 2nd leg in the 4×1. 6-3, 230. Insane. pic.twitter.com/zaDhm0nvJK

— Damon Sayles (@DamonSayles) April 1, 2016
Nov. 29 was long expected to be the day that Browning committed, as the day also is his father's birthday. It would have made for a nice birthday gift, he said.
But making the right decision without feeling pressured is something that cannot be replaced when discussing college football recruiting. And Browning's father, Barry, a defensive back at TCU in the 1990s, fully understands the importance of not only making the decision, but also getting it right to where a decommitment doesn't follow.
"I think out of everybody, my dad's probably the most neutral. He's never tried to pressure me or tell me where I should go," Browning said on the Nov. 22 Recruitniks podcast courtesy of VSporto. "He's helped me decipher between the schools and information and navigate between what's real and what's fake with the schools."
Browning told Bleacher Report that he doesn't have a set date for a decision, but he will continue to do his research on all the teams in his top six. He has taken official visits to Alabama, Florida State, Michigan, Ohio State and UCLA, the most recent visit being at Ohio State, as he was in Columbus for the big showdown against Michigan.
Final 6…. pic.twitter.com/4mSb2An1Ma

— Baron Browning (@baronbrwnng) November 18, 2016
There are the schools in his top six, and now that Tom Herman has been hired at Texas, some are wondering if the Longhorns can sneak into the conversation. Browning has expressed interest in the Longhorns, and with Herman's success at Houston and the recruiting lineage former head coach Charlie Strong set with the program, Texas could be an intriguing dark horse in Browning's race.
If he chooses TCU, he will follow the footsteps of his father, someone he greatly looks up to. Browning, however, has said on multiple occasions that proximity will not play a role in his decision. He lives minutes away from the TCU campus and roughly two-and-a-half hours away from the Texas campus.
What will matter in Browning's decision are X-factors like early playing time, a level of comfort on campus and the relationships with his position coach and strength and conditioning coach. Two extremely important things he values are a school's academic reputation and its networking within the alumni community.
"I'm pretty smart to know that football doesn't last forever," Browning said. "I want to really be financially set up and be able to have job opportunities for life after football. I want to be one of those guys who makes more money outside of football than he did playing it."
A decision could come at the U.S. Army All-American Bowl on Jan. 7. It could come on national signing day in February. Or, Browning said, a decision could come in a few days.
He's not letting dates restrict his time to weigh all of his options. When it comes, it comes.
"I just want to make the right decision, that's all," he said.
Damon Sayles is a National Recruiting Analyst for Bleacher Report. All quotes were obtained firsthand, unless otherwise noted. All player ratings are courtesy of Scout.com. Follow Damon via Twitter: @DamonSayles