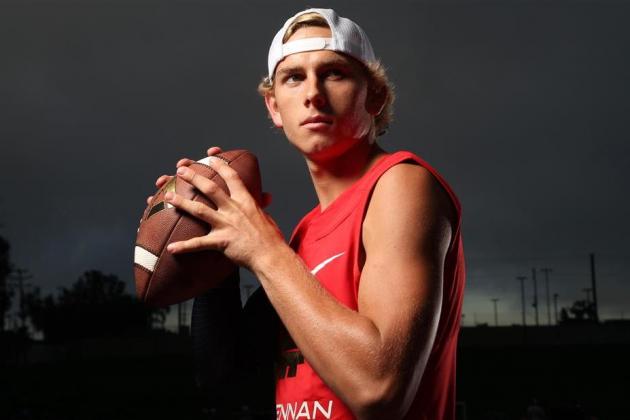 Credit: Student Sports
While he isn't labeling it a "decommitment," longtime LSU Tigers quarterback pledge Myles Brennan opted to publicly reopen his recruitment Wednesday.
The Elite 11 finalist and all-time passing leader in Mississippi prep football history announced his decision on Twitter:
Thanks and God Bless! pic.twitter.com/bTszDGaBnf

— Myles Brennan (@mylesbrennan12) November 30, 2016
Brennan, who is rated No. 16 nationally among quarterback prospects in Scout.com's rankings, joined the Tigers' class in April. He appeared to remain on track toward Baton Rouge just last week following the full-time hiring of interim head coach Ed Orgeron.
"Love it," he told Julie Boudwin of NOLA.com following that development. "He's one heck of a coach. Him and I are very close, and I can't wait to spend my college career with him."
His relationship foundation at LSU was largely built on rapport with former head coach Les Miles and offensive coordinator Cam Cameron, who is no longer employed. Brennan mentioned both in his Wednesday post.
"I also want to personally thank Coach Les Miles and Coach Cam Cameron for believing in my abilities as a QB and offering me a scholarship to play at LSU," Brennan wrote. "It [has] however become apparent to me [that] LSU is going through a transition, and as a result I have decided to reopen my recruiting."
Orgeron is still in the process of acquiring an offensive coordinator for his staff, though heavily circulated rumors have placed current Alabama Crimson Tide play-caller Lane Kiffin at or near the top of that wish list. There's also a growing sense that LSU is leaning toward dual-threat quarterbacks who can do damage with their legs, as further illustrated by this week's offer to Elite 11 MVP and Alabama commit Tua Tagovailoa.
Bill Conides, head coach at St. Stanislaus (Bay St. Louis, Mississippi), believes his standout's attributes may ultimately be better served in alternative schemes.
"The way the SEC is going in getting dual-threat guys—and I completely understand that—what Alabama has done with Jalen Hurts, I think that's the model a lot of SEC schools are going to," he told Steve Wiltfong of 247Sports. "Myles is a great athlete, but I don't think being a running quarterback is one of the things that he does well."
Rather than wait and see which direction LSU goes offensively, Brennan will explore options elsewhere in the meantime. Conides told Bleacher Report that his pupil's plan is to use "all" official visits before national signing day.
Brennan, who stands 6'4″ and weighs 185 pounds, won't enroll early at college, so there isn't pressure to finalize plans within the next few weeks. National signing day is set for Feb. 1, and plenty of research lies ahead in the quest for an ideal collegiate fit.
"Really, this is a time for him to be proactive in his search for a school before he signs his name on the dotted line," Conides told B/R. "He doesn't want to be one of those guys that gets somewhere and realizes he's not in the right place."
Brennan may be best suited to orchestrate an uptempo, pass-heavy attack that spreads its weapons across the field. He became incredibly comfortable in a similar setting while at St. Stanislaus, where he set state records for career passing yardage (15,027) and touchdown tosses (165).
Brennan completed 69 percent of throws as a senior, per MaxPreps, shredding opponents en route to 3,982 yards, 48 scores and just three interceptions in 12 games. His athleticism allows him to evade defenders, but the "pro-style QB" label is appropriate.
Earlier this cycle, it seemed this skill set would suit LSU well for the long haul.
"He could be the pocket passer they've never had and really lift that offense to a different level in the SEC," Student Sports president Brian Stumpf said during B/R's Elite 11 reveal broadcast.
Oklahoma State extended an offer earlier this week, and the Cowboys' style of play could entice Brennan.
Quarterback Mason Rudolph has thrown for more than 7,300 yards and 46 touchdowns during the past two seasons. Lead B/R NFL draft scout Matt Miller projects him to be a top-50 selection next spring.
Brennan carries approximately 20 scholarship offers. With virtually all top quarterback contemporaries in the 2017 class committed to a school, continued staff shakeups should prove pivotal down the stretch.
Just have to trust the process ?

— Myles Brennan (@mylesbrennan12) December 1, 2016
Cal head coach Sonny Dykes is a primary target for the Baylor job, according to Mark Schlabach of ESPN. It's worth noting Baylor doesn't presently carry a quarterback pledge, and the Golden Bears staff presented Brennan with an offer as an underclassman.
Brennan, a U.S. Army All-American Player of the Year semifinalist, becomes easily the highest-rated passer in this cycle to declare he's open to new opportunities two months shy of national signing day. Expect at least a few other programs to join Oklahoma State in entering this race late.
However, LSU shouldn't be entirely counted out, despite a tenuous situation.
"No doors have been closed," Conides said.
Brennan's father, Owen, told B/R nothing is imminent and everything is on the table.
"The LSU football program has been in a state of transition for quite a while, and Myles has stuck in there firmly though it all," he said. "We just feel like with the uncertainty still remaining at this late date, the responsible thing for Myles to do would to at least explore what may be other options if needed. All he is doing is formulating a backup plan."
Will 4-star QB Myles Brennan sign with LSU?
Will 4-star QB Myles Brennan sign with LSU?

Yes

No
Whichever university eventually lands the blue-chip recruit could see Brennan challenge for early opportunities on a collegiate campus.
"I don't see a ceiling, to be honest with you," Conides said. "Where he wants to go is completely up to him. Does he want be a great college quarterback? Does he want to be a first-round draft pick? I know for a fact he wants to play in the NFL. All Myles needs to do is to continue with what he's worked for on a daily basis. Quarterback is his job, and that's what he wants out of life."
Tyler Donohue is a National Recruiting Analyst for Bleacher Report. Quotes and observations obtained firsthand unless otherwise noted. Prospect ratings and information courtesy of Scout.

Follow Tyler via Twitter: @TDsTake.