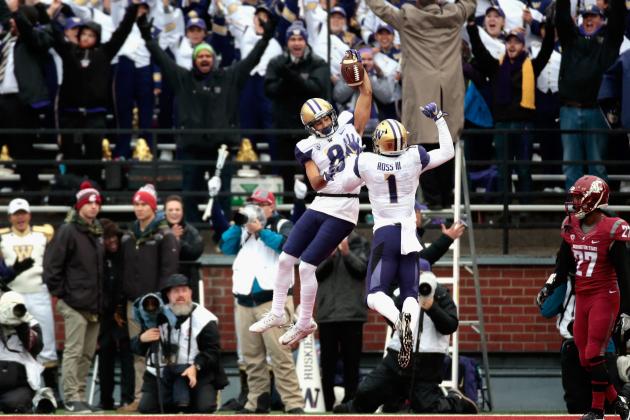 William Mancebo/Getty Images
The Washington Huskies played like they knew the College Football Playoff committee was paying close attention, picking apart Washington State on Friday, 45-17, to capture the 2016 Apple Cup and win the Pac-12 North title.
The Huskies entered the Apple Cup with a 10-1 record and ranked fifth in the playoff standings. Their resume to this point has been lacking, with just two wins against teams currently ranked in the committee's Top 25 (Stanford and Utah) and a nonconference schedule that included Rutgers, Idaho and Portland State.
After losing to USC at home two weeks ago, Washington knew this was one of its last chances to make a statement. It more than accomplished that, jumping out to a 28-3 lead after the first quarter.
The game started out as the Dante Pettis show for the Huskies. The dynamic wide receiver showed off his passing skills early with this 50-yard completion to Darrell Daniels that set up Washington's first score, via UW Football:
Browning ➡️ Pettis ➡️ Daniels. #PurpleReign

Watch: FOX https://t.co/cujT71tEqn

— UW Football (@UW_Football) November 25, 2016
Huskies head coach Chris Petersen is a master of breaking out trick plays at key moments in big games. He launched Boise State into the stratosphere with the Statue of Liberty play against Oklahoma to win the 2007 Fiesta Bowl over Oklahoma.
Pettis was far from done. He also had two touchdown catches in the first quarter and finished with a team-high 86 receiving yards. His second score of the opening frame was an unbelievable reception that came on a play in which he was interfered with, via UW Football:
DANTE PETTIS ???

WOW. Jake Browning to Dante Pettis for a 61-yard TD pass. #PurpleReign

Watch: FOX https://t.co/OQYrX3J7Wg

— UW Football (@UW_Football) November 25, 2016
This was also an excellent return to form for Washington quarterback Jake Browning. After struggling with four interceptions in his previous two games, the sophomore sensation finished 21-of-29 for 292 yards, three touchdowns and no picks against the Cougars.
Per ESPN Stats & Info, Browning's third touchdown pass of the game put him in exclusive Pac-12 company:
Jake Browning is third Pac-12 player with 40 passing TD in a season, joining Jared Goff in 2015 (43) and Marcus Mariota in 2014 (42).

— ESPN Stats & Info (@ESPNStatsInfo) November 25, 2016
Washington's win wasn't all about offense. The Huskies defense came through repeatedly, highlighted by one sequence midway through the second quarter.
With Washington State trying to cut into a 28-3 deficit, Jamal Morrow returned a punt 64 yards to the Huskies 6-yard line. The Cougars did get backed up five yards on first down due to a false start penalty.
Despite having Luke Falk under center, Washington State head coach Mike Leach opted to go with four straight running plays. That didn't pay off, as Gerard Wicks got stopped at the 1-yard line on fourth down.
ESPN.com's Chantel Jennings seemed particularly surprised with the play-calling that close to the end zone:
Nov. 25, 2016. 1:42 p.m. PT – mark it in your calendar. A Mike Leach team ran four times in a row in the red zone. (cue the apocalypse…)

— Chantel Jennings (@ChantelJennings) November 25, 2016
Washington State found the end zone on its next possession following a John Ross fumble, but the momentum wouldn't last, as the Huskies drove 85 yards in seven plays on their ensuing drive to go up 35-10.
Falk had a crucial mistake near the end of the first half with the Cougars trying to find the end zone. One play after a terrific 17-yard completion on 3rd-and-2 to give his team a 1st-and-goal, he danced around the pocket before throwing the ball into the hands of Washington linebacker D.J. Beavers in the end zone.
Per ESPN Stats & Info, Washington has had no problems racking up points in the first half this season:
Washington has scored at least 30 points in the 1st half in 6 games this season, tied with Louisville for the most among Power 5 teams

— ESPN Stats & Info (@ESPNStatsInfo) November 25, 2016
With Washington's offense grabbing points in bunches and the defense coming through in critical moments, things looked bleak for Washington State coming out of the intermission.
After the Cougars found some light with a 15-play, 69-yard touchdown drive to start the third quarter, Washington's defense answered the call once again after the offense stalled into a three-and-out.
The Huskies notched their second goal-line stand of the game, stopping Wicks at the 1-yard line on fourth down to end a 17-play drive that used up more than six minutes.
Seattle Sportsnet gave Washington's defense credit for its success despite missing two key contributors:
This is Washington's defense minus two of its best players, Azeem Victor and Joe Mathis.

— Seattle Sportsnet (@alexSSN) November 25, 2016
Cale Ramaker of KIRO 7 in Seattle caught an exchange between Leach and Falk on the sidelines after Washington's second goal-line stand:
Mike Leach was all over Luke Falk coming off the field following failed 4th down. Mad because he didn't check out of the run?

— Cale Ramaker (@CaleKIRO7) November 25, 2016
Whoever bears responsible for the play call, Washington State's execution in goal-to-go situations was dreadful and was the biggest reason it remains winless in the Apple Cup since 2012.
The Cougars dominated the third quarter when it came to time of possession—Washington held the ball for fewer than three minutes—yet the Huskies only gave up the one score.
With the Huskies offense taking over after the goal-line stand and needing to go 99 yards for a touchdown, they put together a 10-play drive in just under five minutes that ended with Lavon Coleman's 15-yard score to ice the game.
ESPN.com's David Lombardi believes he found the key difference in the game: "Yards per play illustrates this blowout well: Washington 9.2, Washington State 4.7. The Huskies came in as the third-most efficient offense in the Power Five, and their clip today would lead the entire nation."
The Huskies outgained the Cougars 510-334, and Falk was limited to 5.4 yards per pass attempt with three interceptions.
Jacob Thorpe of the Spokesman Review pinpointed another big problem for Washington State throughout the game:
Brutal missed tackles take away WSU's chance at third-and-long. Now Huskies marching.

— Jacob Thorpe (@JacobThorpeSR) November 25, 2016
It's one thing if an offense like Washington's methodically picked apart the defense, but the Cougars had chances to make clean open-field tackles and failed to wrap anyone up.
This was a game in which Washington did everything right while Washington State did not execute simple, fundamental parts of the game, leading to a blowout loss.
The Huskies got the impressive road win they needed to dazzle the playoff selection committee. Their job isn't done yet, however, with the Pac-12 Championship Game against either USC or Colorado on the horizon next week.
One more victory should make it impossible for the committee to keep Washington out of the four-team playoff.
Post-Game Reaction
Petersen didn't want to get into talk of where his team might slot in the playoff standings next week.
"It doesn't matter. I'm just glad the (Huskies) are there and hopefully we'll show up and play our best game of the year," Petersen said, per the Associated Press (via ESPN.com).
Leach tried to explain his team's failures inside the red zone: "I thought we were too quick to press. I thought we made more out of it than it was."
Marks had a different interpretation of how things played out: "On offense, we weren't trying to do enough. We were soft."