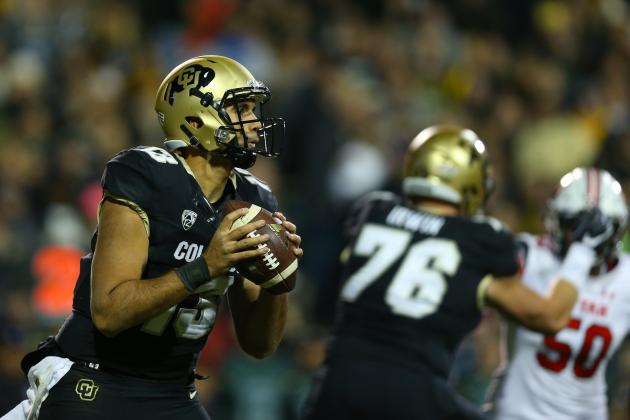 Justin Edmonds/Getty Images
They say defense wins championship, but for the No. 9 Colorado Buffaloes on Saturday night, defense punched its ticket to a Pac-12 championship with a 27-22 win over No. 22 Utah from Folsom Field.
Colorado's defense forced four turnovers on the night while allowing just one offensive touchdown despite Utah getting in to the red zone five times. Three of those times had the Utes inside the Colorado 5-yard line.
Utah quarterback Troy Williams completed just 13 of a possible 40 passes, while running back Joe Williams, who averaged over 200 yards per game in his last five, was held to just 97 yards on the night.
On the offensive end, Buffaloes quarterback Sefo Liufau recorded a combined 329 yards with two touchdowns to pace an offense that wasn't firing on all cylinders, but did just enough to support the defense.
Colorado held its destiny in its own hands on Saturday night, but had it lost, USC would have been the program representing the South against No. 5 Washington in the Pac-12 title game.
It was Utah, though, that got the scoring started after both teams combined for three punts and a fumble in the first four drives.
On Colorado's first punt of the day from deep within its own territory, Alex Kinney's kick was returned 55 yards by Boobie Hobbs to give the Utes the lead, via the Pac-12 Network:
Oh yeah, #HEGONE ?

Boobie Hobbs grabs a 39-yard punt ➡️ SIX to get @Utah_Football on the board first!

— Pac-12 Network (@Pac12Network) November 27, 2016
After Liufau hit Devin Ross with a 42-yard pass to get the Buffaloes deep into Utah territory, the quarterback capped off the drive with a gritty two-yard touchdown run with the last play of the quarter to draw Colorado level.
It looked like Liufau was stood up short of the goal line, but a lunging second effort showed off the quarterback's tenacity, via Colorado's official Twitter account:
TOUCHDOWN | Sefo muscles it in for the TD…Buffs tie it up 7-7 at the end of the first #beatUtah#TheRisehttps://t.co/MK3p3OvnFH

— Colorado Buffaloes (@cubuffs) November 27, 2016
The display impressed Lisa Horne of the Sporting News:
Sefo Liufau is such a baller.

— Lisa Horne (@LisaHorne) November 27, 2016
While Colorado's defense dominated, a litany of drops from Buffaloes receivers limited the offense from breaking open the game. Instead, the hosts had to settle for a pair of field goals, much to the dismay of Jason B. Hirschhorn of SB Nation:
These Colorado pass catchers are just the worst tonight.

— Jason B. Hirschhorn (@by_JBH) November 27, 2016
KPEM's Darnay Tripp thought the catching-challenged receivers would have fit in well with an NFL team with wide receiver troubles:
All these Colorado receivers trying to get drafted by the Eagles.

— Darnay Tripp (@DarnayTripp) November 27, 2016
Utah had major chances in the second half to take and build a lead of its own, but the Colorado defense came up with big answers to ensure that the game would only be tied at 13 late in the third quarter.
The Utes drove down to the Colorado 2-yard line on their opening drive of the second half, but Colorado forced them to settle for a field goal and draw within three.
It drove deep into Colorado territory on its next drive as well after Williams hit Tim Patrick for a 35-yard completion, but the running back Williams was stripped by Ryan Moeller on the 2-yard line, and the ball was picked up by Chidobe Awuzie to cut Utah's march short, via Colorado's official Twitter account:
TURNOVER | Moeller forces the fumble and Chido recovers..Buffs get the ball on their own 2 #beatUtah#TheRisehttps://t.co/bKorjQdeex

— Colorado Buffaloes (@cubuffs) November 27, 2016
The Utes were inside the red zone for a third straight drive, but the Buffaloes once again held strong, allowing just a game-tying field goal with three minutes left in the third.
Peachtree Hoops' Brad Rowland was growing frustrated with Utah's offense:
Utah is horrific in the red zone. Some of that is Colorado playing quality defense but it's been (very) ugly.

— Brad Rowland (@BTRowland) November 27, 2016
The defense's ability to limit points allowed time for Colorado's offense to wake up in the second half, which it did just before the start of the fourth quarter when Liufau hit Shay Fields with a six-yard fade in the corner of the end zone to put the Buffaloes up 20-13, via Fox College Football:
Colorado takes the lead at the end of the 3rd quarter! #UTAHvsCUhttps://t.co/wM1hHPcXJj

— FOX College Football (@CFBONFOX) November 27, 2016
But Utah once again was on the cusp of the end zone thanks to a Kyle Fulks' 93-yard kick return after the Colorado touchdown.
FS1's Jason McIntyre didn't like what he was seeing from Colorado's special teams:
Colorado is not looking very impressive tonight. That's two monster returns by Utah and it feels like this isn't close to over. #USC

— Jason McIntyre (@jasonrmcintyre) November 27, 2016
However, the Buffaloes defense held firm once again and didn't allow a single yard, forcing Andy Phillips to kick his third field goal of the night.
KSL.com's Josh Furlong had to give credit to Colorado's secondary:
Incredible defense by Colorado's DBs today. They're giving Utah nothing.

— Josh Furlong (@JFurKSL) November 27, 2016
Bleacher Report's Ry Cole, on the other hand, wasn't so keen on giving out compliments:
Colorado real life sucks. Utah real life sucks.

— Ry (@JustRyCole) November 27, 2016
The Colorado defense continued to shine and extended its lead in the fourth quarter when Williams was stripped for a second time. This time, it was on Utah's own 13-yard line when Rick Gamboa lodged the ball loose for Kenneth Olugbode to return it to the house and put Colorado up 27-16 with 11 minutes left.
Bleacher Report's Ian Wharton couldn't believe this was the same Colorado team that struggled so mightily last year:
Colorado's defensive playmaking, execution and positioning has been very impressive. Really incredible team turnaround from 2015.

— Ian Wharton (@NFLFilmStudy) November 27, 2016
It didn't mean there were nervy moments down the stretch. With 1:34 left, Utah pulled within five after Williams hit Demari Simpkins from seven yards out and failed on the two-point conversion attempt.
But Colorado was able to recover Utah's attempted onside kick to ice the game.
It's been a remarkable turnaround for this Colorado program, who finished Pac-12 play last season in dead last with a 1-8 record.
Now the Buffaloes will have a chance to make a charge at the College Football Playoff with a win over Washington on Dec. 2. If not, it will have a serious shot at the Rose Bowl now.
For Utah, it's been a disappointing two weeks after a heartbreaking 30-28 loss to Oregon last week that ended its hopes of competing for the division.
Postgame Reaction
After such a stark turnaround, Colorado head coach Mike MacIntyre needed some help processing what his team has done, via Kyle Bonagura of ESPN.com: "I'll guarantee I'll wake up somewhere in the middle of the night and go into the den and just sit there."
Regardless, he was still brimming with pride after the game, via Nick Kosmider of the Denver Post:
MacIntyre: "Worst to first. Not many people can say they did that. Our young man did that."

— Nick Kosmider (@NickKosmider) November 27, 2016
While Liufau helped lead Colorado to victory, he stressed just how important the defense was, via Patrick Saunders of the Denver Post: Utah had one of the best defenses we faced all year. Our offense was hot and cold, but our defense came through like it has all season."
Now looking at a matchup with Washington, Colorado, especially its defense, might have to play the game of its collective lives if it wants to come away with a Pac-12 championship.
Stats courtesy of ESPN.com.