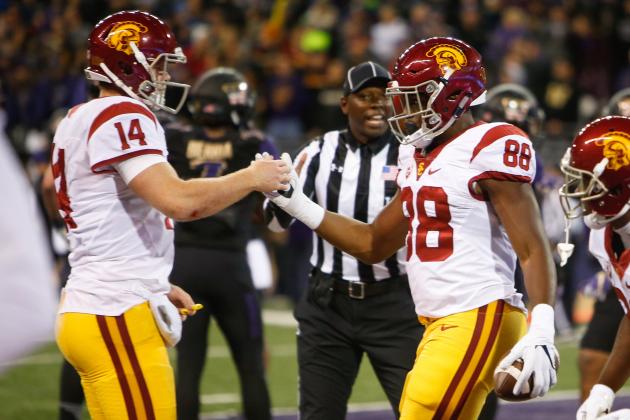 Joe Nicholson-USA TODAY Sports
USC has extended its winning streak to six and put a serious dent in Washington's hopes of making the College Football Playoff with a 26-13 upset victory at Husky Stadium on Saturday night.
After trading field goals in the first 15 minutes, USC put the heat on Washington in the second quarter.
The Trojans built up a 17-6 lead going into halftime with two terrific touchdown drives in which quarterback Sam Darnold picked apart the Huskies defense both times, including throwing a 13-yard score to Darreus Rogers on the first touchdown drive.
Per ESPN Stats & Info, Washington was in uncharted territory with that halftime deficit:
USC leads Washington 17-6 at halftime. This is the first game this season Washington has trailed by double digits.

— ESPN Stats & Info (@ESPNStatsInfo) November 13, 2016
Darnold's ability to move in and out of the pocket was a huge factor for the Trojans, as this highlight from USC's official Twitter account shows:
USC 10, UW 3.

Trojans take the lead on a @DROG_UNO TD. Sam Darnold showing poise early!#FightOn#BeatTheHuskieshttps://t.co/cPAz6X0onr

— USC Trojans (@USC_Athletics) November 13, 2016
The rise of Darnold has been the story for USC in 2016. The freshman star took over as the permanent starting quarterback prior to the September 23 game against Utah and has led the Trojans to a 6-1 record, with the lone loss coming in his first start.
Albert Breer of The MMQB noted scouts were praising Darnold before he was USC's starting quarterback this season:
Had a scout tell me that USC was starting the wrong QB when he went in there in September. He was correct. Sam Darnold can really play.

— Albert Breer (@AlbertBreer) November 13, 2016
Darnold finished the game 23-of-33 for 287 yards with two touchdowns and two interceptions.
Credit also goes to the USC defense for stifling Washington quarterback Jake Browning. The Heisman contender entered this matchup with an astounding 10.33 yards-per-attempt average and 34 touchdowns on just 220 attempts.
As the game got going, especially during that second-quarter turning point, Browning was forced into making bad decisions because of the pressure the Trojans were creating, per USC's official Twitter account:
Not many people have picked Jake Browning off this season. @AdoreeKnows is one of them. #FightOn#BeatTheHuskieshttps://t.co/jqSJ5VZjjf

— USC Trojans (@USC_Athletics) November 13, 2016
That was only Browning's fourth interception of the season and his first at Husky Stadium since the season opener against Rutgers on September 3.
Browning did get his revenge on Adoree Jackson in the third quarter, when USC's star cornerback slipped due to receiver John Ross' fancy footwork, leading to a 70-yard touchdown catch that brought the Huskies back to within 17-13 and gave them some life after being held to two field goals in the first half.
On USC's ensuing possession, Darnold was picked off by Taylor Rapp, and Washington's offense took over at the Trojans' 33-yard line.
When it seemed like the momentum was turning in Washington's favor, though, USC's defense held and blocked the Huskies' field-goal attempt to keep the four-point lead heading into the fourth quarter.
Darnold would again lead USC on another scoring drive, overcoming a 15-yard personal foul penalty from offensive lineman Damien Mama on a 1st-and-goal play from the 9-yard line. The quarterback found Daniel Imatorbhebhe for the score to put the Trojans up 24-13.
Former USC linebacker Su'a Cravens was happy with the effort from Darnold on that touchdown drive:
SAM DAMN DARNOLD is out here !!!!!!! #WeFightingOn

— Su'a Cravens (@Sua_Cravens) November 13, 2016
As Washington again tried to fight its way back into the game, USC's defense continued to give Browning problems. It wasn't like the Trojans were doing anything unique or creative, but their ability to create pressure from the front four enabled seven players to drop into coverage.
USC head coach Clay Helton discussed what his team's pass rush had looked like during the week before the game, per Zach Helfand of the Los Angeles Times:
Clay Helton on his pass rush this week: "They feel like they're playing in the other team's backfield." Washington feels like it, too.

— Zach Helfand (@zhelfand) November 13, 2016
On top of that, Washington could only muster 17 yards rushing on 27 carries, putting even more pressure on Browning to pick up huge chunks of yardage to try to cut the deficit.
Browning was clearly pressing late in the fourth quarter, knowing he had to make something happen if Washington was going to make a comeback. He rolled out to his right and threw back across his body to the other side of the field, where Jackson picked off his second pass of the game.
Browning's Heisman chances took a huge hit after he went 17-of-36 for 259 yards with one touchdown and two interceptions in defeat.
Reign of Troy bragged about the effort from Jackson in the victory:
Adoree' Jackson! Big players make big plays in big moments. That was a big damn play in a big damn moment.

— Reign of Troy (@ReignofTroy) November 13, 2016
This was a night when USC's stars made their presence felt. Darnold outplayed one of the nation's premier quarterbacks, and he did so on the road against a Top Five team. Jackson found ways to get involved in key plays on both sides of the ball.
Dan Wolken of USA Today offered high praise for Helton, especially after USC started the season looking lost with a 1-3 record:
It says a lot about Clay Helton that USC went from supposed dysfunction a month into the season to this.

— Dan Wolken (@DanWolken) November 13, 2016
The Trojans still have work to do if they hope to play for a Pac-12 championship. Colorado leads the South Division with at 5-1, while USC's 6-2 record is good enough for second place. Utah (5-2 in Pac-12 play) holds the tiebreaker over the Trojans, so they need some help over the next two weeks.
The Huskies still control their destiny in the North Division, though they have no margin for error with Washington State entering Saturday undefeated in conference play. Those two teams play in the regular-season finale on November 25.
This was not the result Washington wanted to see in such a high-profile game, but there's still a chance for this team to get back into the Top Four in the College Football Playoff standings. It will just take flawless work on the Huskies' part and a lot of help from the outside.
Postgame Reaction
Helton seemed to be in a state of awe regarding the performance of his young quarterback after the victory.
"To play that game, at this age, in that atmosphere? Unbelievable," Helton said, per ESPN.com.
Helton also found time to tweet out a message about the whole USC team:
Great team win on the road! Congrats to our players and the Trojan Family! #FightOnpic.twitter.com/TYGHPuJp8F

— Clay Helton (@USCCoachHelton) November 13, 2016
Darnold acknowledged the role his teammates played in his successful performance.
"When you have great players in front of you … it's your job to get them the ball and find the open guy," Darnold said, per ESPN.com. "I thought I did that pretty well tonight."
For Washington, head coach Chris Petersen discussed the possibility his team may have been looking ahead instead of focusing on the task at hand.
"If guys are looking down the horizon, you're going to get hit right between the eyes," Petersen said, per ESPN.com. "There's too many good players and coaches in this league. … I think we played a good team tonight."
Following up on what his coach said, Browning pointed out now is when everyone will find out what kind of team the Huskies are after this defeat.
"Here's where we find out if we're the front-runners that are only playing well when things are going well or are we going to respond and bounce back stronger?" Browning said, per ESPN.com. "That will be interesting to see what kind of team are we."
The test for Washington begins next Saturday at home against Arizona State.