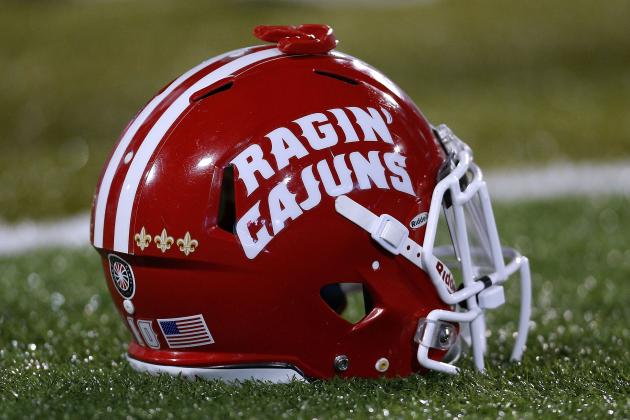 Jonathan Bachman/Getty Images
Four members of the University of Louisiana at Lafayette Ragin' Cajuns football team were disciplined after they were recorded singing lyrics to YG's "FDT" (F–k Donald Trump) in their locker room.
According to the Advertiser's Tim Buckley, the video surfaced "shortly before final results were in from Tuesday's election in which Trump was elected president."
Athletic director Scott Farmer released a statement Friday condemning the unidentified players' actions, per Buckley:
Recently, a video showing a small group of student-athletes acting inappropriately was recorded and shared on social media. This video in no way represents the views and values of the Ragin' Cajuns Football program, the Athletics Department or the University of Louisiana at Lafayette.

Like many of you, we are disappointed in the actions of these student-athletes. Coach Hudspeth recognized the severity of the situation and does not condone their behavior. He acted swiftly to discipline those involved and continues to educate the team on how their actions are a reflection of the name on the front of their jerseys.
The Ragin' Cajuns defeated Georgia Southern 33-26 on Thursday night, and head coach Mark Hudspeth apologized for the video during his postgame availability with reporters.
"I am obviously disappointed in a few of our players' immature behaviors that they demonstrated in the locker room," he said, according to Buckley. "We do not condone that type of behavior. It is not an example of our entire team. It does not represent our entire team."
Hudspeth did not disclose the severity of the discipline.