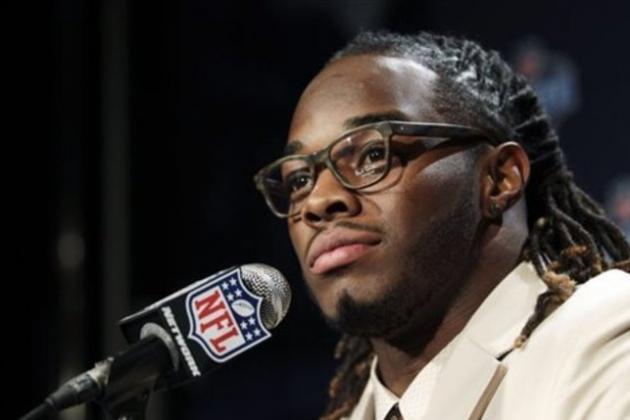 Associated Press
Things didn't go as expected for former Alabama running back Trent Richardson after being selected third in the 2012 NFL draft.
The smile was nothing short of beaming, and not just because of the score of the game.
Dressed like he was still attending the University of Alabama, former Crimson Tide running back Trent Richardson was on the visiting sideline for last Saturday's 10-0 victory at LSU, enjoying a lot more than just a few memories. It was the first win that he had contributed to in quite a while, albeit it in a small and different way.
The only player to score a touchdown in the 2012 BCS Championship Game against these same Tigers, Richardson took practice snaps with Alabama's scout team one day last week, helping the defense get ready to face Heisman Trophy contender Leonard Fournette.
To some it was a reminder of how far he's fallen over the past five years, but to Richardson it was a demonstration of just how much he wants to get back on the field.
"That was the most fun I've had in so long," Richardson said about the practice. "The whole thing was me being a kid again."
While it's not unusual to see former Crimson Tide players, even those in the National Football League, taking advantage of Alabama's state-of-the-art weight room and other amenities to rehab and train, this meant a little more to Richardson.
After struggling through the the NFL for three-plus seasons, Richardson's return to Tuscaloosa was a chance to sort of rediscover himself.
Having heard about former teammate Blake Sims practicing with the team prior to last month's Texas A&M game, Richardson called Alabama and asked if he could do something similar. Coming off arthroscopic surgery, he wanted to test his knee out under live fire.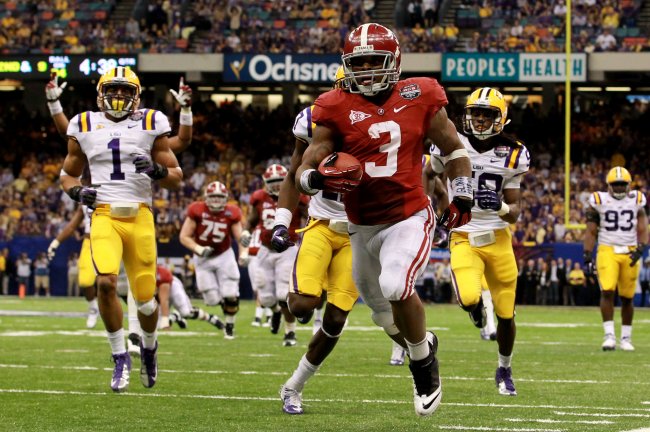 Ronald Martinez/Getty Images
It would also be a nice reminder of what football used to mean to him. Richardson could always go back to flipping truck tires and running up sand dunes in Pensacola, Florida, like he used to when breaking Emmitt Smith's rushing records at Escambia High School, but it's nothing like being around a team setting—especially this one.
At Alabama, he's surrounded not only by people he trusts, but also by memories of success. Things like his 2011 Doak Walker Trophy as college football's best running back
"One thing that I've learned is to love the game again," Richardson told B/R. "I lost my love of the game, and I wasn't real mature about things. Just growing up, just realizing that football is a game that doesn't last long. When you have that chance to be on the platform, you have to make the best of it."
Richardson learned that the hard way.
When Alabama fans last saw him around campus, Richardson looked like he was ready to take the NFL by storm. Part of the Crimson Tide's incredible litany of talented running backs under head coach Nick Saban—which since 2007 has included Glen Coffee, Mark Ingram Jr., Eddie Lacy, T.J. Yeldon, Derrick Henry and Kenyan Drake—Richardson struck many as the player who had the biggest upside for the next level.
Trent Richardson's College Statistics

| | | | | | | |
| --- | --- | --- | --- | --- | --- | --- |
| Year | G | Att.-Yards | Avg. | TD | Receiving | TD |
| 2009 | 14 | 145-751 | 5.2 | 8 | 16-126 | 0 |
| 2010 | 11 | 112-700 | 6.3 | 6 | 23-266 | 4 |
| 2011 | 13 | 283-1,679 | 5.9 | 21 | 29-338 | 3 |
| Total | 38 | 540-3,130 | 5.8 | 35 | 68-730 | 7 |
sports-reference.com
After missing Alabama's first pro-day workout for the NFL draft following a knee procedure, Richardson wowed scouts during his makeup session. For a power drill he was told to bust off the line and attack a blocking pad and did it so well he bowled over then-Cleveland Browns running backs coach Gary Brown.
The Browns subsequently traded up to take Richardson with the third overall selection. He soon signed a four-year, $20.5 million contract, all guaranteed.
But without the same support structure on or off the field, Richardson had trouble adjusting to NFL life. Coupled with another arthroscopic knee surgery during training camp, he fell behind his teammates. He didn't look like the same player.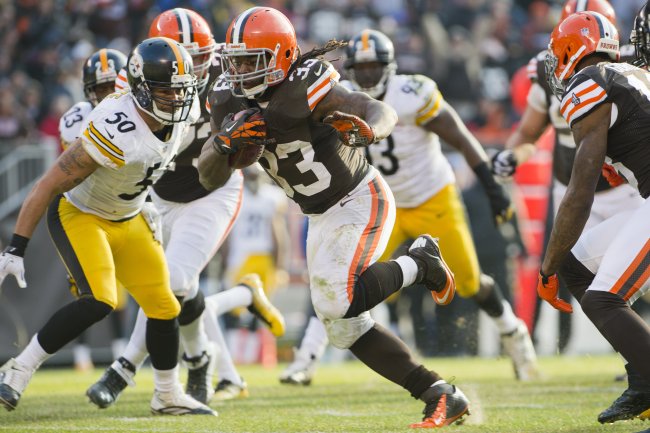 Jason Miller/Getty Images
Richardson had 267 carries for 950 yards and 11 touchdowns as a rookie, but with zone-blocking schemes giving him problems, he averaged just 3.6 yards per carry. Midway though his second season, the Browns surprisingly traded him to the Indianapolis Colts, recouping a first-round pick.
That's about the time Richardson realized his passion for the game was gone.
"It just wasn't the same for me," Richardson said. "I felt like there was no loyalty. I just felt like that whole time, I don't want to say that I was in a bad place, but since Alabama, why am I in Indy now? It's a great organization, a great place, but for me it was a bad marriage."
Richardson had 316 carries for 977 yards and six touchdowns for Indianapolis in 2013-14 when his average yards per carry continued to drop to 2.9. The Colts released him on March 12, 2015. The Oakland Raiders did likewise at the end of the subsequent training camp, and he was out of football.
Trent Richardson's Pro Statistics

| | | | | | | |
| --- | --- | --- | --- | --- | --- | --- |
| Year, Team | G | Att.-Yards | Avg. | TDs | Receiving | TDs |
| 2012 Browns | 15 | 267-950 | 3.6 | 11 | 51-367 | 1 |
| 2013 Browns | 2 | 31-105 | 3.4 | 0 | 7-51 | 0 |
| 2013 Colts | 14 | 157-458 | 2.9 | 3 | 28-265 | 1 |
| 2014 Colts | 15 | 159-519 | 3.3 | 3 | 27-229 | 0 |
| Total | 46 | 614-2,032 | 3.3 | 17 | 113-912 | 2 |
sports-reference.com
His life away from the game had followed a similar path. With numerous people having taken advantage of his generosity, Richardson started to take a close look at his finances. He disclosed on an ESPN E:60 episode that his family and friends had blown $1.6 million of his money between January and October of 2015 alone. For example, he found there were 11 Netflix and eight Hulu accounts in his name.
That's when his comeback really began, when Richardson stopped trying to please everyone else, said goodbye to the hangers-on and started to take control of his life again.
He signed with the Baltimore Ravens, whose front office is led by general manager Ozzie Newsome, another Crimson Tide legend. It didn't pan out, as the Ravens couldn't afford to hold his roster spot when he needed yet another arthroscopic knee procedure just before the start of training camp. But head coach John Harbaugh made it clear that the door was still open for a possible return.
"I trust those guys," Richardson said of the Ravens. "They gave me an opportunity when nobody else did after everything that had been said about me. No matter what had [happened], they believed in me. I still talk to those guys."
All that brought him full circle to Tuscaloosa.
"We'd love to see Trent get it turned around and get it on track," said Saban, who maintains an open-door policy for his former players.
Richardson is 26 now, an age when running backs don't get many more chances, especially when they've already had a couple. His daughters, who used to watch him from the stands at Bryant-Denny Stadium, are 10 and 8 now and playing basketball and softball.
But he wants football back in his life, so Richardson has returned to the people who helped make him a Heisman Trophy finalist. He's enjoyed being around running backs coach Burton Burns and strength and conditioning coach Scott Cochran, both of whom are well-known for their tough-love approach.
In Richardson's case, though, they've also been sources of encouragement, telling him that they see the same look in his eye as when he wore crimson and white and that he's just as tough to bring down as ever.
Michael Hickey/Getty Images
"They [said], 'Make sure you know that we're going to be hitting,'" Richardson recalled about the practice he had with this year's team. "I said, 'Coach, you make sure that they know that I'm still Trent Richardson.'"
Maybe he needed to prove it to himself a little too.
Meanwhile, Richardson's waiting for another opportunity. The Kansas City Chiefs brought him in for a tryout, but for now he's back in Tuscaloosa working out twice a day.
"It was good. It was fun," he said. "I'm just ready to get back out there, man. Just getting back into game shape right now. I'm ready to play. I'm ready to do the work. I'm hungry."
All Richardson wants to do is "Change history," he said. "That's my plan."
Quotes were obtained firsthand unless otherwise noted.
Christopher Walsh is a lead SEC college football writer. Follow Christopher on Twitter @WritingWalsh.