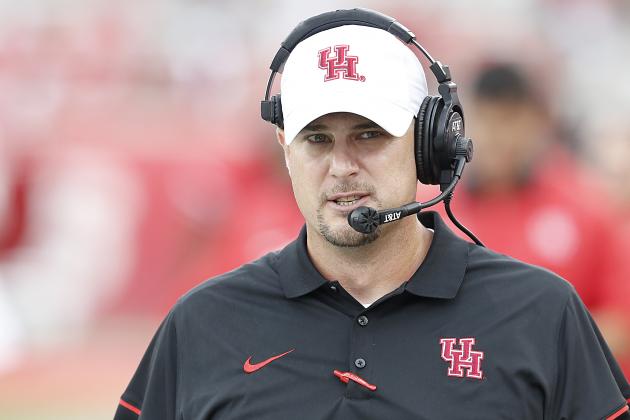 Thomas B. Shea/Getty Images
Texas has won the Tom Herman sweepstakes and is expected to announce him as its head coach on Saturday. Heather Dinich of ESPN.com first reported the news. Mark Berman of Fox 26 confirmed the agreement.
Herman's contract is a five-year deal worth over $5 million per year with escalators that will make the final year worth over $6 million., per Kirk Bohls of the Austin American-Statesman.

After his first season with the Houston Cougars, Herman became a hot commodity. In November 2015, 247Sports' Josh Newberg linked him with the vacancy at Georgia. USA Today's Dan Wolken wrote in February that the 41-year-old strongly considered South Carolina prior to the Gamecocks' defeat to The Citadel on Nov. 21, 2015.
Ultimately, Herman signed a five-year extension with Houston that paid him $3 million a year, per USA Today.
Few expected Herman to see out the life of the deal. All the money in the world can't make up for the structural challenges any coach at Houston faces, especially after the Big 12 declined to expand, which would've opened a door for the Cougars into a Power Five conference.
Houston effectively has to run the table to have any hope of qualifying for the College Football Playoff, and even that wouldn't guarantee the school a semifinal berth. The Cougars could eventually break that glass ceiling, but nobody can blame Herman for wanting to take a step up in prestige.
For Texas, this is the best hire the school could've made. Although Herman doesn't have a lengthy track record, particularly as a head coach, he has proved himself to be a great offensive mind.
Texas' last 10-win season was in 2009. Nebraska, Notre Dame, Michigan and Florida are evidence of how quickly a traditional college football power can be mired in mediocrity, which was happening for Texas. The Wolverines, though, illustrate how the right head coach can arrest that slide, with Jim Harbaugh's impact felt almost overnight.
It's not a stretch to say Herman could have a similar effect on the Longhorns. He brings a level of attention and excitement to the program that was absent under Charlie Strong.
Strong can at least take credit for assembling a young roster Herman will use to devastating effect in 2017.
Quarterback Shane Buechele and wide receiver Devin Duvernay will be sophomores, making up a promising core for the passing game. On defense, the top three leading tacklers, linebackers Malik Jefferson and Anthony Wheeler and defensive end Breckyn Hager, are juniors in 2017.
Herman's first big break in FBS came in 2007 when he took over as Rice's offensive coordinator. After two years with the Owls, he spent three years apiece with Iowa State and Ohio State in the same position before heading to Houston.
Below is a look at where Herman's offenses have ranked since 2007 in both traditional metrics and Football Outsiders' S&P+ rating:
Tom Herman Offenses

| | | | | | | | |
| --- | --- | --- | --- | --- | --- | --- | --- |
| Year | School | Scoring | Pass Offense | Rush Offense | S&P+ Overall | S&P+ Passing | S&P+ Rushing |
| 2007 | Rice | 31.4 (41st) | 293.1 (15th) | 110.9 (104th) | 86.2 (106th) | 87.9 (95th) | 94.1 (83rd) |
| 2008 | Rice | 41.3 (8th) | 327.2 (5th) | 143.7 (62nd) | 116.4 (23rd) | 113.8 (26th) | 110.0 (40th) |
| 2009 | Iowa State | 20.5 (102nd) | 184.7 (94th) | 180.0 (35th) | 111.0 (42nd) | 106.8 (51st) | 105.4 (48th) |
| 2010 | Iowa State | 22.2 (93rd) | 174.3 (95th) | 143.2 (72nd) | 92.1 (83rd) | 91.7 (91st) | 100.5 (64th) |
| 2011 | Iowa State | 22.7 (90th) | 212.3 (73rd) | 174.2 (39th) | 87.1 (101st) | 84.1 (103rd) | 104.7 (51st) |
| 2012 | Ohio State | 34.8 (29th) | 181.5 (105th) | 242.3 (10th) | 119.5 (16th) | 115.6 (33rd) | 125.7 (6th) |
| 2013 | Ohio State | 45.5 (3rd) | 203.3 (91st) | 308.6 (5th) | 140.8 (2nd) | 121.6 (17th) | 161.6 (1st) |
| 2014 | Ohio State | 44.8 (5th) | 247.1 (52nd) | 264.5 (9th) | 47.6 (1st) | 149.6 (2nd) | 143.8 (1st) |
| 2015 | Houston | 40.4 (10th) | 248.4 (44th) | 235.8 (13th) | 34.7 (33rd) | 106.0 (48th) | 108.2 (41st) |
| 2016 | Houston | 37.5 (21st) | 285.1 (24th) | 159.1 (88th) | 30.8 (57th) | 112.9 (35th) | 97.8 (88th) |
Source: ESPN.com, Football Outsiders
Herman's reputation rose by leaps and bounds based on his success with Ohio State. Despite injuries to quarterbacks Braxton Miller and J.T. Barrett, he helped lead the Buckeyes to a national championship in 2014.
Cameron Wolfe of the Denver Post explained why Herman's choice to join Texas was an easy one:
Can't blame Tom Herman either. He took his dream job, probably more $, & a realistic chance to win a title every year. Not a hard decision.

— Cameron Wolfe (@CameronWolfe) November 26, 2016
Writing for Grantland, Chris B. Brown explained how Herman left his identity on the Buckeyes offense:
Specifically, Herman has shifted the Buckeyes away from the single-wing-esque QB power runs that Meyer preferred during the Tebow years and that since-injured QB Braxton Miller leaned on while leading the Buckeyes in rushing in 2012. At Florida, Meyer preferred "gap blocking" schemes: running plays designed to grind out a few years at a time, with "down" blocks from linemen to the side the play was directed, backside linemen pulling to lead the way, and Tebow often lowering his shoulder behind them.

In contrast, Herman has based Ohio State's offense around the inside zone: an inside, downhill running play that uses zone blocking to automatically adapt to the defense, a crucial trait when used with the no-huddle, another tactic now featured far more in Columbus than it ever was in Gainesville.
Running his own team in Houston, Herman showed his ability as a defensive coach as well, sparked in part by his work on the recruiting trail.
Ed Oliver was the No. 3 defensive tackle and No. 6 player overall in the 2016 recruiting class, according to Scout.com. With Oliver wreaking havoc along the line, the Cougars rank ninth in sacks (37.0). In Houston's upset of No. 3 Louisville, the defense had 11 sacks on Heisman Trophy hopeful Lamar Jackson.
Ultimately, Texas was able to fend off LSU and a host of other schools that were potential suitors for Herman's services. The new coach brings the total package, and his arrival should bring immediate returns. Bringing him aboard also comes at an important moment for the program in general.
Hiring Herman sets the Longhorns up for big things a year from now, and he should be a coach who ensures that level of performance carries through into the future as well.