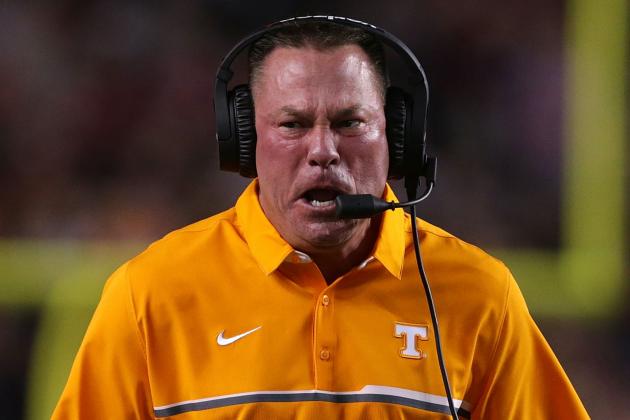 Tyler Lecka/Getty Images
Tennessee head coach Butch Jones
The regular season is complete, the bowl games are coming up, and there's no way to sugarcoat what has gone down over the last three months in the 13 SEC cities outside of Tuscaloosa, Alabama.
The SEC is mediocre.
It's average.
It's a conference with one great team—Alabama—and a bunch of teams that struggle to find consistency, routinely get in their own way and are no better or worse than other mid-level Power Five teams from around the country.
Rivalry Weekend was a perfect microcosm of its ineptitude.
Three of the four out-of-conference rivalry games were won by the ACC—Georgia Tech over Georgia, Clemson over South Carolina and Florida State over Florida. Sure, two of those ACC teams—Clemson and Florida State—were favorites. But the Gamecocks and Gators looked woefully inept in 49- and 18-point losses, respectively.
Yeah, Kentucky stunned Louisville with a late field goal in Lexington. That's great and should be celebrated. But that doesn't make up for the season-long pillow fight that took place among the SEC's also-rans.
Just take a look at these standings.
Final 2016 SEC East Football Standings

| | | |
| --- | --- | --- |
| Team | Conference Rec. | Overall Rec. |
| Florida | 6-2 | 8-3 |
| Tennessee | 4-4 | 8-4 |
| Georgia | 4-4 | 7-5 |
| Kentucky | 4-4 | 7-5 |
| South Carolina | 3-5 | 6-6 |
| Vanderbilt | 3-5 | 6-6 |
| Missouri | 2-6 | 4-8 |
SECSports.com
Final 2016 SEC West Football Standings

| | | |
| --- | --- | --- |
| Team | Conference Rec. | Overall Rec. |
| Alabama | 8-0 | 12-0 |
| Auburn | 5-3 | 8-4 |
| LSU | 5-3 | 7-4 |
| Texas A&M | 4-4 | 8-4 |
| Arkansas | 3-5 | 7-5 |
| Mississippi State | 3-5 | 5-7 |
| Ole Miss | 2-6 | 5-7 |
SECSports.com
Who's going to go to the Sugar Bowl—which is contractually obligated to take the highest-ranked SEC team in the final College Football Playoff standings?
It's probably going to be Auburn, which is a major indictment of the conference as a whole considering the Tigers gained just 4.04 yards per play against Alabama and combined for just 17 first downs in their final two SEC games.
"We've got players in there that are hurting, coaches are hurting," head coach Gus Malzahn said after the Iron Bowl loss, according to postgame quotes. "This is a tough one. We didn't play well. Give them credit. They're a good team. We really expected to play better, and we didn't."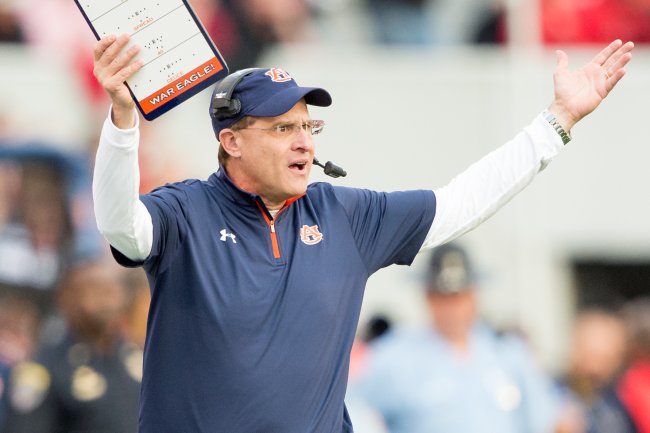 Michael Chang/Getty Images
The same Tigers team that managed fewer than 200 yards of offense in each of its last two SEC games—both losses—will likely be the second-highest ranked team in the conference as long as Alabama dispatches Florida in the SEC Championship Game, as expected.
The same Tigers team that entered the season with Coach Malzahn resting on the hot seat, coaching his way off and then perhaps back on, is essentially a lock to earn a berth in the conference's second-most prestigious bowl.
What's even scarier is that every fanbase of a team that's in legitimate Sugar Bowl contention is either frustrated with its head coach or already fired one midseason.
After getting worked by Vanderbilt 45-34 with the Sugar Bowl sitting there waiting to be taken, Tennessee head coach Butch Jones is feeling massive heat.
The preseason pick by me and the assembled members of the media at media days sputtered to an 8-4 record, has regressed defensively to a point where it gave up more than 500 yards five times since the start of October and couldn't capitalize on a window in the division that was as wide as the Tennessee River.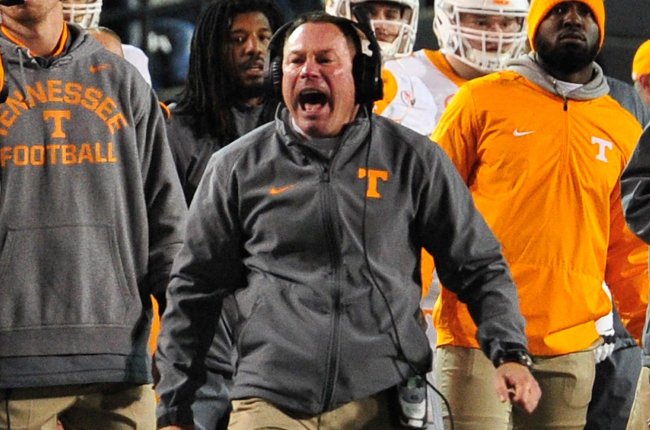 Frederick Breedon/Getty Images
As my Bleacher Report colleague Brad Shepard pointed out after the loss, the disappointing 2016 campaign has placed Jones on the hot seat in a year in which he will be getting a new athletic director and chancellor as bosses.
Yikes.
Texas A&M's once-promising national title hopes were derailed by November losses to the two Mississippi schools—which finished in the basement of the SEC West. Then, to make matters worse, the Aggies got smoked at home on Thanksgiving night by an LSU team that has been a mess all year, fired its head coach and was already engulfed in coaching silly season madness.
As a result of that win by LSU, the Tigers are one of the more attractive Sugar Bowl options thanks to their proximity to New Orleans and positive momentum heading out of the season—a one-game winning streak.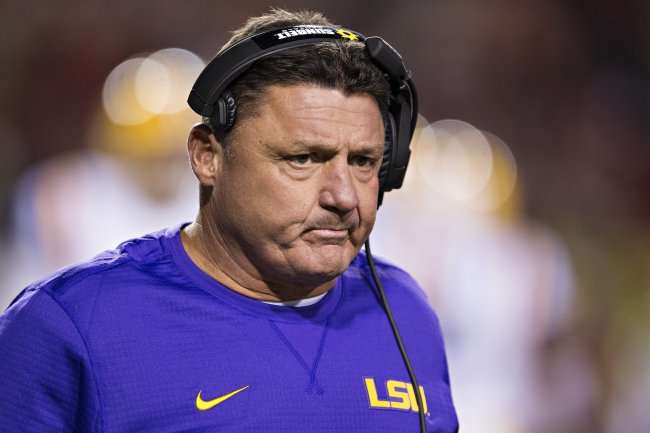 Wesley Hitt/Getty Images
Florida's offense is a disaster. The Gators don't have a quarterback and, if they lose to Alabama, will end the season on a two-game losing streak.
The reason Auburn will likely be the representative in the Sugar Bowl is because it has the best loss down the stretch—on the road to Alabama—and holds a head-to-head advantage over LSU.
What an indictment of SEC football in 2016.
Other than Alabama, the SEC is a disaster this year. Maybe Alabama can just send its second-teamers to New Orleans to play in the Sugar Bowl on Jan. 2 after they play in the national semifinal (likely the Chick-fil-A Peach Bowl) on New Year's Eve.
They're probably the SEC's second-best team anyway.
Quotes obtained firsthand unless otherwise noted. Statistics courtesy of CFBStats.com unless otherwise noted.
Barrett Sallee is the lead SEC college football writer and national college football video analyst for Bleacher Report, as well as a host on Bleacher Report Radio on SiriusXM 83. Follow Barrett on Twitter @BarrettSallee.