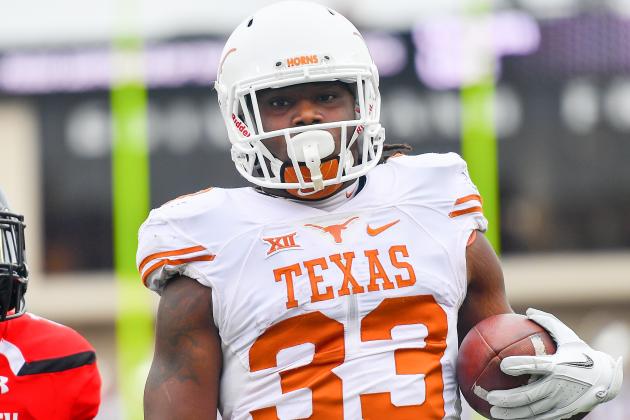 John Weast/Getty Images
Texas RB D'Onta Foreman
D'Onta Foreman wasn't supposed to be the lone bright spot of a lost season at Texas.
He wasn't supposed to be the only star on a Longhorns team that, due to another season of irrelevancy in the Big 12, will likely lose head coach Charlie Strong.
He wasn't supposed to be in Austin to begin with.
The 6'1″, 249-pounder from Texas City, Texas, leads the nation with 1,863 rushing yards and 186.30 rushing yards per game. He toted the rock a whopping 51 times in Saturday's overtime loss to Kansas and broke Earl Campbell's program record with his 12th straight 100-yard game.
This breakout has also been a boon for Foreman's future, as his draft stock has risen dramatically since before the start of the season.
Not bad for a guy who was supposed to be "the other Foreman."
D'Onta's twin brother, Armanti, is a wide receiver for the Longhorns. During the recruiting process, Armanti was a 4-star prospect by Scout and held offers from Florida, Oklahoma, USC, Texas A&M and several other powers. D'Onta was a 3-star prospect with only seven FBS offers including three Power Five offers from Illinois, Missouri and Washington State.
"His brother getting all of that publicity really made him want to step up," said Leland Surovik, Foreman's high school coach at Texas City High School. "It gave him a desire, because he wanted it too. It humbled him and was his driving force."
That created the Texas-sized chip Foreman wears on his shoulder.
"I feel like I was overlooked, and I wanted to be right there next to him," Foreman told Bleacher Report. "Unfortunately, I wasn't. But that gave me a different approach for the game, and I want to prove a lot of people wrong. That provided fuel for the game."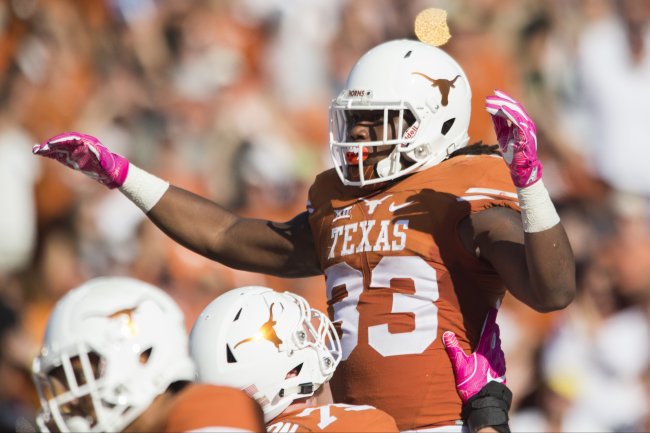 Cooper Neill/Getty Images
To get the chance to prove people wrong, he first had to prove college head coaches wrong—including former Longhorns head coach Mack Brown, who was still in charge during Foreman's recruitment. He earned his fourth FBS offer in the summer of 2013 at Texas' summer camp, in a move that essentially sealed the deal for his brother to commit to the Longhorns.
D'Onta was the throw-in. The wild card. The player with potential who might pan out, but Texas felt like it needed to offer in order to seal the deal with Armanti.
It worked.
The twins committed together to Brown and the Longhorns in June 2013, stuck to their commitment through the coaching change from Brown to Strong and signed in February 2014.
D'Onta's uphill battle wasn't over, though. Far from it.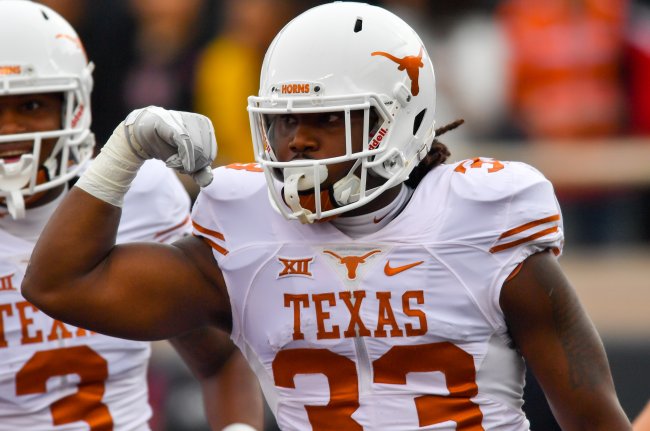 John Weast/Getty Images
Weighing 217 pounds coming out of high school, D'Onta's size, speed and ability to move north/south as well as east/west made him an attractive option at linebacker—especially for a head coach like Strong, who is a defensive coach by trade.
"A couple of recruiters asked me if he was going to get too big to play running back, and if he does, will he lose his speed," Surovik said. "I didn't see him losing any of his speed even if he did get up to 240. He played linebacker with us and some defensive end, and he wasn't great. He played one year for us. To be a great linebacker, you have to have a nose for the football and see that stuff happen. Him being a student of the game, he worked at it, but it didn't come naturally."
Running back did.
"I just stuck to my guns, told people that I want to play running back—I'm going to play running back—and that I will be one of the best," Foreman said. "Even my dad told me at one point in time that he thought I'd be a better linebacker. I told him no, I'm going to play running back and I'm going to show everybody."
He was right.
He's on pace for one of the best seasons in Texas' long history of successful running backs, and he has done so with his brother providing all of the motivation he needs.
"It doesn't matter what it was, we have always competed with each other and be by each other's side. We always wanted to be the best," Foreman said. "The thing about that, though, is that it helped us compete with other people. We knew that we've been doing it all our lives, so when it was time to compete with somebody else, it was easy to us.
"He's helped me a lot, and I'm thankful to have him here with me."
Foreman has emerged as a bona fide college football superstar on a Texas team marred by turmoil, culminating in the reported end of the Strong era in Austin after Friday's game vs. TCU, according to ESPN.
"He's the MVP for Texas this season—and I say that with Connor Williams already being the best left tackle in CFB—and should be a Heisman top five," said Bleacher Report senior NFL draft analyst Matt Miller. "He's having a year on par with guys who are on a first-name-basis at Texas: Earl, Ricky [Williams] and Cedric [Benson]."
D'Onta Foreman was No. 2 in Bleacher Report's Heisman Top 5 after Week 12.
A draft-eligible true junior, he has a decision to make following Friday's TCU game. Should he stay at Texas through another coaching change or capitalize on his success?
He hasn't announced his intentions quite yet, but his dedication to his position, brother and ability to keep Texas competitive despite an offense that has tailed off this season has made him a sure-fire NFL star when he does move on.
According to Miller in the video below, Foreman will declare if Strong is let go and will be a first- or second-round pick in the 2017 NFL draft.
CBS has Foreman ranked fifth in a loaded running back draft class, ahead of Oklahoma's Samaje Perine and Georgia's Nick Chubb. ESPN's Todd McShay has him ranked 18th overall on his big board.
"He's the only thing they have offensively," said Miller. "He's big, strong, has breakaway speed and has underrated balance and body lean. Defenders literally bounce off his thighs when he gets hit. Of course the fumbles are an issue, but most come from trying to do too much after contact."
Foreman has made a name for himself under some difficult circumstances in Austin. He's gone from afterthought to sought after, and he has given himself the chance to either cash in this year in one of the best running back classes in history or bide his time and perhaps become an even better draft prospect.
Not bad for the "other Foreman."
Quotes obtained firsthand unless otherwise noted. Statistics courtesy of CFBStats.com unless otherwise noted.
Barrett Sallee is the lead SEC college football writer and national college football video analyst for Bleacher Report, as well as a host on Bleacher Report Radio on SiriusXM 83. Follow Barrett on Twitter @BarrettSallee.