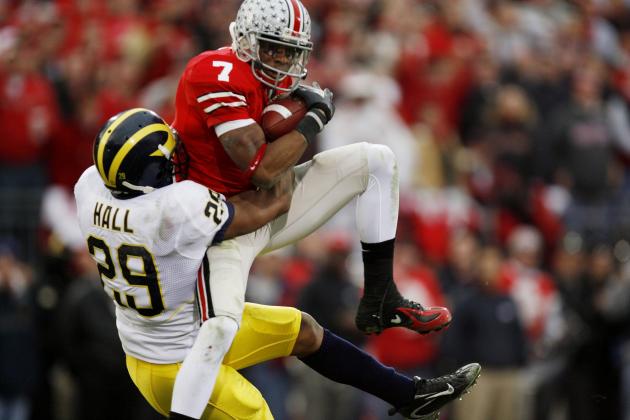 Gregory Shamus/Getty Images
Ohio State star receiver Ted Ginn Jr. was one of the stars of the 2006 game, catching eight passes for 104 yards and a touchdown.
This weekend, No. 2 Ohio State and No. 3 Michigan meet in an annual rivalry—known as "The Game"—that is considered the best in college football. The stakes are high, with the winner likely earning a spot in the College Football Playoff.
But as much hype as there is surrounding this game, it does not touch 2006.
That season, the two teams entered the regular-season finale undefeated, ranked No. 1 and 2 in the country. Not that it needed any more hype, but a day before kickoff, legendary Michigan coach Bo Schembechler died from heart failure.
Michigan fans hung signs on the overpasses from Ann Arbor to Columbus with the message "Win One for Bo."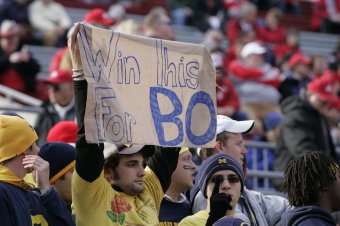 Gregory Shamus/Getty Images
That day, 35 future NFL players took the field. Ten of those players are still in the league. Ohio State had eventual Heisman Trophy winner Troy Smith. Michigan had one of the best rushing attacks in college football and entered the game with what had been a historically dominant defense.
There was not a Big Ten Championship Game that would follow. This was it.
The game did not disappoint.
The Buckeyes beat the Wolverines, 42-39, in one of the greatest college football contests ever played. A whopping 21.8 million viewers watched the broadcast on ABC, making it the highest-rated regular-season college football game in 13 years.
Bleacher Report interviewed players from both sides over the last two months for a behind-the-scenes look at the classic game.
The Lead-Up
Kirk Barton, Ohio State offensive lineman (fourth-year junior): The thing I remember is that countdown clock on ABC that counted down [until kickoff]. You don't see that. They also moved the kickoff to 3:30. It's noon every year forever. We knew it was a big deal because of the rankings, but we knew when they shifted the time slot when it was always noon that this is a different deal.
Anthony Gonzalez, Ohio State receiver (fourth-year junior): The energy was definitely amped up quite a bit, especially from a media perspective. Normally, during the week, they might make two or three players available and it's your standard local media, maybe they get ESPN there, but it's about 15 people. For this one, they had the entire indoor facility blocked off and each player had their own station, which is exactly what they do during bowl games at the bowl sites. It felt like there were 500 to 1,000 media members there. I don't know how many were there. That was Tuesday. That felt from the second that we started, you knew it was the biggest game you'd ever play in at Ohio State.
Mark Bihl, Michigan offensive lineman (fifth-year senior): It started Sunday. The preparation was real. The running joke was every day Coach [Lloyd] Carr would ask us who skipped class. That's ultimately why guys are in college is to get a degree. And Ohio State week, everybody stood up. You didn't go to class Ohio State week.
Chris "Beanie" Wells, Ohio State running back (freshman): Every week with Jim Tressel during the season, you'd watch tape of the specific opponent but you'd also watch at least one quarter of the Michigan game. No matter who you were preparing for, you'd always watch one quarter of the Michigan game from that week in preparation of the big game at the end. Coach Tressel lived by the philosophy, yes, we want to go out and win every game we can, but that Michigan game is the one that matters and the one that is for all the marbles.
Michigan's game plan was to stick with what was working every year, and the only real changes the coaching staff made was in preparation for the crowd noise.
Chad Henne, Michigan quarterback (junior/current Jacksonville Jaguars backup quarterback): My freshman year, it was so loud I couldn't hear myself go through a cadence in Columbus. We had a couple of things with protections where I'd just signal back to [running back] Mike Hart so he knew which side to go to and which guys to block. With the offensive line, we had to walk up and down the line in order for them to hear the call.
Joel Penton, Ohio State defensive lineman (fifth-year senior): I can picture in my head that zone-running play they'd run with Mike Hart over and over and over again. We had a great defense that year. We were successful against everybody. As a defensive line, if you're going to line up and take us straight on, if you're going to try to double-team us, if you're just going to run the dive or whatever, you were not going to have any success against us. We could handle that without a problem. Teams that gave us some headaches were teams that ran a zone, and we played against Bowling Green that year. Of course, we beat them pretty easily [35-7], yet the running game gave us some trouble and it was different than what we were used to seeing. [Bowling Green ran for 160 yards.] I remember turning on that film and watching Michigan run all over people. We certainly weren't scared and weren't filled with doubts but just knew this was going to be a real challenge.
Henne: The biggest memory is when Bo Schembechler died. He came to speak to the team for the last time [on Thursday], and then Lloyd Carr came in to meet with the team Friday morning and told us about it. That was a big part of that week and there was a lot of sorrow but a lot of excitement at the same time to go into that game for Michigan to win for Bo Schembechler. I think he wanted to speak to the team one last time. They didn't know if he'd be able to because of his health, but he gave one last speech. He talked about the team and how great Michigan is and the way we carried ourselves and go about our business, and how much it would mean to beat Ohio State that week. We didn't realize his days were numbered the way he carried himself. He had so much strength to give the team a speech and almost just seemed like he was normal Bo being around the team and coming to practice to watch us.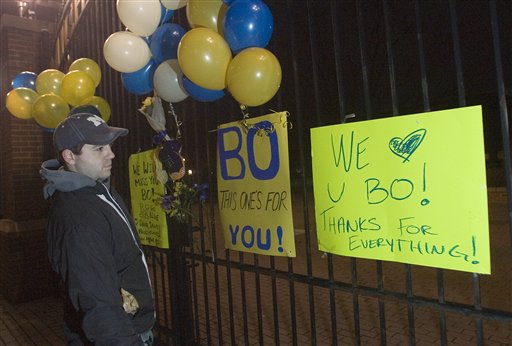 TONY DING/Associated Press
David Harris, Michigan linebacker (fifth-year senior/current New York Jets linebacker): Seeing Coach Carr walk into the meeting room teary-eyed, nobody knew what was going on. Everybody was shocked. No one knew how to take it. The irony of it happening right before the biggest game in the rivalry's history, it was kind of weird.
Bihl: That really weighed on your mind. Coach challenged us: "We're going to win this game for Michigan. Coach Schembechler wouldn't want us to win this game for him."
Barton: We didn't really talk about [Schembechler's death], but you know these guys are going to be pretty juiced up to win one for Bo. Because that would have been the story of the year if they had beaten us—1 vs. 2 dedicated to Bo. You're already amped up. You can't get any higher. But if there's anything that's going to give them a little extra—trying to win one for Bo and his family.
Wells: I roomed with Antonio Pittman the night before the game. He and Troy Smith were really, really tight. I remember going to Troy's room that night and Troy was breaking down in tears talking about [the game]. One, it was his last game at the Shoe, and two, the one vs. Michigan. He told us he wanted to go out and have a crazy game. I remember him harping to me, "If you make a play, a big play in this game, then you set yourself in stone in Ohio State history forever, because it's that big and on top of that it's 1 vs. 2."
Michigan drove into Columbus on Friday and stayed at a hotel in town, which led to an interesting evening.
Henne: We had a bunch of prank calls in our room, so we had to unplug our phones. We always had to hide our playbooks because we didn't know what people were going to give our information away. It's more probably superstition than anything. It sounds kind of stupid, but you never know what's gonna go on in the rivalry.
Bihl: My wife was texting me [the next morning], WNCI 97.9 radio station was out on the interstate last night and they were recording themselves blowing an air horn in the middle of the night, and I said, "Yep, I heard them." My room was facing 71, and every time we pass that hotel, we talk about that story. One of those things, it brings the rivalry alive. Was that cool or appropriate? It is what it is. If I had the chance, I'd blow an air horn in the lobby at Ohio State's hotel the night before.
Harris: Driving to the game, we had such a big police escort that you'd think the president was coming to Ohio State. We had helicopters and I swear there were 20 police cars that gave us the escort through Columbus.
Gonzalez: I remember turning to Darrell Hazell, who was my receivers coach, in pregame warm-ups and saying, "Man, this is awesome." He kind of looked at me and said, "Yeah, that's what we're here for." This was exactly why I came to Ohio State to play in this kind of game.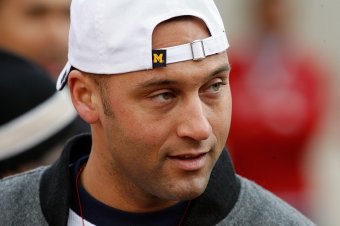 Gregory Shamus/Getty Images
Wells: I'm running out of the tunnel and I look to my right, and I see Derek Jeter hanging out on the sideline. I look to my left and I see Mo Vaughn hanging out on the sideline. I was a big baseball fan growing up. That was my first time actually getting starstruck, saying 'Wow, there are full-on celebrities at this game.' I ran back up the tunnel, and my dad happened to be coming down the tunnel on the opposite side where the band comes out, and he said, "What are you doing running back up the tunnel?" I said, "Dad, I'm nervous." And I had never been nervous playing in that stadium, but just because of the magnitude and the stars and the high-quality people that were there.
The Game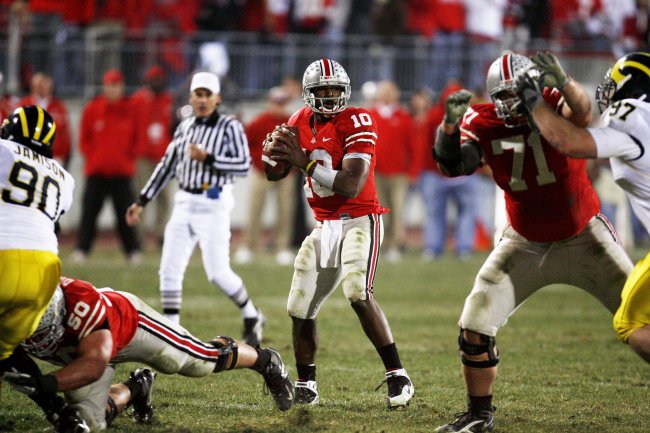 Gregory Shamus/Getty Images
Gonzalez: Our whole thing that week was we're going to spread them out and spread the ball around. Because we knew they had talent in the secondary but we weren't sure how deep it was. We had a great receiving crew. If you look at it, a lot of guys had decent NFL careers—[Ted Ginn Jr.] is still playing obviously. We felt like if we spread them out and they went man-to-man on us, we probably could find some spots, some little soft spots.
Harris: We thought they were going to try to run the ball at us, but they came out in empty formation and spread us out. We had the No. 1 rushing defense. Leading up to that game, we'd only given up 29 rushing yards per game, which at the time was the best since Arizona's "Desert Swarm" defense with Tedy Bruschi back in the early '90s. So they kind of caught us off guard with the four-by-one empty formations, and we had to adjust on the fly against it.
Smith completed 9-of-11 passes on Ohio State's first drive, answering Michigan's opening-drive touchdown with a touchdown pass to Roy Hall. After three straight possessions of trading punts, the Buckeyes took the lead on a 52-yard touchdown run by Wells.
Wells: It all happened so fast. I remember running, and Shawn Crable is a guy who I ran into that play and kind of stiff-armed and then took off on. I remember seeing Shawn and chatting with him right before the game. He was a Northeast Ohio kid who opted to go to Michigan. I remember getting to the end zone and all I was thinking about was 'that was Shawn Crable right there.' Shawn Crable went to Massillon High School in Northeast Ohio and Massillon is like a football town. I remember being a kid watching Massillon High School football and seeing Shawn Crable there, so to have that big play and Shawn Crable be a guy to miss that tackle was huge for me. I ran back to the sideline, "Did you see that? I did that to Shawn Crable right there."
Barton: I lined up at tight end and we ran an unbalanced formation, and my assignment was to block the safety, which sounds crazy. I got to the safety and I slammed him into the umpire. The umpire went flying. It was like something out of a video game. The poor ump, he just went flying. After I did that, Beanie was gone. When Beanie gets in the open field, he's a track star. He's so fast.
Wells: I had a fumbling problem my freshman year, and if you go back and watch the film, I held the ball so high and so tight and I wouldn't let it go. The ref had to come and grab it away from me because I didn't want to let it go, even after I scored the touchdown. I was that nervous and that excited for that moment.
Ohio State took a 21-7 lead midway through the second quarter when Smith connected with Ted Ginn Jr. for a 39-yard touchdown.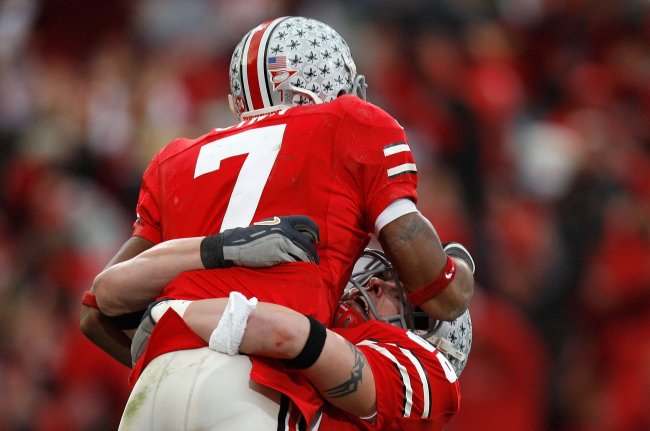 Gregory Shamus/Getty Images
Barton: We lined up in a jumbo formation and Ted Ginn lined up at tight end. It was 2nd-and-1, and we knew if it was 2nd-and-1 or 3rd-and-1, we were going to call [that play]. And sure as s–t we get a 2nd-and-1, and we knew what was coming, this funky formation where Ted's got his hand in the dirt at tight end and they can't find him. We snap the ball and me and T.J. Downing dove like we're trying to get an inch—like a quarterback sneak—and Beanie goes flying over the top and lands on us and sucks the safety down, and Ted goes flying by them and we hit the pass. As much grease as Tres and Jim Bollman took as offensive coordinator and [for running a] conservative offense, those guys always had a great plan for Michigan and they always had some extra stuff dialed in and a good trick play. We put that play in just that week. That was the only time we'd ever ran it. I'm on the ground and I don't know what's going on until I hear the crowd go insane. And you're like, 'Oh s–t, we completed it.'
Ohio State went into halftime with a 28-14 lead.
Gonzalez: You always think of halftime adjustments as something you do when you're losing. But you have to adjust when you're winning, too. For us, we had success spreading it out, and we wanted to get in more traditional sets and pound it on them and see if we could move the ball that way.
Harris: Going in at halftime 28-14, we came out fired up, clawed our way back into the game.
Michigan opened the second half with a touchdown and a field goal to cut Ohio State's lead to 28-24.
Gregory Shamus/Getty Images
Penton: It really felt like being in a fight. It wasn't like any game we had been in that year. One moment you think we're really onto something, the next moment they're hitting us right back. Personally, what was the greatest typification of that was in the second quarter when I had a sack and it was really thrilling. Really exciting. Then the very next play, they threw a touchdown pass. You're so high, thinking you're unstoppable, and then they hit you right back. And it was like that all game long.
Ohio State answered Michigan's first two second-half scoring drives with a 56-yard touchdown run from Pittman.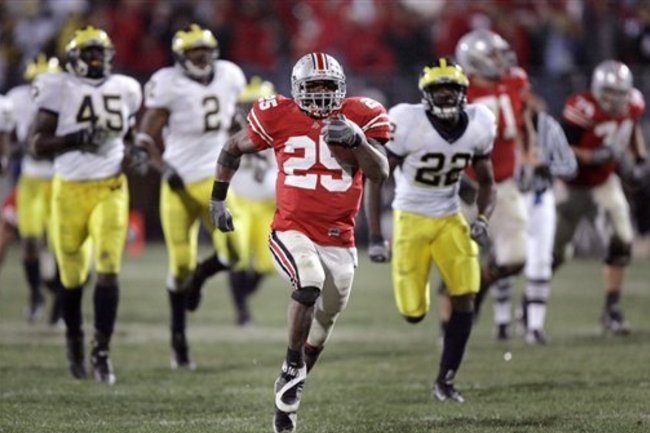 AMY SANCETTA/Associated Press/Associated Press
Barton: Pitt had that long one where it was our normal power play but it was a little delay thing where I blocked a tight end for a second and then I came up on the linebacker, which is something we put up that week. And it literally worked perfect, like we were going against the scout team. After I hit the linebacker, literally there was nobody home. It was all about Antonio getting to the end zone, and he did. It was hilarious because it was right around that time of the year when Ballin'—like Ballin'!—that song came out, and Pitt shot a jump shot to the referee, which he didn't get flagged for because the referee didn't know that was a thing. That night, we listened to that song about a thousand times when we all went out.
Ohio State was in control, ahead 11 with the ball, when center Doug Datish had a bad snap that Michigan recovered at the 9-yard line and scored a touchdown three plays later to cut the lead to 35-31.
Doug Datish, center (fifth-year senior): We were coming out on the 25-yard line going out, and we were running an outside zone and I threw the ball a little hard and a little high due to the fact there was a blitz coming, and Troy was on the move, too. We just weren't on the same page.
Datish fumbled again the next possession when he went to snap the ball and it barely moved.
Datish: The second one got caught in a divot. When I went to snap the ball out of the shotgun, it got caught in the ground and it just rolled back. I've never had it happen since and I never had it happen before then. It was just one of those random deals and we lost both of them, which was not good, man. I don't think I've ever felt worse in a football game knowing that it's your fault in doing something you've done thousands and thousands of times with no issues, and then you have this in maybe the biggest game of my life.
Datish became a storyline because of the fumbles, and the announcing crew pointed out that he was wearing a big brace on his arm, which they said was from an injury earlier in the year. The story was that he now wore the brace for superstitious reasons.
Datish: That's not completely accurate. We weren't being real truthful with the media. I had a thing called tenosynovitis. It's like a severe form of inflammation in my forearms, and I don't know why. I never had it until then. It was like there was gravel in my forearms, so I had to wear this cast all week and during the games, because if I kept hitting it over and over again, my hands would stop working. It's a weird thing.
Michigan was not able to capitalize on Datish's second fumble and had to punt. On Ohio's State ensuing drive, the Wolverines had the Buckeyes facing a 3rd-and-15. On the play, Smith ran toward the sideline and had to throw the ball away, but the drive was kept alive when Michigan's Crable was flagged for a late hit.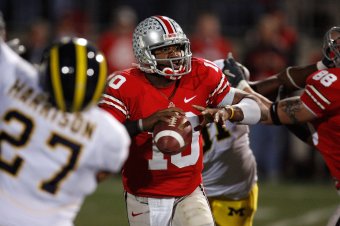 Gregory Shamus/Getty Images
Harris: It was a B.S. call I think, still to this day, because he was out of the pocket running and threw the ball at the last second and got hit in the head, so it was just a big range of emotions.
Bihl: They were going to have to punt the ball. We were already up and ready, and we were rearing to go. Then, next thing you know, Ohio State gets the ball back on a 15-yard penalty and they go down and score the touchdown. That kind of took the wind out of our sail a little bit, but we came back. Every time we had to answer, late in the game especially, we came back and answered. He was in the air and he was inbounds. I don't know what the argument was. It was a good hit, but it was on the Ohio State sideline.
Barton: Shawn hit Troy out of bounds. If he would have done that in today's game, it would have been targeting because it was helmet-to-helmet. You can't hit a quarterback out of bounds. I know they'll say he was running, but he was going toward the sideline. It wasn't like he was trying to turn up the field. That's one of those ones where I get every defensive player has to be aggressive and tough, but you have to be smart in a game like that, and he just wasn't smart in that circumstance.
Michigan responded with a Henne touchdown pass with 2:16 left on the clock, making it 42-39. The Wolverines had no timeouts left, so they tried an outside kick that Ginn recovered.
Datish: That final drive we were in the huddle, hey, we need a first down. That's it. If we don't get a first down here, they're going to get the ball back and who knows what's going to happen.
Bihl: We knew if we got the ball back, we had practiced enough. It was second nature to us. If we had the opportunity, we were going to go down and score and win the game.
Henne: There was no doubt that whole day that we felt as an offense, nobody was going to stop us. We had the talent. We had the players, and every time we got the ball, we felt like we could score.
On first down, Ohio State pulled out one final trick play and picked up nine yards. The Buckeyes would seal the game when Pittman picked up a first down on 3rd-and-2.

Barton: We ran statue of liberty, and it worked f—ing perfect. Me and the right guard got out and we took out our two guys, and it was open spaces. That was a play we ran maybe once every four games or so. It wasn't a staple. Like a funky changeup. When you know it's over, that's when you're like, 'Holy cow, we did it.'
The Celebration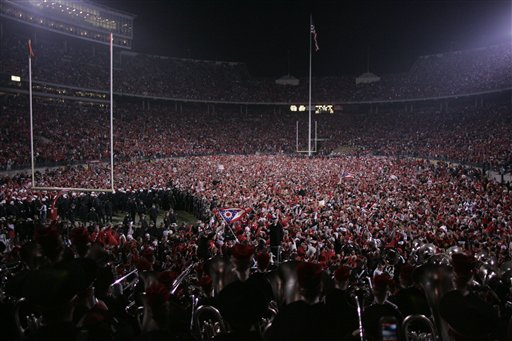 AMY SANCETTA/Associated Press
Datish: You're still in game mode. 'We got to go. We've got to go!' Then you look, and 'Oh, wait a second, we're good.' I kind of looked around, looked at my teammates and it's the one last moment you have before the pandemonium sets in. I hugged Troy and said, "Wow, I can't believe we did this." Just had a cool moment on the field before all the chaos happened. And then when the chaos happened, it was beyond chaos. It was nuts. The final horn goes on and the fans just engulfed the field. It's fun and people are grabbing at you, and it's this cool kind of surreal moment, but at the same time, I'm thinking I got to get over to the end zone to sing Carmen Ohio and then I've got to get to the locker room somehow. How am I going to navigate this?
Gonzalez: I remember everybody rushing the field and feeling a little bit claustrophobic and everybody smelling like booze. I remember a bunch of people slamming my head and I'm thinking, 'Gosh, you guys stink. You smell like a bar.' But it was fun. It was a really fun atmosphere.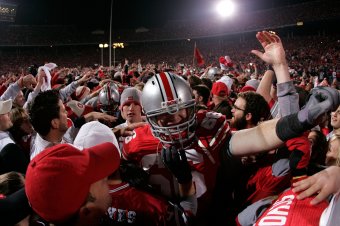 Gregory Shamus/Getty Images
Datish: I remember distinctly multiple people trying to grab my helmet and take it off. I was holding my helmet, and then finally a couple of cops grabbed me and a couple other guys and we trained through the people, and the cops were just laying waste to people to get us back in.
Bihl: I think I was one of the last to [leave the field]. After the first-down play, I went over to Adam Kraus and sat on the bench and was just praying to God for a fumble or something. It seems so surreal. If you look at the scoreboard, 81 points scored. We score 39 points, and we knew if we'd had a chance to score 39 points, we should have come out as a victor in that game, but ultimately Ohio State scored three more so they won the game. I can remember I was waiting, trying to get let off the field. I had to be escorted off with Adam Kraus, and there was a picture that I know the media joked about of myself and Adam. Adam's got his arm over the top of me and my head was down. I had my head down more so because I didn't want to punch any of the Ohio State fans.
Once Ohio State made it to the locker room, several players lit up cigars.
Gonzalez: I'm of Cuban heritage, so everybody thinks I have a Cuban cigar guy in my basement. I do have ways to get cigars. My cousin gave them to me. He's from Miami and generally can figure out ways to get cigars. He sent them down for me. I passed them out to anybody who wanted them and then I put some in each of the coach's lockers. We took a little heat for it. No pun intended.
Barton: I brought a bottle of champagne in. [Gonzalez] brought cigars. We all kind of had stuff that we did. It's funny because I was drinking the champagne, and I thought, 'I've got this cigar and I've got to get it lit.' I didn't have a lighter. I had matches, and I was dehydrated, and I felt terrible and I needed two or three matches to get it lit, and I finally got it lit and I'm enjoying it, then all of the sudden our sports information director, Steve Snapp, comes in and says, "Hey, you have to go to media." And I'm thinking, 'S–t, I just got this thing lit.' So I was like all right, I'll take it with me. So I go upstairs to do the media, I'm literally sitting up there smoking in front of all of them. I didn't think anything of it, but it turned into this gigantic deal. It was on the front page of ESPN and [Yahoo.com's] Pat Forde wrote about it, and Sports Illustrated wrote about it and the Dispatch, and I really wasn't trying to be some kind of renegade. I smoked a cigar maybe every quarter—one every two or three months—it wasn't like I get home every day I smoke a cigar. … But I was smoking it and those guys thought it was hilarious and I thought it was pretty funny too. It's something I got reprimanded for, but I don't really regret it. They passed a law where you can't smoke in Ohio Stadium anymore because of me. That's the Kirk Barton law. In terms of ranking the biggest moment of your life, people say their wedding and having kids. Beating Michigan and starting in the 1 vs. 2 game, anybody can have kids and anybody can get married but not everybody can do that. If there was something I was going to celebrate in my life, it was going to be this game.
Gonzalez: That was the last game they had a grass field, and I remember people walking out with giant chunks of turf strapped to their backs. So when the game was over, my parents and I instead of walking through the normal way, which would have been chaos because there would have been 100,000 fans right there, we walked across the field and out the back entrance, like the tunnel where the band comes in, and it looked like a war zone. Literally half the field was torn up because people were ripping grass out, and so we were walking and the stadium was completely empty. I vividly remember that feeling. With my parents, walking out, everything ripped up after an awesome game. It was dark out. It was dead quiet. It was just us. I remember thinking, 'Wow, what a night.' You had the sense there probably weren't going to be too many nights like that. It was special.
The Aftermath: A Rematch?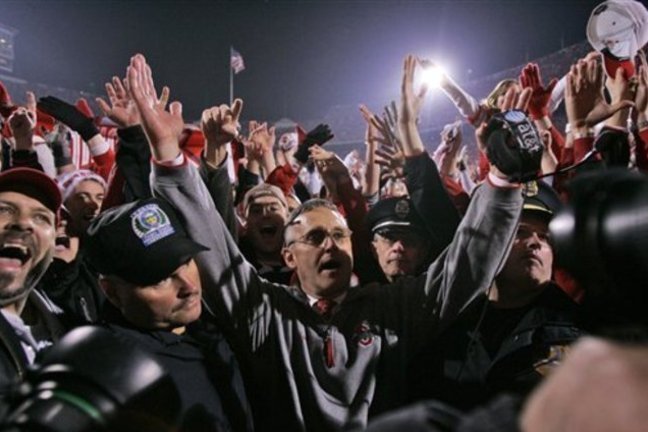 Charles Rex Arbogast/Associated Press/Associated Press/Associated Press
Bihl: You feel at the end of the game your body is extremely sore. You're tired. You're mentally drained. We hadn't felt a loss in 11 straight weeks. We had unfortunately lost the Alamo Bowl against Nebraska [the year prior] and had lost a few games before that, but mentally, physically, everything that led up to that game and the amount of effort that we put in for that game, preparation for that game, the focus for the travel, we were so exhausted. I can remember thinking everything about Bo, seeing signs over the overpasses as we come down 23. My wife went to Bowling Green at the time and a bunch of her roommates and friends plastered a bunch of signs at the overpass right at the Bowling Green exit. Just everything that led up to that, as soon as the clock hit double zero, your body just completely shut down. I can remember cutting the tape off my knees and getting my jersey off, and it was a struggle. As a senior, that was my legacy. I had lost to Ohio State my senior year in probably one of the biggest games in college football history. That was going to be my legacy: 42-39. We knew the ramifications of that game. Thanksgiving week, usually I made it home to do some farm work, made it up to Columbus a couple times to take my girlfriend out to dinner. That didn't happen. I think I was a bum most of the time. Drove around a little bit. Went to Coach Schembechler's funeral and that was it.
Harris: We thought we were going to have a rematch with them because of how close the game was—1 vs. 2. We had lost by three points to the No. 1 team. We just knew we were going to play them again.
Penton: I remember those weeks as we waited to see who we would play—unfortunately, we ended up playing an Urban Meyer team—but I remember thinking I do not want to play Michigan again. Beating them once took everything we had. I wasn't interested in a repeat.
Henne: When all the media came out and the rankings came out, we were 1 and 2 again. We thought maybe we'd get a rematch, but obviously it didn't end up that way.
Harris: Florida ended up going and playing against them, which we thought was bogus. Earlier in the year, they lost to Vanderbilt and we beat Vanderbilt by a huge margin that year and we lost to the No. 1 team and they lost to Vanderbilt. We were like, 'We're going to see them again.' Then the BCS messed up.
Bihl: As I look at college football, money and finances are such an issue. When you pull in two teams from the Midwest from the same conference for the national championship, you're probably not going to reach a nationwide media. Maybe you would. Maybe you wouldn't. Finances in college football unfortunately have a lot to do with everything.
Michigan got an invite to the Rose Bowl and ended up losing 32-18 to USC.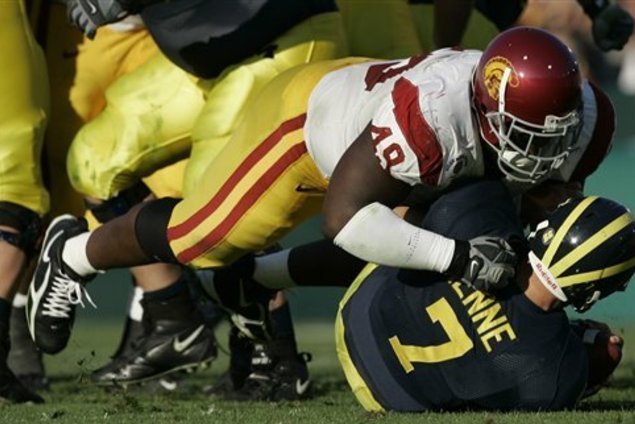 Kevork Djansezian/Associated Press/Associated Press
Henne: Going into the Rose Bowl against USC, we felt very prepared. But USC was actually way more talented than Ohio State. We got our butts handed to us in that game. It never resonated and went through our minds that this was a one-loss season.
In the national championship game against Florida, Ohio State's Ginn returned the opening kickoff for a touchdown. During the celebration, Ginn injured his left foot and never returned.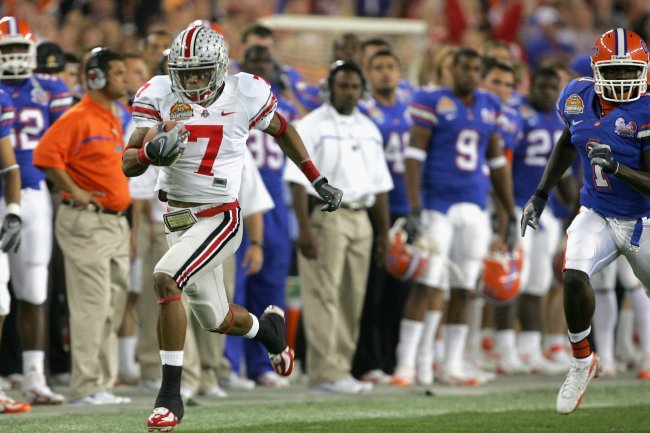 Stephen Dunn/Getty Images
Gonzalez: Our whole game plan resolved around Teddy doing a lot of stuff. He was going to play quarterback. He was going to play running back. He was obviously going to return kicks and punts and play receiver. So the whole offensive game plan revolved around him. He's such a unique player because in high school he was a quarterback. He was going to play probably 15-20 snaps at quarterback. We had the Heisman Trophy winner at quarterback. … When he got hurt, we kind of tried to stay with it for a quarter. And then in the middle of the second quarter, I remember one of the coaches coming over and saying, 'All right, here's what we're going with,' and they draw up like Day 1 stuff. This is the base package, kind of saying we're not going to do anymore of that stuff any more, and I remember thinking, 'S–t. We're in a little bit of a spot here.'
Barton: It would have been like if when Florida won the title in '08, if Tim Tebow had gotten hurt in the first series and they'd had to play John Brantley at quarterback. Ted was our guy, and it stunk. You never know. I give credit to Florida. I give a lot of credit to Urban Meyer, because he had his guys ready to go and they really played well.
Wells: We were on cloud nine. I think it probably hurt us going into that national championship game, because our sole thought was not going out and beating Florida. It was the fact that we were going to be labeled as the best team ever in the history of college football. We would have been the only team to start the season No. 1 and to beat three No. 2s. We beat Texas to start the year. We beat Michigan that was No. 2, and if we would have won the national championship game, we would have beat that No. 2 team and been labeled as questionably the greatest college football team ever. That was our whole team's thought process and mindset. We had no doubt we were going to beat whoever we were playing in the bowl game because we wanted to be labeled the greatest team ever. That being at the forefront of our mind, we kind of overlooked Florida and the debacle ended up happening.
C.J. Moore covers college basketball and football for Bleacher Report. You can follow him on Twitter @CJMooreBR.