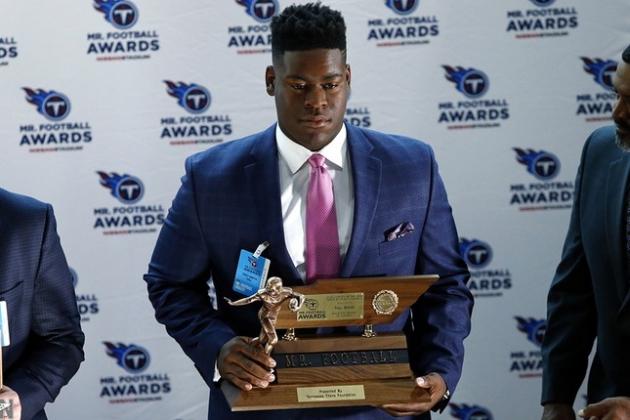 Credit: Scout.com
Five-star offensive tackle commitment Trey Smith proves the negativity of the 2016 Volunteers' season isn't reaching prospect living rooms on the recruiting trail.
Many around Rocky Top would love to just forget a 2016 Tennessee football season that was supposed to be unforgettable.
A year where league coaches and media predicted the Volunteers to win the SEC East was riddled with injuries and shortcomings and eventually saw the Volunteers squander their chance to play in Atlanta, as well as a consolation Sugar Bowl invitation, with inexplicable losses to South Carolina and Vanderbilt.
Articles such as last week's highly critical piece from 247Sports' Travis Haney that dove inside the Volunteers "failing" by quoting numerous anonymous sources inside UT's athletic department won't let the frustrating season fade quietly into the sunset, either.
You'd think so much gnashing of teeth and public thrashing of the program would have an adverse effect on head coach Butch Jones' recruiting efforts, especially considering programs use things such as Haney's article for negative recruiting all the time.
That hasn't turned out to be the case at all.
Though it may not fit the narrative of a broken program, Jones actually has enjoyed a resurgence on the trail in the past week. The day before that article came out, Scout.com's No. 22 overall prospect, 5-star offensive tackle Trey Smith of Jackson, Tennessee, pledged to UT over Ohio State and Alabama.
He's an anchor to the Vols' future and a vital piece for an offensive line that needs road-grading play-pavers.
Some pretty insane footage of Trey Smith right here –>https://t.co/0FvU6jF9YNpic.twitter.com/zU3Pcfc0Vd

— Rocky Top Insider (@rockytopinsider) December 7, 2016
On the day of the article's publication, the Vols went into Fort Myers, Florida, and snagged a coveted linebacker prospect in Shanon Reid, who chose UT over LSU and others.
The 6'1″, 200-pound linebacker was a necessary piece of the puzzle for Tennessee, which is in the process of upgrading its already full recruiting class to meet more pressing needs.
Just Monday, UT completed its trifecta for the week with another top target, flipping defensive end Deandre Johnson of Miami from Mississippi State to fill a hole at a much-needed focus area along the defensive front.
"I just felt it in the air when I went up there," Johnson told Scout's Corey Bender. "I was comfortable, my parents were comfortable and it just felt right in my heart."
The Vols are now ranked eighth nationally and fourth in the SEC in the Scout team rankings.
Tennessee's Butch Jones keeps his streak alive, landing the #Vols top target for the fourth year in a row. https://t.co/eqwYlt97Qt

— Scout Recruiting (@scoutrecruiting) December 7, 2016
That doesn't sound like a program in shambles, even if this season didn't go as planned.
Barton Simmons, national director of scouting at 247Sports, doesn't see a drop-off, either. In his follow-up to Haney's article that suggests that Jones has the support of UT boosters, he said the coach's recruiting message still rings true with recruits:
Despite the negativity that has surrounded the program in recent weeks, Jones' message continues to resonate on the recruiting trail. Just this week, Tennessee landed its biggest priority in the 2017 class in five-star in-state offensive tackle Trey Smith. One day later, Fort Myers linebacker Shanon Reid chose the Vols over LSU and Michigan. There is suddenly increased buzz that Tennessee is in a strong position with five-star running back Cam Akers out of Clinton, Miss.
A major recruiting victory such as pulling Akers to go along with Smith would help erase the sour aftertaste of a season gone wrong. Jones would go a long way in winning back the favor of his fanbase with a February win such as that.
This wasn't the year everybody hoped for, but 8-4 still isn't a hopeless slate for prospects who see playing time early with so many defensive struggles and with players such as Joshua Dobbs, Derek Barnett, Jalen Reeves-Maybin, Cameron Sutton and others heading out.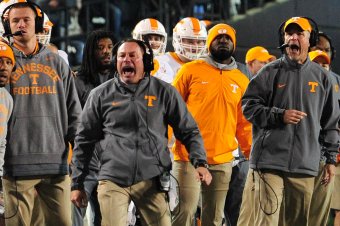 Frederick Breedon/Getty Images
Recruiting hasn't ever been an issue for this coaching regime. Developing players is, arguably, another story. There will almost definitely be some coaching turnover in Knoxville in the coming weeks, and it's vital Jones upgrades some of his assistants.
The looks of this recruiting class prove whoever is coming at UT will have plenty of weaponry at their disposal.
While the Vols could use a bit more star power in their class, it's still solid by any standards. There also will certainly be some movement over the next two months as well. If Jones' first four classes at UT has taught us anything, it's that he fills up early, over-recruits some of those prospects and doesn't mind over-signing.
Expect that to happen again this year with a bunch of top targets remaining.
Though Akers may be a long shot, stealing him away from contenders such as Ohio State, Ole Miss, Florida State, Georgia, LSU and others would give the Vols a formidable duo along with current commit Ty Chandler.
JUCO defensive back Keisean Nixon has narrowed his choices to the Vols or South Carolina, and he would give UT a potentially instant-impact player at cornerback, which is a huge gap. Lamont Wade is another 5-star possibility with the Vols on his short list. Yusuf Corker could wind up at UT, too.
Three-star defensive tackle Matthew Butler is another prospect deciding in December who could give the Vols good news at a position where they need big bodies for the present and future.
There are many more options out there the Vols are still actively recruiting, and that isn't even taking into consideration the "silly season" where coaching changes can always open doors to key prospects.
Remember, guys such as Tyler Byrd weren't even on Tennessee's radar this time last year.
So, no matter the frustration surrounding a disappointing season, Jones can't let it affect the work he does on the recruiting trail, and it clearly isn't yet.
His job isn't in any immediate jeopardy, there are some good young players around which to build at UT, and that all starts with the game against Nebraska.
Actually, the getting-over-2016 process began with Smith's commitment. He's arguably the most important commitment of Jones' tenure since Jalen Hurd proved four years ago he could land in-state studs against the nation's top teams.
Jones' recruiting pitch to Smith resonated with the big guy, who believed he can grow his reputation in Knoxville, according to the Knoxville News Sentinel's Rhiannon Potkey:
Trey Smith said a critical factor for choosing #Vols was branding. Smith said Butch Jones told him #Vols could help build his brand.

— Rhiannon Potkey (@TennesseeBeat) December 6, 2016
Not only is Smith a great pickup because he is a phenomenal prospect who could play right away, he also bucked the trend of Volunteer State prospects going to other schools in a year where the Vols have struggled to keep homegrown talent in state borders.
There may be hard questions to ask regarding Jones' longevity and just how high his ceiling can be at Tennessee, but they can be answered with some serious recruiting victories, assistant coaching upgrades and lessons learned from a season that ran off the hype-train tracks.
This is a pivotal class for Jones and the entire Tennessee program, and some major victories are needed in living rooms over these next two months. If they come, Jones needs to find a way to turn them into even more wins on the field.
Quotes and information gathered firsthand unless otherwise noted. Statistics obtained from cfbstats.com unless otherwise noted. Recruiting information obtained from Scout.com, unless otherwise noted.
Brad Shepard covers SEC football and is the Tennessee lead writer for Bleacher Report. Follow Brad on Twitter: @Brad_Shepard.