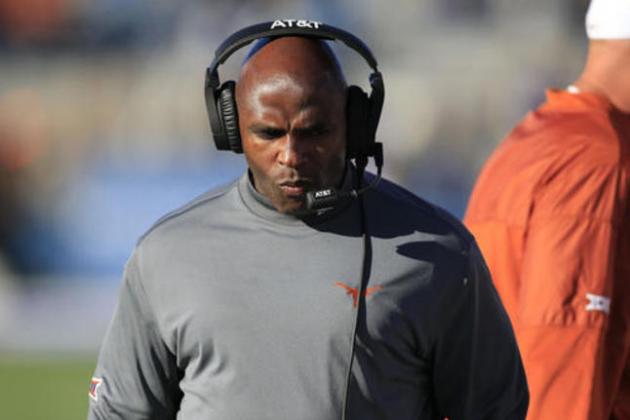 Associated Press
Texas head coach Charlie Strong
TCU 31, Texas 9—Final
The Texas Longhorns bottom out in the second half, falling to TCU by 31-9 margin in their final game of the season.
Playing for bowl eligibility and, presumably, their head coach's job, the Longhorns just couldn't get it done at home. Charlie Strong's team drove inside the TCU 31 six times, coming away with only nine points on the afternoon.
After being outgained by over 150 yards in the first half, the Horned Frogs caught fire in the final two frames. Behind quarterback Kenny Hill's scrambling and Darius Anderson's long speed, Gary Patterson's squad reeled off the last 21 points of the game to become bowl-eligible.
The loss all but confirms the Strong era will end at Texas with a 16-21 record. The third-year head coach was presumed fired following last week's loss to Kansas, but it was believed an impassioned performance could earn him one more year. Instead the Horns will miss a bowl for the second-straight season as the higher-ups begin a coaching search.
TCU will try to add one more win on the year next week versus Kansas State.