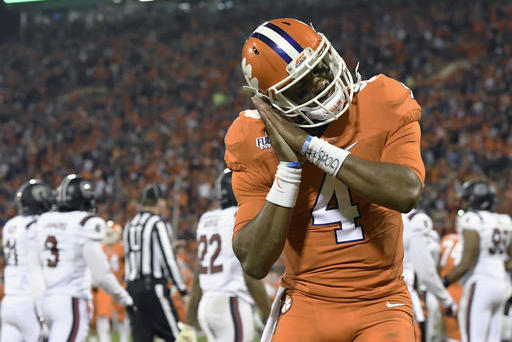 Richard Shiro/Associated Press
Coupled with Louisville's — ahem, Lamar Jackson's — shocking loss to Kentucky, Clemson quarterback Deshaun Watson demanded Heisman voters reconsider his candidacy on Saturday as the Tigers throttled the South Carolina Gamecocks 56-7.
Watson tossed six touchdown passes, and the game was never truly competitive on any front.
For Clemson, it gets to go into next week's ACC title game against Virginia Tech feeling good about itself, while South Carolina will prepare for its bowl game with a humbling reminder of how much ground the program still must make up under Will Muschamp.
With that, let's check out some game grades for the Tigers and Gamecocks.
Streeter Lecka/Getty Images
Grade: A
Louisville's Lamar Jackson may have literally fumbled away his Heisman Trophy earlier on Saturday, as a late cough-up in the red zone allowed Kentucky to set up its game-winning field goal.
That left the door open for Deshaun Watson to lurch back into the conversation.
Six touchdown passes and 347 yards through the air later, we may have a new front-runner.
Not only has Watson defeated Jackson head-to-head, his team is likely playoff-bound. Meanwhile, Louisville's is clinging to a chance of a berth to a New Year's Six bowl at best.
Watson has been the more consistent winner this season, even if Clemson has had its fair share of close calls.
He deserves to be on the podium in New York City.
Streeter Lecka/Getty Images
Grade: C+
Will Muschamp inherited a mess when he took over the full-time job at South Carolina, a team that was 3-9 a season ago including 1-7 over its final eight games.
Last year, the Gamecocks pushed Clemson to the wire in their final regular season game of the year. But they didn't go bowling.
This year, South Carolina will get a 13th game, but it was clear who outclassed who on Saturday night.
Getting that extra few weeks of practice is critical to building and sustaining a winning program, so the bowl berth is a worthy achievement. But there's still a long way to go for the Gamecocks.
Frederick Breedon/Getty Images
Grade: B
If South Carolina can take any point of pride away from Saturday's beatdown, it's the play of its special teams unit.
The Gamecocks had a blocked field goal on the game's opening drive, Elliott Fry made his only kick—an extra point—and punter Sean Kelly averaged a respectable 44 yards on seven punts, which included a long of 56.
Deebo Samuel also averaged over 20 yards on his kick returns, which is certainly positive.
Richard Shiro/Associated Press
Grade: A+
With No. 3 Michigan falling to No. 2 Ohio State, No. 4 Clemson will likely move up a spot in the College Football Playoff rankings.
With that in mind, it would seem Clemson's path to a berth is simple: Win the ACC Championship Game.
Louisville's free fall over the last two games with losses to Houston and Kentucky muddy Clemson's resume a tad, but a Power Five conference title from a one-loss team will be hard to deny.
Tyler Smith/Getty Images
Grade: A+
While Clemson's offense put up 56 points, let's not forget that Clemson's defense limited South Carolina to seven on the other end.
South Carolina had just 52 yards—52!—in the first half. Ben Boulware was the leader, registering a team-high seven tackles including two sacks.
Gamecocks starting quarterback Jake Bentley was so rattled in the first half, Brandon McIlwain was given his chance in the second half. It didn't make a difference.
High-powered offenses are all the rage in college football. But elite defenses are becoming few and far between.
Clemson's defense affirmed on Saturday night that it is elite.