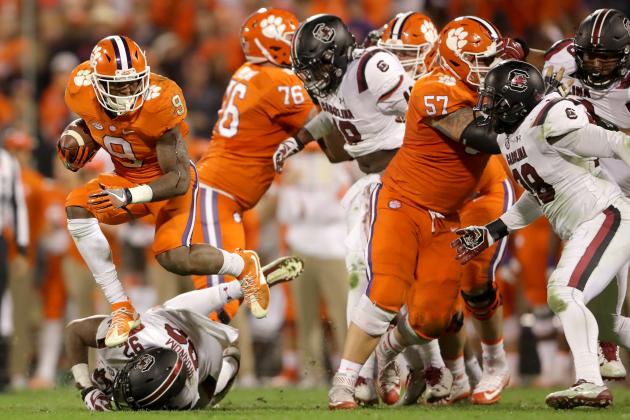 Streeter Lecka/Getty Images
Several South Carolina players accused Clemson players of using racial slurs during Saturday's game between the two teams.
"They called one of our defensive linemen—they used the N-word," Gamecocks linebacker Bryson Allen-Williams told reporters, per David Caraviello of the Post and Courier. "An offensive lineman, I don't know his number. … We're going to get our get-back. Next year we play them in Williams-Brice Stadium, and we're definitely going to have that game circled."
Wideout Terry Googer tweeted that Tigers players used slurs:
Never thought I would hear so many racial slurs in my life!! Classless is not a strong enough word to describe the actions!

— Terry Googer (@D1MANOS) November 27, 2016
South Carolina defensive lineman Dante Sawyer tweeted (via Alex Chippin of theScore): "Racism still alive in Clemson I see.. Classless sobs, still calling people n—-rs is crazy."
The game was rife with tension, which started earlier in the week when Gamecocks safety Chris Moody referred to the Tigers as "little brother," according to Caraviello.
It then continued before kickoff, as the coaches at first didn't shake hands, per Matt Dowell of WACH in Columbia:
Coach Muschamp goes to shake Dabo's hand, waves it off. Tensions higher. @wachfox#Gamecocks#SouthCarolinapic.twitter.com/ep4MZInl6n

— Matt Dowell (@TheMattDowell) November 27, 2016
The Tigers' Dabo Swinney and Gamecocks' Will Muschamp did eventually get together, however, per Aaron Cheslock of Fox Carolina:
#Clemson HC Dabo Swinney waited for a min, then chased #Gamecocks HC Will Muschamp down for Pregame handshake. @foxcarolinanewspic.twitter.com/POQM6cX10D

— Aaron Cheslock (@AaronCheslock) November 27, 2016
There was also a shoving match before the game that had to be broken up, according to Caraviello. And South Carolina wasn't pleased when Clemson called two timeouts in the fourth quarter so it could take its players off the field to an ovation during the Tigers' 56-7 win.
"I think they kind of disrespected us at the end," Gamecocks safety D.J. Smith said, per Caraviello. "Holding the ball and doing all that showboating, I felt like that wasn't really classy. But it is a rivalry game. It's going to stick with all of us, and we're going to remember."
You can follow Timothy Rapp on Twitter.