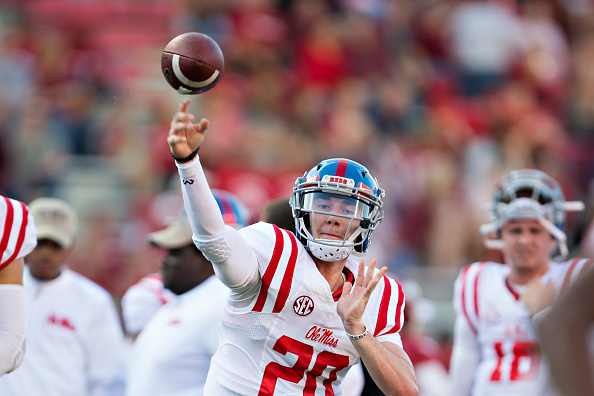 Wesley Hitt/Getty Images
Ole Miss is reportedly planning to remove the redshirt from quarterback Shea Patterson so he can replace the injured Chad Kelly and start Saturday against No. 8 Texas A&M.
Bleacher Report's Barrett Sallee first reported the Rebels' expected move Friday. Kelly is out for the season after suffering a serious knee injury against Georgia Southern last week.
Head coach Hugh Freeze kept the option on the table all week, though questions were raised about the idea of removing Patterson's redshirt for a handful of games in a season where the Rebels are 4-5. That record actually played a key part in the decision.
Creg Stephenson of AL.com passed along comments the fifth-year coach made about the importance of picking the best quarterback with an eye toward earning a postseason bid:
It's a huge incentive. We were fortunate to accomplish what we did in a short amount of time, to build a program in this conference from where the program was when we got here. I think the only way you can continue doing that year-in and year-out is, you need those extra practices, and the extra game. It is something that we've talked about, that we're very open about and transparent about. It's important to us.
If the Rebels aren't able to pull off an upset over Texas A&M, they'll need to win their remaining games—on the road against Vanderbilt and a rivalry clash with Mississippi State at home—to finish at .500.
Ole Miss decided the prized freshman gave it the best opportunity to secure at least two wins from those final three contests of the regular season. Jason Pellerin, who's struggled in limited action during the course of the season, was the other main option.
Scout rated Patterson as a 5-star prospect and the No. 4 overall recruit in the 2016 class coming out of the IMG Academy in Bradenton, Florida. He's a pro-style passer who reads the field well and should excel in the short and intermediate passing game right away.
That said, if he's officially named the starter, it will be the definition of being thrown into the proverbial fire for his first collegiate game. Texas A&M is 4-0 at Kyle Field this season, including victories over ranked opponents UCLA and Tennessee.
Patterson can expect to see plenty of exotic looks from the Aggies defense, which also figures to bring pressure early and often. Leading the Rebels to an upset would be quite an opening statement.