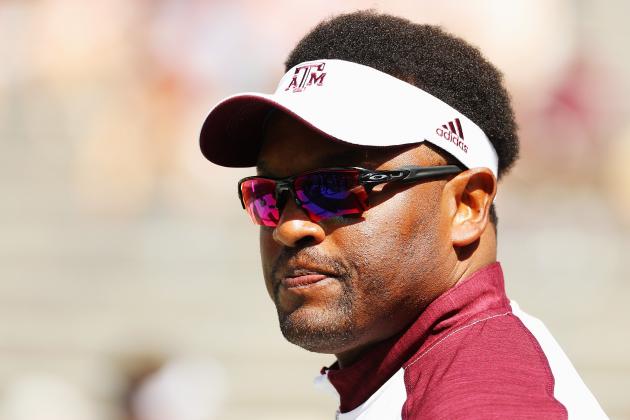 Scott Halleran/Getty Images
Texas A&M head coach Kevin Sumlin
Rivalry week is upon us, and athletic directors will have plenty of time on their hands between the end of the regular season and the beginning of bowl season.
Could dominoes fall and open up more SEC jobs other than LSU—which has been open since late September when Les Miles was dismissed after four games?
That question and more are answered in this week's edition of SEC Q&A.
Who will start on the SEC hot seat next season? Malzahn, Stoops, Mason, Mullins???? https://t.co/7F9Ae6kDbZ

— Jackie Harrelson (@JackieHarrelson) November 21, 2016
Texas A&M head coach Kevin Sumlin most likely won't get fired after the regular season, even if the Aggies fall to LSU on Thursday. I say "most likely," because a scenario could develop where the administration feels they have a legitimate shot at Houston's Tom Herman. If that happens, then maybe Sumlin gets shown the door so they can go grab Herman—who has coached at six different Texas colleges since his coaching career began in 1998.
Even if Sumlin is retained—which is a probability—he has the exact same pressure this offseason as he did last offseason, when he was on one of the hottest seats in the country.
A win over LSU on Thanksgiving would give Sumlin a 4-4 record in conference. His only season over .500 in conference play was in 2012, when quarterback Johnny Manziel eased the transition to the SEC with a Heisman Trophy season for the ages.
Since then, Texas A&M has had four straight years of inconsistent football, with unpredictable peaks and valleys. That has to change next year, otherwise it should look elsewhere for somebody to take the program up a notch.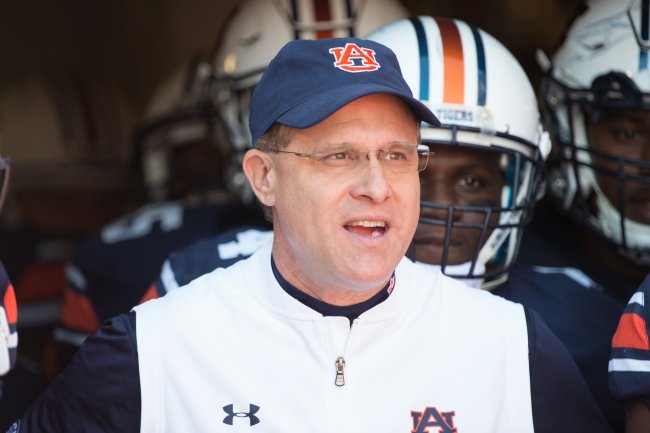 Michael Chang/Getty Images
Gus Malzahn is on safer ground at Auburn.
Even with a loss to Alabama in this weekend's Iron Bowl, the Tigers will finish above .500 (5-3) in the conference, have a young core to build around—including success without a running quarterback—two solid running backs in Kamryn Pettway and Kerryon Johnson, and three good, young wide receivers in Darius Slayton, Kyle Davis and Eli Stove.
Not only has Malzahn made progress this year, but there's significant hope for the future. Of course, a 6-6 regular-season debacle (like his 2015 season) could erase a lot of that in 2017. But the pressure is off, for now.
I certainly don't think Vanderbilt's Derek Mason or Mississippi State's Dan Mullen are on the hot seat at all. Mason has built the program back to the brink of bowl-eligibility, and Mullen's season—while disappointing—is a one-year drop from a level nobody expected him to take the program.
There will be folks calling for Butch Jones' head at Tennessee after the Vols failed to meet SEC East title expectations in 2016—the first time the program had been picked to win the division at media days since 2005. Consider them a vocal minority.
Even though Tennessee settled for the "life championship" instead, it will finish with a 9-3 regular-season record in 2016 with a win over Vandy and is in the mix for a New Year's Six bowl. Those are two tangible signs of improvement, even though they're only small steps forward and not a gigantic leap like some—including myself—anticipated.
@BarrettSallee if UF wins vs FSU and beats Bama in Atl will both Bama and UF get in the CFP?

— Bucky (@Gator_nation100) November 21, 2016
Some might disagree, but I firmly believe that Florida is actually in control of its College Football Playoff destiny heading into rivalry week.
With the win over LSU in the rearview mirror and games versus No. 15 Florida State and top-ranked Alabama on the horizon, a two-loss SEC champion Gators team with three straight ranked wins to close out the season will be impossible for the selection committee to ignore.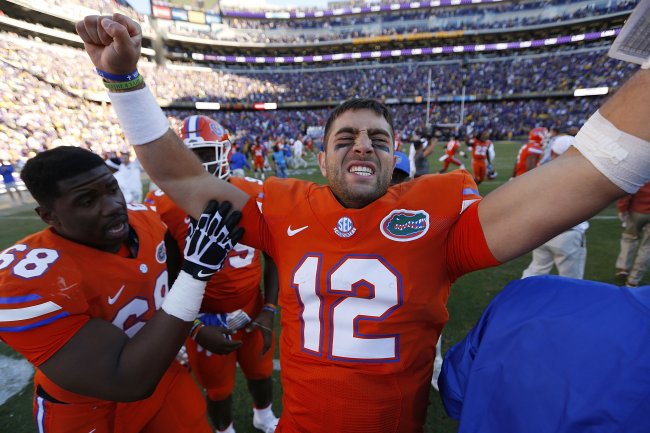 Jonathan Bachman/Getty Images
At that point—assuming Alabama beats Auburn this weekend—the Crimson Tide would certainly have a strong case to make the playoff even without a conference championship.
"I would say that consistent to our protocol that when there is a small separation between teams, when teams are comparable, then the selection committee has been instructed by the management committee, the commissioners, as well as the athletics director at Notre Dame, to apply four metrics," committee chairman Kirby Hocutt said last week. "One is conference champions; one is strength of schedule; another is head to head matchups; and the fourth is comparable outcomes against common opponents."
Would one-loss Alabama only have a small separation on three other teams in the country? That's in the eye of the members of the committee. But the only scenario in which that would even be a debate is if Florida is SEC champ with one-loss Clemson, Washington and Michigan/Ohio State holding conference championships.
Even in that scenario, Alabama would probably get in over Washington.
@BarrettSallee who do you think represents the SEC in the Sugar Bowl

— Florida Gator Latest (@UFupdates) November 21, 2016
The race for the Sugar Bowl is a hot mess.
Other than unblemished Alabama and Florida, every team in the conference has three or more losses. Considering upcoming games with Florida State and Alabama, those Gators could have three (or more) before the end of the season.
The Sugar Bowl is contractually obligated to take the highest-ranked SEC team not in the College Football Playoff. That said, let's first run down some scenarios:
If No. 16 Auburn beats Alabama, that should be enough to keep them ahead of the pack despite not playing on championship weekend as long as No. 13 Florida falls to the Crimson Tide.
If Auburn and Florida both lose to Alabama close, four-loss Auburn would be out and the battle would be between three-loss teams Florida and No. 24 Tennessee. With similar records and the Vols holding the head-to-head advantage, I'd imagine Tennessee slides in.
If Auburn and Florida lose this weekend to Alabama and Florida State, respectively, and the Gators lose in Atlanta, Tennessee would definitely get that spot provided it gets by Vanderbilt. If it doesn't, No. 22 Texas A&M has a shot.
Got that?
We could go through even more scenarios if you want, but that'd take a lot of time.
If I had to place a bet right now, I'd go with Tennessee—but man, it'll be close.
With youngsters on the defense stepping up big for Florida, quarterback Austin Appleby and wide receiver Tyrie Cleveland posing a deep threat, an offensive line with confidence and a running game that's improving, the Gators will upset Florida State and give Alabama a four-quarter battle in the SEC Championship Game. Assuming a bounce doesn't go their way and they lose, that'll drop them essentially into a tie with Tennessee.
At that point, the Vols will boast the head-to-head win, while the Gators will boast the SEC East title.
The committee will value the head-to-head more and place the Vols in the Sugar Bowl even if Texas A&M tops LSU and also finishes with three conference losses.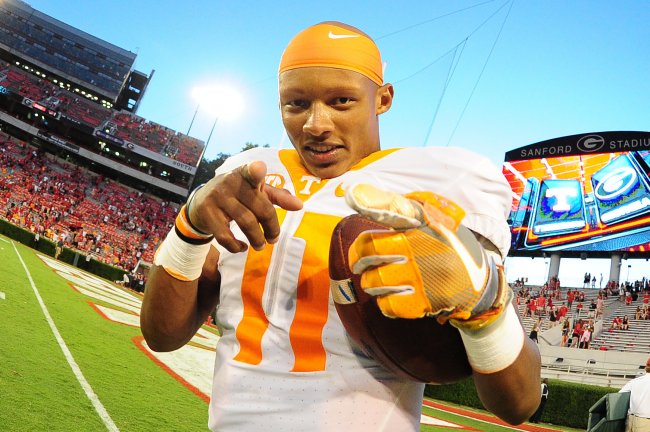 Scott Cunningham/Getty Images
@BarrettSallee
Given buyout situation, is C. Strong a candidate for ANY team in 2017, SEC or otherwise?

— David C. (@DavidCrook8) November 21, 2016
This is, of course, if inevitability becomes reality and Texas fires head coach Charlie Strong after the TCU game.
Is there an outside shot that Strong ends up as a defensive coordinator in the SEC? Sure. He spent seven years as Florida's defensive coordinator (2003-2009), four as South Carolina's (1999-2002), has stints as a position coach at Florida, Ole Miss and Texas A&M, and has intimate knowledge of the SEC recruiting landscape.
I doubt there will be openings as a head coach, though.
With LSU likely the only school in the market, there won't be room.
Oregon could open, according to Sports Illustrated's Pete Thamel, there's an outside shot of Notre Dame letting go of Brian Kelly and others likely will open up after initial moves are made by the major programs with vacancies. Strong will be a candidate for several good head coaching jobs outside the SEC.
Would he take North Carolina or Oklahoma State if Larry Fedora or Mike Gundy, respectively, move on? Over a coordinator position in the SEC, absolutely. What about Cincinnati if Tommy Tuberville is let go? Even though it's not a Power Five school, he'd be a steal for the Bearcats thanks to his ability to recruit an area of the country he's familiar with due to his time at Louisville.
Charlie Strong will get a decent head coaching job somewhere, and win a conference title within three seasons. He's a great recruiter, made proper adjustments to today's offensively driven brand of football this year at Texas and should learn from his mistakes in Austin.
Quotes obtained firsthand unless otherwise noted. Statistics courtesy of cfbstats.com unless otherwise noted.
Barrett Sallee is the lead SEC college football writer and national college football video analyst for Bleacher Report, as well as a host on Bleacher Report Radio on SiriusXM 83. Follow Barrett on Twitter @BarrettSallee.