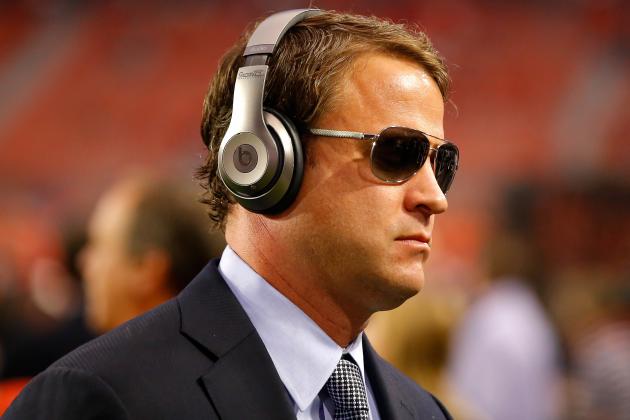 Kevin C. Cox/Getty Images
Alabama OC Lane Kiffin
With championship week and coaching silly season blending together like grapes in a fine wine this week, there's plenty to talk about on the field and off it.
The most pressing matter blends to two, as Alabama offensive coordinator Lane Kiffin will hope to lead the Crimson Tide to its third straight SEC championship in the title game versus Florida this weekend, while his name is linked to the same position on Ed Orgeron's staff at LSU.
"He's never mentioned it to me," head coach Nick Saban said on a teleconference Sunday night. "I'm sure he would if there was something out there."
Where will Kiffin land? That question and more are answered in this week's edition of SEC Q&A.
@BarrettSallee Is this the last year for @Lane_Kiffin at Alabama?

— Josh Higdon (@JoshHigdon1) November 28, 2016
Yes, I do think it'll be the last season Kiffin is with Alabama as offensive coordinator.
He's on the tail end of a three-year deal, so there will be negotiations following the season even if he's not being courted by other schools.
After three straight playoff berths with three different quarterbacks who had three different maturity levels and skill sets, it's fair to say that Kiffin will be a hot commodity as a head coach depending on which jobs come open and others that become available as a result of those hires.
LSU's offensive coordinator spot will likely be a (very good) fallback option if the right head coaching jobs don't come calling.
Why LSU and not Alabama? It's simple.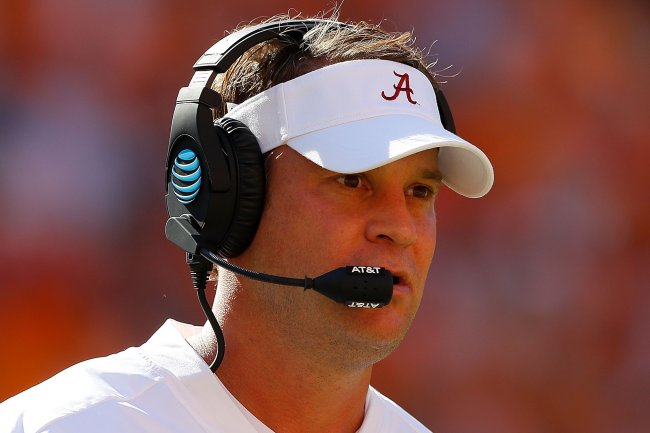 Kevin C. Cox/Getty Images
Finances won't be an issue due to Orgeron's salary being around $3.5 million per year, according to Ross Dellenger of the Advocate—a bargain in this day and age. So loading Kiffin up at $1.5 million or more per year won't be an issue.
Leaving Alabama won't be an issue either.
What's the primary reason Kiffin won't be considered for major head coaching jobs in 2017? Concerns over his maturity and if the brash, outspoken coach who once led Tennessee and USC has evolved into a capable leader.
We don't know the answer to that due in large part to Saban's policy that prevents assistants from speaking publicly save for once in the offseason and at mandated bowl and award opportunities. That would likely change with Orgeron, who was Kiffin's employee at Tennessee in 2009 and from 2010-2013 at USC.
If making Alabama a monster isn't enough to convince athletic directors, doing it at LSU while being more out front will be what pushes Kiffin over the top and nets him a big-time offer. That's too sweet of a deal to pass up.
@BarrettSallee Whose seat is hotter to start next year: Hugh Freeze or Butch Jones? Any chance Butch gets fired with a bowl loss?

— Poultrygeist (@jafpls) November 28, 2016
Without a doubt, it's Tennessee head coach Butch Jones.
In fact, I don't consider Hugh Freeze on the "hot seat" at all. He led the program to back-to-back New Year's Six bowl games and has a solid core to build around moving forward, including quarterback Shea Patterson, defensive back Deontay Anderson and offensive lineman Greg Little.
Jones is a different story, and should be neck-and-neck with Texas A&M's Kevin Sumlin in the race to be on the SEC's hottest seat.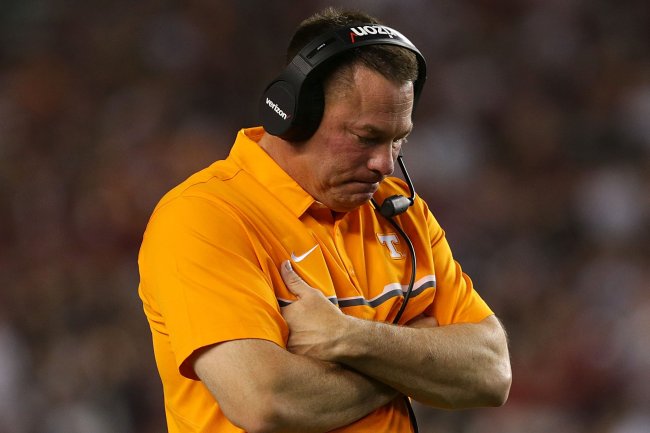 Tyler Lecka/Getty Images
The 2016 campaign has to be considered a massive disappointment on Rocky Top. If missing out on the SEC East title—something Tennessee was picked to win at media days for the first time since 2005—wasn't enough, the Vols let a surefire Sugar Bowl berth slip through their fingers in the 45-34 loss to intrastate rival Vanderbilt.
What's more, the team never looked comfortable with the target on its back, gave up more than 500 yards five times since the start of October and never developed the downfield passing attack that it needed to overcome its defensive deficiencies.
On top of that, Jones will have a new athletics director and chancellor to deal with. And oftentimes, new bosses like to make their stamps on programs. If Jones doesn't show signs of improvement and contend for the division title late in November, he could be shown the door despite the fact that he will have a lot of roster holes to plug, including at quarterback after Joshua Dobbs departs.
@BarrettSallee Florida OC on the hot seat at all?

— Agent Andy (@TeamAndyR) November 28, 2016
Doug Nussmeier might get some looks as a head coach at some smaller FBS schools, but it definitely isn't his fault that the Florida offense struggled.
Injuries happen, and Florida's offense has been held back by two separate injuries to quarterback Luke Del Rio, numerous injuries along the offensive line throughout the season, running backs struggling in pass blocking and playmakers outside moving in and out of the lineup due to injuries.
Does that excuse the fact that Florida ranks next-to-last in the conference in total offense (352.7 yards per game) and yards per play (5.27), and 103rd in the nation in plays of 20 or more yards? Of course not.
But it does explain it, which should be enough to make the idea of replacing a coordinator due to ineffectiveness premature.
Nussmeier and head coach Jim McElwain work hand-in-hand with the offense, and McElwain is under no pressure to lose his job after going to the SEC Championship Game in each of his first two seasons at the helm. That would be the only reason McElwain would start to jettison coordinators.
Until then, Nussmeier is fine.
McElwain knows the offense has been disjointed due to quarterback injuries and the suspension of Will Grier in the middle of the 2015 season. If the offense sputters for a third straight season and those issues under center don't exist, then maybe McElwain will look to make a change.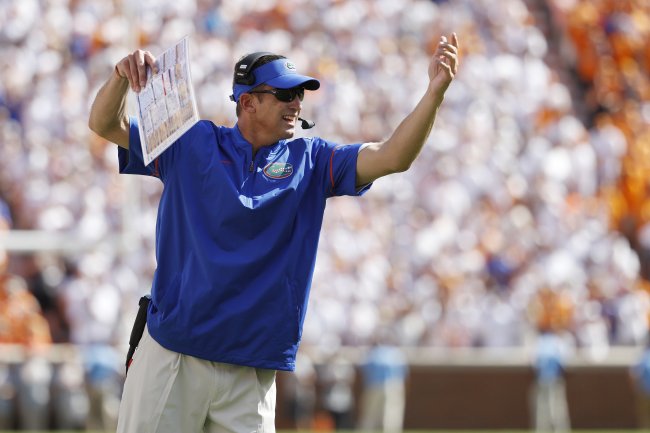 Joe Robbins/Getty Images
@BarrettSallee What has been the biggest contributing factor to the SEC East's decline? Poor coaching/bad hires?

— Jacob Hibbard (@hibbardj) November 28, 2016
It's a combination of the lack of development of key players, injuries, coaching turnover and a dedication that wasn't up to par with the West.
With that said, the SEC East went 4-0 against the West over the final three weeks of the season, so that gap might be getting more narrow.
Tennessee was in a massive ditch when Butch Jones took over in 2013, and he slowly built it back to be competitive. This season, the Vols got stuck in neutral due to massive injuries and the inability to develop quarterback Joshua Dobbs into a downfield threat.
Georgia went through a coaching change and only dedicated itself to the assistant coach budget it needed to be a big-time program during the final year of the Mark Richt era in 2015. That, coupled with a roster that was young in several key spots in Kirby Smart's first year in 2016, made it a retooling year in Athens.
We already went through Florida's issues in the section above, South Carolina's talent level dipped during Steve Spurrier's final few years and Vanderbilt and Kentucky—while solid in 2016—are still operating at a talent deficiency.
It will get better, and it might happen as soon as next year. The final few weeks of the regular season in 2016 were just baby steps on the road to college football relevance.
Quotes obtained firsthand unless otherwise noted. Statistics courtesy of CFBStats unless otherwise noted.
Barrett Sallee is the lead SEC college football writer and national college football video analyst for Bleacher Report, as well as a host on Bleacher Report Radio on SiriusXM 83. Follow Barrett on Twitter @BarrettSallee.