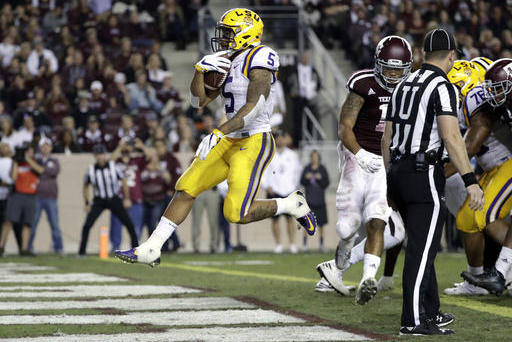 David J. Phillip/Associated Press
The final weekend of the 2016 SEC regular season drew to a close on Saturday, as the conference experienced mixed results against opponents outside of the league.
Kentucky stole the show with a 41-38 win over a rival Louisville team that had steamrolled opponents for much of the season. The Wildcats moved up to 7-5 on the year, and they can make an argument for being the SEC's surprise team in 2016.
However, the other schools with out-of-conference matchups stumbled tremendously. South Carolina was eviscerated 56-7 by Clemson, Florida once again proved to be no match for Florida State in a 31-13 loss and Georgia allowed 14 unanswered points in the fourth quarter to drop a 28-27 contest to Georgia Tech. The strength of the SEC East had been a question all year, and Saturday showed that the division is still a mystery as it lacks a dominant team.
Otherwise, the notable results were Vanderbilt's 45-34 upset over Tennessee to earn bowl eligibility and Mississippi State's 55-20 thrashing of Mississippi in the Egg Bowl. Arkansas also dropped a stunner in a 28-24 loss to lowly Missouri.
Plenty of players still balled out around the conference in Week 13, particularly on offense. With that in mind, let us take a look at the final weekly group of the SEC's top performers this season. As always, this list is compiled based on statistical output and the impact of the player's outing on his team moving forward.
David J. Phillip/Associated Press
LB Deshaun Davis, Auburn
WR Christian Kirk, Texas A&M
S Dominick Sanders, Georgia
WR Trent Sherfield, Vanderbilt
WR ArDarius Stewart, Alabama
S Daniel Thomas, Auburn
The players above were stout in Week 13, but they just missed out on this list for various reasons.
Auburn needed an excellent defensive effort to have a shot at defeating Alabama, and it got one for most of the game. Deshaun Davis made plays all afternoon, tying for the team lead with 10 total tackles to go with four stops for a loss. Freshman safety Daniel Thomas also impressed in the most significant action of his career, picking off two passes. Yet, this unit eventually wore down, as the Crimson Tide racked up 501 yards of offense. This, along with the play of others in the SEC, take these two Tigers off of the list.
Christian Kirk once again paced Texas A&M's offense, reeling in eight passes for 107 yards and two touchdowns in a 54-39 Thanksgiving loss to LSU. He also chipped in on special teams with a 66-yard kick return, but he was slightly outshined this week and earns just a mention.
Georgia needed its defensive backs to contribute against Georgia Tech's triple-option attack, and Dominick Sanders was solid. He recorded a fumble recovery and an interception on the day, but he only finished with four total tackles. The lack of production in that regard is why Sanders misses out on this week's list.
Trent Sherfield and ArDarius Stewart both put up similarly fine Saturdays. Sherfield caught nine balls for 184 yards, while Stewart was Alabama's best offensive player with 10 catches for 127 yards and a score in the 30-12 Iron Bowl win. If not for the better performances of others, these two would surly be included in the group.
Defensive statistics are courtesy of Auburn and Georgia athletics.
Mark Humphrey/Associated Press
Tennessee may have lost a shocker on Saturday, but it was not because of the play of its senior quarterback.
Joshua Dobbs was efficient and outstanding against Vanderbilt. He completed 31-of-34 passes for 340 yards and two touchdowns while also rushing for 53 yards. The Volunteers did not score any points in the fourth quarter, but the team would never have been in the game if not for the great effort from Dobbs.
Dobbs' career will end with another disappointing regular season, but his defense let him down on Saturday. He put together one of his best performances of the year, as he diced up a solid Vanderbilt defense.
David J. Phillip/Associated Press
Speaking of efficiency, Danny Etling came out of nowhere to tear apart Texas A&M in arguably the best outing of his career.
Etling completed 20-of-28 throws for 324 yards and two touchdowns on Thursday, giving LSU maybe its top quarterback performance since Zach Mettenberger was in Baton Rouge. The Tigers always have a talented receiving group, and Etling made quality use of those players as five guys caught at least two passes on the night.
Ed Orgeron will need to generate a consistent passing game to turn around LSU's offense, and Etling has shown flashes that he could be the guy to do that in his senior season next fall.
Wesley Hitt/Getty Images
The SEC looks to have a new offensive machine at quarterback in the coming years, and his name is Nick Fitzgerald.
The sophomore was sensational again on Saturday, throwing for 109 yards and three touchdowns while torching the Rebels for 258 yards and two scores rushing. He has emerged as arguably the conference's top dual-threat signal-caller, as Fitzgerald is now at 1,243 rushing yards on the season.
Expect big things from this kid moving forward, as he could end up topping Dak Prescott's collegiate production if he keeps up his current pace.
Ed Zurga/Getty Images
Missouri received excellent play from its defensive line in Week 13, which allowed it to frustrate Arkansas quarterback Austin Allen for the upset win.
Marcell Frazier led the way, as he was a disruptive force all day. Frazier totaled four tackles, all for a loss, and three sacks, and only one other Tiger recorded a sack against the Razorbacks. If not for the junior defensive end, Arkansas may have squeaked out a victory in Columbia.
Defensive statistics are courtesy of Missouri athletics.
L.G. Patterson/Associated Press
Cale Garrett (No. 47).
Frazier was not the only Tiger defender impressing on Saturday, as a freshman linebacker was stout as well.
Cale Garrett has emerged as a foundation piece for Missouri's defense moving forward, and he saved his best performance of his young career for Missouri's final game of the season. Garrett tied for the team lead with 10 total tackles to go with two tackles for a loss and an interception.
He was also instrumental in stopping the SEC's leading rusher in Rawleigh Williams III, holding him to 117 yards on 25 carries. The Tigers may have had a down year, but they have several promising young players to build around in the coming years on both sides of the ball.
Defensive statistics are courtesy of Missouri athletics.
Bob Levey/Getty Images
With Leonard Fournette once again sidelined, LSU leaned on its other big-time rusher to guide the offense, and he came through in a massive way.
In what was likely the top SEC performance of the week, Derrius Guice obliterated a tough Aggies defense for a ridiculous 285 yards and four touchdowns on 37 carries. Per Andrew Lopez of the Times-Picayune, he set the school record for rushing yards in a game. The previous mark of 252 was set by Guice two weeks ago against Arkansas.
The rest of the SEC needs to be on serious alert, as Guice may already be the second-best running back in the conference behind his teammate in No. 7. Fournette may leave after this season, but it appears LSU will follow him with the top running back prospect for the 2018 NFL draft.
Andy Lyons/Getty Images
In need of a game-breaker capable of stretching out Louisville's defense, Kentucky found just what it needed in its speedy sophomore receiver.
Garrett Johnson was a difference-maker on Saturday, as the Cardinals secondary simply could not contain him. He finished with five catches for 164 yards and two touchdowns, with his scores coming from 63 and 75 yards out.
Johnson's big-play ability was instrumental in keeping up with Louisville's potent attack, and he looks like he could become the SEC's preeminent deep threat moving forward.
Andy Lyons/Getty Images
Lamar Jackson was the quarterback receiving all of the attention, and rightly so, before the Governor's Cup. Yet, Stephen Johnson left as the star of the afternoon.
Johnson gashed Louisville's defense with his arm and his legs. He finished with 338 yards and three touchdowns passing while doing his best Jackson impression by leading Kentucky with 83 rushing yards. Johnson also led the Wildcats downfield on the last drive of the game to set up Austin MacGinnis' 47-yard field goal for the win.
Kentucky looked destined for another losing season after a 45-7 beatdown from Florida in Week 2, but the direction of this program has changed dramatically since Johnson took over for Drew Barker at quarterback. The Grambling transfer now could have Kentucky contending for the SEC East next season.
Frederick Breedon/Getty Images
While Dobbs led the way in Tennessee's disappointing loss, he received a ton of help from his dynamic running back.
Alvin Kamara was a potent source of offense all night. He ran the ball 10 times for 69 yards and two touchdowns while also catching eight passes for 72 yards and a score.
He may have ran out of bounds on Tennessee's final play on fourth down, but that does not diminish the explosive game he had leading up to that play. The junior could move on to the NFL next season, which would leave a massive hole in the Volunteers' offense.
Brett Davis/Associated Press
With Jacob Eason only mustering 139 passing yards on 27 attempts, Georgia once again relied on its rushing duo to keep it in the game on Saturday.
The pair's lesser known commodity finished with the stronger performance, as Sony Michel totaled 170 yards and a touchdown on 19 carries. Nick Chubb finished with 88 yards and a score on 22 rushes. Michel is averaging 5.5 yards per carry this season, and he could be in line for a massive season in 2017 if Chubb decides to bolt for the NFL.
Mark Humphrey/Associated Press
With a bowl berth on the line, Kyle Shurmur came through with the biggest performance of his career for Vanderbilt.
Shurmur completed 21-of-34 throws for a career-high 416 yards and two touchdowns to lead the Commodores. The game was really a coming-out party for the sophomore, as he had never even topped 300 yards in a contest at Vanderbilt.
This could serve as a significant confidence-booster moving forward for Shurmur. Vanderbilt needs a formidable passing attack to take pressure off of its running game, and Shurmur has the tools to be a good SEC quarterback. If he can start repeating these types of outings, the Commodores could make some serious noise in the conference.
Mark Humphrey/Associated Press
Having long been the best player on a putrid offense, Ralph Webb was finally rewarded Saturday with arguably the biggest win of his college career.
With Vanderbilt up four late in the fourth quarter, Webb put the game away with a 28-yard touchdown run to give his team the win over a much more touted Tennessee squad. The senior finished with 114 yards and two scores on the night on 21 carries. He also caught two passes for 21 yards.
Webb will be remembered as one of the most prolific rushers in school history, so it was only fitting that he punctuated Vanderbilt's win on Saturday.
Rogelio V. Solis/Associated Press
After being used sparingly for much of the season, Aeris Williams capped off a strong finish to his sophomore season with a huge day in the Egg Bowl.
Williams ran the ball 25 times for 191 yards and two touchdowns to complement Fitzgerald on the ground. It was just the second time he topped 100 yards in a game, with the other instance coming three weeks prior against Texas A&M.
The Mississippi State offense is in pretty great shape moving forward, but Williams will need to find more consistency in his game next season to start stringing together more of these types of outings.
All offensive statistics are courtesy of NCAA.com.