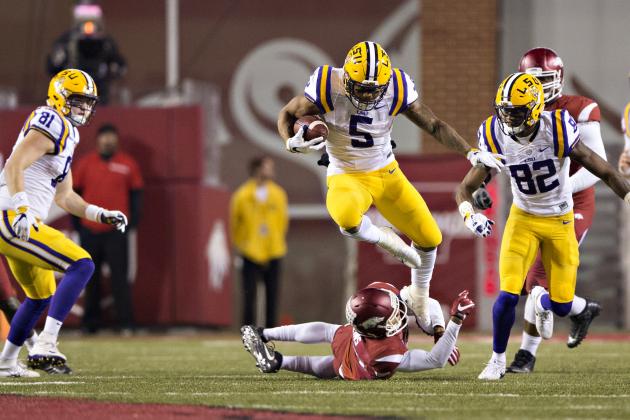 Wesley Hitt/Getty Images
LSU's Derrius Guice (No. 5).
In a college football Week 11 that saw numerous top teams fall, the SEC was no exception as two schools in the Associated Press Top 10 were upset by unranked opponents.
Against an underwhelming Georgia team, the Auburn Tigers completely sputtered offensively, losing 13-7 on the road to end their SEC West title and College Football Playoff hopes. Texas A&M also continued its free fall, collapsing late to lose 29-28 at home against an undermanned Mississippi team. The loss was the Aggies second straight to an unranked opponent.
Auburn's and Texas A&M's defeats pretty much establish that Alabama will come out of the SEC West. The Crimson Tide proved themselves as a dominant force again on Saturday, stomping Mississippi State 51-3.
Florida and Tennessee stayed alive in the SEC East, as the Gators downed South Carolina 20-7 and the Volunteers outlasted Kentucky 49-36. Florida is currently atop the division at 5-2, but Tennessee is 3-3 with the tiebreaker advantage due its early season win over the Gators. Thus, the Volunteers are in prime position to head to Atlanta if Florida falters late.
LSU going into Fayetteville and throttling Arkansas 38-10 was the remaining notable result on Saturday, as the Tigers' high-powered running game was simply too much for the Razorbacks.
With all of that in mind, plenty of players balled out in Week 11, particularly on offense. However, this list does not replicate the tremendous depth that encompassed last week's performances, as the difference between the top outings and the rest of the conference was much greater this weekend.
Let us now take a look at Week 11's top performers. As always, this list is compiled based on statistical output and the impact of the player's outing on his team moving forward.
Kevin C. Cox/Getty Images
Tennessee's Alvin Kamara (No. 6).
LB Dwayne Eugene, Arkansas
RB Alvin Kamara, Tennessee
DE Carl Lawson, Auburn
DL LaTroy Lewis, Tennessee
DE Denzil Ware, Kentucky
RB Stanley "Boom" Williams, Kentucky
The players above put in solid efforts on Saturday, but they just missed out on making this list for various reasons.
Arkansas was going to need some major production from its linebackers to combat LSU's running game, and Dwayne Eugene led this charge. He led the team with 10 total tackles, while also notching a tackle for loss and a fumble recovery. Yet, others around the league were slightly more impressive, and the Razorbacks still allowed 390 rushing yards on the night.
With Jalen Hurd now gone, Tennessee's backfield is now undoubtedly Alvin Kamara's. The junior made the most of his touches against Kentucky, carrying the ball 10 times for 128 yards and two touchdowns. Kamara did not record any catches, and his lack of work combined with the huge days from other SEC running backs, earn him just a mention this week.
While Auburn's offense was abysmal, its defense came to play came on Saturday as the unit allowed just six points to Georgia's offense. Star defensive end Carl Lawson was the catalyst of this effort, totaling six tackles, three tackles for loss and a sack. Yet, others filled up the stat sheet just a bit more in Week 11.
The same could be said about Tennessee's LaTroy Lewis and Kentucky's Denzil Ware, as each was stout along the the defensive line. Lewis racked up seven tackles, 1.5 tackles for loss, one sack and a fumble recovery in a win. Ware strung together nine total tackles, 2.5 tackles for loss and a sack.
Lastly, Stanley "Boom" Williams continued to establish himself as one of the SEC's top rushers, as he found some success against a talented Tennessee defensive front. Williams toted the rock 16 times for 127 yards and a touchdown, and he was the much more productive member of Kentucky's running back duo that includes Benjamin Snell, Jr. If other running backs had not produced monster days, Williams and Kamara would likely have landed on this list.
Defensive statistics are courtesy of Arkansas, Auburn, Kentucky and Tennessee athletics.
L.G. Patterson/Associated Press
Missouri finally ended its five-game skid with a much-needed 26-17 home win over Vanderbilt, and the Tigers ground game was critical.
Damarea Crockett led the way with 154 yards and a touchdown on 20 carries, which is even more impressive against a strong Vanderbilt rush defense led by star linebacker Zach Cunningham. Saturday's outing was the third time this season Crockett has ran for at least 145 yards, so his play should not come as a huge surprise.
Crocket has 129 carries on the season compared to Ish Witter's 126, but the former has clearly emerged as Missouri's best rusher. He now has 837 yards and nine scores on the year with Witter having 575 yards and four touchdowns. Expect this freshman to become one of the SEC's best in the coming years.
Wade Payne/Associated Press
Joshua Dobbs has struggled to find extensive consistency this season, but he is one of the nation's best quarterbacks when he is effectively utilizing his dual-threat ability.
That was on full display on Saturday as the senior completely shredded a hapless Kentucky defense. Dobbs finished with 233 yards and three passing touchdowns to go with 147 yards and two rushing scores. He completed 65 percent of his throws, but he was not perfect since he did toss an interception.
Tennessee is still alive in the SEC East, and it will need these types of performances from Dobbs moving forward to have any chance of salvaging what has turned into a disappointing season.
Samantha Baker/Associated Press
Despite defensive game plans being centered around him every week, Leonard Fournette continues to produce big-time outings, and Saturday was no different.
Arkansas swarmed the dynamic junior, but Fournette was still able to gain 98 yards and three touchdowns on 17 carries. He also contributed in the passing game, catching two balls for 44 yards.
Another LSU running back stole the show in Fayetteville, but Fournette was great nonetheless. There is no doubt he is the most physically dominating rusher in the SEC and likely the nation.
John Bazemore/Associated Press
While Georgia's entire defense deserves plenty of credit for holding an explosive Auburn offense to just 164 total yards, its dominance of the Tigers' passing game is what truly stands out.
Auburn likes to establish big plays downfield on play-action and in quick screens, but Georgia completely stifled that effort on Saturday, which allowed the Bulldogs to hunker down and stop the run. Georgia allowed just 37 passing yards as Auburn went 8-of-22 through the air while also being sacked twice.
The secondary also provided Georgia's only touchdown of the day when Maurice Smith picked off Sean White and returned the ball 34 yards to tie the game in the third quarter. The win gave the Bulldogs bowl eligibility, and it was thanks to one of the top defensive performances in the 2016 SEC season.
Defensive statistics are courtesy of Georgia athletics.
Wesley Hitt/Getty Images
Fournette deservedly receives plenty of national attention for his talents, but it is time Derrius Guice gets recognized as one of the country's elite rushers.
The sophomore was simply unstoppable on Saturday, running 21 times for 251 yards and two touchdowns, including a 96-yard scoring scamper. Guice possesses a tremendous blend of power and speed, but he does not always get to display that playing behind Fournette. However, interim head coach Ed Orgeron said after the game that Guice was more than deserving of an increased workload against Arkansas, per the Associated Press (via USA Today).
"We felt that Derrius deserved more touches," Orgeron said. "Obviously, Derrius is a very good running back and we wanted to share the carries."
Arkansas head coach Bret Bielema praised Guice after the game as well, per The Advocate's James Bewers.
"With the analytical report I got earlier, statistically, (Guice) is one of the most productive runners in college football," Bielema said.
That is certainly true. Guice now leads LSU in rushing despite primarily being a backup, and he is fifth in the SEC in that category. Even if Fournette leaves for the NFL after this season, do not expect any decline in LSU's running game next year.
Jeff Roberson/Associated Press
Missouri certainly struggles defensively, but Charles Harris is the brightest spot on that unit as he is one of the conference's best in the trenches.
Harris controlled the line of scrimmage against Vanderbilt while he harassed quarterback Kyle Shurmur and helped bottle up running back Ralph Webb. Harris led the Tigers with nine total tackles to go with 3.5 tackles for loss, 2.5 sacks and a forced fumble. As a result, Shurmur struggled with no touchdowns and two picks, and Webb only gained 34 yards on 11 carries.
While Missouri is destined to miss out on another bowl game, Harris will likely still be featured as an All-SEC performer at season's end.
Defensive statistics are courtesy of Missouri athletics.
Brynn Anderson/Associated Press
It should come as no surprise at this point. Jalen Hurts continues to dominate the SEC as a true freshman quarterback, and it was more of the same on Saturday.
Hurts controlled the game with his arm and his legs, throwing for 347 yards and four touchdowns to go with 100 yards and one rushing score. He became the first player in Alabama history to throw for at least 300 yards and rush for 100 yards in the same game, per ESPN Stats and Info.
There now appears to be little question as to who the SEC's top quarterback is. Hurts leads the conference in rushing scores with 11 while also ranking fifth in passing touchdowns. He could also be a dark horse Heisman candidate, especially considering how dominant Alabama has been all season.
Ed Zurga/Getty Images
Missouri's most explosive offensive weapon was able to get loose against Vanderbilt, which played a key role in the Tigers' win.
J'Mon Moore was all over the field for quarterback Drew Lock, reeling in eight passes for 138 yards and two touchdowns. Moore's big-play ability was also evident as he caught an 82-yard scoring throw to put Missouri up 19-0 in the second quarter.
The star receiver is now second in the SEC with 743 receiving yards, and he is tied for second with eight receiving touchdowns. It could take a while before Missouri is back contending again for SEC titles, but the program at least has a nice foundation in Crockett, Lock and Moore that it can build on moving forward.
Sam Craft/Associated Press
With Chad Kelly now out for the season, the future was moved up to now for Mississippi, and it certainly looks promising.
Shea Patterson, who entered the season as a 5-star prospect, was expected to redshirt this season while Kelly led the Rebels. Yet Patterson was thrust into the starting role in a hostile environment at Texas A&M, and he was excellent.
Patterson went 25-for-42 with 338 yards and two touchdowns passing while adding 64 yards on the ground. He led a furious fourth-quarter rally that saw Mississippi outscore the Aggies 23-7 to earn a comeback win, and both of Patterson's touchdowns came in the final frame.
Ole Miss head coach Hugh Freeze was certainly impressed after Patterson's debut, per Antonio Morales of the Clarion-Ledger.
"I've recruited this kid since he was a ninth-grader and I knew he had that 'it' quality about him," Freeze said. "I left that game with a man-crush on him."
After Bo Wallace and Kelly, Patterson looks like the next star quarterback at Mississippi. Judging by Saturday's performance, it appears Patterson could develop into the best of that bunch, which is a frightening thought for the rest of the SEC West.
Recruiting information is courtesy of Scout.com.
Kevin C. Cox/Getty Images
While Moore certainly went off on Saturday, another SEC receiver topped that performance with a monster outing of his own.
ArDarius Stewart is already established as Alabama's top deep threat, but his explosiveness was on display in multiple fashions against Mississippi State. Stewart hauled in eight passes for 156 yards, three touchdowns, and he scored on a 67-yard scamper to go with 15 and 20-yard touchdowns.
In addition to having a strong running game led by Hurts, Alabama boasts one of the nation's top receiving units with Calvin Ridley, O.J. Howard and Stewart. There appears to be no weaknesses on this team, which makes it a daunting matchup for the rest of the nation.
Joe Robbins/Getty Images
Tennessee earned a much-needed win on Saturday, and its defensive line was a major driving force.
Yet it was not Derek Barnett who led the charge, but Corey Vereen. The senior made plays all game, totaling five tackles, three tackles for loss and two sacks. He definitely benefitted from Barnett's presence along the defensive line, but this big-time performance should put Tennessee's remaining opponents on notice that the Volunteers can wreck game plans with multiple players up front.
Defensive statistics are courtesy of Tennessee athletics.
All offensive statistics are courtesy of NCAA.com unless otherwise noted.
Conference statistics are courtesy of SEC.com.