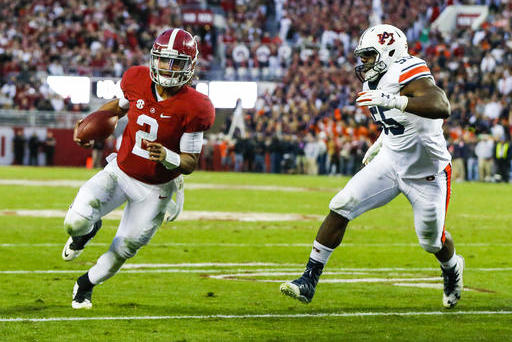 Butch Dill/Associated Press
The implications are obvious. For Alabama, it's a chance to put a rubber stamp on its undefeated regular season. For Florida, it's an opportunity to get into a New Year's Six game and give coach Jim McElwain a true signature win to help revitalize the program.
The Crimson Tide have bum-rushed through their slate at 12-0, winning all but one game by double digits. Freshman quarterback Jalen Hurts has given the offense a multidimensional threat under center that's almost unheard of in Alabama history. The Tide haven't so much as replaced reigning Heisman winner Derrick Henry but instead revamped their offense to atone for his absence.
Leading up to the Iron Bowl, Auburn coach Gus Malzahn discussed Hurts' skill set. He told reporters:
I have been very impressed with the way he has operated. He is like a running back playing the quarterback position. What stands out to me is that when things break down, he makes good decisions and he protects the football. He can throw the football vertically downfield very well and he has really had good command of his offense.
Hurts has carried the Tide offense alongside Damien Harris, who has emerged as the best of the Henry replacements. Harris has rushed for 900 yards despite only scoring twice on the ground, bringing a big-play dynamic that forces teams to avoid focusing all their attention on Alabama's young quarterback. Just a sophomore, Hurts and Harris should carry Alabama into next season as an unquestioned title contender again.
| | | | |
| --- | --- | --- | --- |
| Date | Time | Location | Network |
| Saturday, Dec. 3 | 4 p.m. ET | Georgia Dome in Atlanta | CBS |
NCAA.com
Freshman Joshua Jacobs has also been getting a handful of carries per game as a change-of-pace back. And Bo Scarbrough returned to the lineup for Saturday's win over Auburn.
The youth of Alabama's skill-position players has been perhaps the most underappreciated thing about the Tide's dominance this season.
Of course, it helps when you have perhaps the nation's best defense making things easier. Football Outsiders' S&P rankings had the Tide second overall behind only Michigan coming into this week. What that doesn't make clear is how much better Alabama and Michigan were than the rest of the nation all season long.
Heading into this week, Michigan was allowing 5.6 adjusted points per game, and Alabama was allowing 6.5. The next-closest team was Wisconsin at 13.1. Alabama is giving up less than half as many adjusted points using this formula than the third-best defense in the country; the Tide will in all likelihood move up to No. 1 after the Wolverines' loss to Ohio State.
"We have some pretty hateful guys that play defense around here who are pretty good competitors," Alabama coach Nick Sabantold reporters after the Tide bottled up LSU running back Leonard Fournette earlier this month. "So when they get challenged a little bit, they usually respond."
All of this is bad news for Florida, a fine team that largely got into this position thanks to the SEC East's weakness. The Gators scored 20 or fewer points in each of their final three conference games—not exactly a promising sign when you're heading into Alabama's swarm. Their scoring offense ranked 92nd nationally coming into the week, and they topped 30 points once in SEC play.
From a talent standpoint, the offense has been at a loss all year. Quarterback Luke Del Rio never found a rhythm under center, and an injury allowed McElwain to make a change to Austin Appleby. The senior hasn't been as mistake-prone as Del Rio, but he shares similar inconsistencies with accuracy and decision-making.
Appleby, nonetheless, seems happy to be in this position.
"If you would've told me I would've been No. 1 at Florida, but the starting quarterback for the Florida Gators and just clinched the SEC East, I would've told you you were nuts this time last year," Appleby told reporters. "I'm enjoying every second of it. I love my teammates. I love this place. I'm just gonna cherish every second."
Florida's struggles at quarterback haven't made things any easier for running back Jordan Scarlett, a solid player who has seen stacked lines. He's had each of his 100-yard games since Oct. 15 and has been getting steadier work, but the Gators are facing a significant uphill battle.
It would take an upset of near-epic proportions for Florida to have a chance. Or perhaps Alabama could punt the SEC championship knowing it's heading to the playoffs regardless. That likely wouldn't reflect well on the Tide—I don't think anyone has ever done such a thing at the major collegiate level—but it would still be hard for the committee to keep them out.
Either way: nah. Alabama's gonna win this big.