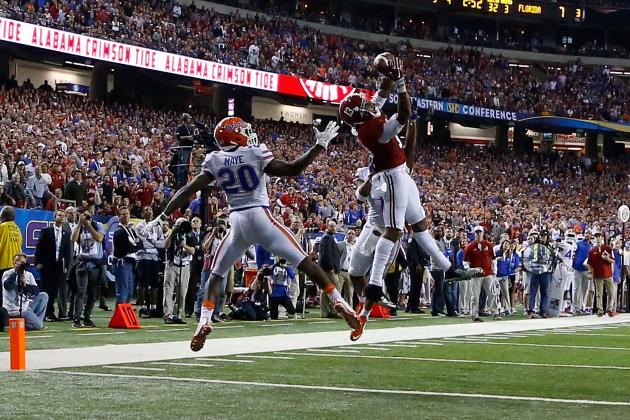 Mike Zarrilli/Getty Images
An SEC Championship Game between Florida and Alabama is nothing new. This will be the ninth time the Gators and Crimson Tide have battled for the conference crown since the league adopted the divisional format in 1992.
The teams have split the previous eight games, with Alabama winning last year, 29-15.
While both teams have their injuries entering this game, Florida is decimated on both sides of the ball. That's a big reason why the oddsmakers see a spread of more than three touchdowns, as nobody really expects the Gators to offer much resistance to Alabama's march to the College Football Playoff.
With a spotless record, UA probably could lose this game and still go, but Nick Saban and Co. are the overwhelming favorites to keep that slate unblemished.
Freshman Heisman Trophy hopeful Jalen Hurts will lead the way at quarterback, and college football's most dominant defense is expected to do its part, making Alabama is a tall task for anyone.
Under second-year coach Jim McElwain, Florida used a late-season surge and road win over LSU to sneak into the game to represent an SEC East division that was especially weak this season. Though the Gators have struggled offensively, they've got a championship-caliber defense, too.
Let's take a look at all you need to know for the SEC Championship Game.
Date: Saturday, Dec. 3
Time: 4 p.m. ET
Place: Georgia Dome, Atlanta
TV: CBS
Radio: Alabama Crimson Tide Sports Network, Gator IMG Sports Network
Spread: Crimson Tide by 24, according to Odds Shark
Joe Robbins/Getty Images
Hit some shots
The only way to attack Alabama's defense is one of the lowest-percentage plays in all of football: the deep ball.
When you consider that Florida has struggled throwing downfield all year, no matter if Luke Del Rio or Austin Appleby is under center, it's a lot to ask of the Gators to hit some plays in the vertical game. But they've got to take the top off the defense and get the ball into the hands of Antonio Callaway.
The task at hand isn't lost on Appleby, who told SEC Country's Zach Abolverdi that playing against Alabama would be a virtual NFL showcase.
"It's kind of like a minor league NFL game," Appleby said, per Abolverdi. "There's going to be first-rounders and NFL players all over the field. This is what it's all about in the SEC. Between Alabama and Florida's programs, there's talent everywhere."
UF can't go around or through the Tide's mighty front seven; it has to try to go over it.
Shut 'em down
The bottom line is that Florida isn't going to score a bundle of points against Alabama.
So, as was the case in the LSU game, the Gators must keep Alabama off the scoreboard, too. They've got to play a grind-it-out style that keeps Alabama out of the end zone and make massive plays when they get the chance.
That needs to include forcing turnovers and turning them into points. Florida has so many defensive weapons—especially in the secondary—and those guys must play their best game of the season and amass game-changing plays.
It would greatly help those efforts if Butkus Award finalist Jarrad Davis could play. According to Scout.com's Jacquie Franciulli, McElwain said of Davis' status, "I never count him out, but at the same time, I say it is pretty doubtful."
Kevin C. Cox/Getty Images
Hurts so good
Dual-threat quarterbacks have hurt the Gators this season, which is a bit of a chink in the armor of such a strong defense.
Last weekend, Florida State redshirt freshman quarterback Deondre Francois (who isn't even really that much of a running threat) finished with 63 yards and a touchdown on nine carries. Tennessee's Joshua Dobbs had 80 yards on 17 carries and scored a touchdown.
Now, the Gators face true freshman Jalen Hurts, who can hurt teams with his arm and legs.
"Overall, you can argue his numbers are good enough to deserve consideration [for the Heisman Trophy]," SEC Country's Alec Shirkey wrote. "They aren't as gaudy as [Louisville's Lamar] Jackson's or Washington's Jake Browning's, but they're commendable. Especially considering Hurts has faced some of the country's top defenses, such as Auburn, LSU and USC."
Shirkey noted several Heisman moments for Hurts, but with an electrifying performance on a huge national stage against another statistically great defense, he could catapult over Jackson or at least earn the seat next to him.
Considering UF's defense is decimated with injuries, it's an ideal chance for him to be himself. If Hurts dominates, Alabama cruises.
Just be yourself
Alabama got out-of-sorts offensively for much of the first half against Auburn, turning the ball over and generally shooting itself in the foot.
If the Tide just don't make mistakes, they'll beat Florida. The defense is by far the nation's best and will be harassing Appleby for the entire game. The Gators' running back stable, led by Jordan Scarlett, probably won't have chutes of air to run through and will get bottled up all afternoon.
It's just hard seeing a lot of points out there for Florida. If Alabama doesn't hand them scores on a silver platter, the Tide will do more than enough to win going away.
Don Juan Moore/Getty Images
Teez Tabor
He's Florida's brash defensive leader, with a big mouth and even bigger game. Even though Jalen "Teez" Tabor is already going to make plenty of money next year in the NFL, this is the showdown where he can elevate his draft status.
The junior leads perhaps the nation's most talented secondary, and they've got to make it difficult on Hurts the entire game. The freshman has proved he will throw interceptions, so it's Tabor and Co.'s job to provide the bait.
If Tabor or one of his defensive-backfield mates can get an early pick-six, it will change the scope of this game in a hurry.
Antonio Callaway
Even though McElwain is known as an offensive guru, he hasn't been able to recruit the type of athletes on that side of the ball to make his offense tick during his first two years.
One of the few difference-makers for the Gators is receiver Callaway.
McElwain must develop ways to get the ball in his hands at least 10-to-12 times if Florida is going to have a chance. He has to hand it to Callaway on reverses, throw quick-hitters, bubble screens or slants and send him deep a few times.
Alabama will pay Callaway extra attention, which is going to make it hard for him to dominate. But UF has to try.
Eddie Pineiro
Watch a field-goal kicker? Really?
Well, if this is the type of game the Gators want and they're in it at the end, it's likely going to be a battle of the kickers.
Two of the best punters in the nation will be featured in 'Bama's JK Scott and the Gators' Johnny Townsend, but Florida holds perhaps a small advantage when it comes to booting three-pointers. Pineiro has made all of his extra-point attempts this year and 18 of 22 field goals.
Florida would like nothing more than for this game to come down to his strong leg.
Kevin C. Cox/Getty Images
Jonathan Allen
The finalist for the Bednarik and Nagurski Awards has even been mentioned as a Heisman dark horse this year, but without question he's one of the nation's top defenders.
The versatile defensive lineman could be making millions this year in the NFL, but he came back to help Alabama to another national championship run and is terrorizing quarterbacks such as Trevor Knight, who became the football version of "posterized" against UA earlier this year.
He'll be all over the field against the Gators and told 247Sports' Charlie Potter that it's exciting to even be mentioned in the Heisman talk:
It's a tremendous honor to even be considered. I do think defensive players should be considered, but it's an offensive award in my opinion. It doesn't bother me. I really don't focus on that. I try to focus on what I can control and that's just playing good football. But as far as a defensive player, I feel like we should get more recognition.
Bo Scarbrough
Damien Harris is Alabama's leading rusher and has been a dynamic, every-down force for much of the season.
But with bulldozer Scarbrough healthy, he can make a major difference, especially late in games when he's fresh and opposing defenses are tired from banging heads with Harris and the big 'Bama offensive linemen.
UA imposes its will on teams, and Scarbrough is a big part of that. He hasn't had the breakout season a lot of folks expected, but the biggest showcase games remain. Expect the bruising sophomore to be a major factor.
Reuben Foster
He's gone from being known for his bone-crushing hits to one of the most complete linebackers in the nation.
Now, the senior (who has improved each year he's been in Tuscaloosa) is up for the Bednarik and Butkus Awards and is the type of player who can punish runners all night. He's as big a reason as any why Alabama leads the nation in rush defense by nearly 30 yards.
The Gators may try to run the ball, but don't count on it.
Kevin C. Cox/Getty Images
Alabama sophomore safety Minkah Fitzpatrick has been impressed with teammate Allen all year, telling AL.com's Rainer Sabin: "You see him every week, how athletic he is jumping over people and running down the field. You know, he is just one of those big freaks."
Alabama head coach Nick Saban got a bit fiery with the media this week, talking about being a big favorite against the Gators and about the upcoming potential for the playoffs, according to SEC Country's Marq Burnett:
We don't want our players thinking they can lose this game. This is a big game for us. An opportunity to win the SEC championship. You guys don't care about anything outside of the playoffs. You don't care about the bowl games or any team that isn't in the playoff. It's never OK to lose a game.
Florida coach Jim McElwain said he got "violently ill" a couple times watching video of Alabama and also said he thinks this may be 'Bama's most complete team under Saban, according to AL.com's Matt Zenitz:
This is another great opportunity. Not often in life do you get those opportunities, as a competitor, you get the opportunity to go challenge yourself against the best, a team that is unbelievable. They are clicking on all cylinders, got great players, obviously the best coach in college football and a staff that works the way they do. It's an honor to be able to go play them again. The big thing is, you know, it's a chance to go compete on a big stage and see what you're made of. We're excited to be there.
Tabor showered Alabama with praise, according to AL.com's Michael Casagrande:
Just their team in general, the way they come and play is different. I'd be lying to you if I said it wasn't—I guess it's Coach Saban and how he prepares his guys, but every year we play these guys, it's different than when you play everybody else. There's a reason why they're the No. 1 team in the country. There's a reason why they haven't lost this year.

There's a reason they're going to their third SEC Championship, hopefully, for those guys. They probably think they're going to go to their third College Football Playoff.
Kevin C. Cox/Getty Images
Not many people are giving Florida much of a chance on Saturday, and it's hard to argue with the prognosticators who've tagged the Gators as 24-point underdogs, per Odds Shark.
Against Florida State's bad—albeit improving—defense, the Gators couldn't muster very much offense at all. The week before against LSU, it was the same deal. It wasn't much better when Luke Del Rio was the quarterback, either.
While nobody can score that many points against Alabama, you at least have to put up a few points to put some pressure on the young Crimson Tide offense. But there just aren't enough weapons on the Gators' offense.
Realistically, nobody coming out the SEC East was going to pose much of a threat to Alabama, who is head-and-shoulders better than the rest of the league this season.
This game is going to go a lot like the Iron Bowl last weekend. UA quarterback Jalen Hurts may make a few mental errors early, but the Crimson Tide's defense will pick him up and keep the Gators out of the end zone. As the game wears on, Florida's depleted defense will wear down.
It may not be a very high-scoring game, but for much of the second half, the game will never be in question. This Alabama team is on a mission, and right now, it's one that looks like it will end in the College Football Playoff.
This weekend is a mere speed bump on that road.
Prediction: Alabama 33, Florida 10