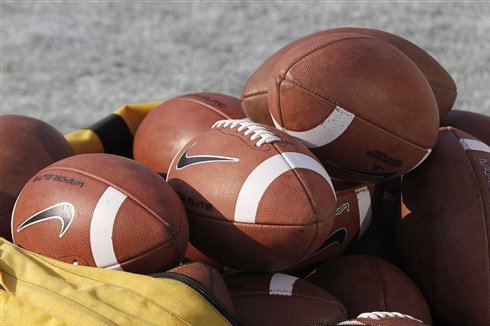 Sue Ogrocki/Associated Press
Rutgers University and two former football players are facing a lawsuit from a female student who alleges they sexually assaulted her last year.
Per J.P. Pelzman of the Asbury Park Press, citing Law360.com, the woman filed a lawsuit Nov. 14 at Middlesex County Superior Court alleging defensive end Marques Ford and punter John Bowers "assaulted her in November 2015 after she had become intoxicated and too incapacitated to give consent."
In the complaint, the female student, who is identified as K.L., said the assault started when she visited Bowers at an apartment where multiple football players lived, including Ford:
Both players appeared intoxicated, according to the female student, who was a minor at the time. After declining an offer to drink, the student woke up the following day with a swollen nose and lips, the smell of vomit on her hair, and abrasions on her elbows and knees.

She subsequently was told that she had consumed eight shots of tequila and engaged in sex with both players, according to the complaint. The players were suspended from the football team days later — on Nov. 19, 2015, according to the complaint.
Pelzman noted the lawsuit alleges Rutgers violated "various state and federal [laws] barring sexual discrimination."
Rutgers football has dealt with its share of off-field problems over the last year. Former cornerback Ruhann Peele was sentenced to probation in September stemming from multiple incidents, including hitting another student at the school and breaking the person's jaw and nose.
Andre Boggs, Lloyd Terry Jr. and Jamil Pollard will have their criminal case resume in January. In 2015, they were arrested in connection with home invasions.
Rutgers fired head coach Kyle Flood last November and hired Chris Ash to take over the program. The current coaching staff is not mentioned in the lawsuit.
Ford transferred from the program after the 2015 season and committed to East Carolina earlier this month. Bowers transferred to Rhode Island.