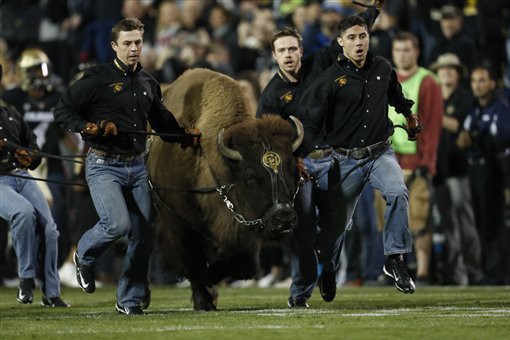 David Zalubowski/Associated Press
Colorado is running toward its first Pac-12 South title.
It's the final weekend of the regular season for teams in the Pac-12 Conference, which is indeed something to be sad about. But since that slate involves a handful of rivalry games, two of which will determine who wins division titles, at least the league is going out on a high note.
Two contests are on tap for Friday, providing an alternative to the madness that is Black Friday shopping, followed by five more on Saturday. When it's all over, we'll have our North and South Division champions determined and the Pac-12 Championship Game matchup Dec. 2 in Santa Clara, California will be set.
We've ranked the final seven games involving Pac-12 teams based on the quality of the pairing as well as the interest you may have in watching. Check them out and make sure to tune in for this last set of regular season games.
Brian Bahr/Getty Images
When: Saturday, Nov. 26; 8 p.m. ET
Stanford and USC take turns hosting Notre Dame over Thanksgiving weekend each season, which means at least one of those schools doesn't get to finish with its annual rivalry game. This year, for some reason, neither are doing so, with USC beating UCLA and Stanford downing California last week.
But rather than have the Cardinal sit out that final weekend, they get to finish up with a nonconference game that would make for a much better matchup if the schools were competing intellectually rather than on the football field. Rice and Stanford are regularly considered two of the top academic institutions in the country but the Owls' football team isn't very good in 2015, ranking sixth-worst in FBS in defense.
Stanford sits 108th out of 128 schools in total offense but that's up from last place about a month ago, before it wisened up and started getting Christian McCaffrey the ball as often as possible. He's responded 787 rushing yards and nine touchdowns during a four-game win streak.
Jonathan Ferrey/Getty Images
When: Saturday, Nov. 26; 4 p.m. ET
The 120th edition of the Civil War doesn't have much riding on it, not with Oregon and Oregon State tied for last place in the North Division, but it still holds plenty of national significance. It's time with Deep South's Oldest Rivalry (Auburn-Georgia) and the defunct Border War between Kansas and Missouri for the third-most played matchup in college football, and if not for going on hiatus during World War II it would be the longest continuous rivalry in the game.
History aside, it's always a fun game and usually ends up being wild. Though Oregon has dominated by winning the last eight games, four of the last 10 have been decided by 10 or fewer points including last year's wild 52-42 Ducks home victory.
Each team is actually coming in on a win, with Oregon pulling an upset at Utah while the Beavers crushed Arizona.
Christian Petersen/Getty Images
When: Friday, Nov. 25; 9:30 p.m. ET
The Duel in the Desert isn't the oldest rivalry game in college football, but the trophy up for grabs is. Arizona and Arizona State first battled for the Territorial Cup in 1899 but then it was missing for more than 80 yards before getting discovered in a church basement near ASU's campus in 1980. Now it's regularly on display by the winner and will get hoisted up by players after Friday night's game.
If those are ASU players it will also mean the Sun Devils have clinched a school-record sixth consecutive bowl bid and will have snapped a five-game losing streak.
Arizona has lost eight in a row and is trying to avoid its first winless conference season since 1957. The Wildcats have been on a swift decline since winning the South Division in 2014 and will finish below .500 for the first time in five years.
Ezra Shaw/Getty Images
When: Saturday, Nov. 26; 7 p.m. ET
It's not an official rivalry game, but UCLA and California have met 86 times and played every year since 1933. And while each faced their traditional rival (USC and Stanford, respectively) last week this final game still comes with plenty of bragging rights.
A victory can also help take away some of the disappointment of a poor season, one in which each team is four victories below their 2015 mark.
UCLA was already struggling before quarterback Josh Rosen injured his shoulder and needed surgery, and without him the offense has all but disappeared. Cal hasn't had any trouble moving the ball or scoring, its 37.2 points per game just a shad below last season's average, but the Golden Bears remain abysmal on defense and their 45.5 points per game allowed is last in FBS.
Harry How/Getty Images
When: Saturday, Nov. 26; 3:30 p.m. ET
There have been many a year where the Notre Dame/USC game had a major impact on the national championship picture. This isn't one of those seasons.
Notre Dame is wrapping up its worst campaign since 2007 in which each of its losses have been by eight or fewer points. The Fighting Irish have four three-point defeats, including last week against Virginia Tech, and fell by one to Navy, and with a few breaks here and there could have eight or nine wins.
USC was heading toward a rough 2016 early on when it started 1-3 with a blowout loss to Alabama and conference defeats at Stanford and Utah. Then the Trojans woke up and have been among the best teams in the country since, winning seven straight with victories over Colorado and then-unbeaten Washington behind redshirt freshman quarterback Sam Darnold and a commitment to running the ball.
Justin Edmonds/Getty Images
When: Saturday, Nov. 26; 7:30 p.m. ET
The Pac-12's newest members have usually been an afterthought during rivalry week, mostly because Colorado had yet to be competitive in the league since joining in 2011. Not anymore.
The Buffaloes, which had won only five conference games in their first five seasons of competition, are a win away from being South Division champions. A year ago at this time they were about to fall to 4-9, completing a 10th consecutive losing season and eighth straight without a bowl game and now they're not only close to playing in the Pac-12 championship but the playoffs are still in play depending on what happens this weekend and next.
Fourth-year coach Mike MacIntyre is reaping the benefits of a veteran team, one led by all-time school passing leader Sefo Liufau as well as experienced players at the skill positions and on defense.
Utah is far less experienced but has still managed to stay competitive thanks to an aggressive defense that's in the top 10 nationally in sacks and tackles for loss as well as the midseason return of senior running back Joe Williams. After stepping away from the game in September he returned to give the Utes a much-needed ball carrier and has run for 1,013 yards and nine touchdowns in five games.
Otto Greule Jr/Getty Images
When: Friday, Nov. 25; 3:30 p.m. ET
The Apple Cup has a great history, but most people don't know about it. That's because this in-state battle usually lacks much interest outside the state of Washington, until now.
Washington and Washington State are both ranked for their annual clash for the first time since 2001, and the winner will earn its first Pac-12 North Division championship. On top of that, Washington remains in the thick of the playoff race and a victory over the Cougars only furthers that cause.
The Huskies have a commanding lead in the all-time series, winning 70 of the 108 matchups that includes six ties, and they've taken six of the last seven. WSU's only win in recent history was in 2012 but this is the Cougars' best team since the 2003 version that played in the Rose Bowl.
Quarterback play highlights this one, with Washington's Jake Browning second in FBS with 37 touchdown passes while WSU's Luke Falk tied for the national lead with a 71.4 percent completion rate.
All recruiting information courtesy of Scout.com, unless otherwise noted. All statistics provided by CFBStats, unless otherwise noted.
Follow Brian J. Pedersen on Twitter at @realBJP.