George Frey/Getty Images
Washington, fresh off a seven-point win at Utah, stays on the road to face California.
Four weeks. That's all that remains of the regular season for Pac-12 college football, and with only a month to go, the division races are starting to shape up.
The North Division is down to two schools: Washington and Washington State, both 5-0 and on a collision course for their Apple Cup meeting on Nov. 25 in Pullman. The South is a little less clear, with Colorado holding a half-game lead on USC and Utah.
We also know where the Pac-12's top teams sit in the initial College Football Playoff rankings, as four schools got ranked, though as it stands now, none would make the semifinals.
All of that sets the table for Week 10's slate, the last in which league members have byes. We've ranked the five best games based on the quality of the matchups and the likelihood you'll want to watch.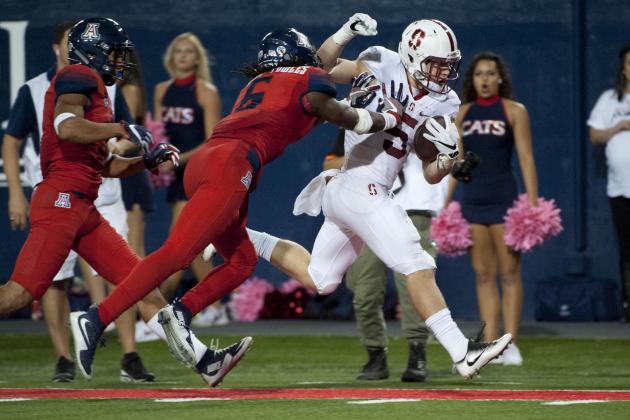 Casey Sapio-USA TODAY Sports
When: Saturday, 3:30 p.m. ET
Stanford may be out of the running for another Pac-12 title, but now that it has gotten Christian McCaffrey on track, it can finish the season strong and even get to 10 wins. The remaining schedule is favorable for the Cardinal to reach that mark for the sixth time in seven seasons, as their last four opponents have a combined record of 10-22.
McCaffrey scored three touchdowns last week at Arizona, the first scores of his career in a true road game. He's hit paydirt 16 times at Stanford Stadium, where he's also had seven of his 14 100-yard rushing games.
Oregon State has dropped three straight since ending its long conference losing streak, squandering a 24-6 halftime lead at home against Washington State last Saturday. The Beavers' remaining opponents are a combined 13-19, but the next two are on the road, and they haven't won outside Corvallis since October 2014.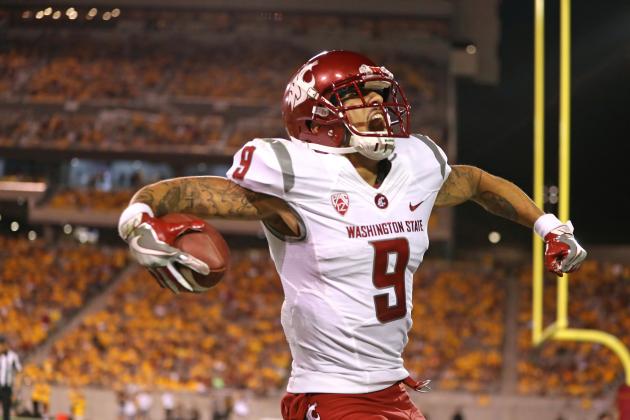 Mark J. Rebilas-USA TODAY Sports
When: Saturday, 4 p.m. ET
It's been a rough year for Arizona. Barring a major turnaround, it is going to finish with a losing record and without a bowl appearance for the first time since 2011. That was the year before Rich Rodriguez took over and quickly revved up the Wildcats, leading them to the 2014 Pac-12 title game.
Injuries have been the main culprit, with the quarterback and running back positions most heavily affected. The Wildcats have averaged 19.8 points and 397.2 yards per game during their five-game skid.
Washington State is going the other direction, winners of six straight after opening with losses to Eastern Washington and Boise State. The Cougars are off to their best start in the league since 2002 and remain tied with Washington for the North Division lead.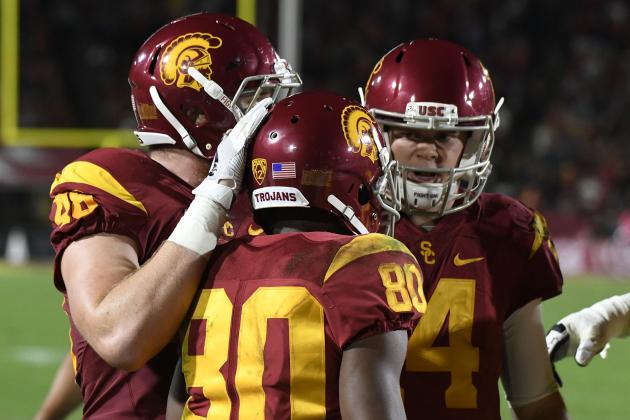 Richard Mackson-USA TODAY Sports
When: Saturday, 7 p.m. ET
In most years, this would be one of the top three or four games on the Pac-12 schedule, but Oregon's season-long struggles and USC's early dip have taken much of the shine off this battle. But based on the offensive talent each team possesses, we could still see some fireworks, particularly at quarterback.
Both teams have turned to freshmen as the season has progressed, with USC switching to redshirt Sam Darnold after a 1-2 start and seeing its offense come alive under his guidance. In his five starts, Darnold has thrown 16 touchdown passes against two interceptions and averaged 285.8 yards per game, with the Trojans winning the last four to creep back into the South Division race.
Oregon turned to true freshman Justin Herbert three games ago, and though he's only led the Ducks to one victory—last week's 54-35 win over Arizona State—he's been getting better by the week. He's thrown for 926 yards and 12 touchdowns since replacing Dakota Prukop, including six TDs in a double-overtime loss at California and 489 yards with four scores against ASU.
Kyle Terada-USA TODAY Sports
When: Thursday, 9 p.m. ET
Fresh off byes, UCLA and Colorado kick off the Pac-12 action in Boulder with a meeting of teams headed in opposite directions.
Colorado is having its best season since joining the league, bowl-eligible for the first time in nine years and leading the South Division. UCLA has lost three in a row and is headed toward its first bowl-less season since 2010 unless it can turn things around, something it's probably going to have to do without star quarterback Josh Rosen.
Rosen, who missed the Bruins' last two games after hurting his shoulder in a loss to Arizona State, could be out for the remainder of the season, according to Tracy Pierson of Scout.com.
Colorado dealt with an injury to career passing leader Sefo Liufau earlier this season, but redshirt freshman Steven Montez piloted the Buffaloes to a 2-1 record in his absence. Liufau has started the last two games.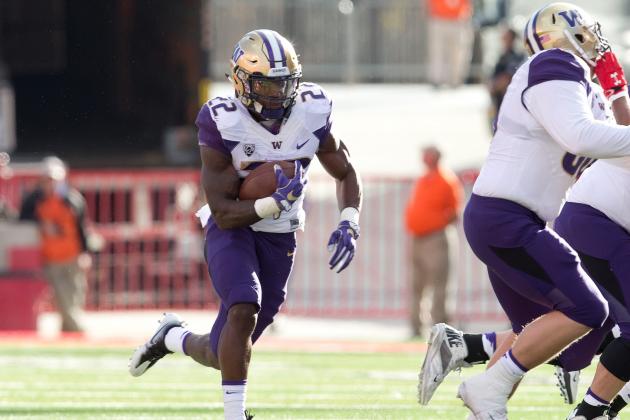 Russ Isabella-USA TODAY Sports
When: Saturday, 10:30 p.m. ET
As if Washington didn't already have motivation to finish strong, getting snubbed in the first playoff rankings threw another log on the fire. The Huskies were ranked behind one-loss Texas A&M, an indication that their schedule to this point has been less than impressive.
Last week's 31-24 win at Utah is one of just two victories against teams with winning records, the other being Stanford. But Washington's remaining slate is where the resume-boosting games are, starting with a challenging late-night trip to play California and its explosive passing game.
Cal quarterback Davis Webb has thrown for 2,914 yards and 29 touchdowns and throws it nearly 52 times per game, and the Golden Bears can also run the ball fairly well with Khalfani Muhammad and Tre Watson. Washington's defense has been a major strength this season, holding opponents to 15.8 points per game, but this will be its greatest challenge yet.
All recruiting information courtesy of Scout.com unless otherwise noted. All statistics provided by CFBStats unless otherwise noted.
Follow Brian J. Pedersen on Twitter @realBJP.