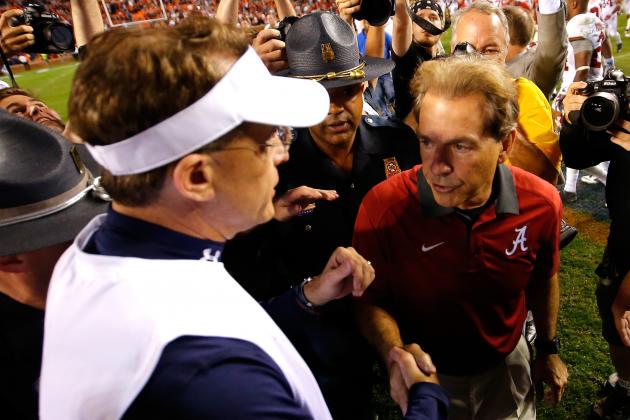 Kevin C. Cox/Getty Images
It's "Rivalry Week," college football's big finale for a lot of teams, and the one that sets bragging rights for a lot of in-state, border wars and out-of-conference rivalries throughout the country, and the SEC is no different.
There are a few games between conference rivals, but historic battles such as the Iron Bowl, Egg Bowl and "Clean, Old Fashioned Hate" will be waged this weekend.
Auburn and Alabama could be back to a national showcase game, while Florida's huge win over LSU last weekend sets the stage for a game against Florida State that has important implications.
Vanderbilt and Ole Miss are fighting for bowl berths, while teams such as Kentucky, Arkansas, Georgia, South Carolina and Tennessee are positioning themselves for better bowls.
For some coaches such as LSU interim Ed Orgeron, it could be an audition for a gig somewhere else next year, while others such as Texas A&M's Kevin Sumlin need a win to get back in their fans' good graces.
The SEC Championship Game may be set, but there's plenty left to play for this week in the conference. Let's take a look at this week's slate of games.
Rogelio V. Solis/Associated Press
You know it's a premiere set of games when a team as good as 7-4 Arkansas is placed in the "worst" contest of the weekend.
After Missouri allowed 62 points to Tennessee last weekend in Neyland Stadium, it's hard to envision the Tigers being able to stop head coach Bret Bielema's Razorbacks, who rolled up 58 points of their own in a thumping of Mississippi State in Starkville.
This has all the trappings for a blowout. But crazy things happen in the SEC all the time.
The Tigers have their share of offensive weapons, led by sophomore quarterback Drew Lock, who has quietly had a good (albeit inconsistent) season.
This was going to be an exciting opportunity for running back Damarea Crockett—a Little Rock native—to stick it to his home-state team, but that was before he was arrested for alleged marijuana possession and suspended by head coach Barry Odom for the final game, per the St. Louis Post-Dispatch's Dave Matter.
He was coming off a career game against the Volunteers.
Speaking of career showings, Arkansas runner Rawleigh Williams III ran for 205 yards and four touchdowns, leading an effort by the Hogs that churned out 10 plays of 23 or more yards. Devwah Whaley added a career-high 112 yards.
Bielema told Arkansas Online's Matt Jones:
I think Rawleigh and Devwah are both making strides. Obviously they're getting better blocking up-front; I thought our O-line made some strides. On the perimeter, I thought our wideouts did a good job of locking in their guys to get some of those big hits in the run game. It's one thing to get the first four to eight yards, but when they turn into those big hits, that's usually a result of good downfield blocking by the wideouts.
That success should continue this weekend against a porous Tigers defense.
David Stephenson/Associated Press
For the first time in a while, Kentucky won't have the bowl burden on its shoulders when the Wildcats enter the season finale against hated rival Louisville.
Instead, coach Mark Stoops' team will be trying to pull off a big-time upset against Heisman Trophy-leading quarterback Lamar Jackson and the Cardinals. On the other sideline, Louisville will be trying to stop the fade after a lopsided loss at Houston last Thursday night.
Had coach Bobby Petrino's team won that one, it would have enjoyed a prime opportunity to make the four-team College Football Playoffs. Now that that's off the table, this will be for bowl positioning and to get back on the winning track.
Stoops knows his team must do a better job stopping Jackson than it did two weeks ago against run-first Tennessee quarterback Joshua Dobbs, who shredded UK with his legs and his arm. Stoops spoke with the Herald-Leader's Jennifer Smith this week about the difficulty of jolting Jackson:
I don't know if anybody has any real good ideas on how to slow him down. He's absolutely a phenomenal player. What I admire most about Lamar Jackson is you could see his leadership and you can see his toughness, just watching some of their games and we had an opportunity to watch throughout the year on TV and of course on film you don't see it as much, but on TV, you can just tell how strong he is and what type of leader he is.
Stoops admitted to Smith that while he'd like to have more wins, not having to worry about a bowl game is a big bonus this weekend. They can focus on personnel decisions rather than the outcome.
While UK will have its defensive work cut out for it, so will Louisville. The Wildcats boast a nice running combination of Stanley "Boom" Williams and star freshman Benny Snell Jr.
This game could feature a lot of big plays and a ton of points. It'll definitely be one worth watching.
Streeter Lecka/Getty Images
It has been a successful first season for South Carolina head coach Will Muschamp, who even got a bit of a signature win on his resume in Columbia by upsetting Tennessee to go to 4-0 all time against the Vols.
Just think what it would mean for his program to beat Clemson this weekend.
Not only would it be the Gamecocks' seventh win of the season, it would return bragging rights and provide a jump-start to true freshman quarterback Jake Bentley's already impressive young career.
Still, that's an extremely tall task.
Right now, the Tigers are firmly entrenched in the College Football Playoffs, pending the outcome of this game and the ACC Championship Game. Win those and they're in.
Also, there are just so many offensive playmakers on Clemson's roster (led by All-American quarterback Deshaun Watson) Muschamp knows his team must play its best game of the season to get the win.
"We have to get faster as a team, but it shows up a lot on defense in space," Gamecocks head coach Will Muschamp said, according to the State's Josh Kendall. "We have to get guys who can close and make plays in space better."
There's no way to do that this season; it must be addressed in recruiting. So, South Carolina must scheme up a way to slow down the Tigers and hope that an offense that has shown signs of life with Bentley under center can put up some points against an athletic but young Clemson defense.
If that happens, it could wind up being closer than a lot of people expect. It's hard to imagine the Tigers losing this game, but with a bowl game already secured, Muschamp and Co., can open up the playbook, take a bevy of chances and see what happens.
Frederick Breedon/Getty Images
Despite enduring a forgettable season that has been marred by a looming NCAA investigation, myriad injuries on a young defense and the season-ending setback to star quarterback Chad Kelly, Ole Miss can still salvage a bowl game.
While that may not seem like a huge consolation, it would be sweet to do that while securing an Egg Bowl win against bitter rival Mississippi State.
Speaking of seasons teams would like to erase from memory, head coach Dan Mullen's Bulldogs added another chapter to a book they'd like to burn last week by allowing 58 points in a sloppy home loss to Arkansas that ended any chance at the postseason.
Now sitting at 4-7 in the first post-Prescott season (as in Dallas Cowboys star rookie Dak), Mullen's Bulldogs' only salvation would be keeping the Rebels watching the postseason at home along with them.
Mullen couldn't have put it more simply in his weekly press conference when he said, "A win makes you happy and a loss makes you sad," according to quotes distributed by MSU athletics (via WTVA.com).
For Ole Miss, the Shea Patterson era got off to a resounding start two weeks ago in a frenetic comeback win at Texas A&M that had the college football world gushing over the celebrated freshman. In last week's three-touchdown loss to Vanderbilt, Patterson looked like a, well, freshman.
Ole Miss coach Hugh Freeze noted to the Associated Press reporter David Brandt that it wasn't all Patterson's fault as the receivers dropped a lot of passes. This week, the Rebels have to put that behind them and focus on beating the Bulldogs.
A bowl game would be a nice consolation.
"It's our job to get them ready for this game regardless if we have one win, five wins or 10 wins," Freeze said. "We know this game is going to be a battle. It always is."
Michael Chang/Getty Images
Tennessee's defense has allowed a whopping 1,375 total yards—including a school-worst 740 against Missouri last weekend—in its past two games and won both of them going away.
That may be a testament to how bad the SEC East is this year.
The Volunteers need to improve their defensive communication, which has been an issue for much of the season, if they're going to shore up the defense against VU. Despite the injuries Tennessee has suffered, there's no excuse to still be making the mental errors and run-fit issues it's experiencing.
"We didn't do a very good job of IDing the formations as quick as it was happening and communicating clearly and loudly, and that's something we need to improve this week against Vanderbilt and whoever we may play in the future," UT defensive coordinator Bob Shoop told GoVols247's Wes Rucker.
The Vols probably won't be able to withstand that type of offensive frenzy from Vanderbilt this weekend and come away with a win. The Commodores boast a much better defense than either Kentucky or the Tigers, and they're led by star linebacker Zach Cunningham.
In a game that probably won't wind up a barnburner, the Vols have to find some way to stop anybody on offense. The "anybody" this week will be Vandy running back Ralph Webb, who shredded Ole Miss for 123 yards and three touchdowns.
He needs just 27 yards to break Zac Stacy's school record. He may get that on one run versus the Vols.
There are bigger concerns this weekend. The Commodores are playing for a bowl guarantee. While their Academic Progress Report (APR) score is good enough that five wins may get them in, head coach Derek Mason wants to earn it on the field. Also, beating Tennessee would be huge for his tenure.
"We're going to line ourselves up and try to get ourselves ready to go play one more game because that's what we're guaranteed," Mason told the Associated Press' Teresa Walker. "And you know what? We're looking forward to this one."
David Stephenson/Associated Press
Georgia first-year head coach Kirby Smart knows all about "Clean, Old Fashioned Hate" from his days as a Bulldogs defensive back, and he's fared well already this year in a rivalry against Auburn.
He just needs to make sure UGA doesn't have the kind of showing it had against Florida.
This one is going to be a challenge, to say the least. The Yellow Jackets' triple-option attack is one that isn't easy for anybody to face, especially a team like the Bulldogs who haven't defended it all year. That isn't lost on Smart.
While Paul Johnson's team struggled a year ago, Tech is currently 7-4 and could be on its way to a strong bowl berth with a win over the Dawgs. The option attack is going to be difficult to prepare to defend, Smart said, according to Fox 5 Atlanta's Cal Callaway:
It's tough. You obviously do a lot in the offseason. First of all, you don't put it all in one week. We've done a lot of offseason study, offseason planning, off-week work, spring practice work, camp work, because as much carryover as we have every week between offenses pretty similar, there's no carryover this week. That's the challenge. Also, the look you get from your scout team is so different. So you have to have certain type of players on your team to give you a good picture.
Georgia is sitting at 7-4 also, and a win would mark a successful inaugural year for Smart, who decided to roll with freshman quarterback Jacob Eason early in the season and take his lumps with a young team. That hasn't always been the easiest, but an eight-win season would be a satisfying finish.
When you throw in the injuries running backs Nick Chubb and Sony Michel suffered, the Bulldogs have dealt with a lot of adversity this year; finishing strong is important. Lose this one, though, and there will be questions about the program's direction.
So, while bowls aren't in question here, bragging rights are. That's a big deal in the Big Peach.
Bob Levey/Getty Images
After the past two weekends, this game between LSU and Texas A&M could be dubbed the "Disappointment Bowl."
Head coach Kevin Sumlin's Aggies were ranked fourth in the first College Football Playoff rankings of the season, but they free-fell following losses to Mississippi State and Ole Miss in back-to-back weeks.
In the process, the Aggies lost starting quarterback Trevor Knight and a bit of their identity.
LSU had things line up for it in a good way when Florida postponed the October game because of Hurricane Matthew and moved the contest to last weekend in Death Valley. Then, the Tigers went out and struggled miserably in a game full of missed opportunities in a 16-10 loss to the Gators.
It was an inexplicable defeat considering the blown chances inside the 10-yard line, including two shots from one yard away in the final seconds to get a go-ahead touchdown.
Now, this weekend's showdown will be between an interim coach in Ed Orgeron, who wants to show he's a capable head coach and Sumlin, who suddenly finds himself on the hot seat.
Entering this past weekend, USA Today's Dan Wolken reported: "Heading into this weekend, three people with strong connections to the college coaching industry told USA TODAY Sports they believe the chances of Charlie Strong remaining at Texas next season and Kevin Sumlin coming back to Texas A&M are roughly equal as they embark on massive games down the stretch."
Of course, after Texas' humiliating loss to Kansas this weekend, Strong was let go. Could Sumlin be next if his Aggies lose to the Bayou Bengals? That would be an amazing plummet considering just where Sumlin was a mere month ago.
Orgeron, on the other hand, is "a real long shot now" to get LSU's full-time coaching job after this past weekend's loss to Florida, according to the Times-Picayune's Jim Kleinpeter.
So, these teams (and coaches) need this win. That's reason enough to watch; the stakes are high.
Jonathan Bachman/Getty Images
Nobody gave Florida a chance to go to Baton Rouge last weekend and beat the Tigers, but they did just that.
In the process, the Gators earned their second consecutive trip to the SEC Championship Game under coach Jim McElwain, and despite an imperfect season full of injuries and offensive woes, another crack at top-ranked Alabama.
But, first thing's first.
Very little in the Sunshine State is more important than the annual clash between Florida and Florida State, and even though the Seminoles have endured their own struggles, this is an opportunity for both teams to add an important win.
Plus, an FSU win could pay back the Gators for something that hasn't happened yet but could, according to the Tampa Bay Times' Matt Baker: Jimbo Fisher bolting the Seminoles for LSU.
Right now, that's nothing more than a mere rumor, but after the Gators stymied Orgeron's Tigers and Orgeron's chances at being LSU's head coach, LSU could go roaring up Fisher's tree.
"Fisher has said that he wants to stay in Tallahassee," Baker wrote. "I'm not disputing that. But coaches don't always say the same things in December as they did in October or November. If Fisher does end up bolting the 'Noles for LSU, FSU fans can blame it on the Gators and the biggest goal-line stand in UF history."
Regardless of all the rumors and "What if's," this is always a big game. If Florida loses this one and then gets beaten by Alabama in the conference championship game, it probably won't play in the Sugar Bowl.
Don't tell them that. This team believes it can do big things, according to the Gainesville Sun's Pat Dooley:
The biggest takeaway from this game is where Jim McElwain has this team heading and how much he has it believing in their own abilities. It's not a great team—Florida was outgained by 153 yards Saturday, allowed 23 first downs and, if you take away the 98-yarder, had only 46 yards passing, But it is a great TEAM.
Kevin C. Cox/Getty Images
This game lost some of its considerable luster two weeks ago when Auburn went to Athens, Georgia, and returned to the Plains with a shocking setback against the Bulldogs.
In the process, head coach Gus Malzahn's team lost any shot at playing for the SEC Championship Game title. The Tigers guaranteed hated Alabama a spot in Atlanta as well.
Now, they'd like nothing more than to knock the Crimson Tide from the ranks of the unbeaten.
The way this season has gone, UA likely would remain in the College Football Playoffs with one loss, and they probably should. But a win would still mean bragging rights in perhaps the biggest rivalry in all of college football.
"It's not just another game. It's the Iron Bowl," Malzahn said, according to AL.com's Wesley Sinor. "Every year it's just as special…it's a big deal…you raise your level from a coach's standpoint and a player's standpoint and the best team usually wins."
In the past two years, the best team was top-ranked Alabama, but three seasons ago was the "Kick Six"— one of the greatest finishes in college football history. That was a prime example anything can happen in this game.
It means so much to so many.
"I think this is one of the greatest rivalry games in the country, and I know it means a lot to the people of this state," UA coach Nick Saban said, according to the Times Daily's Alex Byington.
The Tigers want to make this game a defensive battle and take their chances in the second half. For the first time in a while, AU has the defensive horses to hang with Alabama's vaunted unit.
But can they score enough points? Especially with quarterback Sean White's status uncertain and star running back Kamryn Pettway not being 100 percent even though Auburn said it was "optimistic" he could go.
"A game like this heals people pretty quick." AU offensive coordinator Rhett Lashlee told AUNow's Josh Vitale.
Hopefully, everybody will play, and this will be another classic.