Kevin C. Cox/Getty Images
As the South Carolina upset victory over Tennessee showed last week, you'd better come to play every week in the SEC.
This weekend, there are a couple of excellent matchups and then another four that could get interesting.
At this point of the conference season, all the games are big, but stakes are higher these days as teams volley for bowl spots and try to get eligible for the postseason.
For Alabama, the Crimson Tide will try to maintain their currently secure spot in the College Football Playoff when they travel to Baton Rouge to take on an LSU team rejuvenated under interim head coach Ed Orgeron.
Texas A&M will attempt to strengthen its resume with a road win against Mississippi State, and Auburn hosts Vanderbilt in an attempt to keep rolling.
Florida wants to maintain its stranglehold on the SEC East and try to capture only the division's second win over its West counterpart when it travels to Arkansas.
There are plenty of reasons to get excited for Week 10 in the SEC. So, let's take a look at the top games on the slate.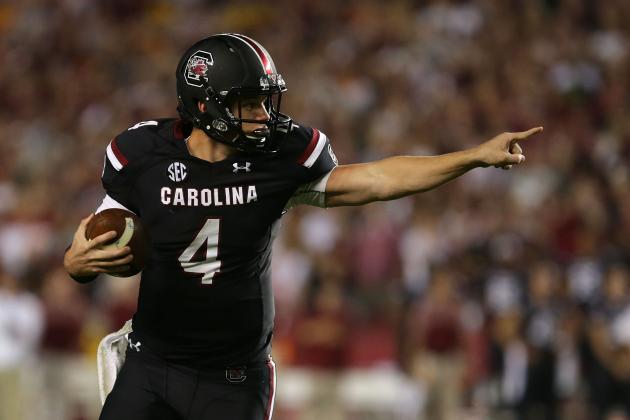 Tyler Lecka/Getty Images
It's only one win, but you could probably name a street after 18-year-old South Carolina quarterback Jake Bentley after last weekend's upset over Tennessee in Columbia.
After sporadic play by Gamecocks signal-callers since the Connor Shaw days, head coach Will Muschamp looks like he possibly has a young star-in-the-making with the kid who is supposed to be tearing up Alabama high school defenses this year.
GridironNow.com's Heath Cline noted Bentley taking care of the ball is one of the biggest reasons for his early success:
He again avoided any turnovers (or close calls), and showed impressive pocket presence despite being under duress from Tennessee's pass rush for much of the game. Notably, he had a key fourth-down scramble that kept the Gamecocks' opening drive alive in what ultimately led to a touchdown. After failing to break 20 points in any of its first six games, South Carolina has now scored 34 and 24 with Bentley at the helm.
He'll try to take the next step this weekend as a struggling Missouri team travels east for a battle that is essential in the Gamecocks' bowl hopes. At 4-4, South Carolina needs a win this week and one over Western Carolina, especially with Florida and Clemson the other two games on the schedule.
The Tigers, meanwhile, need to find some positive vibes to close the first season under head coach Barry Odom. Last year, the offense was atrocious; it has been the defense to let them down this season.
If Mizzou can put everything together, this would be an ideal time to take a step forward.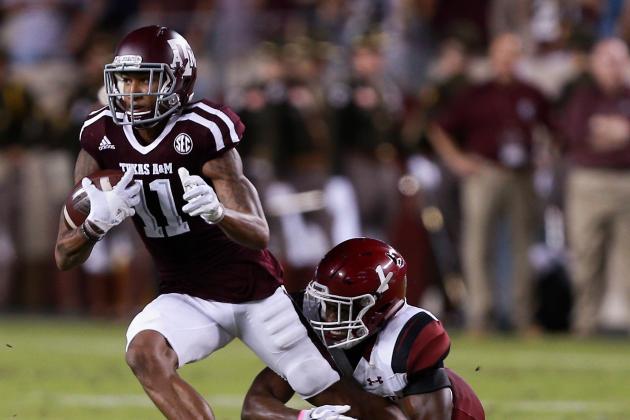 Bob Levey/Getty Images
Texas A&M's only loss thus far came on the road against top-ranked Alabama, and the Aggies were rewarded for their quality early-season play this week when they were named one of the top four teams in the College Football Playoff rankings.
That was a shocking development considering A&M was ahead of undefeated Washington as well as other one-loss teams Ohio State and Louisville.
Now, head coach Kevin Sumlin's team will try to navigate a difficult-but-manageable schedule the rest of the way to try to hold on to that spot. The Aggies have a pair of tough opponents—LSU and Ole Miss—remaining, but this weekend's game against Mississippi State might not be easy.
At 3-5, Bulldogs head coach Dan Mullen's team needs something positive to happen in the first year of the post-Dak Prescott this year. Getting an upset victory over A&M at home would be massive for the morale in Starkville.
A&M will return to league play after torching New Mexico State last weekend, and it will try to keep its offensive onslaught rolling with senior transfer Trevor Knight slinging the ball around to his talented receiving corps. Running backs Trayveon Williams and Keith Ford are having nice years, too.
It's going to be a handful to ask Mullen's team to do enough against A&M to pull out a win, but anything can happen on the road in the SEC, so the Aggies cannot let their guard down. Yes, it looks like a lopsided matchup on paper, but they need to come ready to play and keep impressing the selection committee.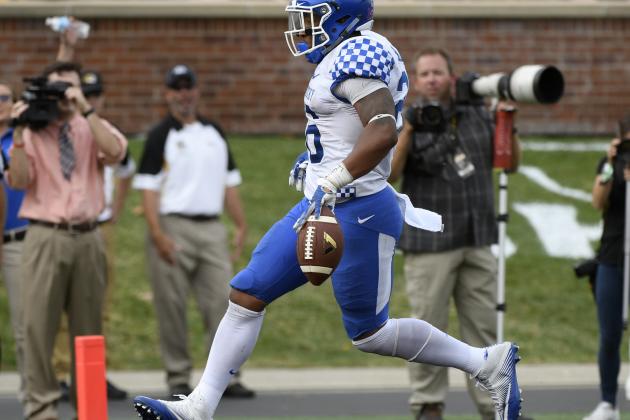 Ed Zurga/Getty Images
Somebody break up the Wildcats!
After starting the season with a bad loss to Southern Miss and looking like the worst team in the SEC, Kentucky has turned it on and now sits at 5-3, with wins over Vanderbilt, Mississippi State and Missouri since getting drilled by Alabama. It has won five of six.
Head coach Mark Stoops' team is second in the SEC East, and though the Cats must play Georgia, Tennessee and Louisville in their remaining slate, none of those look like guaranteed losses right now like they have in years past.
Stoops is calling for UK fans to pack Commonwealth Stadium this weekend for the game against the 4-4 Bulldogs in a game that has major bowl ramifications. For the first time in a while, basketball isn't the only thing Wildcats fans have to look forward to.
"Again, I make no bones about it, when we see it filled, I expect our team to play at a high level to make those fans proud," Stoops told the Lexington Herald-Leader's Jennifer Smith. "Believe me, we're going to go to work today and have a great week of preparation and put ourselves in position to win this game. It'll be very important for us to play well."
They've been playing well with quarterback Stephen Johnson at quarterback, and he is an exciting player who is spearheading an exciting year in the Bluegrass State.
For Georgia, head coach Kirby Smart's team needs something positive to happen. The Bulldogs were beaten handily by rival Florida last weekend and have been spiraling ever since Tennessee's Hail Mary win in Athens.
It would be a major boost for freshman quarterback Jacob Eason to close the season strong, and that starts this weekend in Kentucky in what should be a raucous environment.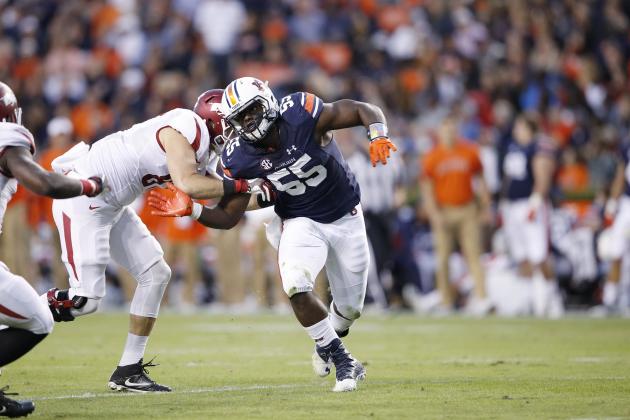 Joe Robbins/Getty Images
Auburn has proved during this past month of brilliance that it can win grind-it-out games with a rugged, talented defense.
Last weekend in Oxford, Mississippi, the Tigers showed they can win a shootout.
With quarterback Sean White playing better at quarterback, they look like an all-around, solid team that could provide a test for top-ranked Alabama in the season-ending Iron Bowl. But there is plenty of football to be played before then, starting with this weekend's game on the Plains against Vanderbilt.
The Commodores don't look like much of a threat on paper, but head coach Derek Mason's team has been steadily improving and can be a defensive force against AU's suddenly dominant rushing attack led by a rejuvenated offensive line and bruising tailback Kamryn Pettway.
Despite being the feature back in essentially five-and-a-half games, Pettway has a staggering 933 rushing yards, and AL.com's Tom Green opined this week that the 6'0″, 240-pound runner could wind up the SEC's Player of the Year.
"It's just his running style," Green said in the video. "Auburn is used to having these guys that are quicker running backs. … Kamryn Pettway is a guy that kind of combines that speed and just a bruising style of running."
He's been compared to former Pittsburgh Steelers great Jerome Bettis, and that's high praise for a guy who wasn't near the top of the depth chart back in the spring.
Vanderbilt has its own stud running back in Ralph Webb, but the Commodores are going to have to get a quality effort from more than just him to pull off this upset. If they can get some big defensive plays and take care of the ball, it'll be interesting to see if they can keep it close.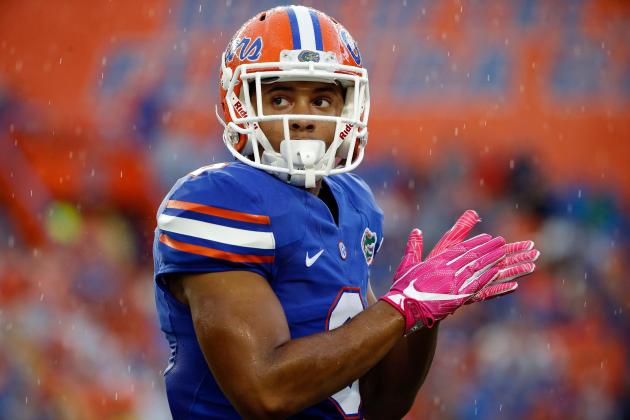 Kim Klement-USA TODAY Sports
Last year, Florida won its way to the SEC Championship Game with a fantastic defense in spite of a sputtering offense.
It looks like the Gators are going by that blueprint again this year.
Though quarterback Luke Del Rio is playing better than Treon Harris did a season ago, he's still not leading a scoreboard-lighting unit. That didn't matter last weekend as UF shut down Georgia and still has just one loss in full control of the SEC East.
Since the Gators hold the tiebreaker over Kentucky, and Tennessee already has three conference losses, they would have to drop two league games to not represent the East in Atlanta.
This weekend is an important test as the Gators travel to Arkansas to take on the Razorbacks, who looked like a tough test for anybody until they were annihilated 56-3 by Auburn two weeks ago. That's festered over a bye week, and now the Hogs must rebound.
They must do it against a program they've gone just 1-9 against, a stat Arkansas head coach Bret Bielema hasn't ignored, as he told SEC Country's Jason Kersey:
I think our guys are made aware of it, and today with everything (the media has) out there, that social media has out there, I think our guys are much more in tune with those types of things, positively or negatively, than at any other time since I've been coaching. So you don't just ignore it. You don't just put it in the back of your head and act like it's not there. You definitely address it. To me, that's a very fun thing to bring up. It's their chance to do something that's never been done.
The West may be out of grasp for the Hogs, but they are 5-3 with an opportunity to still play in a good bowl. The Gators, despite their offensive struggles, sit at 6-1 and still have playoff hopes.
If they can get that side of the ball going, they've certainly got a championship-level defense.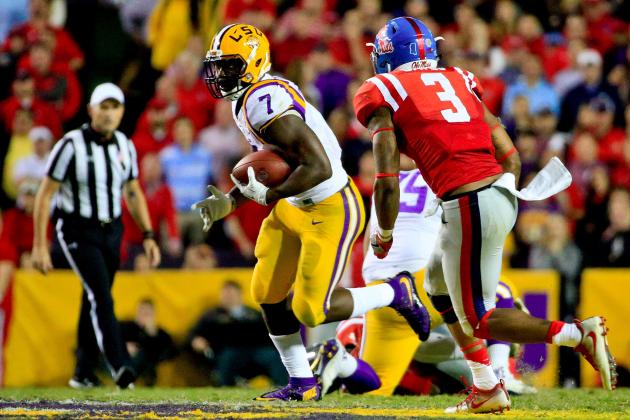 Derick E. Hingle-USA TODAY Sports
Big, bad Alabama shows no sign of letting up.
There's a reason why the Crimson Tide are the defending national champions, and even though they've retooled their offense, they're still undefeated and the undisputed favorite to repeat seven games into the season.
Freshman quarterback Jalen Hurts has added a dimension to Alabama's offense that makes it even harder to stop, and the versatility of the best defense in the country overwhelms everybody the Tide plays.
The evolution of the program, according to B/R colleague Barrett Sallee, makes the program incomparable.
"Saban has gotten it down to a science," former Alabama quarterback Jay Barker, who co-hosts The Opening Drive on WJOX in Birmingham, told Sallee. "He's recruiting the right guys for the right positions and putting them in positions to succeed."
LSU isn't just going to roll over.
In recent history, this has been a huge game, and while it looked like the Tigers would underwhelm again this year with an early-season slumber, they've been reborn under interim head coach Ed Orgeron following the dismissal of Les Miles.
Though the Bayou Bengals could make a marquee hire at head coach, Orgeron could be making that decision difficult, especially if he beats UA.
Orgeron told the media he understands the desire LSU fans have about ending Alabama's four-game winning streak, according to Omnisport's Bob Hille (via Sporting News):
Look, hey, I'm from Louisiana. I'm a Tiger fan, too. I get it. Everywhere I've been, I put on the LSU-Alabama game, whether it was Miami, New York, USC, want to cheer for the Tigers. I get the passion. That's the way it should be. I know the people are not satisfied with the way it's gone. I get that. So we understand that. But you know what, when we walk in that stadium Saturday night, it's not going to be about that, it's going to be about getting our cleats in the grass, playing fundamentals, taking care of the football.
Nobody does that better than Alabama, and nobody rises to the occasion of big games like the Tide. This has all the trappings to be a fun one.