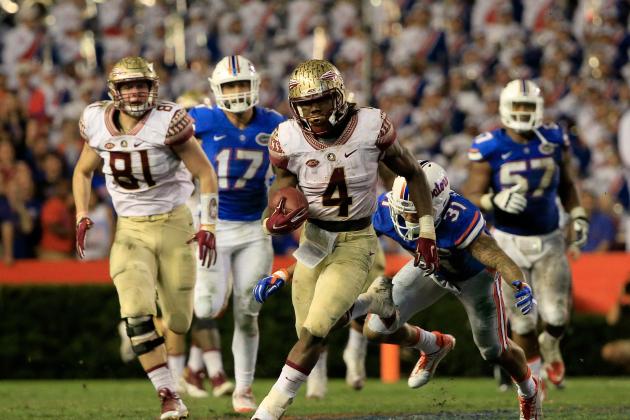 Sam Greenwood/Getty Images
While Clemson has the ACC Atlantic Division title wrapped up, who the Tigers will play in the championship is still up in the air. But if Virginia Tech beats rival Virginia this weekend, it'll be the Hokies.
That's just one of the games dripping with drama this weekend in the conference. There are many more.
Many of the marquee games have ACC teams battling their SEC brethren, vying for cross-conference bragging rights in rivalry games. There's no doubt games such as South Carolina-Clemson, Kentucky-Louisville, Georgia Tech-Georgia and Florida-Florida State speak for themselves.
All of those are featured in this week's Rivalry Week.
While Wake Forest is already positioned in a bowl game, the Demon Deacons will try to ensure Boston College doesn't get bowl-eligible this weekend in their game, too. North Carolina State is in do-or-die mode, too. Miami and Pittsburgh want a better bowl, also.
Teams such as Syracuse, Virginia and Duke are relegated to the role of spoiler this year, but they'd love to end their seasons on a sweet note and prepare for 2017. Without bowl practice, this will be the last look coaches get on their teams until spring.
So, there are plenty of intriguing storylines this weekend. Let's take a look at the top games.
Lance King/Getty Images
The last time Miami played Duke, the Hurricanes won on one of the craziest, most miraculous game-ending plays in the history of sports—a wacky, eight-lateral kickoff return. The conference wound up suspending the officials for some botched no-calls on that play.
Can these two teams top that?
Well, even if they don't, the Blue Devils would love to be in a position to return the favor. It's been a forgettable year for head coach David Cutcliffe's team, especially with a senior class that is used to winning. This season, the injury-riddled Dukies may not play in a bowl.
The Blue Devils must win and hope that enough six-win teams don't qualify for a bowl. With a win and some luck, Duke could make it to the postseason because of strong Academic Progress Report (APR) scores.
They were walloped last weekend at Pitt and are 4-7 entering the finale.
On the other sideline, Hurricanes first-year head coach Mark Richt has enjoyed a solid inaugural season at his alma mater after sitting at the helm of Georgia since 2001. The Hurricanes are 7-4, and a win would be a major step in the right direction for the U.
Despite a season where quarterback Brad Kaaya has been battered and bruised, Miami has persevered with the help of 1,000-yard rusher Mark Walton, star freshman receiver Ahmmon Richards and a strong defense. The Hurricanes went 4-2 on the road.
"We talked about this being a football team that would improve as the season has gone on, which I think it has," Miami defensive coordinator Manny Diaz told the Sun Sentinel's Christy Cabrera Chirinos. "And we talked about being a team that would be sad when the season ended, as if we wanted to play more games."
Now, they'll try to end the regular season with a victory at Coral Gables.
Justin K. Aller/Getty Images
Head coach Pat Narduzzi's Pitt Panthers are hitting the home stretch with a vengeance, looking like one of the resurgent teams in the conference following a dramatic victory at Clemson and a blowout against Duke last week.
When you take into consideration that three of their losses (against Oklahoma State, Virginia Tech and North Carolina) were all close, this could have been an exceptional season. Even so, it's a 7-4 year with a chance to get even better if they do the expected and handle Syracuse this weekend.
The Panthers are huge favorites over head coach Dino Babers' Orange, and with the way Pitt has played recently, it looks like a safe pick.
Still, Narduzzi will try to keep those close losses from nagging at him.
"When you look at our losses, they're like this," Narduzzi said to the Associated Press' Will Graves, as he showed just an inch between his thumb and index finger. "It's interesting we didn't get (them). I look back at how close we are to winning them all. God, if we had done this as coaches, maybe we would have won every one of those games."
On top of a strong defense for much of the year, Pitt has gotten all-conference-type performances from running back James Conner and senior quarterback Nathan Peterman, a signal-caller picked up off the scrapheap after transferring from Tennessee who has revived his career.
He'll try to keep surging against the Orange, who have fallen on hard times. Just when it looked like Syracuse may be turning its season around with wins over Boston College and Virginia Tech, lopsided losses to Clemson, NC State and Florida State ended any momentum.
Quarterback Eric Dungey was injured as well, too, which didn't help. Now, the Orange will just try to keep things close this weekend and build for the future. Anything can happen.
Jonathan Daniel/Getty Images
Virginia Tech controls its own destiny in the ACC Coastal Division.
The last time the Hokies did that, it didn't work out so well. That was two weeks ago, and head coach Justin Fuente's team fell flat on its feathers in a 30-20 loss to Georgia Tech.
All the Hokies need to do is beat 2-9 rival Virginia on Saturday to be in the ACC Championship Game. Or, they may not even need to do that. If North Carolina loses to NC State on Friday, that would give VT a berth in the title game, too.
That still won't change the desire to put the clamps down on a rival that has struggled through head coach Bronco Mendenhall's first season. This may be his and Fuente's first swing through this rivalry, but it hasn't taken long for them to realize there isn't any love lost.
It also hasn't taken Mendenhall long to realize the Cavaliers need to hold up their end of the bargain for the first time since 2003, wrote the Richmond Times-Dispatch's Mike Barber.

"In my opinion, it's not really a rivalry if you're not winning, if it's not a back-and-forth type thing," Virginia junior linebacker Micah Kiser told Barber. "Twelve years in a row, that's dominance."
No matter how much the Hokies should dominate the rival Hoos, Mendenhall's team has gotten better as the year has progressed. That's why Tech isn't taking anything for granted. The Hokies still see this game as a rivalry, no matter how much they've thrived recently.
"When it comes to rivalry games, you throw records and stats out the window," offensive lineman Augie Conte said to Tech Sideline's Ricky LaBlue. "When it comes to rivalry games, it doesn't matter how your season has gone. Anything is possible in rivalry games."
That's why this one is worth watching.
Grant Halverson/Getty Images
Wake Forest's season was going along at a nice little trajectory until it ran into Louisville and Clemson over the past two weekends.
Though the Demon Deacons played three strong quarters against Louisville, they've gotten waxed in the past five quarters of those two games and dropped both of them in lopsided fashion to fall to 6-5 entering their final game of the season.
That hasn't changed the positive step in the right direction for the program under head coach Dave Clawson, but they need a win against Boston College to keep those vibes going. Clawson told the Winston-Salem Journal's Dan Collins this game had to be his team's Super Bowl.
"We're (at) six wins. We're going to try like crazy next week to get seven," he said. "Then we're going to have an opportunity to get a lot of practices in and go to a bowl. We still have a lot to play for, and I'm really proud of our guys and the progress we've made."
With all the quarterback issues, redshirt freshman Kyle Kearns may be the one to go against the Eagles. Veteran John Wolford will be available, too, Clawson said.
Meanwhile, Boston College really does have to treat this game as some sort of playoff game. The Eagles (5-6) must win to ensure a bowl berth. It's not lost on head coach Steve Addazio just how much the extra practices would help his team.
"There is a lot of young football here to mature," he said, according to BC Interruption's Laura Berestecki. "That's the beauty of bowl season. You're dying for that, right? Of course the obvious is you continue to play one more game. It's kind of a marker, you know, going to a bowl. It's a goal you set in the beginning of the year."
This is close to one of those desperation games, which could make it fun. Plus, it's two solid defensive teams going head-to-head.
Billie Weiss/Getty Images
How do you wash out the bitter taste of what happened last Thursday night and refocus your season's goals after getting throttled against Houston the last time out?
That's what head coach Bobby Petrino's Louisville Cardinals must do after a midweek upset against the Cougars last week ended their chances of making the College Football Playoff. Now, the Cardinals need to focus on finishing a great season strong.
Quarterback Lamar Jackson may have been a runaway favorite for the Heisman Trophy, but now he needs a strong game against Kentucky to solidify those chances. The Cardinals are heavy favorites against the Wildcats, but they've been in this position before. They were against Houston.
"We all understand that hey we've got to get off the ground, get ready for a game," Petrino said, according to WDRB's Eric Crawford and Rick Bozich. "We've got to have a great attitude, approach practice properly. Approach our preparation properly and come out and have one more time with our seniors in our home stadium."
For the Wildcats, the focus (obviously) is on stopping Jackson, but they're aware there are other weapons, too. Still, if you stop the dual-threat weapon at the top, you've got a chance to win.
The best thing for head coach Mark Stoops' team is for the first time in a while entering this game, the Wildcats don't have to win to make it to a bowl game. That should take some of the pressure off.
It's been a pretty good year in Lexington, and Big Blue Nation isn't just excited about basketball season anymore; there's reason for thrills still about football. Beating Louisville would enhance that a lot.
It'll be a challenge for the Cardinals to match that excitement level.
Grant Halverson/Getty Images
Despite a shocking loss to Pittsburgh two weeks ago, Clemson still appears to control its own destiny in the College Football Playoff rankings.
Rebounding with a dominant win over Wake Forest last weekend kept the Tigers in the Top Four, and if they take care of business against rival South Carolina this weekend and in the ACC Championship Game, it's difficult to see anybody jumping them.
Still, with one-loss Washington right there, head coach Dabo Swinney's team can't control any slip-ups. And, really, style points are pretty important, too. But the only thing that matters this week is simply beating the Gamecocks.
Swinney has been around this rivalry long enough to realize that.
"We have the season, and then we have South Carolina," he said, according to Fox Carolina's Dal Kalsi. "[I]t's one you live with all year."
This will be Carolina first-year head coach Will Muschamp's first time going through this rivalry, but he had plenty like it when he was at Florida, including the annual tilt with Florida State.
The Gamecocks are already bowl-eligible at 6-5, and it seems they've found their quarterback of the present and future with true freshman Jake Bentley. He also likely won't be intimidated by Death Valley, since he's been there a lot. Bentley's dad, Bobby, was a legendary high school coach in South Carolina.
"He's a mature kid," Swinney said of Bentley, according to the State's Matt Connolly. "He's been around this state. He's been to Clemson many times. He's not going to be overwhelmed by that. He understands what he's getting into."
The Tigers have a savvy quarterback themselves in Heisman Trophy contender Deshaun Watson, who needs a big weekend to try to overtake Jackson. But, most importantly, he needs one for his team to dispatch its second SEC opponent of the year and make it back to play for the national championship.
Gerry Broome/Associated Press
North Carolina had so much going for it earlier this year until a costly 34-3 loss to Virginia Tech dropped the Tar Heels behind the Hokies in the standings. Then, a 28-27 loss against rival Duke that was inexcusable set head coach Larry Fedora's team's back against the wall.
Now, the Tar Heels must beat rival North Carolina State on Friday and somehow have Virginia upset Virginia Tech in order to make a return trip to the conference championship game, this year in Orlando.
But they can't worry about all that now; beating the Wolfpack has to be the priority, and getting to a 9-3 record is the only goal left in their hands.
With all the rumors swirling this week about Fedora's name being tied to the LSU opening, he's had to answer questions. The comments on The David Glenn Show haven't definitively said he wouldn't listen (via FanSided's Zack Pearson).
"My message to them is, 'Look, I love being here at Carolina. Don't worry about a thing; all we need to do is worry about winning on this Friday,'" he said. "If everybody will focus on that alone, we'll be in good shape."
On one hand, it's nice to have a coach who is wanted. On the other, it could be a distraction.
There can't be any of those for the Wolfpack, who must win to ensure bowl-eligibility. Even with the talent on their team, it's been a tough year for head coach Dave Doeren's program.
"I'm looking at is as a one-week playoff is what I'm looking at it as," Doeren said, according to Pack Pride's James Henderson. "We win, we get to keep playing, you know."
There's no greater motivation than that, even against a rival.
Michael Shroyer/Getty Images
It has been a nice rebound season for Georgia Tech and head coach Paul Johnson, who put the 2015 woes behind them and currently sit at 7-4 entering Saturday's regular-season finale at Georgia.
Nobody has to tell Johnson or any of the Yellow Jackets what this game means. After back-to-back wins over Virginia Tech and Virginia, they've got the opportunity for an eight-win season. Most importantly, they've got a shot to beat a Georgia team that can spoil their late-season surge.
The Bulldogs have owned this series recently, winning 13 of the past 15. With new head coach Kirby Smart in Athens, it is Johnson's opportunity to seize back a little of that rivalry. But he knows it isn't going to be just as easy as saying it's a down year for the Dawgs.
"I get a kick out of when people say they don't have any players," Johnson said Monday after practice, according to DawgNation. "Compared to maybe the Pittsburgh Steelers or something. I mean, they've got a lot of good players. They're running around everywhere."
Georgia Tech has its share of players, too, and Smart is familiar with "Clean, Old-Fashioned Hate" after going through the game as a player. He knows what kind of bragging rights ride on this game, but he's got to keep the emotions out of it and prepare.
That's why the primary focus this week has been on stopping the one-dimensional Yellow Jackets' vaunted triple-option attack. It's no easy task, especially considering they've got a senior quarterback in Justin Thomas leading it, and he's a dynamic player.
The Jackets have all the elements to make the offense click, and their defense has been better, too.
"It's harder for us to simulate what Georgia Tech does," Smart told the Red & Black's John Durham. "We have to do a great job with the planning, the understanding. They give you a lot of different looks and so preparation-wise, it's just tougher."
Everything certainly seems that way during Rivalry Week, doesn't it?
Don Juan Moore/Getty Images
It's been a similar season for Florida and Florida State.
At the beginning of the year, nobody was talking about the Gators, who have quietly dominated teams defensively, waded through tons of injury issues and will represent the SEC East next weekend in the conference championship game after last week's upset win at LSU.
For the Seminoles, the issues have stemmed from defensive woes, but after an early-season set of embarrassing showings, coordinator Charles Kelly's unit has improved as the season has progressed, and the Seminoles are currently at 8-3 with the chance for a nice season.
It's possible he has solidified his job the way the Noles have rebounded.
But he isn't the coach everybody is discussing this week. That would be FSU head coach Jimbo Fisher, whose name has been linked to the LSU opening, where he served as an assistant under Nick Saban.
Orlando Sentinel columnist Mike Bianchi said LSU carries arrogance and is "delusional" to think Fisher would consider leaving Tallahassee for the Tigers, but no amount of written words will stop them from trying.
"Just call them LSU—with the 'U' standing for 'Unrealistic,'" Bianchi wrote. "Seriously, does LSU really think they can hire Jimbo Fisher away from FSU?"
Despite all the hubbub, there's a game to be played this weekend, and it's pretty important. If the Gators lose, it could affect their Sugar Bowl chances if they happen to also lose to top-ranked Alabama next weekend.
For FSU, it's about state bragging rights. The Seminoles have beaten Florida three consecutive years, and this could be the first time they've ever beaten the Gators and Miami four straight years. Fisher is 16-1 against teams from the state.
"We put the goals in which we achieve on those rings, and that was one of the goals we achieved," Fisher told the Associated Press' Joe Reedy. "The state of Florida is a dynamic football state. If you can play with Miami and Florida, you're usually in the national title hunt. It's always going to be important."
This is one of those rare years where the Seminoles have that opportunity but not the chance to play for a conference or national title. It's still an important game for many other reasons, and it may be one of the best games of a fun weekend.