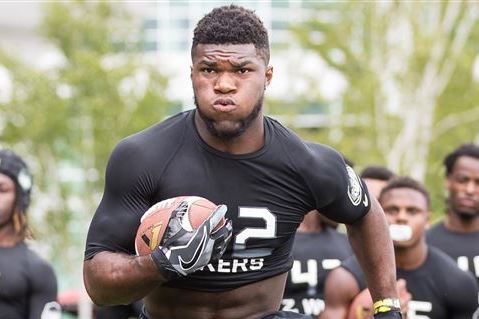 Credit: Student Sports
Mississippi RB Cam Akers is among the nation's most prolific high school players.
The 2017 college football recruiting cycle is steadily ticking toward its two-month mark on the countdown to national signing day. Thousands of high school standouts will finalize plans Feb. 1, providing a fresh foundation for collegiate rosters across America.
While many programs have completed the task of filling most available scholarship slots to this point, uncommitted prospects provide hope for enhanced talent hauls down the final stretch. Among 33 athletes considered 5-star recruits in Scout's 2017 player rankings, 17 remain undecided about their university landing spot.
Official visits and inevitable coaching staff changes should continue to alter each high-profile recruitment, but based on how things currently stand, we've projected where each of the top 10 uncommitted prospects will sign.
Credit: Scout
High School: Clairton (Clairton, Pennsylvania)
Scout Ranking: No. 3 cornerback; No. 17 overall
Contenders Include: Penn State, Pittsburgh, Tennessee, UCLA and West Virginia
Lamont Wade is slated to announce his decision Dec. 17, selecting from a collection of five finalists. Nearby Pittsburgh carries a significant advantage in terms of proximity, though West Virginia and Penn State are located within manageable car drives from his hometown.
The Nittany Lions recently welcomed Wade to Happy Valley for a Nov. 5 official visit. He witnessed Penn State sustain Big Ten Conference title contention with a win over Iowa, and head coach James Frankin's staff supplied a positive impression.
"They rolled out the red carpet and treated us likes kings and queens," Wade's father, Carlton, told Brian Dohn of Scout. "It was everything I expected and more from the school. … We saw the community and the people in the community, and how they react to people they've never seen before. It was a great visit. It really was."
Tennessee hosted him multiple times this season, while West Virginia, UCLA and Pitt are still vying for official visits as days dwindle. Wade remains occupied with a playoff push at Clairton High School, where he rushed for 225 yards and registered a 101-yard interception return in the state quarterfinals, according to Mike Vukovcan of Pittsburgh Sports Now.
Prediction: Penn State Nittany Lions
Credit: Scout
High School: Episcopal (Bellaire, Texas)
Scout Ranking: No. 2 offensive tackle; No. 16 overall
Contenders Include: Florida State, Georgia, Ole Miss, Stanford and Texas
Walker Little is one of two Episcopal High School seniors to appear on this list, preceding top-ranked defensive tackle Marvin Wilson. There's a chance they could land at the same school, but a variety of options present a greater likelihood of separation on national signing day.
The 6'8″, 305-pound bookend is already accepted for enrollment at Stanford, and the Cardinal maintain a sizable advantage in his 247Sports crystal ball, carrying 69 percent of experts' predictions. Texas is a longtime contender for the in-state standout, but its leadership is tenuous at this stage, and it's difficult to imagine Walker would feel comfortable enough to join the Longhorns class until coaching staff questions are resolved.
Georgia, Florida State and Ole Miss present opportunities in the Southeast, but this may come down to a battle between Stanford and Texas.
He would be an immediate priority for anyone who potentially replaces Charlie Strong in Austin. The Cardinal haven't yet added an offensive tackle to a recruiting class headlined by 5-star quarterback Davis Mills, who is undoubtedly partaking in the sales pitch for a player who could protect him from Pac-12 defenders for years to come.
Prediction: Stanford Cardinal
Credit: Scout
High School: Hawkins (Los Angeles, California)
Scout Ranking: No. 1 receiver; No. 15 overall
Contenders Include: Arizona, Nebraska, Oklahoma, Oregon and USC
Dynamic Southern California pass-catcher Joseph Lewis has remained relatively tight-lipped throughout a widespread recruitment process. However, last week, Lewis told Mike Schaefer of 247Sports he's especially compelled by Nebraska and Oregon.
Still, the situation seems far from settled.
Earlier this month, Lewis revealed a top four consisting of Arizona, Nebraska, Oregon and Oklahoma in his USA Today blog, noting nearby USC has a possibility of working its way into that picture. The Sooners are in line for an official visit Dec. 3, according to Schaefer, who also reports Alabama is on Lewis' travel itinerary.
It's a muddled race that features heavyweight universities from a variety of regions, and Trojans offensive coordinator Tee Martin will certainly play a factor as things progress. Lewis also maintains a strong relationship with Nebraska receivers coach Keith Williams, who is an integral part of the Cornhuskers' recent California recruiting success (including a commitment 4-star receiver Keyshawn Johnson Jr.).
That rapport, along with multiple visits to Lincoln, put Nebraska in position to pluck Lewis away from the West Coast. He collected 51 receptions for 852 yards and eight scores through the first 10 games of his senior season, per MaxPreps.
Prediction: Nebraska Cornhuskers
Credit: Scout
High School: Grayson (Loganville, Georgia)
Scout Ranking: No. 2 athlete; No. 13 overall
Contenders Include: Alabama, Florida State, Georgia, Ohio State and Tennessee
Deangelo Gibbs' abundant scholarship offer list includes more than 30 schools, but there's a sentiment this pursuit ultimately boils down to an SEC clash. He has family ties to both in-state Georgia and Tennessee, while Alabama is the only program to host him for an official visit so far, according to Jeff Sentell of Dawg Nation.
Gibbs, capable of competing for early snaps at safety or cornerback, provided rave reviews from his time in Tuscaloosa.
"I loved every single moment," he told Drew Champlin of AL.com. "It was something I really got to enjoy and soak up the moment. The game, the atmosphere, it was electrifying. It was just amazing."
His father, Deon Gibbs, told Sentell the plan is for Deangelo to take all five official visits. The travel schedule will need to be tightly packed in order to accomplish that goal, as he is expected to enroll early in January at the university of his choice.
Key developments lie ahead here, but for now we'll give the slight nod to a Bulldogs team that's targeted Gibbs since the earliest stages of his high school career. Expect a down-to-the-wire competition for Gibbs, who is in the midst of a postseason run at Peach State powerhouse Grayson High School.
Prediction: Georgia Bulldogs
Credit: Scout
High School: South Grand Prairie (Grand Prarie, Texas)
Scout Ranking: No. 1 athlete; No. 12 overall
Contenders Include: Alabama, Florida State, Georgia, Ohio State, Oklahoma and Texas
Jeffrey Okudah will be a headliner in the bleachers this weekend when Ohio State hosts Michigan for a high-stakes rivalry game, according to Bill Kurelic of 247Sports. This trip presents a valuable opportunity for Urban Meyer's staff to move one step closer toward sealing things with the Lone Star State stud.
The Buckeyes lead his 247Sports crystal ball with an overwhelming 81 percent of experts' predictions. Okudah is viewed as one of the possible final pieces for an Ohio State class that could sit atop national signing day rankings.
Oklahoma and Texas present options closer to home, but the Longhorns won't have much recruiting clarity until coaching questions are sorted out. Florida State is an intriguing wild card, and Okudah emulates former Seminoles star Jalen Ramsey, but our guess is he becomes the newest defensive backfield weapon for Buckeyes coordinator Greg Schiano.
Prediction: Ohio State Buckeyes
Credit: Student Sports
High School: Episcopal (Bellaire, Texas)
Scout Ranking: No. 1 defensive tackle; No. 11 overall
Contenders Include: Alabama, Florida State, LSU, Oklahoma, Ohio State, Texas and Texas A&M
Count Marvin Wilson among elite recruits headed to Ohio State this weekend. Highly respected Buckeyes defensive line coach Larry Johnson is a central figure in this recruitment, though he faces stiff competition.
Oklahoma and Florida State already hosted Wilson for official visits, while LSU, USC, Texas A&M and Ole Miss are in the mix for his final two official visits, according to Taylor Hamm of 247Sports. The upcoming coaching carousel figures to play a prominent role throughout the remainder of this process, particularly when it comes to Charlie Strong (Texas) and Ed Orgeron (LSU).
Standing 6'4″, 329 pounds, this college-ready defender will remain squarely in the Longhorns' spotlight regardless of who sits atop that regime. This recruitment is as much of a toss-up as any in the 2017 cycle due to the current unpredictable nature of multiple contenders involved.
There's a lot in play here, and it shapes up to be a difficult decision once the dust settles and program leadership is determined at multiple potential destinations. Wilson burst onto the national scene with 103 tackles—34 for loss—and 19 sacks as an underclassman, according to Bleacher Report's Damon Sayles.
Prediction: Texas Longhorns
Credit: Scout
High School: Calabasas (Calabasas, California)
Scout Ranking: No. 1 cornerback; No. 9 overall
Contenders Include: Miami, Michigan, Nebraska, Ohio State, UCLA and USC
This is another recruitment that qualifies as murky, especially since UCLA—long established among favorites here—has been one of college football's biggest disappointments this season. Across town, USC would also love to land the local product, but there are several strong suitors beyond state borders.
Nebraska claims commitments from two Calabasas High School teammates (receiver Keyshawn Johnson Jr.. and quarterback Tristan Gebbia) and has hosted Darnay Holmes in Lincoln on multiple occasions. The Cornhuskers are under consideration for an official visit, along with Miami and USC, according to Greg Biggins of Scout.
He'll return to Big Ten territory this weekend, attending the Ohio State-Michigan game in Columbus, Ohio. Holmes plans to follow his Buckeyes official visit with a trip to Ann Arbor next month, per Biggins.
Struggles at UCLA may open the door for one of these Big Ten powerhouses to pick him up when Holmes announced a commitment Jan. 7 at the U.S. Army All-American Game, though his relationship with the staff is strong, and Biggins reports the Bruins will receive a visit beforehand. He has 969 receiving yards, 11 touchdown catches and three non-offensive scores as a senior, per MaxPreps.
Prediction: UCLA Bruins
Credit: Scout
High School: Indian River (Chesapeake, Virginia)
Scout Ranking: No. 1 safety; No. 5 overall
Contenders Include: Alabama, Auburn, Florida, North Carolina and Virginia Tech
Coveted defensive back Devon Hunter will provide one college program with an early Christmas present when he announces a pledge Dec. 24, per Michael Clark of Scout. The choice comes down to five finalists—Alabama, Auburn, Florida, North Carolina and Virginia Tech.
A decisive final month of this recruitment will include official visits to North Carolina (Dec. 2-4) and Virginia Tech (Dec. 9-11), according to Clark. Hunter will also travel to Alabama this weekend, watching the Iron Bowl during his stay.
The 6'1″, 205-pound prospect has been a paramount focus for Virginia Tech, and he's exactly the kind of elite prospect who could help usher in a new era for Hokies head coach Justin Fuente. The results have been predominately positive for a first-year regime in Blacksburg, and turning momentum into recruiting success would be a sign of greater things to come.
The push for early playing time would probably be more difficult with SEC squads Alabama or Florida, but both schools have been diligent here. If the Crimson Tide manage to bring him on board, it's yet another example of college football's rich getting richer at the expense of others.
Prediction: Virginia Tech Hokies
Credit: Student Sports
High School: Clinton (Clinton, Mississippi)
Scout Ranking: No. 2 running back; No. 4 overall
Contenders Include: Florida State, Georgia, LSU, Ohio State, Ole Miss and Tennessee
This former Alabama Crimson Tide commit keeps things close to the vest when it comes to his recruitment, but prolonged interest in Ohio State is apparent. He traveled to Columbus in an unofficial capacity and will return to campus this weekend for his official visit.
The Buckeyes already claim commitments from 5-star recruits at quarterback, receiver and the offensive line, so Coach Meyer has set the stage for Cam Akers to enter the equation and perhaps ice a No. 1 overall recruiting class. In-state Ole Miss is also a serious contender, set to bring him into town for an official visit in December, according to Chad Simmons of Scout, and he would add another dimension to promising young offensive nucleus led by freshman quarterback Shea Patterson.
Ohio State is an outlier in a race filled with Southeast institutions. Fellow Mississippi prospect Myles Brennan—an Elite 11 finalist quarterback—would love to bring him into LSU's class as a possible replacement for Leonard Fournette.
Florida State and Georgia also remain persistent despite the presence of two 4-star running backs in each class. Both programs are set to lose premier players at the position to the NFL.
Akers, a U.S. Army All-American Player of the Year finalist, lines up at quarterback for Clinton High School. He tallied 2,643 passing yards, 1,773 rushing yards and 55 total touchdowns through the first 13 games this fall, per MaxPreps.
Prediction: Ohio State Buckeyes
Credit: Student Sports
High School: Graham Kapowsin (Grahama, Washington)
Scout Ranking: No. 1 offensive tackle; No. 2 overall
Contenders Include: Alabama, Notre Dame, Stanford and Washington
Foster Sarell, the lone offensive lineman nominated for U.S. Army All-American Player of the Year honors, has commanded significant collegiate attention since his freshman season. The 6'6″, 300-pound blocker is weighing faraway options at Alabama and Notre Dame, but signs point toward a Pac-12 showdown between Stanford and the in-state Huskies.
As we alluded to earlier, the Cardinal are also in solid position with fellow 5-star tackle Walker Little and there's a dream scenario in which these two become teammates in Palo Alto. A rough season at Notre Dame likely hurts the Fighting Irish's chances, which seemed stronger during earlier stages of this cycle.
The Crimson Tide have signed more blue-chip offensive linemen than any other team during recent years, so discount Nick Saban and his staff at your own peril. Ultimately, Stanford's toughest competition should be Washington.
Head coach Chris Petersen has put his program in position to qualify for the College Football Playoff and currently claims the conference's top-ranked recruiting class. Adding Sarell to the mix would be a tone-setter for Washington and enhance the supporting cast for a potential 2017 Heisman Trophy pursuit by quarterback Jake Browning.
Prediction: Washington Huskies
Tyler Donohue is a National Recruiting Analyst for Bleacher Report. Quotes and observations obtained firsthand unless otherwise noted. Prospect ratings and information courtesy of Scout.

Follow Tyler via Twitter: @TDsTake.