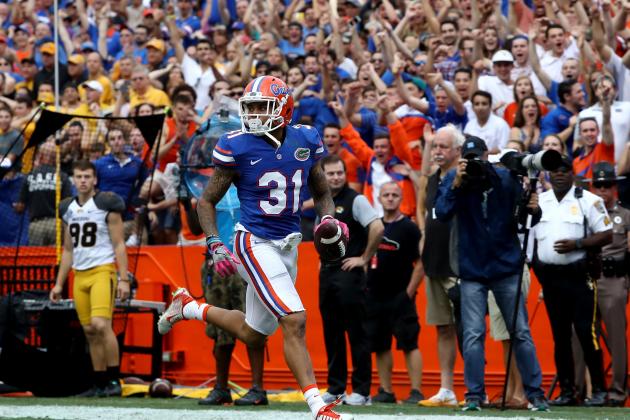 Sam Greenwood/Getty Images
The bowl picture gets clearer with each passing week, and one of the premiere spots for Southeastern Conference and Big Ten members each season is the Outback Bowl in Tampa, Florida.
Though there's plenty of football to be played, it isn't too early to begin projecting which teams may wind up battling for the boomerang-adorned trophy.
Last year, the Tennessee Volunteers used a lopsided victory over Northwestern to springboard their names into the national spotlight, a position they held deep into this season until a shocking road loss at South Carolina knocked them back a rung. It's possible the Vols could be primed for a return trip.
The Wildcats started this season slowly, but they've come on as of late. Still, it would be a shock for them to head back to Tampa.
Home state Florida would be a dream participant from a crowd standpoint, and there are plenty other attractive schools who travel well still alive as well.
Let's take a look at some likely teams who could meet Jan. 2 in Raymond James Stadium.
Kevin C. Cox/Getty Images
Let's start with a long shot.
It isn't often you see a team go to a bowl in consecutive seasons, and with conferences looking to diversify bowl destinations among its member institutions, Tennessee may be a long shot to head back to Tampa. But with the way the Volunteers travel, it certainly wouldn't be the worst thing for the Outback Bowl.
After starting the season with such high expectations, the Vols have disappointed a bit, currently sitting at 6-3 with losses to Texas A&M, Alabama and South Carolina. But with Kentucky, Missouri and Vanderbilt remaining on the schedule, UT could wind up 9-3.
That mark may be good enough to earn them a spot in the SEC Championship Game, too. If that's the case, and they lose, the Vols could wind up back in Tampa, where they beat Northwestern 45-6 last year.
Following a loss to South Carolina, UT head coach Butch Jones ruffled some feathers around Knoxville when he boasted being bowl-eligible with a win over Tennessee Tech, especially after such lofty goals:
"Somebody told me this," the fourth-year UT coach told GoVols247's Grant Ramey, "and I think this puts things in perspective: You talk about the negativity that's out there, when we gain our next victory, it will be three straight years that we become bowl eligible, that will be the first time it's happened since 2002."
Jones has brought UT back to a strong level, but the Vols want to take the next step. Returning to the Outback wouldn't be what fans envisioned for this season, but it wouldn't be a disappointment, either.
With stars such as quarterback Joshua Dobbs, running back Alvin Kamara and defensive end Derek Barnett, the Vols would be an easy ticket to sell.
Rich Barnes-USA TODAY Sports
It's remarkable what one victory can do for a program.
Penn State was 4-2 and not given much of a chance, even at home in the friendly confines of Beaver Stadium back on Oct. 22, when the Nittany Lions hosted Ohio State. But after a resounding 24-21 upset, the narrative of the entire season flipped.
Since then, an offense that had struggled at times to be consistent has looked strong. They've put up 62 points against Purdue and 41 against Iowa since then. Now, all of a sudden, embattled head coach James Franklin looks like his program is on firm footing.
If PSU wins at Indiana this weekend, the games against Rutgers and Michigan State look very winnable to close the season. That could mean just two losses and a potential New Year's Six game (Rose Bowl, anyone?).
No matter how much folks around Happy Valley want to whisper about the Rose Bowl, Franklin is trying to stay singularly focused, as his tweet this week proved. With the Hoosiers next on the slate, the Hoosiers are the only thing on his mind.
Franklin tweeted "Indiana" 15 times.
Really big things could be on tap for PSU. But if Penn State slips a bit to the Outback Bowl, that would be a dream scenario for bowl officials. Few teams travel like the Nittany Lions, and with the dark days they've had since the Jerry Sandusky scandal, the program is excited to get back in an important bowl.
The Outback would definitely meet that criteria.
Nelson Chenault-USA TODAY Sports
Three weeks ago following a 56-3 embarrassing loss to Auburn, getting into a big-time bowl seemed a far cry for Arkansas.
But after a bye week, the Razorbacks looked great putting a thorough thumping on a Florida team that previously had just one loss. Now, the 6-3 Razorbacks host LSU this weekend for a chance to take another strong step toward a quality bowl.
The response against Florida raised eyebrows everywhere. As SEC Country's Eric Bolin said, it was vintage head coach Bret Bielema.
"Vintage. Old-school. A little mean. Rough around the edges. A little cocky," he wrote. "There was nothing about Arkansas' 31-10 pasting of Florida on Saturday that didn't scream Bret Bielema."
The Hogs would likely be screaming "Woo Pig, Sooie," if they made it to Tampa.
Getting to the Outback Bowl would be a nice finish for coach Bielema's team, and the veteran coach has tried to tell everybody all season long that the Razorbacks were a good team, despite losing a wealth of defensive talent, quarterback Brandon Allen and running back Alex Collins off last year's team.
This season, the show belongs to Brandon's brother, Austin Allen, at quarterback. Rawleigh Williams III has taken the mantle at running back, and Drew Morgan is the receiver Allen goes to when things get hairy.
With the defense improving, Arkansas is getting better down the stretch like it has throughout Bielema's tenure. That would be a team nobody wanted to play at Raymond James.
Jesse Johnson-USA TODAY Sports
Minnesota's football team is a little like its namesake: Nobody ever really pays attention to the little gopher in the corner, but all of a sudden, it'll run across your path and put a scare into you.
The Golden Gophers are that way.
There's nothing flashy about coach Tracy Claeys or his team. They certainly don't have the pedigree of an Ohio State, Michigan, Penn State or Nebraska. They don't have that new-team smell like Michigan State or that bruiser mentality like Wisconsin.
They just win football games, plain and simple. They don't run away with things, and they don't put up a bunch of highlights doing it, but the Gophers currently stand at 7-2. If they beat Nebraska this weekend, you've got to seriously consider them to be big-bowl bound.
Andy Greder of the St. Paul Pioneer Press recently told the Lincoln Journal Star's Clark Grell:
The jury is deliberating on if the Gophers can shake it up. They haven't beaten a team with a winning record in the Big Ten play, but they were a possession away from knocking off now-surging Penn State and rival Iowa. If Minnesota can keep opponents honest with their passing game, keep creating turnovers and eliminate big plays by opponents, they should be in it in the fourth quarter of each of the remaining three games.
Getting to Tampa may be a far trip, but it's not far-fetched. If they beat the Huskers, it'll be the team's first five-game winning streak in the Big Ten since 1962.
Rodney Smith is second in the league in rushing, and quarterback Mitch Leidner is an underrated dual-threat player who can hurt teams in several different ways.
Win this weekend, and Tampa gets closer.
Kim Klement-USA TODAY Sports
It's hard to think of Florida teetering on the edge of self-destruction, especially considering the Gators have just two losses at this point.
But with games against a surging South Carolina team, on the road against LSU and versus rival Florida State still remaining, there's a lot of work on that schedule remaining to be done.
Also, the Gators are dealing with myriad injuries and an offense that's getting less and less dependable as the season progresses. One of those injuries this week is to starting quarterback Luke Del Rio, who won't play against the Gamecocks. Neither will leading tackler Alex Anzalone, who is lost for the season.
If UF wins out, it will head to Atlanta for the SEC Championship Game, but that's asking a lot. Tennessee and Kentucky are right on the Gators' tails.
"The East is a long way away," UF head coach Jim McElwain told the Gainesville Sun's Robbie Andreu. "You have to take care of these kind of things. We've got a long road ahead of us."
Even if Florida slips up a couple of times, it would be difficult to see coach Jim McElwain's team sliding past Tampa, and the Outback Bowl would certainly be thrilled to take a three-loss Florida.
Getting the Gators would mean a packed house and big revenue as fans from nearby Gainesville would flock in droves to that game. It's a day trip at worst for many of the blue-and-orange nation members.
Florida playing in the Outback Bowl would be a coup for the bowl.
Joe Maiorana-USA TODAY Sports
A couple of weeks ago, Nebraska stood among college football's unbeatens, and Cornhusker fans were hoping for a return to the glory days.
But after back-to-back losses to Wisconsin and Ohio State—including an embarrassing, 62-3 loss to the Buckeyes—coach Mike Riley's team has come back down to earth a bit.
It's still been a very good season, and beating a quality Minnesota team this weekend could get the season back on the right track. CBSSports.com currently has the Huskers playing in the Outback Bowl against Florida, and that would be a treat for anybody to watch.
Yes, the Gators and Huskers have endured their troubles in recent years, but they're both historically great programs that appear to be back on the rise.
Nebraska, especially, has taken a leap this season. Last year, the Cornhuskers were the hard-luck team in the country in Riley's first season, but things have a way of evening out, and NU is back to winning football. Though this recent lull is disappointing, the schedule is manageable the rest of the way.
Minnesota, Maryland and Iowa won't be easy, but they are the kind of games Nebraska needs to win if they're going to start competing on a national stage again.
The Huskers have dealt with offensive line injuries, and they also endured a scary situation last weekend as quarterback Tommy Armstrong was carted off the field against Ohio State, though he is close to being cleared to play after the injury proved non-threatening.
"We've been strengthened through some adversity," Riley told Land of 10's Chris Heady. "In the long run, as long as the football season is, it'll help us."
Matt Bush-USA TODAY Sports
With only one loss to Alabama, the Texas A&M Aggies had visions of grandeur dancing in their heads last week when they were fourth in the initial College Football Playoff rankings.
Then, they were handled on the road by a hapless Mississippi State team and lost star senior quarterback Trevor Knight for the season in the process. Now, head coach Kevin Sumlin's team is just trying to recuperate moving forward.
"We got whipped," Sumlin told the media, according to a video released by 247Sports' Jeff Tarply.
The Aggies will play Ole Miss this weekend with a new starter at signal-caller in Jake Hubenak, and they've got to guard against their season spiraling in the final third of the year the way it has in each of the past two seasons.
With some tough games left, A&M needs to find a way to carry on in the post-Knight era. Hubenak could be the favorite to start at quarterback in College Station in the future, so he'll get a long audition.
But just because Knight is out doesn't mean the Aggies are devoid of talent; far from it. They've still got a slew of star receivers, led by sophomore Christian Kirk. Also, the most freakish defensive player in the country in the form of defensive end Myles Garrett mans the field for A&M as well.
If the Aggies make it to Tampa, there will be a large media interest, and the fans that pack out the SEC's largest stadium will almost certainly flock to the Sunshine State to watch their team.
There is still plenty for which to play, and Sumlin needs to prove that his team is ready to finish the season strong. If they do, Tampa could be a likely destination.
Aaron Gash/Associated Press
Wisconsin is no stranger to the Outback Bowl, having participated in the postseason event four separate times.
The past three appearances—in 2005, 2008 and 2015—were determined by four or fewer points, including a 34-31 victory over Auburn in the '15 bowl battle. So, you pretty much know you're getting a good game when the Badgers come to Tampa.
The fact they've been to Raymond James Stadium in the past couple of seasons may hurt their chances to get back, but the Badgers would be a team the Outback committee would like to have.
After an early-season stunner of a victory over highly ranked LSU, the Badgers have proven they're a quality team. Their only two setbacks so far came against Ohio State (30-23) and Michigan (14-7).
Illinois and Purdue remaining on their slate won't cause many headaches, and if they get past Minnesota, the Badgers could be a two-loss team.
That would likely put them in the conference championship game, and a rematch against either the Buckeyes or Wolverines could prove very difficult to beat the Badgers twice in the same season.
If they did lose for the second time, however, they'll possibly be battling Penn State for a spot in the Rose Bowl. The other team will probably head to Tampa, so that would be a very tough draw for whatever SEC team has to go up against coach Paul Chryst's team and its vaunted defense.
Wisconsin may be a long shot to make it to the Outback Bowl, but they'd be a worthy participant.
Derick E. Hingle-USA TODAY Sports
Interim coach Ed Orgeron has breathed new life into a stagnant LSU football program following the firing of Les Miles earlier this season.
Though the Tigers lost a slobberknocker in a 10-0 home setback against top-ranked Alabama last weekend, they proved they're back to being one of the nation's elite teams, especially on defense where first-year coordinator Dave Aranda is calling the shots.
LSU still has plenty of offensive issues finding help for electric running backs Leonard Fournette and Derrius Guice, but the Tigers can beat anybody with which it steps on the field. This weekend will feature a rugged test on the road against Arkansas, but if they get past that, a quality season is attainable.
With Texas A&M missing quarterback Trevor Knight, that game got a bit easier, and though some of the biggest names in coaching have been thrown around to be the Tigers' next head coach, Orgeron is making a name for himself that he should be under consideration.
Would an Outback Bowl trip and a victory in that game be enough to get him a full-time job?
It would be an intriguing storyline for the bowl game, and the way LSU fans get out and go to postseason games, Tampa would be thrilled to get the Tigers in their matchup.
It would be Fournette's final college game because the junior is almost certainly turning pro, and there would be a lot of reasons for people everywhere to tune in. At the beginning of the season, everybody had high hopes for LSU, and they've fallen short.
But the Tigers are still a marquee name with plenty of game.