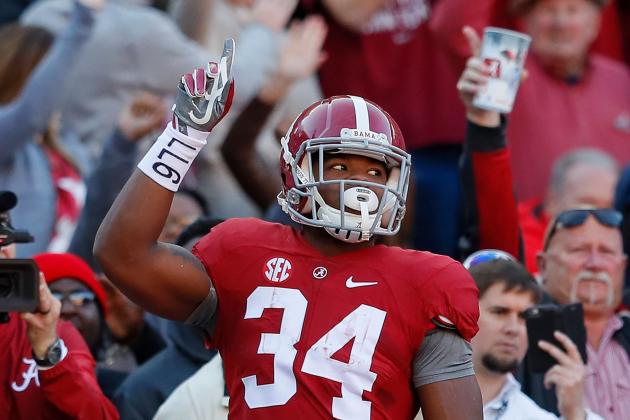 Kevin C. Cox/Getty Images
In this year's SEC, it's Alabama and everybody else.
It's been a forgettable season for the conference, which could use the Crimson Tide rolling to another national championship and strong bowl performances to save some face from a season that's lighter than usual on title contenders and strong programs.
Beyond the undefeated Tide, the next-best team (Florida) has three losses. Four other teams have four losses, including LSU and Tennessee, which were supposed to help tote the mail for the league.
In other words, as Bleacher Report colleague Barrett Sallee noted, the SEC has been mediocre, allowing the Big Ten (and, arguably, the Pac-12) to leapfrog it as the best conference in the country.
So, how do you rank the teams in this mess of a season? Well, there's no question what team sits at the pinnacle. Beyond that, it's a bit of a crapshoot. But we'll give it a try.
Taking into consideration final records, a full season's body of work and head-to-head matchups, the next several slides will attempt to put the SEC teams in order. While LSU and Auburn, for instance, were interchangeable, AU's head-to-head win was given more weight than the Bayou Bengals' current surge.
While Vanderbilt may have upset the Volunteers last weekend, the fact that Derek Mason's team has two fewer wins makes it sit lower in these rankings. It's an inexact science, but there is somewhat of a method to this madness.
Please voice your own opinions in the comments. Here are the rankings of SEC teams in 2016, from worst to best.
Ed Zurga/Getty Images
A year after Missouri's offense was historically horrible in Gary Pinkel's final season as the Tigers head coach, it was the defense that was the team's downfall in 2016.
In head coach Barry Odom's first season, the Tigers were last in the league in total defense, allowing 479.7 yards per game. That's difficult to believe considering all the talent Mizzou has in the front seven, but for whatever reason, it didn't come together.
On offense, quarterback Drew Lock led the way with a solid, but inconsistent, sophomore season, and several playmakers emerged to go along with him. Those guys led the way in a season-ending triumph at home over Arkansas that will help ease the bowl-less pain of the year.
Mizzou finished 4-8 with just two SEC wins, but the way the team responded at the end was a big boost for the offseason.
"Learned a lot about ourselves, and learned a lot about this team," Odom said after the game, according to the Missourian's Colton Pouncy. "I'm proud that our seniors were able to walk out of there with a win against a pretty good football team."
There are building blocks for the future, and that's the biggest takeaway from Odom's first season. There is a lot to improve, but at least there's a sweet taste to end the season in Columbia with hope for the future.
Wesley Hitt/Getty Images
It was supposed to be such a strong year for Ole Miss with senior quarterback Chad Kelly, a slew of strong receivers and a defense that still boasted plenty of talent despite the loss of stars such as Robert Nkemdiche.
But as the injuries mounted and the season progressed, things fell apart for the Rebels. The shadow of the NCAA concerns darkened the program and took its toll on the team.
Little else went right, either, and the season spiraled with lopsided losses to Vanderbilt and Mississippi State in the last two games.
The Rebels are ready to turn the page.
"From the disappointments to the injuries to everything that's going on around our program, it's been a very, very difficult season," Ole Miss head coach Hugh Freeze said, according to ESPN.com's Greg Ostendorf. "I'm glad it's over now, and I can't wait to hit the road recruiting, get the necessary changes made and get to spring ball."
Though Kelly is gone, a glimpse of the future looked bright at quarterback. Freeze pulled the redshirt off former star prospect Shea Patterson, and he looked the part during the last three games of the year following the starter's injury.
Many other issues must be resolved, such as a porous defense and a shallow and underperforming offensive line, but there are some young, elite receivers for Patterson to fling the ball around to, and Freeze's recruiting is always solid.
The Rebels have the tools to rebuild the program quickly if the NCAA doesn't come down hard.
Rogelio V. Solis/Associated Press
When it comes to inconsistency, few teams in the league were more unpredictable than Dan Mullen's Mississippi State Bulldogs.
After a shocking season-opening loss to South Alabama, the Bulldogs dropped games against Kentucky and BYU. But they also found ways to upset Texas A&M and destroy Ole Miss by five touchdowns in the Egg Bowl.
All in all, the first post-Dak Prescott year for Mullen was forgettable, as MSU went 5-7 overall and 3-5 in the league and won't play in a bowl game. But as strong a resume as Mullen has, there's no reason to think the Bulldogs will be down for long.
Yes, Prescott is gone, but the Nick Fitzgerald era looks like it's going to go just fine. The sophomore was an emerging stud who got better throughout the season, finishing the year with 2,281 passing yards to go along with 21 touchdowns and 10 interceptions. He also added 1,243 rushing yards and 14 scores on the ground.
"He knew we were going to build the offense around more his skills, and people saw that," Mullen told ESPN reporter Kaylee Hartung after the game. "Now we've got a lot of people worried about who he's not, but all he has to worry about is who he is. I'm proud of what he has done. He has put up some big numbers for us this year."
MSU was tied for 12th in the league in defense, so it must get that fixed. Plus, Mullen needs to find some offensive weapons to go along with Fitzgerald. But he's a big piece of the puzzle.
Streeter Lecka/Getty Images
First-year South Carolina head coach Will Muschamp probably wishes he could just erase the final weekend of the regular season, when his Gamecocks were dominated 56-7 by hated rival Clemson, which is on its way to the ACC Championship Game and possibly the College Football Playoff.
Other than that, it wasn't a bad inaugural season at all for Muschamp.
The Gamecocks are 6-6, will play in a bowl game and pulled off a huge 24-21 home upset of Tennessee that ensured they'll make it to the postseason.
In the process, they found a few big playmakers in true freshman quarterback Jake Bentley, freshman running back Rico Dowdle and others. With the defensive reputation Muschamp has, you know he'll get that side of the ball shored up. They already improved dramatically from last season to this year.
The Gamecocks finished sixth in the league, allowing 407.2 yards per game. Last year, they were dead last, giving up nearly 430 yards per game. That may not seem like a huge difference, but it probably meant at least one win, which put them in the postseason.
There is plenty of reason for excitement for South Carolina fans with the SEC East wide-open in the future, considering none of Tennessee, Florida or Georgia appear dominant. This wasn't the best year for Carolina, but it was definitely a step in the right direction.
Frederick Breedon/Getty Images
The lasting image of Derek Mason dancing on the sideline following the Commodores' shocking 45-34 season-ending home win over Tennessee to secure a bowl bid will be one around which the third-year coach can build his program.
This year, the Commodores improved considerably and played well for their coach and offensive coordinator Andy Ludwig.
While running back Ralph Webb is the team's star, other role players emerged as the year progressed, including quarterback Kyle Shurmur, who had a career game against the Vols.
Defensively, linebacker Zach Cunningham emerged as one of the league's top defenders, and he carried a unit that was solid for most of the season.
The 'Dores didn't dominate Tennessee in the finale, but they did just enough to win, forcing Joshua Dobbs into a crucial fumble for the football equivalent of breaking serve in a scoring bonanza.
There should be plenty of excitement for VU, which is young and improving under Mason. Wins over Georgia and Tennessee prove there's no reason why the Commodores can't make some noise in the East for the next few years, and while a 6-6 record isn't awesome, it's a big step forward.
Because of the way VU was playing late in the season, the 'Dores got the nod over a South Carolina team that beat them way back in Week 1, but only 13-10. This was a big building-block season for Vandy, and you'd better believe it will sell the win over UT on the recruiting trail.
Andy Lyons/Getty Images
What a year for the Kentucky Wildcats and fourth-year coach Mark Stoops.
After starting the season with a disappointing loss to Southern Miss and looking like perhaps the worst team in the SEC, the team improved throughout much of the season with JUCO transfer Stephen Johnson at quarterback and wound up 7-5 for the year.
The running back combination of Stanley "Boom" Williams and freshman Benny Snell Jr. carried the load for the Wildcats offense, and UK's defense didn't run out of gas nearly as badly as it had in Stoops' first three seasons in the Bluegrass State.
That's the sign of a developing program.
The biggest indication that things are on the upswing in Lexington was a resounding 41-38 upset of Louisville and star quarterback Lamar Jackson during the last weekend of the regular season. That was a testament to just how much the Wildcats grew over the year.
With nine sophomore starters returning and Snell on his way back, too, perhaps along with Williams if he doesn't elect to test the NFL waters, the Lexington Herald-Leader's John Clay believes UK has positioned itself for another step forward next year.
"Our players are young," defensive coordinator D.J. Eliot told Clay after the win at Louisville. "This is a group of young men who came to this program believing in the future and they all still have a lot of future left. A bright future."
For the first time in years, those aren't just words. A bowl win would be yet another massive move forward as well.
Rob Foldy/Getty Images
Everything doesn't hinge on a single game, but the perception of Georgia first-year head coach Kirby Smart definitely took a hit in the season's final game when the Bulldogs lost to hated rival Georgia Tech at home.
That erased the good vibes from a win over Auburn a couple of weeks earlier and dropped Smart to 7-5 in a year that saw a lot of ups and downs.
Considering Smart rode with true freshman quarterback Jacob Eason and took the excitement with the inconsistencies, it wasn't such a throwaway season. The lumps Eason took throughout much of the season will benefit him in the future.
Also, as the season progressed, running backs Nick Chubb and Sony Michel got healthier and improved. The Bulldogs found some young playmakers, and even though their defense was inconsistent, first-year coordinator Mel Tucker has some pieces with which to work.
The way Smart is recruiting in Athens, it shouldn't take long for him to get his players in and build the program the way he wants. But regardless of how excited Dawgs fans are about the new tenure, Smart has a lot to live up to in order to have as good a regime as predecessor Mark Richt.
DawgNation's Chip Towers didn't mince words when assessing Smart's first year: "Georgia should've won 10 games this season, nine at worst. Instead, the Bulldogs finished 7-5, and that's on Kirby Smart."
Too many more seasons like this won't be tolerated. This isn't awful for a first season, but Smart needs to get this program pointed upward or the grumbles will grow louder.
Wade Payne/Associated Press
There's no other way to slice it: This was a disappointing season for Tennessee.
The preseason SEC East favorite failed on two separate, monumental occasions to take advantage of the failures of the division and propel the season to success. The Volunteers fell on their face both times.
First, despite losing two difficult games to Texas A&M and Alabama, UT needed only to run the table against South Carolina, Missouri, Kentucky and Vanderbilt to go to the SEC Championship Game. That ended almost as quickly as it started, as the Gamecocks upset the Vols in Columbia.
Then, after Georgia beat Auburn, the Vols needed to beat Vanderbilt to close the season and finish 9-3 with a probable berth in the Sugar Bowl following Florida's loss to Florida State and a likely setback in this week's SEC Championship Game. Instead, the Vols lost 45-34.
"It's unacceptable, and I'm embarrassed," defensive end Derek Barnett said, according to ESPN.com's Edward Aschoff. "Losing to Vanderbilt is never acceptable," offensive lineman Brett Kendrick added.
That's the kind of loss that gets you fired, and though head coach Butch Jones appears safe for now, the honeymoon is over.
Now, there is no tangible progress in Jones' fourth season, and UT must find a way next year to replace players such as quarterback Joshua Dobbs, running backs Alvin Kamara and Jalen Hurd (who left the team in late October), linebacker Jalen Reeves-Maybin, cornerback Cameron Sutton and likely Barnett.
For a team that expected to be in the top two of the conference, finishing this low is a bummer.
L.G. Patterson/Associated Press
Yes, Arkansas had fewer wins than Tennessee and finished the season with a loss to Missouri in one of the biggest shockers of the year.
But the Razorbacks also dominated Florida not too long ago, and it's difficult to envision Tennessee stopping them if they played today, so a 7-5 Arkansas team gets the nod over the Vols for this spot, especially with the way UT's defense struggled over the final month of the year.
The season was puzzling, at best, for head coach Bret Bielema's team. In that game against the Gators, as well as in several other showdowns, it looked like one of the league's best offensive teams. Then, it laid an egg in losses to Auburn and LSU.
In the season finale against Mizzou, the Hogs just looked shell-shocked that it was ever even close, much less that they got beat.
All things considered, though, it wasn't a throwaway season for Arkansas. The Razorbacks weren't expected to be one of the best teams in the West after losing quarterback Brandon Allen and running back Alex Collins after last season.
But Allen's brother, Austin, shouldered the load at signal-caller. Also, running backs Rawleigh Williams III and Devwah Whaley made up for the loss of Williams.
Those guys are going to be big pieces to the future of the Hogs.
Bob Levey/Getty Images
No matter how much Texas A&M head coach Kevin Sumlin talked about his team not fading down the stretch the way it had the previous two years following the loss against Alabama, he couldn't combat it from happening.
Losing senior transfer quarterback Trevor Knight for a swath of the final part of the year didn't help, either.
From being ranked fourth in the first College Football Playoff poll of the year to losing four of their final six games, including disappointing setbacks to Mississippi State and Ole Miss, it was a disappointing year again for the Aggies.
The close to the year places Sumlin firmly on the hot seat, and the future of A&M is unclear with a lot of players leaving after the season, most likely including star junior defensive end Myles Garrett. Unless the Aggies can get a player such as Baylor transfer Jarrett Stidham at quarterback, it could be a tough climb.
After getting dominated by LSU to close the year, the Aggies have a decision to make on their coach, according to CBSSports.com's Robby Kalland, who noted the rumors swirling around Sumlin.
"On a Thanksgiving night when coaching rumors dominated the conversation, it's fitting that it ends with a hot seat heating up on one side and a tough decision to be made regarding an interim on the other," Kalland wrote regarding Sumlin and LSU head coach Ed Orgeron.
Freshman running back Trayveon Williams is a budding star in the league, and the Aggies have enough young talent in skill positions around which to build, but there are numerous question marks surrounding the program. None are bigger than the one facing Sumlin.
Bob Levey/Getty Images
LSU was one of the preseason favorites to knock Alabama from its perch on top of the conference. Instead, it was a roller-coaster season for the Tigers.
First, they lost their season opener to Wisconsin and fired longtime coach Les Miles early in the year, naming Ed Orgeron as the interim coach. The Raging Cajun wound up going 5-2 to close the year, with losses to Alabama and Florida, and athletic director Joe Alleva named him the full-time coach last week.
Though the Tigers were rumored to be flirting with former Houston head coach Tom Herman (who is heading to Texas), Orgeron wound up being retained.
With his roots in the Bayou, there's no doubt he's got the recruiting nailed down, and it looks like he's grown a lot in his handling of a program in the short time he's been at LSU. So Orgeron's story is intriguing.
While LSU will continue to have quarterback questions, Danny Etling solidified the position and will return for another season. Star running back Leonard Fournette should go pro, but after all the injuries he suffered this year, Derrius Guice proved he's more than capable of being the future workhorse.
The immediate future of LSU's program hinges on the hire Orgeron makes for his offensive coordinator. There are rumors swirling about Alabama OC Lane Kiffin joining his old buddy, so that's something to watch, especially considering Fox Sports' Bruce Feldman told colleague Clay Travis there's a "75 percent chance" Kiffin goes.
With Dave Aranda manning the defense, there are some big pieces at LSU to do great things quickly. You can see why Alleva didn't want to blow everything up and start from scratch.
Michael Chang/Getty Images
Auburn gets the tiniest nod over LSU here because of its head-to-head victory over the Bayou Bengals, but this was the closest call on the whole list.
Considering AU's two late-season losses to Georgia and Alabama and the fact LSU played pretty well, these two easily could be reversed. Actually, Auburn could hold down the No. 2 spot on this list, for that matter.
It's that close.
But with the Tigers expected to get starting quarterback Sean White back for the bowl game, and with star rusher Kamryn Pettway back, AU gets the nod.
There's no question head coach Gus Malzahn needs to shake up his offensive coaching staff somewhat and get somebody who can be more consistent calling plays, but it seems he got the major issues fixed on the defensive side of the ball with the preseason hiring of Kevin Steele.
Now, Malzahn just needs to stabilize some things to retain control of his program. There are still quarterback issues, and moving into next year, White and redshirt freshman Woody Barrett should battle for that job. But there are a lot of nice pieces at running back, wide receiver and on the offensive line.
Defensively, Steele has a lot of young talent, and while the Tigers weren't up to the challenge against Alabama, it could be argued they're the second-best team in the SEC when everybody is healthy. Malzahn told 247Sports' Brandon Marcello it was "one of those growing years" for AU.
"Obviously, we're disappointed, but like I said earlier, we've got a young team, a very talented team and the future is very bright and we'll rebound," Malzahn said after the 'Bama game.
There were ups and downs for AU, but this could be a dangerous team in the future.
Gerald Herbert/Associated Press
For all their flaws, the Florida Gators can point to the standings and yell, "Scoreboard!"
Despite some major offensive issues for the second consecutive season and a slew of injuries, Florida's defense (coupled with playing in one of the weakest divisions in the Power Five conferences) has it playing in the SEC Championship Game against Alabama.
Starting quarterback Luke Del Rio, linebackers Alex Anzalone and Jarrad Davis, safety Marcus Maye and many more prominent Gators have missed a bunch of time this year, but that hasn't stopped them from making it to Atlanta.
That's largely because of a deep and talented defense that has performed all season with its back against the wall. When the offense sputters (which has been often), the Gators can always count on their defense to carry them.
Though an argument could be made to put Auburn in this spot, the Gators were massive underdogs against a surging LSU team a couple of weeks ago and found a way to win that game, so they got the slight nod despite a loss to Florida State last weekend.
Second-year head coach Jim McElwain has done a masterful job navigating the injuries and early-season loss to Tennessee to represent the East yet again. Despite all their warts, the Gators are playing well in the conference at the right time.
Perhaps that's why McElwain's name has been linked to the new Oregon opening, though SEC Country's Zach Abolverdi says the coach is telling recruits those rumors are "hot air."
Auburn still probably stands to make it to the Sugar Bowl if the Gators lose to Alabama this weekend, as expected, so this will probably be a hot debate. But that would be a good matchup.
Brynn Anderson/Associated Press
All hail the kings of the SEC.
Heck, Alabama is the defending king of college football, and considering the Crimson Tide's record is unblemished this year, at least one site is saying this year's team is within striking distance of being the best college football team of all time.
Head coach Nick Saban recruits the nation's top class virtually every season, and he and his staff develop those players into one of the best teams in college football each year. A safe bet at the beginning of each year is that Alabama will be among the final four teams standing.
This year, much like last season, the Tide is led by the nation's top defense, a smothering force that has allowed fewer than 70 rushing yards per game, terrorizes quarterbacks with a relentless pass rush and scores touchdowns by the bushel.
Essentially everybody on the defensive side of the ball for UA will play in the NFL. That's how good the Tide are.
Offensively, they're also more diverse than they've been in years past, led by true freshman quarterback Jalen Hurts, who is a dark-horse candidate for the Heisman Trophy. The running back trio of Damien Harris, Bo Scarbrough and Joshua Jacobs has been exciting to watch.
When you throw in dynamic receiving targets like ArDarius Stewart, Calvin Ridley and tight end O.J. Howard, it's hard to imagine anybody beating Alabama, which is the overwhelming favorite right now to repeat as the national champion
How will the Tide hold up against the other top teams, especially considering the season has proven the SEC is a bit down? That's for the College Football Playoff to decide.
Alabama will almost certainly be there.