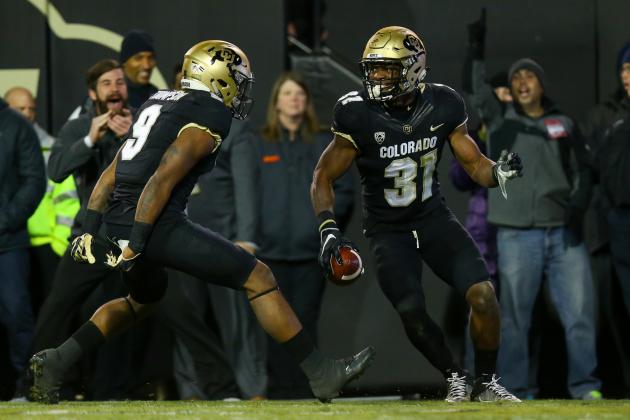 Justin Edmonds/Getty Images
The 2016 regular season is in the books, and all that's left to do in the Pac-12 is crown a champion. That will happen on Friday night in Santa Clara, California, when North Division winner Washington takes on South champion Colorado.
Those were without question the top two teams in the Pac-12 in 2016, though an argument could be made that USC deserves some praise for beating both division champions. It all depends on how you go about ranking the teams.
That's just what we've done, ordering the league's 12 schools based on their season-long performance both in conference play and nonconference action.
Christian Petersen/Getty Images
Record: 3-9, 1-8
Arizona won the Pac-12's South Division in 2014 and played in the Fiesta Bowl, going 10-4 that season. The Wildcats are 10-15 since and just completed their worst season since 2003 and nearly had their first winless conference record in 59 years.
A 56-35 win over rival Arizona State in the finale ended a nine-game league losing streak and because they ran for a school-record 511 yards in that game the Wildcats ended up finishing first in the conference in rushing at 235 yards per game. Much of that running was by necessity, though, as injuries forced Arizona to use five quarterbacks who combined for 2,137 yards and 13 touchdowns with 12 interceptions.
Steve Dykes/Getty Images
Record: 4-8, 2-7
Oregon played in the first-ever national championship game that was part of a playoff format, losing to Ohio State in January 2015. Less than two years later the Ducks are searching for a new coach, as Mark Helfrich was fired on Tuesday following the program's worst season since 1991.
The Ducks began their backslide in 2015 when they went 9-4 with a pair of home losses and an embarrassing collapse to TCU in the Alamo Bowl, but it was this fall when things got really bad. The hiring of former Michigan coach Brady Hoke as defensive coordinator didn't pan out, as Oregon actually allowed more yards and points than the previous season.
Oregon's usually potent offense also sputtered for much of the year, though switching to freshman quarterback Justin Herbert midway through the season did turn things around somewhat. Losing the Civil War to in-state rival Oregon State for the first time since 2007 secured last place in the North Division.
Steve Dykes/Getty Images
Record: 4-8, 3-6
A .333 win percentage isn't normally call for celebration, but for Oregon State it represents a doubling of the win total from 2015 as second-year Gary Andersen's still-young team showed some growth. This was particularly evident late in the season, when the Beavers knocked off Arizona and Oregon in their final two games.
The win over Oregon was OSU's first in the Civil War series in nine years and the 76 points it scored in those two victories were the most in consecutive games since October 2013. That was also the last time the Beavers had won consecutive games in Pac-12 play.
OSU still ranked last in the conference in total offense but its 26.2 points per game marked a 37.9 percent improvement from the 2-10 team the season before.
Harry How/Getty Images
Record: 4-8, 2-7
One player shouldn't matter so much to a team's success, but when that guy is a potential No. 1 draft pick not having his services can have a major impact. UCLA was 3-2 before sophomore quarterback Josh Rosen hurt his shoulder in a three-point October loss at Arizona State, the last game he'd play before undergoing season-ending surgery.
Without Rosen and with a run game that ranked second-to-last in the country, the Bruins struggled mightily to move the ball. They averaged 24.9 points and 379.8 yards per game for the season but just 23 points and 331.8 in the six games Rosen didn't play.
That prevented an underrated defense from being truly effective, as UCLA had that unit on the field far too often and it would eventually wear down. The Bruins allowed just 4.86 yards per play, third-best in the conference.
Christian Petersen/Getty Images
Record: 5-7, 2-7
Arizona State entered the 2016 with great uncertainty at quarterback, as no player on the roster had ever thrown a pass in a college game. Yet the Sun Devils were able to shake that off and start 5-1 even as injuries forced them to go three-deep at the QB position and pull the redshirt of freshman Dillon Sterling-Cole.
It all caught up to ASU in the second half of the season, losing its final six games to miss out on a bowl for the first time since 2010. The final nail was a 56-35 loss at rival Arizona in which the Devils allowed 511 rushing yards.
Prior to that game it had been the pass defense that had been responsible for much of their struggles. The Devils ranked last in FBS in that category, allowing 357.4 yards per game with 33 touchdowns and for the year allowed 23 plays of 50 or more yards with 16 going for at least 60.
Ezra Shaw/Getty Images
Record: 5-7, 3-6
Losing the No. 1 overall pick in the NFL draft and a slew of other offensive weapons didn't slow down California's attack in 2016. The Golden Bears' 37.1 points and 513.2 yards per game were only slightly below last year's numbers as Texas Tech graduate transfer Davis Webb stepped in for Jared Goff at quarterback and had a strong season.
But Webb couldn't do anything about Cal's horrendous defense, which allowed 42.6 points per game and would have finished last in the country in scoring defense if not for a season-ending 36-10 win over UCLA.
Almost every Cal game was a last-team-to-score-wins affair, with all but three featuring at least 70 points and five decided by five or fewer points. Webb's 4,295 passing yards ranked second in FBS and he was aided by the emergence of junior receiver Chad Hansen (92 catches, 1,249 yards, 11 touchdowns).
Christian Petersen/Getty Images
Record: 8-4, 5-4
While most of the teams above it in the rankings got there thanks to strong finishes, Utah finds itself in the middle of the pack because of its inability to do the same. The Utes were 7-1 after winning a 52-45 shootout at UCLA on Oct. 22 and were tied for first in the South Division but they proceeded to lose three of their final four including a shocking upset at home against Oregon.
The Utes were the most balanced offensive team in the Pac-12, averaging 210.5 rushing yards and 216.9 passing yards. Most of that production came from players with the last name of Williams, as former Washington quarterback Troy Williams started all 12 games and managed 20 total touchdowns while senior running back Joe Williams ran for 1,185 yards and nine TDs despite walking away from the program in mid-September and missing four games before "un-retiring."
Utah managed 40 sacks during the regular season, which tied for seventh-most in the country. Senior Hunter Dimick, who played in only seven games in 2015 because of injury, had 14.5 sacks which is tied for third in FBS.
David Madison/Getty Images
Record: 9-3, 6-3
Stanford forgot how to play offense for about a month midway through the 2016 season, though some of that had to do with the defenses it was facing. A 1-3 mark between Sept. 30 and Oct. 22 knocked the Cardinal out of contention early in the South Division before getting on track to win their last five in dominant fashion.
The Cardinal averaged 39.6 points per game over the last five, compared to 11 per game in the four before that. One of the major differences was being able to get junior running back Christian McCaffrey on track and ensuring he got his touches in whatever way possible. After setting the FBS all-purpose yardage record in 2015 with 3,864 yards he's only managed 2,327 this season but his 211.5 yards per game are still tops in the country.
Senior Ryan Burns and junior Keller Chryst split snaps at quarterback but neither came close to matching what predecessor Kevin Hogan did as a three-year starter. Stanford managed only 1,902 passing yards with 14 touchdowns for the season.
Justin Edmonds/Getty Images
Record: 8-4, 7-2
The beginning and end weren't so good, but in between Washington State showed just how potent it can be when its passing game is clicking and it actually runs the ball a few times.
The Cougars lost their first two games, to FCS power Eastern Washington and then Boise State, before running off eight straight before losses to Colorado and Washington in the final two weeks knocked WSU out of the North Division race. During that win streak coach Mike Leach, not known for liking the ground game, had six instances where his team ran at least 30 times after doing so just five times in the previous four seasons.
That balance only made the passing game more deadly. Junior quarterback Luke Falk threw for 4,204 yards and 37 touchdowns, his 71 percent completion rate third-best in the country. Five players caught at least 30 passes including senior Gabe Marks, who is the Pac-12's career receptions leader with 312.
Jayne Kamin-Oncea/Getty Images
Record: 9-3, 7-2
If this ranking were being done in late September, USC would be much further down the list. A 1-3 start that included a 49-point loss to defending national champion Alabama and road defeats at Stanford and Utah had the Trojans looking awful and prompted many to question if Clay Helton had been the right choice for the long term after being interim coach much of 2015.
Two months later, the Trojans are arguably the hottest team in the Pac-12. They won their final eight games, knocking off Colorado and Washington in the process, and had Colorado fallen to Utah in the regular-season finale it would have been USC winning the South Division. Instead, they took second place but with a No. 11 playoff ranking could end up in the Rose Bowl pending the outcome of the conference title game.
USC's turnaround began with Helton's choice to switch quarterbacks. Out was junior Max Browne and in came redshirt freshman Sam Darnold, who in nine starts averaged 277.4 passing yards with 24 touchdowns. A greater emphasis on the run, led by sophomore Ronald Jones II, also helped, as did having an all-purpose star like Adoree' Jackson (four interceptions, one receiving TD and four special teams scores) in tow.
Justin Edmonds/Getty Images
Record: 10-2, 8-1
An afterthought since joining the conference in 2011, this fall served as Colorado's coming-out party in the Pac-12. The Buffaloes won just five league games in those first five seasons, a tally they surpassed in mid-November en route to the South Division title.
Coach Mike MacIntyre, in his fourth season, is doing it with veterans who have been a part of the growth. Senior quarterback Sefo Liufau has beens starting since his freshman year and is the school's career passing leader despite missing time each of the past two seasons because of injury, while junior running back Phillip Lindsay is Colorado's first 1,000-yard rusher in six years.
The Pac-12's top-ranked defense in terms of yards per game, Colorado is hard to run on and even more difficult to throw against. Opposing quarterbacks have a passer rating of 97.65, fourth-best in FBS, with only 13 touchdowns against 15 interceptions thanks to the back-line play of seniors Tedric Thompson and Ahkello Witherspoon. That duo ranks first and second, respectively, in the nation in passes defended.
Otto Greule Jr/Getty Images
Record: 11-1, 8-1
The foundation for Washington's breakthrough 2016 season was laid last year, when coach Chris Petersen turned to a true freshman at quarterback and running back. Jake Browning and Myles Gaskin took their lumps during a 4-6 start but hit their stride down the stretch, and that momentum carried over into this fall during a 9-0 start.
Browning is now one of the top QBs in the country, throwing for 40 touchdown passes with at least three in nine different games. He's been aided by a talented receiving corps featuring juniors Dante Pettis and John Ross III, who have combined to catch 30 of those TDs. Gaskin, who ran for 1,302 yards and 14 TDs as a freshman, followed that up with 1,180 yards and 10 scores despite sharing carries with junior Lavon Coleman (735 yards, six TDs).
Washington's defense also has been integral in the program's best season since 2000, ranking second in the league in total defense. The Huskies allowed 28 or fewer points in every game, limiting rival Washington State's potent attack to 17 points in the Apple Cup victory on Nov. 25 that clinched the North Division.
All recruiting information courtesy of Scout.com, unless otherwise noted. All statistics provided by CFBStats, unless otherwise noted.
Follow Brian J. Pedersen on Twitter at @realBJP.