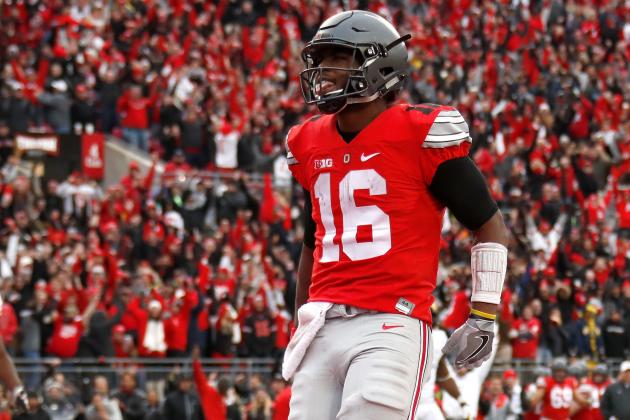 Gregory Shamus/Getty Images
The Big Ten spent the better part of the last decade as college football's punching bag, but that started to change when Ohio State won the national title in 2014.
The conference capitalized on that momentum, and this season, it has proven itself as the toughest (and deepest) league in the country.
Proof of that only requires a simple glance at the latest College Football Playoff ranking, where the Big Ten has an incredible four teams in the Top Seven. The AP Poll is even kinder, with two additional teams in the Top 25.
With the regular season finished and only the conference champion remaining, what's the hierarchy of college football's toughest conference?
Michael Reaves/Getty Images
Best win: New Mexico
Worst loss: Michigan State
Few things went right for Chris Ash in his first year as the head coach at Rutgers.
The season started with an ugly (but expected) loss on the road to a Washington team that would go on to pace the Pac-12 and its playoff hopes. That was proceeded by back-to-back wins over FCS Howard and a good New Mexico team, and things were looking up for the Scarlet Knights.
But momentum swung drastically once conference play started. Rutgers failed to win a league game, and it was beaten by East Division opponents by a combined score of 288-40, which included four shutout losses to Ohio State, Michigan, Michigan State and Penn State.
Joe Robbins/Getty Images
Best win: Illinois
Worst loss: Iowa
Purdue fired its coach midway through the season, and the only reason it didn't take the bottom spot on this list is because it managed to muster a conference win over Illinois.
The Boilermakers were supposed to excel on offense under former head coach Darrell Hazell, but they averaged just 24.6 points, which was good for 100th nationally and 11th in the Big Ten. When that was paired with the nation's No. 117 defense, it didn't bode well.
For the fourth straight season, Purdue failed to win two games in league play.
Michael Hickey/Getty Images
Best win: Notre Dame
Worst loss: Illinois
The surprise of the season wasn't Penn State's emergence or Ohio State's ability to bounce back from losing 16 starters. The biggest shock came in the form of Michigan State's complete and utter collapse.
The Spartans came into the season ranked 12th and launched into the Top 10 after what looked like a marquee win over Notre Dame. But a 30-6 blowout loss to Wisconsin to open Big Ten play, at home no less, was an ominous foreshadowing for the season ahead.
Michigan State won just one game in league play—a 49-0 shellacking of Big Ten doormat Rutgers—and lost convincingly to Northwestern and Maryland. The only reason it checked in at No. 12 was the fight it showed in rivalry games against Michigan and Ohio State.
Michael Hickey/Getty Images
Best win: Michigan State
Worst loss: Purdue
When head coach Lovie Smith made the move from the NFL to college football, most anticipated his rebuild to take a while at Illinois.
That rebuild looked ahead of schedule in Week 1, when the Fighting Illini piled up 515 yards and 52 points in a rout of FCS Murray State. But reality set in a week later, when North Carolina registered a convincing 48-23 win that put Smith's squad on a four-game losing streak.
After opening the season with 52 points, Illinois broke the 30-point mark just twice in its final 11 games—in a loss to Purdue and a 31-27 upset win over Michigan State.
G Fiume/Getty Images
Best win: Michigan State
Worst loss: Michigan
Of all the teams with first-year coaches, Maryland had the most success with D.J. Durkin at the helm.
The Terrapins started red hot under Durkin's direction, ripping off four straight victories over Howard, FIU, UCF and Purdue by an average of 28.8 points. Things got tougher when Maryland hit the meat of Big Ten play, and a 28-17 win over Michigan State was the only thing to interrupt six consecutive losses between October and November.
Durkin righted the ship at the end, though, registering a 31-13 win over Rutgers to get Maryland bowl eligible with six wins.
G Fiume/Getty Images
Best win: Maryland
Worst loss: Penn State
Indiana became a more well-rounded team in 2016 as its surging defense started to match the intensity of the always-productive offense under head coach Kevin Wilson.
The Hoosiers hadn't ranked inside the top 100 of scoring defenses nationally since 2009—a woeful five-year stretch where the unit allowed far too many shootouts that the team couldn't overcome. Only 11 teams gave up more points per game than the Hoosiers a season ago, but under the direction of defensive coordinator Tom Allen, they jumped 59 spots up the rankings to No. 58.
That defense helped them register a big win over Michigan State and kept things very interesting against both Ohio State and Michigan.
Hannah Foslien/Getty Images
Best win: Iowa
Worst loss: Illinois State
After ripping off 10 wins last year and returning 12 starters, Northwestern was a popular pick to contend for the Big Ten West Division title in 2016. It had it's quarterback in Clayton Thorson, an electrifying running back in Justin Jackson and one of the country's best all-around defenders in linebacker Anthony Walker to fuel a potential run to the Indianapolis for the Big Ten title game.
Those aspirations plummeted right out of the gate with back-to-back losses to Western Michigan (respectable) and FCS foe Illinois State (disastrous). It looked like Pat Fitzgerald got his team back on track in conference play with wins over Iowa, Michigan State and Indiana, but the schedule threw Ohio State and Wisconsin at the Wildcats in back-to-back weeks, both of which resulted in losses.
Dylan Buell/Getty Images
Best win: Northwestern
Worst loss: Iowa
There was hype before the season started that Minnesota quarterback Mitch Leidner was a potential first-round NFL quarterback after throwing for 2,701 yards and 14 touchdowns in a breakout junior campaign.
Leidner was supposed to lead a strong team, but the Gophers spent a majority of the season winning in spite of the play of their quarterback. Leidner took a huge step back in his development, completing just 56.4 percent of his passes for 2,040 yards and seven touchdowns against 12 interceptions.
The defense was solid, ranking 23rd nationally in yards surrendered, but Minnesota lost all four games to the teams it faced that finished in the top 25 of the AP Poll.
Matthew Holst/Getty Images
Best win: Wyoming
Worst loss: Ohio State
Nebraska's first year under Mike Riley in 2015 was a tough one that ended on a high note. The Cornhuskers struggled through a 5-7 regular season but were still invited to a bowl game, where they upset a favored UCLA team.
That win launched them into the a productive preseason, and they came out hot to start the season with seven consecutive victories and a No. 7 ranking in the AP Poll. Road trips to Wisconsin and Ohio State derailed their playoff run, though, and their trip to Columbus, Ohio, was particularly unsettling with a 62-3 blowout loss.
Wins over Minnesota and Maryland got Nebraska to nine wins, but it dropped the ball on the road in the season finale, losing to Iowa 40-10.
Brett Carlsen/Getty Images
Best win: Michigan
Worst loss: North Dakota State
After last year's 12-0 start and Rose Bowl appearance, Iowa doubled down on its faith in head coach Kirk Ferentz, giving him a hefty raise and contract extension through 2026.
Big wins over Miami (OH) and rival Iowa State elevated the Hawkeyes to the No. 13 spot in the polls, and it looked like they were primed for another Big Ten title run. But a Week 3 loss to FCS foe North Dakota State at home triggered a rough three-week stretch that also included a narrow 14-7 win over Rutgers and seven-point loss to Northwestern.
But it was three consecutive games between October and November that defined Iowa's season. Losses to Wisconsin and Penn State, the latter of which came in ugly fashion, could've completely derailed the Hawkeyes' season, but that's when they upset No. 3 Michigan 14-13 at home and started playing like an elite team.
Joe Sargent/Getty Images
Best win: Ohio State
Worst loss: Michigan
The team representing the toughest division in college football in the Big Ten Championship Game checks in at No. 4 on the list and behind two teams from the East.
That's not a knock on James Franklin's squad. The Nittany Lions started the year shaky, losing in Week 2 to rival Pitt and then getting blasted by Michigan in Week 4. But something happened when they beat Minnesota 29-26 in overtime—a flip switched, and now they're playing some of the best football in the country on both sides of the ball.
Quarterback Trace McSorley and running back Saqoun Barkley have formed an incredible identity for the offense, and the defense, anchored by defensive end Garrett Sickels, is one of the most aggressive in the Big Ten.
The season-defining win over Ohio State vaulted Penn State into playoff contention. A win over Wisconsin might get them in.
Dylan Buell/Getty Images
Best win: LSU
Worst loss: Michigan
Since the 90s, Wisconsin has won a majority of its game on the strength of an unwavering commitment to the rushing attack. And while the Badgers have stayed true to that commitment this year (only nine teams have run the ball more frequently), it's been the defense that set up Wisconsin's championship run.
The Badgers rank seventh nationally in total defense and third in scoring defense. They gave up more than 21 points just once this season—a 30-23 overtime loss to Ohio State—and will go into the Big Ten title game riding a six-game winning streak.
The offense has been uneven, though, without a home-run hitter at running back and inconsistent play at quarterback. The Badgers are averaging just 28.5 points per game, which is good for 66th in the country.
Gregory Shamus/Getty Images
Best win: Penn State
Worst loss: Iowa
Michigan finished the season with the No. 2 total and scoring defense and the No. 1 pass defense—all of which had the Wolverines on the verge of knocking off Ohio State for the first time since 2011 and clinching a spot in the Big Ten title game.
After throttling the Buckeyes offense for three quarters, Jabrill Peppers and Co. became unglued in the fourth quarter and overtime sessions in a 30-27 loss.
It was still an incredible season for the Wolverines, who came from behind to beat Colorado, throttled Penn State and finally got over the hump against in-state rival Michigan State. Jim Harbaugh's squad is still in contention for a playoff spot as it's currently ranked No. 5, but it's going to need some chaos during championship week.
Jamie Sabau/Getty Images
Best win: Michigan
Worst loss: Penn State
The best team in the conference will be sitting at home watching the conference championship this weekend.
Ohio State entered the year as the least experienced team in college football after losing 16 starters from last season's 12-1 team. It was supposed to take a few weeks for this young team to grow up, but they came out firing with a 77-10 win over Bowling Green in Week 1 and a blowout 45-24 victory on the road over an excellent Oklahoma team.
The offensive line has buckled at times and quarterback J.T. Barrett has struggled with his accuracy, which ultimately cost Ohio State its only loss on the road to Penn State. Those same issues nearly cost them the Michigan game as well, but the offense was been bolstered by one of the best and most opportunistic defenses in the country.