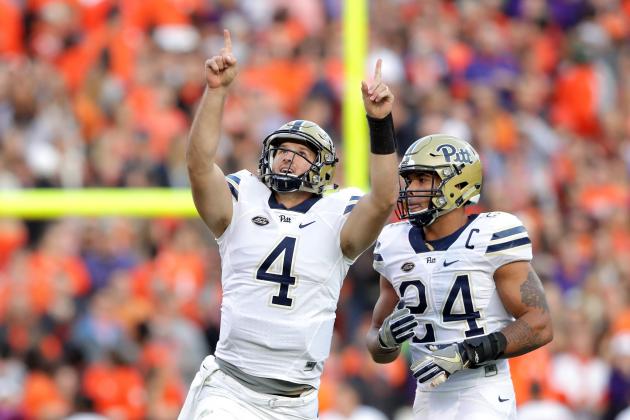 Streeter Lecka/Getty Images
The Clemson Tigers have been playing with fire all season. On Saturday night, they were finally burnt.
Pittsburgh came in to Memorial Stadium and shocked the Tigers, 43-42, as Chris Blewitt—who missed an extra point and had a field-goal attempt blocked on the evening—hit the game-winning 48-yard field goal with six seconds on the clock to stun Clemson and send the College Football Playoff picture into disarray.
Pitt quarterback Nathan Peterman threw for 308 yards and five scores, James Conner totaled 189 yards from scrimmage and two scores and Scott Orndoff caught nine passes for 128 yards and two touchdowns as Pitt accumulated 464 total yards on offense.
Clemson's offense did its part in the loss, putting up 42 points and 630 yards from scrimmage. But despite Deshaun Watson setting an ACC record with 580 passing yards, it was his three interceptions—two in the red zone—that cost Clemson dearly.
And, in the process, it left Clemson's playoff fate up in the air, though Michael David Smith of Pro Football Talk still sees a clear path for the Tigers:
If Clemson wins out it will almost certainly still make the playoff. Controls its destiny in the ACC. A one-loss ACC champ won't be left out

— Michael David Smith (@MichaelDavSmith) November 13, 2016
Dane Brugler of CBS Sports agreed:
Huge upset. But this feels like the Ohio St. loss to Penn State. If Clemson wins out as ACC Champs, they're likely still in the final four.

— Dane Brugler (@dpbrugler) November 13, 2016
That doesn't mean the debates won't continue in earnest, as Rich Eisen of NFL Network pointed out:
Let the argument between Clemson and Louisville saying it deserves a 1-loss spot in the playoff quartet commence.

— Rich Eisen (@richeisen) November 13, 2016
Things couldn't have started on a much better note for Pittsburgh.
On the game's opening drive, the Panthers drove 75 yards on just five plays, highlighted by a 44-yard pass from Peterman to Jaymar Parrish and George Aston's 15-yard touchdown reception.
That was followed by a Clemson turnover, as Watson was intercepted in the red zone by Ryan Lewis, something that has become an alarming trend, as Dan Wolken of USA Today noted:
Another red zone interception for Deshaun Watson. Story of the season for Clemson

— Dan Wolken (@DanWolken) November 12, 2016
After a Pittsburgh punt, the Tigers and Panthers traded touchdowns on the next two drives, and from there, the shootout was on.
Clemson appeared to have turned the ball over on its next possession in the red zone once again, as Wayne Gallman fumbled at the goal line on fourth down and Pittsburgh returned it 100 yards for the touchdown. But replays showed that Gallman had extended the ball past the plane of the goal line before fumbling. So the call was overturned, and the game was tied, 14-14, after the extra point.
And that was just the first quarter.
Things didn't slow down in the second frame, as the teams traded scores on the next two drives after a Pitt punt. Watson then threw his second interception of the half and 12th of the season, ending another potential scoring drive in Pittsburgh territory and ultimately leading to Aston's second receiving touchdown.
Clemson answered immediately with another touchdown before Pittsburgh drove down the field to attempt a 53-yard field goal as time expired on the second quarter. The attempt was blocked, however, an apt finish to a wild first half.
Clemson took a 28-27 into halftime.
For Clemson's defense, it was an uncharacteristically poor showing, as ESPN Stats & Info noted:
No. 2 Clemson had allowed four first-half touchdowns this season. The Tigers allowed four in the first half to Pitt today.

— ESPN Stats & Info (@ESPNStatsInfo) November 12, 2016
"Our defense is getting its butt kicked, bottom line," Clemson head coach DaboSwinney acknowledged before heading into the locker room, per the ABC broadcast.
If nothing else, that led to an entertaining and dramatic half of football, per SI College Football:
Halftime: No. 2 Clemson 28, Pitt 27. The Tigers block the Panthers' field goal to end a wild first half

— SI College Football (@si_ncaafb) November 12, 2016
The third quarter wasn't much calmer.
After a Clemson punt and a Pittsburgh fumble, the teams scored touchdowns on the quarter's next three possessions, setting up the Tigers with a 42-34 lead heading into the final frame.
Both defenses stepped up early in the fourth quarter, though Clemson was driving to make it a two-possession game when Watson threw his second red-zone interception at the 5:42 mark. Four plays later, Connor rumbled into the end zone after a 20-yard run, though Pitt failed to convert the two-point conversion, preserving Clemson's 42-40 lead.
That set up the late-game drama.
Clemson had the opportunity to run out the clock on its final drive, but it failed to get one yard on both third and fourth downs, giving Pitt the ball with 58 seconds remaining. Six plays and 34 yards later, Blewitt sealed the win with his clutch kick.
Clemson faces Wake Forest next Saturday with a spot in the ACC title game on the line, while Pitt—now bowl-eligible—will look to pad its resume against Duke.
Postgame Reaction
Pitt was lit after its shocking win, per ESPNU:
The Pitt locker room is SO HYPE!!! pic.twitter.com/H0V2EdWI7p

— ESPNU (@ESPNU) November 13, 2016
And one of the program's best players in its history, Arizona Cardinals wideout Larry Fitzgerald, joined in the celebration:
.@Pitt_FB Blewitt has too much sauce!! We just shocked the world!#H2P

— Larry Fitzgerald (@LarryFitzgerald) November 13, 2016
Even the team's head coach, Pat Narduzzi, hopped onto Twitter to celebrate the win:
What a TEAM win!!! Our players made plays all day!! So proud! Love these guys!!! Turn on the Victory Lights!! #H2P

— Pat Narduzzi (@CoachDuzzPittFB) November 13, 2016
It was a huge win for the Panthers, even if it didn't always appear as though they would escape without a loss.
"Things weren't pretty at times, and then they were really beautiful at times," he said after the game, per Pitt IMG Sports Network. "That's the game of football."
Things were far more somber on the Clemson side, though head coach DaboSwinney relayed a message of hope.
"Here's the decision everyone has to make—will this be a stumbling block or a steppingstone?" he said, per Clemson football.
The Tigers can potentially afford this misstep if they win the remainder of their games, including the ACC title game. Matchups against Wake Forest and South Carolina await in the regular season, and if the Tigers win those, they'll likely face either Virginia Tech or North Carolina in the ACC title game.
With only Alabama, Michigan and Washington remaining undefeated atop the rankings (at the time of publication), Clemson still has a great shot at a CFP berth. Ohio State is likely the only one-loss team that could finish with a better ranking than the Tigers if they both win out.
As for Pittsburgh, it is almost assuredly heading to a bowl game. And an 8-4 regular season is now a possibility with 4-6 Duke and 4-6 Syracuse remaining.
You can follow Timothy Rapp on Twitter.