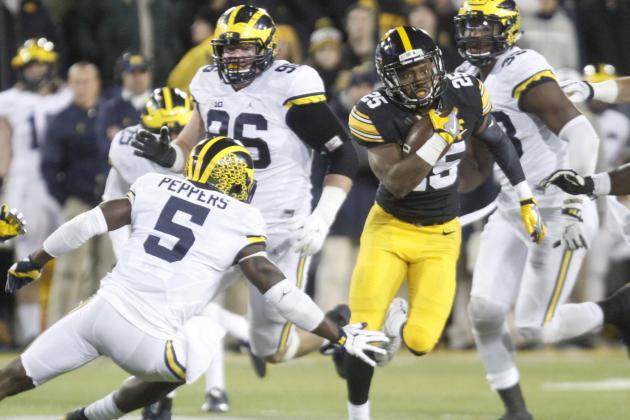 Matthew Holst/Getty Images
The Michigan Wolverines had shown few weaknesses throughout the 2016 season, but they all became problems in a stunning 14-13 loss Saturday night against the Iowa Hawkeyes.
For the first time all year, Jim Harbaugh's team lost multiple phases of the game. And it cost the Maize and Blue dearly.
Michigan—which entered the game as a 24-point favorite, according to Odds Shark—seemed to take control of the contest, as anticipated. The Wolverines jumped out to a 10-point lead thanks to respectable offense and dominant defense.
Iowa had even failed to capitalize on a drive extended by consecutive running-into-the-kicker penalties. Even with the lapses, Michigan was in excellent position through 21 minutes of play.
But then, mistakes slowly bit the Wolverines until they were infected.
Harbaugh: "Not every little thing is always going to go our team's way … to win, you've got to make it go your way. We didn't."

— Nick Baumgardner (@nickbaumgardner) November 13, 2016
On the way to that 10-0 advantage, Michigan gained 123 yards on three possessions. The fourth drive changed the game.
The Hawkeyes punted after just four plays, but Ron Coluzzi deadened his kick at the 2-yard line. After an incomplete pass, Iowa's Jaleel Johnson tackled De'Veon Smith in the end zone for a safety.
Including that possession, the Wolverines mustered just 78 yards of offense over their final seven drives. Iowa owned the trenches—one essential element of the very specific blueprint needed to beat Michigan. Plus, like the offensive line did against Michigan State, the unit faltered in a key moment.
And oddly enough, as Bleacher Report's Adam Kramer notes, it came opposite a Hawkeyes defense that has consistently struggled up front in 2016.
I really did not see that in Iowa. The line of scrimmage has been such a problem all season; that was a pretty spectacular effort.

— Adam Kramer (@KegsnEggs) November 13, 2016
Channing Stribling intercepted a pass with 1:54 remaining in the fourth quarter, so the Wolverines essentially needed to move the chains once to run out the clock (depending on the down of conversion). Instead, the Hawkeyes allowed two yards on three plays.
Yes, Michigan chose an aggressive play on third down, attempting a vertical route to Amara Darboh. Wilton Speight threw the ball perfectly into his receiver's chest, but it fell incomplete.
When it mattered most, Speight made an accurate throw. However, the Wolverines could've avoided the situation if the redshirt sophomore had connected with Darboh on one of three downfield passes. Speight overshot Darboh once and under-threw him twice.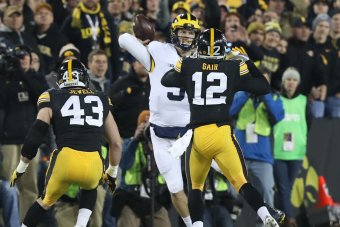 Reese Strickland-USA TODAY Sports
Any of those attempts likely would've resulted in a touchdown. But they didn't, and that cannot be changed.
Neither can the uncharacteristic mistakes on special teams.
In addition to the early running-into-the-kicker penalties, Khalid Hill fumbled the opening kickoff of the second half. Then, Mike McCray was called for a facemask penalty on Michigan's final punt, which allowed Iowa to begin its game-winning drive at the 36-yard line.
Those two mistakes led to six critical points for the Hawkeyes, most notably Keith Duncan's 33-yard field goal as time expired.
Sweet dreams, @HawkeyeFootball fans. https://t.co/6XSg3CI99n

— Iowa On BTN (@IowaOnBTN) November 13, 2016
Heading into Week 11, a shortcoming in Iowa City would've seemed like a nightmare result. It's still a bad loss, but 2016's edition of "Upset Saturday" benefited Michigan in a major way.
Rather than tumbling down the polls—which would be deserved ordinarily—there's a realistic chance the Wolverines stick in the Top Four of the College Football Playoff rankings. Alabama is undefeated, but each of Michigan, Ohio State, Clemson, Louisville and Washington have one loss.
Regardless of the Wolverines' standing in the next release, they're 9-1 overall and 6-1 in Big Ten play. Per Nick Baumgardner of MLive.com, Harbaugh said he told the team all its goals are still alive.
For the Wolverines to win the East Division, they'll need to defeat both Indiana and Ohio State. Michigan would then hold a head-to-head tiebreaker over Penn State and square off with the West Division champion, which will likely be Wisconsin.
Michigan loses and is in the same situation it was entering this week. Beat Ohio State and win the B1G title game and you're in the playoff.

— Scott Bell (@sbell021) November 13, 2016
Doable? Sure.
But Michigan no longer has a margin for error. Consider this hypothetical: Had the other results in Week 11 happened, yet the Wolverines escaped, they would have a legitimate chance to steal the fourth playoff spot even if they fell on the road at Ohio State.
A one-loss team of Michigan's caliber would present a difficult case. Now, however, it's practically impossible for a two-loss, nonconference champion to offer a persuasive argument.
The Wolverines remain in the race for the playoff, but a mistake-filled night in Iowa City made the road significantly more challenging because their trip to Columbus may be equally unforgiving.
---
All recruiting information via Scout. Stats from NCAA.com, cfbstats.com or B/R research. Quotes obtained firsthand unless otherwise noted. Follow Bleacher Report CFB Writer David Kenyon on Twitter @Kenyon19_BR.