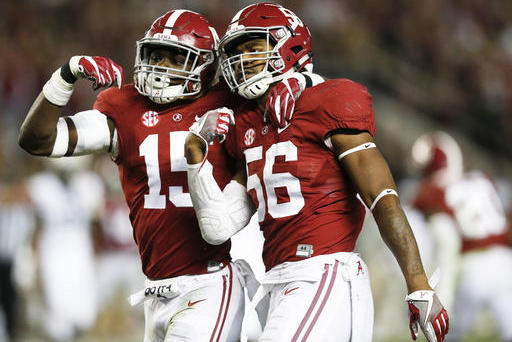 Brynn Anderson/Associated Press
With one weekend to go before the unveiling of the College Football Playoff, there is plenty of uncertainty surrounding which teams will land in the 2017 Peach Bowl.
The Peach Bowl pits the No. 1 and No. 4 teams in the rankings against each other. Yet, with so many variables still in play for the final spot in the playoff, pandemonium is possible if certain teams lose this weekend.
With that in mind, let us take a look at the schedule for this playoff tilt, as well as a breakdown and prediction of which two teams will take the field here on New Year's Eve.
2017 Peach Bowl Schedule

| | | | |
| --- | --- | --- | --- |
| Date | Matchup | Time (ET) | Network |
| Saturday, Dec. 31 | CFB No. 1 vs. No. 4 | 3 or 7 p.m. | ESPN |
CollegeFootballPlayoff.com
Matchup Prediction
Alabama once again came in at No. 1 in the latest playoff rankings, which is no surprise considering its held that position for the entire season. The Crimson Tide will play Florida in the SEC title game on Saturday, and there is little reason to believe they will not remain undefeated when the sun comes up on Sunday.
Florida has failed to score at least 25 points in six of its last seven games, and the Gators are fresh off a putrid 207-yard performance offensively against Florida State last week. Austin Appleby played for the third straight week for injured starter Luke Del Rio, and the latter's availability for Saturday is still unknown. Yet, their numbers suggests that it will not matter a great deal:
2016 Florida QB Numbers

| | | | | | | |
| --- | --- | --- | --- | --- | --- | --- |
| Player | Games Played | Completion Percentage | Yards | Yards Per Attempt | Touchdowns | Interceptions |
| Appleby | 7 | 60 | 964 | 6.65 | 6 | 2 |
| Del Rio | 6 | 56.7 | 1,358 | 6.76 | 8 | 8 |
NCAA.com
The main reason for that is the historically great defense Alabama fields. The Crimson Tide lead the nation in scoring defense at 11.3 points allowed per game and total defense with 246.8 yards allowed per contest. This unit is also currently playing its best football of the season, per ESPN Stats and Info:
In the SEC championship game, Florida will face an Alabama defense that did this in November. pic.twitter.com/xMADjy2naK

— ESPN Stats & Info (@ESPNStatsInfo) November 27, 2016
This does not bode well for Florida's anemic attack. Even though it has a strong defense of its own, ranking fifth nationally with 14.6 points allowed per game, Alabama has more than enough playmakers in quarterback Jalen Hurts, running back Damien Harris and receivers Calvin Ridley and ArDarius Stewart to create enough offense to get by the Gators.
As for who Alabama will play, that could be a bit of a mystery.
Washington sits at No. 4, and the Huskies have a big-time matchup on Friday with No. 8 Colorado for the Pac-12 championship. If they take down the Buffaloes, the Huskies will surely be among the Top Four teams.
However, Washington may not have to face Alabama. Ohio State is at No. 2, but the Buckeyes are not playing in a conference title game this weekend due to losing a Big Ten East tiebreaker with Penn State. It is very unlikely that Ohio State would fall out of the playoff, but impressive performances from No. 3 Clemson and Washington could move these two up in the rankings, setting up a 2014 first-round rematch.
What would happen if Washington were to fall on Friday? Well, that is where the real uncertainty lies.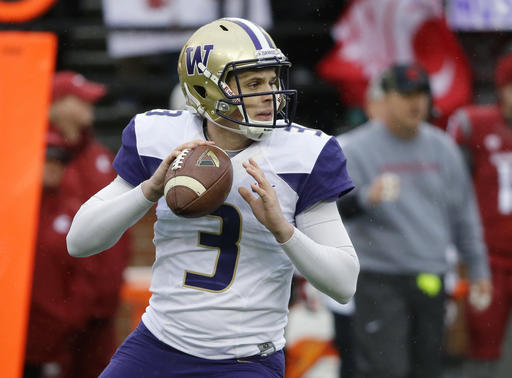 Ted S. Warren/Associated Press
It can be assumed that the loser of the Big Ten title game between Penn State and Wisconsin would be eliminated. With Oklahoma and Oklahoma State sitting far back at No. 9 and No. 10, respectively, it seems the committee is set on leaving the Big 12 out. That would leave the Big Ten champion, Colorado and Michigan as the three most likely contenders.
Michigan may have the strongest case, seeing as the Wolverines defeated Colorado, Penn State and Wisconsin this season. However, this sensational resume does not include the conference, or division, title the other two teams would have. In its first two seasons, the committee has not selected a school that did not win its conference.
If Washington Loses, Who Should be in the CFB?
If Washington Loses, Who Should be in the CFB?

Colorado

Michigan

Penn State/Wisconsin

Oklahoma/Oklahoma State
A victorious Penn State would be a conference champion with wins over Ohio State and Wisconsin, yet it lost to a good, but not great, Pittsburgh team and was smacked 49-10 at Michigan. On the other hand, the Badgers would have less impressive wins over LSU and Penn State, but their only losses were 14-7 at Michigan and in overtime to Ohio State.
What about Colorado? The committee clearly favors the Big Ten over the Pac-12, so would a win over Washington be enough to jump either Michigan or the Big Ten champion? That is pretty much impossible to say right now, but it does not seem likely.
Ultimately, look for Washington to nullify these numerous scenarios with a win on Friday. The Huskies have more talent, as well as a Heisman candidate in quarterback Jake Browning. Colorado is strong defensively, but the Buffaloes do not have the means to contain the likes of Browning, Myles Gaskin and John Ross for 60 minutes.
In that case, expect Washington to move up with its win, along with Clemson. This will leave an idle Ohio State to take on Alabama in an epic matchup.
Prediction: No. 1 Alabama vs. No. 4 Ohio State
Statistics are courtesy of NCAA.com unless otherwise noted.