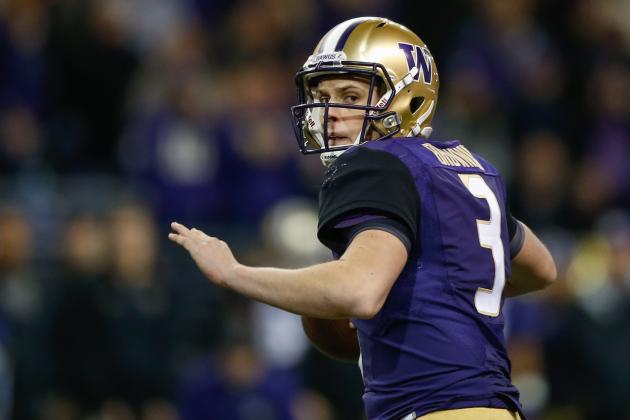 Otto Greule Jr/Getty Images
Washington and Colorado have been the Pac-12's two best teams from the start of this season, so it's only fitting they would meet at Levi's Stadium in the conference championship game possibly with the winner possibly getting a spot in the College Football Playoff.
Chris Petersen has been building Washington back into a national power since he took over in 2014. After 15 wins in his first two seasons, the Huskies put everything together for the school's first 11-win season since 2000.
Colorado is one of the nation's surprise success stories in 2016. The Buffaloes won a total of 14 games in their first five years as members of the Pac-12, only to knock down barriers with 10 wins this season and a southern division title.
2016 Pac-12 Championship Game Schedule

| | | | |
| --- | --- | --- | --- |
| Date | Matchup | Start Time (ET) | Network |
| Friday, Dec. 2 | Washington Huskies vs. Colorado Buffaloes | 9 p.m. | Fox |
Source: Pac-12.com
Washington Key to Victory: Protect Browning
At the risk of stating the obvious, the Huskies have to be able to keep quarterback Jake Browning standing if they want to take home their first conference title in 16 years.
While this may seem simplistic, since every team wants to avoid their quarterback taking too much pressure, it's already been proven this season what happens to Washington when Browning is under constant duress.
In Washington's only loss of the season so far, USC was in Browning's face from the start of the game until the final whistle.
Bryson Vesnaver of Pro Football Focus has the numbers to back up the Trojans' defensive dominance from November 12:
While the offense played well, this game was won because USC's front seven absolutely dominated the game. The Trojans were led by Uchenna Nwosu, who finished with a team-high 85.7 run-defense grade, and also added two hits and six hurries rushing the passer. Porter Gustin was big off the edge, too, notching two sacks, a hit and four hurries. Overall the Trojans held Washington to a measly 61 yards rushing on 22 carries, and got pressure on Washington's Jake Browning on 53 percent of his dropbacks.
Washington's offense was held to 13 points and 276 total yards against USC. The Huskies haven't scored less than 31 points in any other game this season, while Browning has thrown at least two touchdowns in each of their 11 wins.
Some teams in the country are more nuanced in the ways they succeed or fail. While Washington is far from a one-dimensional team—go watch highlights of safety Budda Baker when you're bored—Browning's ability to stand in the pocket is a direct correlation to success for this team in 2016.
Colorado Key to Victory: Leavitt to the Rescue
There are a lot of reasons for Colorado's rise in the Pac-12 this season. The roster opened the season with 21 upperclassmen as starters (11 seniors, 10 juniors). Considering how much that group had endured over the previous few years, they were well-equipped to handle anything.
While the experience certainly helps lead a turnaround, the Buffaloes' strength is on defense where defensive coordinator Jim Leavitt has done one of the most outstanding jobs of any coach in the country.
Nick Kosmider of the Denver Post broke down the ways in which Leavitt transformed Colorado into a powerhouse:
His full-throttle approach has served CU well. Perhaps nothing about the Buffs' resurgent season is as remarkable as the 180-degree turnaround of a defense that looked like Swiss cheese during its first four seasons in the Pac-12.

The Buffs rank No. 1 in total defense in the Pac-12, surrendering 307.8 total yards per game. During CU's first four seasons in the league, from 2011 to 2014, it ranked 10th or worse each season.
Zack Kram of The Ringer further illustrated how Colorado's defense dominates by highlighting what may be the nation's best secondary:
Only Ohio State allows fewer yards per pass attempt, and only OSU, Florida, and Michigan have held opposing QBs to a lower passer rating. On an individual level, fellow corner Ahkello Witherspoon and safety Tedric Thompson lead the Pac-12 in passes defended, and Awuzie falls further down that list only because quarterbacks tend to keep the ball away from the all-conference honoree.
The Buffaloes have an elite pass-rusher in Jimmie Gilbert, who has 10 sacks this season, to create the same problems for Browning he had against USC. The secondary will be able to cover Washington's wide receivers long enough for Gilbert to get in the backfield.
In other words, Colorado's strength is the immovable object with Browning being the unstoppable force heading down the highway at 125 mph.
Prediction
Even though Washington faces a tougher climb into the playoff because of its loss against USC, that could end up being the best thing that happened to the Huskies this season.
The Huskies needed a game against a top-tier opponent to highlight their weaknesses, giving them a reason to refocus. They looked tremendous against Washington State, scoring 45 points with relative ease.
Colorado was a team no one had any expectations for, yet it proved itself as one of the Pac-12's best throughout the season when everyone kept waiting for the team to fail.
A win by the Buffaloes would cap a storybook year, but Washington's offensive talent and Petersen's experience on the big stage dating back to his time at Boise State gives the Huskies a slim edge.
Washington 34, Colorado 28