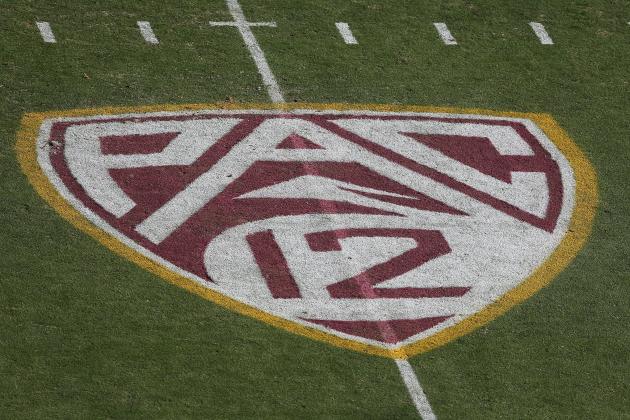 Christian Petersen/Getty Images
Since the Pac-12 Conference held its first championship game in 2011 there have been two distinct trends among the division representatives. Only Oregon or Stanford made the game from the North while the South had sent a different school every year from 2012-15.
One of those trends has continued, as No. 9 Colorado (10-2) won its first South Division title, while in the North the power structure was turned on its head by fifth-ranked Washington (10-2) emerging as the new victor. Now those teams are set to battle for their first conference championship, and with it a chance at making the playoffs.
Washington figures to be in good position to be among the top four in the final playoff rankings with a win, while Colorado would need to pull the upset and get some help via chaos in other conference finals.
The schools last met in November 2014, a 38-23 win by Washington at Colorado. You have to go back to the 1996 Holiday Bowl—when the Buffaloes were in the Big 12—to find the last time they knocked off the Huskies, who have won the last six meetings.
Viewing Information
Date: Friday, Dec.2
Time: 9 p.m. ET
Place: Levi's Stadium; Santa Clara, California
TV: Fox
Radio: Colorado Buffaloes Radio Network; Husky Football Radio Network
Spread: Washington -6 (per OddsShark)
Justin Edmonds/Getty Images
Protect Sefo Liufau
It's been a rough season for Liufau from a physical standpoint, even more so when you consider he was already coming back from a major foot injury suffered in November 2015. He was forced to miss the first two Pac-12 games and has been briefly knocked out of several others as opponents have battered and bruised him.
Some of this is Liufau's own doing, since he has the mobility to get yards on the ground and isn't afraid to extend plays or run into crowds. Colorado's offensive line can't do anything about that but they are responsible for keeping him upright when he does remain in the pocket.
Liufau and backup Steven Montez have beens sacked 27 times this season, and Washington ranked second in the Pac-12 with 36 sacks.
Commit to the run
The Buffaloes average 201.1 rushing yards per game, running nearly 46 times per contest when sacks are not included in the tally. That's the most of any team in the conference and among the highest nationally for teams that aren't option-based. Colorado isn't particularly explosive on the ground, averaging 4.18 yards per carry, but it's scored 28 times on run plays and sticking to that approach has paid dividends.
Colorado's two losses—at Michigan and USC—saw it run the ball only 33 and 29 times, respectively. It gained a mere 160 yards in those games and didn't rush for a TD, while in its 10 wins it had at least one rushing score in nine contests and averaged 49.5 carries.
Phillip Lindsay has run for 1,136 yards and 15 TDs this season, Colorado's first 1,000-yard rusher since 2010. The Buffaloes are 10-0 in games when he gets at least 12 carries, and he's been particularly strong of late with all four of his 100-yard games and nine of his scores in the last six weeks.
Otto Greule Jr/Getty Images
Make Colorado throw
Washington allows only 3.5 yards per carry and ranks 23rd in FBS in run defense, at 127 yards allowed per game, but those numbers are partly affected by how frequently its opponents take to the ground. Most teams abandon the run early, either because the Huskies have built a lead and forced the issue or because that approach isn't producing the necessary big plays.
And that's by design, as the Huskies want teams to throw the ball since that means testing out the strongest part of their defense. This has become the case even more than earlier with injuries to some notable players in Washington's front seven.
Washington's pass defense numbers are strong across the board. It has intercepted 16 passes, tied for 10th-most in the country, and has picked off at least one pass in 10 of 12 games. The Huskies allow a passer rating of 111.32 with only one quarterback—USC's Sam Darnold—registering a rating over 150, and that's the game they lost.
Opponents have managed just three pass plays of 40 or more yards on Washington and only 10 that went for at least 30 yards.
Convert in the red zone
The Huskies have shown they can score from all over the field, with 27 of their 66 offensive touchdowns coming from outside the red zone. But when they get within their opponents' 20-yard line the points are almost automatic.
Washington has a 94.1 percent red zone conversion rate, which ranks sixth in FBS. It's only failed to score three times in that scenario this season, two coming in the season-opening blowout of Rutgers and the other against USC when a 38-yard field goal was blocked. Every other time has resulted in points, with 39 of 51 possessions ending with a touchdown.
Colorado is stout when its defense is backed up against the goal line, allowing just 17 TDs in 36 red zone trips. In clinching the Pac-12 South Division last week, the Buffaloes held Utah to short field goals on three of five red-zone possessions in a five-point victory.
Justin Edmonds/Getty Images
Jay MacIntyre
The coach's son is often a token player in college football, either a walk-on or someone who doesn't get much action outside of garbage time. MacIntyre is the exception, as he's took on a key role for Colorado as the season went on.
The 5'10", 190-pound sophomore has 29 receptions for 374 yards and a touchdown, with the majority of his production coming in November. He caught seven passes for 90 yards against Washington State and started in place of an injured Bryce Bobo in last week's win against Utah.
Assuming Bobo is healthy for the Pac-12 title game, that means Colorado has an extra man to turn to in the receiving corps. Five different Buffaloes have caught at least 29 passes this season.
Tedric Thompson
To best understand Colorado's evolution on defense the last few years it's best to look at home much Thompson has contributed to stopping the pass. The 6'1" senior safety was part of a unit in 2014 that allowed 35 touchdowns and recorded only three interceptions, all by Thompson, but in the past two years has spearheaded the secondary's improvement.
Thompson has seven interceptions this season, which is third nationally, and that includes a pair of picks last week against Utah and two more in a 10-5 win at Stanford in October.
His 21 total passes defended, including breakups, is tops in FBS. Second is Colorado senior cornerback Ahkello Witherspoon, who has a pick and 19 PBUs.
Otto Greule Jr/Getty Images
Jake Browning
A prep phenom who put up monster stats at Folsom High School in California, Browning had 90 touchdown passes as a senior and more than 220 for his career. He earned Washington's starting job as a true freshman for the 2015 opener and had a good season but not one that jumped off the page.
The same can't be said for his sophomore campaign, as he may be the Pac-12's best hope for a Heisman Trophy finalist.
The 6'2", 209-pound Browning has thrown 40 TDs with just seven interceptions this year, completing 65 percent of his passes for 3,162 yards. He's thrown at least three TD passes in eight games with a pair of six-score efforts, adding two rushing TDs against Oregon to set a school record for total TDs in a game.
John Ross III
Ross is Washington's top all-purpose yardage man, with 1,494 yards this season coming mostly from his job as a wide receiver and kickoff returner. That translates to 124.5 yards per game and 16.2 yards per play, which are good but aren't close to the best in the country.
But Ross' value doesn't stand out in the overall numbers as it does in his ability to make enormous gains at times.
The 5'11", 190-pound junior, who missed all of last season with a knee injury, has 16 touchdown catches on 72 receptions. He also returned a kickoff 92 yards for a TD in the season opener, one of his 13 plays of 30 or more yards in 2016.
Patrick Smith/Getty Images
It's fair to say the turf at Levi's Stadium, site of Friday's Pac-12 title game, doesn't have the best reputation. Since opening in 2014 the natural grass surface has had to be replaced numerous times, though the issues in 2016 haven't been as prevalent as in those first two years.
Still, playing on grass provides a different condition than what Washington is used to. The Huskies play on artificial turf in Seattle and every game they've had this season has been on the fake stuff, compared to Colorado which has grass at Folsom Field and has also played on grass at Stanford and USC.
Petersen: "We're the only team in country who hasn't played on grass, I think." Levi's Stadium has a grass surface.

— Adam Jude (@A_Jude) November 28, 2016
Colorado's rise this season has been among the best stories in college football. The Buffaloes were 4-9 a year ago and went just 5-40 in their first five seasons of Pac-12 play yet the school stuck with coach Mike MacIntyre despite a 10-27 record from 2013-15.
Now Colorado has a chance for its first 10-win season since 2001, which was the last time it won a conference championship. And the Buffs have been embraced by fans new and old across the country, to the point that SB Nation's Bill Connelly has essentially labeled them as America's team regardless of how they do against Washington:
Colorado's moment in the spotlight has been assured. The Buffs are the 2016 Dream Season team no matter what happens, but they could take this a couple of steps further.
William Mancebo/Getty Images
The Pac-12's shot of getting back to the playoffs after being shut out in 2015 rest on Washington's shoulders, but the pressure for the Huskies is even bigger. If they win and earn a semifinal bid that ensures the league will get at least two teams into New Year's Six bowl games, since the Rose Bowl has a spot reserved for the highest-rated Pac-12 team that isn't included in the playoffs.
For a league that has somewhat of an inferiority complex compared to the rest of the power conferences—having most of your games on at night, after most people are asleep, can have a negative effect on perception—getting two teams into big bowls would be huge.
But Washington shouldn't be concerned with what's good for the conference, it has to focus on its own goals. The Huskies drew a lot of buzz in the offseason, to the point that coach Chris Petersencompared his team to the Pokemon Go craze, but they've lived up to the hype with their best season in 16 years.
Colorado is the plucky underdog who was picked to finish last in the South, so getting this far already makes this an incredibly successful season. The Buffaloes are more than capable of taking the title, but Washington has been a different (better) team since losing to USC on Nov. 12 and getting put into a must-win scenario.
Washington 27, Colorado 21
All recruiting information courtesy of Scout.com, unless otherwise noted. All statistics provided by CFBStats, unless otherwise noted.
Follow Brian J. Pedersen on Twitter at @realBJP.