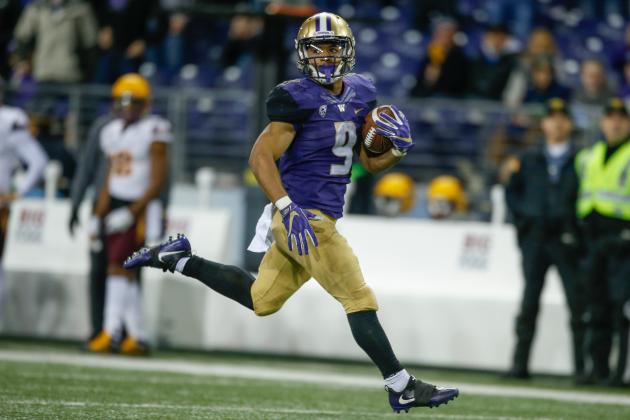 Otto Greule Jr/Getty Images
Before the Washington Huskies can seal their place in the College Football Playoff, they'll have to beat the Colorado Buffaloes in Friday's Pac-12 Championship Game.
No matter the result, one team will end a lengthy title drought. Colorado's last conference triumph came in 2001, when the Buffaloes were members of the Big 12. Washington, meanwhile, last won the Pac-12 in 2000, when it shared the honor with Oregon and Oregon State.
Below is the viewing information for the game, followed by a brief breakdown and prediction for the outcome.
When: Friday, Dec. 2, at 9 p.m. ET
Where: Levi's Stadium; Santa Clara, California
Watch: Fox
Live Stream:Fox Sports Go
Head-to-Head Breakdown
Washington vs. Colorado: By the Numbers

| | | |
| --- | --- | --- |
| | No. 5 Washington | No. 9 Colorado |
| Record | 11-1 (8-1 Pac-12) | 10-2 (8-1 Pac-12) |
| Strength of Schedule | 60th | 23rd |
| Total Offense | 485 YPG (21st) | 470 YPG (T-27th) |
| Total Defense | 329 YPG (17th) | 324 (13th) |
| S&P+ Overall Rating (Percentile) | 96.4% (6th) | 89.4% (15th) |
| S&P+ Offense | 40.7 (4th) | 34.8 (34th) |
| S&P+ Defense | 18.6 (12th) | 18.1 (10th) |
Sources: ESPN.com, Football Outsiders
Preview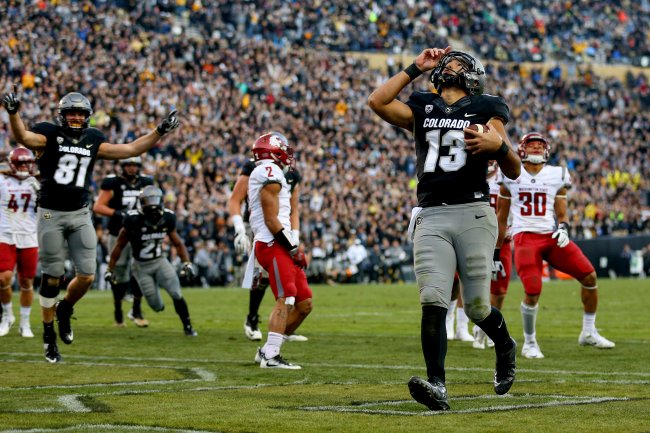 Justin Edmonds/Getty Images
Colorado's first objective will be shutting down the Washington running game. Myles Gaskin and Lavon Coleman have combined to run for 1,915 yards and 16 touchdowns, and the Huskies are collectively averaging 5.5 yards per carry, tied for 16th in the country.
It's no coincidence that Washington's worst performance on the ground came in its only defeat this year. Against USC, Gaskin carried the ball 15 times for 51 yards, while Coleman had six yards on two carries.
Gaskin and Coleman's struggles placed a lot on the shoulders of Jake Browning, and the sophomore quarterback finished 17-of-36 for 259 yards, one touchdown and two interceptions.
The Trojans also constantly pressured Browning, picking up three sacks. His second interception in the fourth quarter came after he was flushed from the pocket.
"That's what you have to do with a great quarterback like Jake," Trojans head coach Clay Helton said, according to the Orange County Register's Joey Kaufman. "You have to be able to get him off his spot and disrupt his timing. That's of critical importance if you want to be effective."
Colorado showcased its defense in the team's 27-22 win over Utah last Saturday. The Buffaloes held the Utes to 339 yards, down from their season average of 427. They also forced four turnovers, the last of which was a fumble return touchdown by linebacker Kenneth Olugbode in the fourth quarter to put the game away for good.
Defensive coordinator Jim Leavitt praised his unit for holding strong in the red zone, limiting Utah to three field goals on four trips.
"I didn't have to tell them anything when they got down there," Leavitt said, per Neill Woelk of Colorado's official athletic site. "We talk about those situations. We practice them during the week. We have leaders who know how to react when those things happen. They know how to respond. That's what they did tonight."
For the season, Colorado is tied for 32nd in rush yards allowed per attempt (3.9) and fourth in opponent passer rating (97.5).
It's easy to overlook the Buffaloes because they haven't had a winning season since 2005, and the last time they were nationally relevant was 2001.
Colorado hasn't won 10 games with merely smoke and mirrors. It boasts a strong defense and enough offensive playmakers in quarterback SefoLiufau, running back Phillip Lindsay and wide receiver Shay Fields to provide balance on the other side of the ball.
Still, Colorado can't afford to let the Pac-12 championship become a shootout. The Buffaloes don't have the offense to go toe-to-toe with the Huskies if Browning and Gaskin are helping Washington consistently move the chains.
In Washington, the Buffaloes are facing off against one of the best teams in the country. Many were right to be skeptical of the preseason hype surrounding the Huskies, who won only seven games last year, but head coach Chris Petersen's team has answered every one of its doubters.
Washington had a bad night against USC, but the same can be said of every other top team not named Alabama. More often than not, the Huskies have cruised through their 11 wins without much drama. They've been especially harsh to their Pac-12 competition. Washington's margin of victory in its eight conference wins is a little over 27 points.
Colorado doesn't stack up favorably against the Huskies. Even if the Buffaloes effectively bottle up Gaskin, they have to attack Browning with the ferocity the Trojans' pass rush did earlier in the month to disrupt Washington's offense, which won't be easy.
Colorado will keep the game close but won't be able to overcome a superior Huskies team.
Prediction: Washington 31, Colorado 27