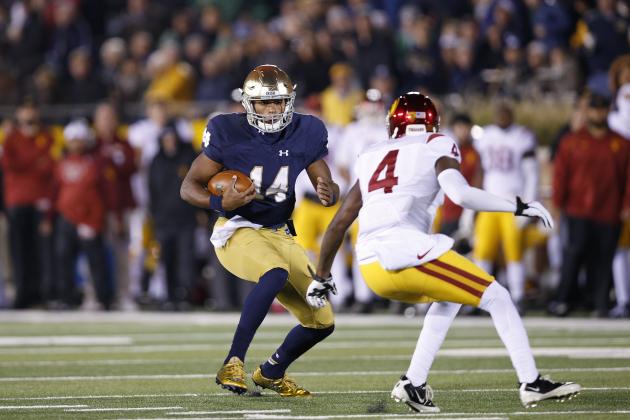 Joe Robbins/Getty Images
Notre Dame and Southern California have played every year since 1947, and for more than 50 years, those meetings have alternated between mid-October and around Thanksgiving depending on who is the host. This time around, it's USC that is welcoming Notre Dame for a regular-season finale that doesn't have much riding on it outside of bragging rights.
Oh, and the Jeweled Shillelagh, a trophy given to the winner and adorned with either an emerald (for Notre Dame) or a ruby (for USC) depending on who comes out on top.
Notre Dame (4-7) is wrapping up its worst season since 2007, which was the last time the Fighting Irish had a losing record. USC (8-3) is heading in a much more positive direction, winners of seven straight and still alive to win a second consecutive Pac-12 South Division title as well as an outside shot at the College Football Playoff.
Viewing Information
Date: Saturday, Nov. 26
Time: 3:30 p.m. ET
Place: Los Angeles Memorial Coliseum
TV: ABC
Radio: IMG Notre Dame Football Radio Network; USC Trojans Radio Network
Spread: USC -17 (per Odds Shark)
Jonathan Daniel/Getty Images
Don't hold back
There's nothing left for Notre Dame to play for but pride, a situation it was in two years ago when visiting USC to end the regular season. The Fighting Irish were already bowl-eligible and had no shot at the playoff, and the effort in that 49-14 loss to the Trojans was lacking.
Notre Dame could end up dealing with the same issue Saturday, but only if it doesn't care how things finish up. Or it could look at the quality of the opponent and how being able to finish strong would bode well for the future.
This could be the final game for redshirt sophomore quarterback DeShone Kizer, whom Bleacher Report NFL draft expert Matt Miller has ranked 10th on his midseason draft big board. There are also quite a few seniors on the depth chart who would like to go out on a high note, such as left tackle Mike McGlinchey, defensive lineman Jarron Jones and cornerback Cole Luke.
Make the extra play
Notre Dame gave up a lot of points early on this season, but entering Saturday, it's only allowing 26.3 points per game. That ranks 55th in FBS, not what you'd expect from a team with seven losses.
It's how the Fighting Irish have lost that stands out, specifically their inability to win a close game. Those seven defeats are by a combined 32 points, and none were by more than eight, though the 36-28 loss to Michigan State is misleading because they trailed 36-7 at one point.
A different outcome on a play here and there, both offensively and defensively, and Notre Dame could have seven wins instead of seven losses. It might seem pointless to try to fix that now with one game left, but with USC being arguably the best team on its schedule this season, maybe that provides the motivation to reverse the trend.
"The Trojans are the kind of team that could throw a lighted stick of dynamite into the close loss narrative Notre Dame has built up this season," CSN Chicago's JJ Stankevitz wrote.
Lisa Blumenfeld/Getty Images
Ground and pound
USC has risen to 39th in FBS in rushing offense, averaging more than 207 yards per game following a 260-yard effort in Saturday's win over rival UCLA. It was the fourth time in the last five games the Trojans have run for more than 250 yards, the same number of times they achieved that tally between 2013-15.
One of the last truly pro-style offenses left in college football, the key to such an attack being effective is balance in order to keep defenses from loading up in one area. During the Trojans' seven-game win streak, they've done just that, throwing 244 times and running 301 times (including sacks).
The emphasis on the run remained even when senior Justin Davis had to miss three games because of injury and sophomore Aca'Cedric Ware was held out twice. Sophomore Ronald Jones II picked up the slack and has responded with a trio of 100-yard rushing games.
Flood the zone
The Trojans aren't particularly strong at rushing the passer, as their 19 sacks are far fewer than the 37 they had last season over 14 games. But they've made up for that by putting enough defenders in coverage to make throwing the ball harder than it should be despite a quarterback having plenty of time.
USC has intercepted 10 passes, including four from Adoree' Jackson and two from Iman Marshall. The team has also been credited with 53 pass breakups, which is tied for seventh in FBS. The combination of interceptions and pass breakups means the Trojans have successfully defended 17 percent of opponents' 371 pass attempts.
Notre Dame gets 60.8 percent of its offense via the pass.
Sam Greenwood/Getty Images
DeShone Kizer
The winner of Notre Dame's highly publicized offseason quarterback competition, Kizer has had a strong season in which he's thrown for 2,705 yards and 24 touchdowns and run for 509 yards and seven scores. Those numbers are comparable to what he had in 2015, when after Malik Zaire got hurt early in the second game he came on and threw for 2,880 yards and 21 TDs with 520 rushing yards and 10 TDs on the ground.
But considering that those around him aren't contributing as much as they did a year ago, Kizer has actually been even more valuable to the Fighting Irish than last season. It also means he's had to take a lot on his own at times, which has led to some rough outings.
Though he only has eight interceptions in 329 pass attempts, Kizer was picked off at least once in six consecutive games at one point. That includes picks on consecutive drives to start the second half in the 17-10 home loss to Stanford, one of which was returned for a touchdown.
James Onwualu
Notre Dame has a proud history of standout linebackers, including some very high-profile ones this decade such as Manti Te'o and Jaylon Smith. But just as important are defenders who haven't gotten as much attention but still get the job done.
Onwualu will be making his 33rd career start on Saturday, 29th at linebacker after he was converted from receiver following his freshman year in 2013. He leads the Fighting Irish with 10.5 tackles for loss and his 72 tackles are third. Onwualu also has five pass breakups, three sacks and three forced fumbles this season, finding a way to contribute in as many ways as possible.
Nearly one-third (23 of 72) of his tackles this season have come the past two weeks, recording 13 against Army and its triple-option run game and then 10 against Virginia Tech.
Lisa Blumenfeld/Getty Images
Sam Darnold
Less than one full season isn't enough to warrant comparing him to USC's all-time greats at the position, but Darnold is at least worthy of being praised in that way many before him were since his play has been a huge part of the Trojans' turnaround. They were 1-2 when he took over as starting quarterback on Sept. 23, and though USC lost by six at Utah the offense looked much more composed than in losses to Alabama and Stanford.
Darnold, a redshirt freshman who lost out to Max Browne during training camp, has thrown for at least 231 yards in all eight of his starts with 22 touchdowns and seven interceptions in that span. He's been picked off six times in the last four games yet still managed to complete 70.1 percent of his throws in that span.
"He is a talented passer who has a knack for extending plays with his feet, which is not something that USC has often had at quarterback," Sports On Earth's Matt Brown wrote.
Darnold only has 214 rushing yards but he's also been sacked just five times. Browne, who started the first three games and has played sparingly since, has been sacked six times.
Adoree' Jackson
One of the best multi-way players in college football, Jackson this season is getting recognized for the work he does most often: on defense. The junior cornerback was named a finalist for the Thorpe Award, given to college football's top defensive back.
Jackson has a team-high four interceptions this season as well as nine pass breakups, 49 tackles and a fumble recovery. That's in addition to his work on offense and special teams, where he has returned both a punt and kickoff for touchdowns in 2016.
For his career, Jackson has scored 12 TDs with six on special teams, five on receptions and one on an interception.
Ronald Cortes/Getty Images
With only 65 schools reaching bowl eligibility heading into the final full week of the regular season, it's looking quite possible that some bowls will need to extend invitations to teams with 5-7 records as was the case in 2015. Notre Dame would be such a team if it were to upset USC, and with a strong APR score—which is how 5-7 teams would be chosen—the Fighting Irish could be in line to play an extra game.
But not if it were up to coach Brian Kelly, who seems resigned to having the 2016 campaign be done with after Saturday:
Brian Kelly: "I'm not real supportive of a 5-7 football team in bowl games." Said decision would be up to the admin.

— Irish Illustrated (@PeteSampson_) November 20, 2016
USC went 7-2 in Pac-12 play this season, winning its final seven after losing to Stanford and Utah at the outset. The Trojans will finish no worse than second in the South Division, which it won last year, and if Utah beats Colorado on Saturday they'd tie for first with Colorado and win the tiebreaker by virtue of their head-to-head victory over the Buffaloes.
That would give USC a 13th game that, if it resulted in a win (and it also beat Notre Dame) would put it at 10-3 and make it an intriguing playoff option depending on what else happens across the country.
Jon Wilner of the San Jose Mercury News doesn't think it's likely, but also doesn't rule it out:
Sizzling as the Trojans might be, would the committee take a three-loss team ahead of a one- or two-loss Big Ten non-champ. You cannot discount September. For one-third of the season, the Trojans were bad. Never say never when it comes to the college football postseason, but USC's path into the playoff is loaded with obstacles.
Harry How/Getty Images
One team is going through its worst season in nine years and is playing out the string, effectively this final game (and the accompanying trip to the West Coast over Thanksgiving) like a de facto bowl game. The other is red hot, winners of seven in a row and still holding out hope it can sneak into the playoffs if enough chaos ensues.
All signs point to USC continuing to win like it has since early October and for Notre Dame to suffer another loss. And with nothing left for the Fighting Irish to play for, that loss could be the largest of the season since the others have all been by eight points or fewer.
USC has won its last five by an average of 23 points, and that includes a 13-point road victory over previously unbeaten Washington. The Trojans have also handily beaten the lesser teams they've faced during their win streak, not playing down to the level of competition.
USC 38, Notre Dame 21
All recruiting information courtesy of Scout.com, unless otherwise noted. All statistics provided by CFBStats, unless otherwise noted.
Follow Brian J. Pedersen on Twitter at @realBJP.