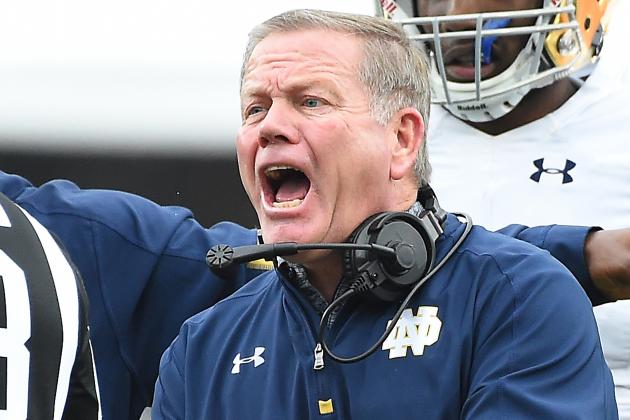 Jayne Kamin-Oncea/Getty Images
Another week, another loss for Notre Dame. It's a theme that has run through most of 2016, and for many Irish fans, this season couldn't end soon enough. Mercifully, it has now come to an end.
For the first time this season, Notre Dame lost a football game with the result not hanging in the balance in the fourth quarter. Prior to Saturday's defeat at the hands of USC, the Irish had not lost a game by more than eight points. In essence, this was the first game all season that was truly out of the Irish's reach.
That's not to say we're about to let anyone off the hook, but as we delve into our final weekly game-grades article of the season, it's important to remember we're not grading Notre Dame's entire season herein. There will be plenty of time for harsh retrospectives in the coming days and weeks. But for now, let's take a quick look at Notre Dame's 45-27 loss to Southern California.
Mark J. Terrill/Associated Press
DeShone Kizer, both Saturday and throughout the 2016 season, proved two things. First, he's an amazingly talented quarterback. Secondly, he is a rough, unpolished quarterback who would greatly benefit from another collegiate season before venturing into the NFL.
Could Kizer find himself an early-round draft pick were he to leave South Bend this year? Probably. Would that be the best thing for his long-term professional career goals? Probably not.
Saturday, Kizer finished with 220 passing yards and a pair of touchdowns on 17-of-32 passing. He also had one very ugly arm punt on the day.
Statistics aside, the major concern for Kizer moving forward—be it in the NFL or in South Bend—is his decision-making. One of the hardest skills for young players to learn is when to take a short loss (or short gain) rather than trying to force a play. While the potential rewards can be exciting, often the risks involved in late, cross-body throws are inadvisable, at best.
Kizer has also shown some inability to adjust to adverse weather conditions this season, and his desire to gain back the lead with one big play is often counterproductive. Unless something has changed, a long bomb into traffic won't result in a 21-point scoring play.
Pass Offense grade: C
Mark J. Terrill/Associated Press
Josh Adams ran for 180 yards on 17 carries, including a 74-yard scamper that set up Notre Dame's first touchdown of the afternoon. Clearly, there's some solid talent in the Notre Dame backfield and on the offensive line.
Talent hasn't been Notre Dame's problem. The Irish have struggled this season with finding any consistency on offense, and that is true for the running game as much as the passing game.
When you're a program like Notre Dame, able to attract the athletes that Notre Dame can, there's no reason that short-yardage situations should be daunting. Yet the Irish often struggle with decision-making on third or fourth downs when it's three-or-fewer yards to the stick.
Yeah, we're constantly treated to a few flashes of brilliance, like Adams' big run to start things off Saturday, but we'd gladly trade all of that in for a little more sustained consistency over the course of 60 minutes.
Run Offense grade: C
Mark J. Terrill/Associated Press
Notre Dame's defense has been improving over the past several weeks, overcoming an early season that saw every opponent go around, over and through the Irish defenders every single Saturday.
That improvement came to a bit of a screeching halt in this matchup.
While the numbers weren't atrocious, giving up 205 yards and two scores through the air, the Trojans were able to exploit—almost at will—some gaping holes in Notre Dame's secondary.
The Irish can defend the deep ball fairly well, and passes near the line of scrimmage can be dicey for any offensive unit. The intermediate passes, however, have been the buttered bread of Notre Dame's opponents all season.
Zone coverages have been soft on the perimeter, and man defense isn't keeping pace with the receivers over the middle. All said, there's so much work that needs to be done on defense to prepare for 2017, it's hard to know what to expect moving forward.
Brian Kelly's first step is probably to go out and find the best defensive coordinator in the game and offer him whatever he wants to come to South Bend and rebuild this mess.
Pass Defense grade: D
Jayne Kamin-Oncea/Getty Images
Before the real issue is addressed, let's get some formalities out of the way. Notre Dame gave up 207 yards and one touchdown on the ground Saturday. Combined, that means the Irish defense gave up three touchdowns, while the Notre Dame offense scored four. So, yes, it could have been worse—much, much worse.
And it almost was a lot worse, but not because of statistics.
There were a couple of incidents in Saturday's game against USC that caught everyone's attention, one pretty bad and one downright disturbing—and both involved Jerry Tillery.
Late in the game, Tillery stepped on the ankle of USC's Zach Banner, who was on the ground following a play, Ndamukong Suh-style.
But it was an incident that occurred just a few minutes earlier that should really irk Notre Dame's coaches. After a hard hit on USC's Aca'Cedric Ware, Tillery walked past Ware, who was clearly down and injured on the play. Rather than taking a half step to the side to avoid Ware, Tillery knocked his foot into Ware's helmet, as if Ware was somehow in his way.
To be fair, neither of these incidents were overly vicious; the step on Banner's ankle wasn't a hard stomp, like Suh's. And Tillery certainly didn't "kick" Ware's head. That being said—especially in regard to Ware—there is no excuse to make any contact with another player's head when he's injured, particularly because the injury was to the head.
What this showed was Tillery's disturbing lack of self-control and an even more upsetting lack of sportsmanship and common decency. With player health—principally concerning concussions—taking such a central role in football today, it's no wonder head coach Brian Kelly, not to mention several of Tillery's teammates, rightfully appeared to react very strongly to Tillery's boorish behavior.
One can only hope this is the last we see of this kind of nonsense.
We'll depart from convention here and hand out two grades. The first is for the run defense as a unit, and we're even throwing in a few bonus points for the guys who stood up to Tillery after seeing his actions on the field.
And to be absolutely clear, we're singling out Tillery and flunking him for his actions Saturday.
Run Defense grade: B-
Jerry Tillery's grade: F (if only there was a lower grade)
Jayne Kamin-Oncea/Getty Images
Remember back to September and how horrible Notre Dame's defense was? The special teams might be even worse (as hard as that is to imagine).
OK, so Adoree Jackson might be one of the most electric players in college football today. Yes, JuJu Smith-Schuster is the perfect combination of speed and agility. But when you give up a punt-return touchdown to one and a kick-return touchdown to the other all in one game, then it's pretty clear you have some serious coverage and tackling issues on the special teams unit.
Heck, Notre Dame's offense outscored USC's offense, but the final score wasn't even close—and it was almost all due to really bad special teams play.
Heck, Justin Yoon even managed to miss his only field-goal attempt of the afternoon.
All in all, there was very little—short of Tyler Newsome's punting—that went right for Notre Dame on special teams. If Brian VanGorder can be fired for how bad the defense was at season's start, shouldn't special teams (and tight ends) coach Scott Booker be sent packing?
Special Teams grade: F
Jayne Kamin-Oncea/Getty Images
We're not really sure what we expected for this game, but we do know we weren't expecting such a lopsided loss. Maybe expectations have been dropping so steadily this season that losing to SC doesn't seem like the end of the world. We knew heading in that the Irish weren't going to be playing a bowl game this season, and let's be fair and acknowledge that the Irish were pretty steep underdogs.
Still, head coach Brian Kelly deserves a fair share of the blame, not only for Saturday's loss, but for all of 2016. We're also going to again call out the aforementioned Scott Booker, whose charge as special teams coach should be coming to a quick end after this debacle.
Over his career, Kelly has been a successful coach. At the end of his 26th season as a collegiate head coach, this marks just his second losing season. Yes, 4-8 is ugly, but one season doesn't make a trend. Kelly still has an impressive resume, even if you only look at his time at Notre Dame. What other coach in the last 25 years has put Notre Dame in a position to at least compete in a national championship game?
Brian Kelly will—and should—start the 2017 season on the hot seat. If some pretty hefty improvements aren't made, it's likely that next season will be his last in South Bend. But Kelly has earned the opportunity to set things right.
He also won a few points Saturday for emphatically coaching up his players on the field after a dismal first half, and we're going to hand out a couple of extra-credit points for his public and fiery rebuke of Jerry Tillery in the fourth quarter.
Coaching grade: C-
All recruiting information via Scout. Stats from NCAA.com, cfbstats.com or B/R research. Quotes obtained firsthand unless otherwise noted. Follow Bleacher Report CFB Featured Columnist and Notre Dame Live Correspondent David Luther on Twitter @davidrluther.