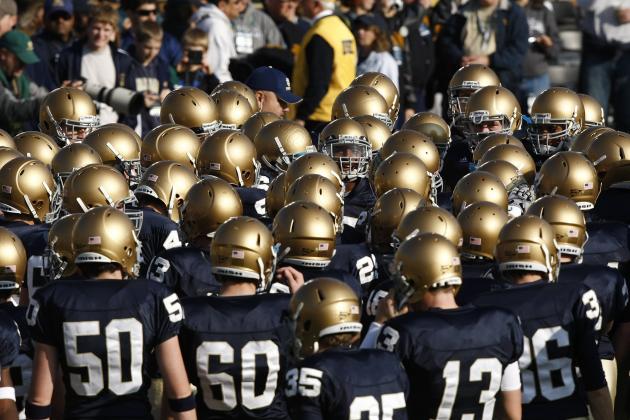 Joe Robbins/Getty Images
An NCAA Division I Committee on Infractions panel determined a Notre Dame student athletic trainer committed academic misconduct for two football players and provided impermissible academic extra benefits to six others.
Emily James of the NCAA's official website passed along findings Tuesday from an investigation into the female trainer's actions. The panel handed down a punishment that stated she should be given one year of probation and a two-year show-cause order, while the university received a $5,000 fine.
The NCAA penalty also included a "vacation of all records in which student-athletes participated while ineligible during the 2012-13 and 2013-14 football seasons." Neither the players in question nor the former trainer is named in the announcement, however.
The Committee on Infractions panel stated the trainer completed coursework for two players after signing a document acknowledging she couldn't provide such assistance, according to the NCAA report. She also failed to ask the compliance office about whether her actions were a violation.
Another unnamed football player was separately found to have committed "academic misconduct on his own."
Notre Dame advanced to the BCS National Championship Game during the 2012 season, which was head coach Brian Kelly's third year in charge. The Fighting Irish suffered a 42-14 blowout loss to Alabama in the January 2013 title game to finish the campaign 12-1.
They went 9-4 the next year, which included a win over Rutgers in the Pinstripe Bowl.
How many of those 21 victories will be vacated, and whether the championship game appearance will be included, wasn't clear because it's unknown which games the ineligible players competed in.
Meanwhile, the Irish are enduring the least successful year of the Kelly era. They are 4-7 following a loss to Virginia Tech over the weekend.
Notre Dame will finish the regular season Saturday when it travels to Los Angeles Memorial Coliseum to face USC.