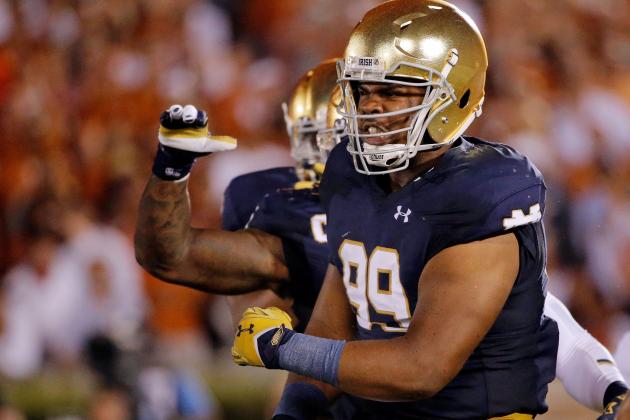 Jon Durr/Getty Images
Notre Dame defensive lineman Jerry Tillery kicked USC running back Aca'Cedric Ware in the head after Ware was down on the turf following a helmet-to-helmet hit in the fourth quarter of Saturday's game between the two teams.
Lindsey Thiry of the Los Angeles Times noted Ware stayed on the turf for several minutes following the hit from Notre Dame's Nicco Fertitta. Keely Eure of USCFootball.com added Ware was eventually able to get up and walk off the field without assistance.
Tillery remained in the game after the incident, but later in the quarter, he stepped on the ankle of USC offensive lineman Zach Banner.
The Fighting Irish were flagged for a personal foul following the hit on Ware.
At the time Tillery shoved his leg into Ware's head, Notre Dame was trailing 38-21. The Fighting Irish would go on to lose the game 45-27, capping off a disastrous 4-8 season that marked the team's worst record since 2007.
Notre Dame head coach Brian Kelly was seen on the sidelines appearing to yell at Tillery after the incident involving Ware. The sophomore remained in the game and later was seen stepping on Banner's leg after USC scored a touchdown on JuJu Smith-Schuster's two-yard reception.
Tillery appeared in 11 of Notre Dame's 12 games this season and had 3.5 tackles for loss coming into Saturday.
Ware has been used sparingly this season but was effective when his number was called. The sophomore averaged 5.1 yards per carry on 76 attempts coming into Saturday's game. He had just eight yards on two carries against Notre Dame before leaving the game due to the scary hit to his head.