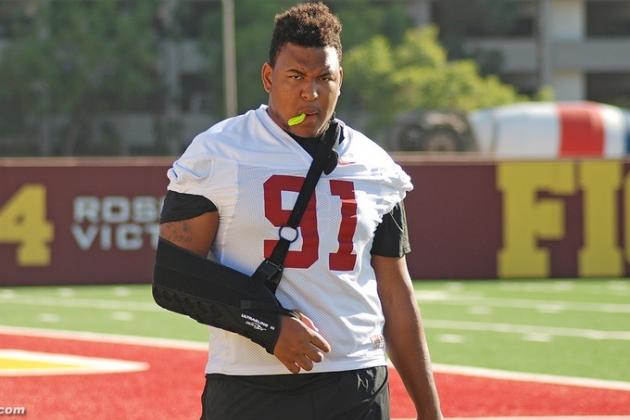 Credit: Scout.com
USC Trojans defensive tackle Noah Jefferson will transfer from the program following a 2016 season that was overshadowed by injury troubles and personal issues, according to Scout's Ryan Abraham.
"Yeah, I'm transferring due to personal reasons," Jefferson said, per Abraham. "I am looking for a new school of choice."
Jefferson only started one game as a freshman, but he flashed promise as a rotational run-stopper in the middle of USC's defense. In 12 games during the 2015 season, Jefferson recorded 23 total tackles.
Jefferson proceeded to start for USC in the team's 52-6 season-opening loss to the Alabama Crimson Tide, but that was the only action he saw all year.
Not only did Jefferson suffer a sprained shoulder, but head coach Clay Helton told reporters the team would hold him out of game action until November to get academic issues straightened out.
"We're always going to put academics first and make sure he's fully healthy," Helton said, according to the Los Angeles Daily News' Joey Kaufman.
At 6'6" and 330 pounds, Jefferson has the physical tools necessary to be one of the nation's most disruptive interior forces.
However, he'll need to find a new home that suits him athletically and academically in order to maximize his potential following a rocky stint in Southern California.