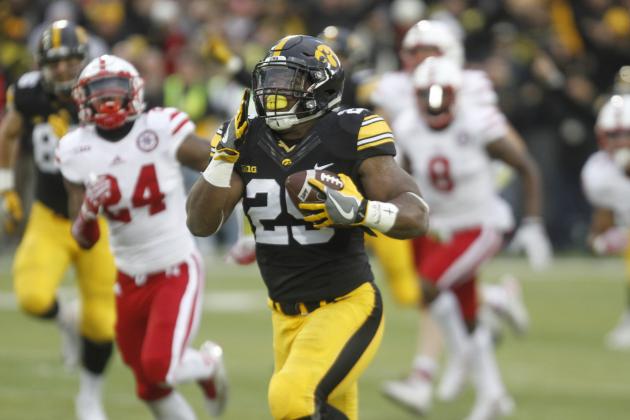 Matthew Holst/Getty Images
Usually a team that exhibits power football, the Iowa Hawkeyes used the big play to blow out No. 16 Nebraska 40-10 to win the Heroes Trophy on Friday night from Kinnick Stadium.
Most of it came from the rushing game as LeShun Daniels Jr. posted 158 yards and two touchdowns, while Akrum Wadley added 105 yards and a score.
It's not often that Iowa defeats Nebraska by that kind of margin, according to John Sears of WHOTV:
Assuming this score holds up, it tied the largest win ever by Iowa over Nebraska. The other 30 point win? 1899.

— John Sears (@johnsears) November 26, 2016
Iowa's defense was just as solid on Friday night, holding Nebraska to 10 or fewer points for just the second time this season.
There were plenty of questions surrounding Nebraska's offense, though, entering Saturday. Tommy Armstrong was dealing with a hamstring injury, while backup Ryker Fyfe underwent wrist surgery on Sunday.
Armstrong was held to just 125 yards and finished 13-of-35, while Nebraska as a team was held to just 217 total yards.
A slow start that saw both teams combine for less than 60 yards in the first 10 minutes was throttled to life with 4:55 left in the first quarter when Wadley broke free for a 75-yard touchdown run to give Iowa a 6-0 lead before the extra point was blocked.
Wadley had to navigate his way through a loaded Nebraska front line before hitting nothing but open space, impressing broadcaster Mitch Fick:
Akrum Wadley's cuts are the things dreams are made of.

— Mitch Fick (@MCFick) November 25, 2016
It was something out of a video game for Saturday Tradition:
What's the jump cut button? Akrum Wadley knows it.

— Saturday Tradition (@Tradition) November 25, 2016
Iowa made it 13-0 on its next possession after quarterback C.J. Beathard hit Riley McCarron for a 77-yard score on the first play of the drive.
It accounted for more than half of Beathard's 144 passing yards on the day.
The sudden outburst shocked the Des Moines Register's Alex Young:

Beathard to McCarron. 77 yards. Where the hell has this offense been? #Hawkeyes#NEBvsIOWA

— Aaron Young (@AaYoung15) November 25, 2016
Granted, it was a noticeable change to Iowa's offense as Brad Rowland of Peach Tree hoops compared the Hawkeyes' first quarter on Friday to its win against No. 3 Michigan:
Iowa accumulated 198 yards in the first quarter against Nebraska.

Iowa had 230 yards in the entire WIN over Michigan.

— Brad Rowland (@BTRowland) November 25, 2016
Nebraska alumnus and former NFL cornerback Fabian Washington couldn't bear to watch:
Well let's go to Iowa City and lay an egg. ?????

— FABIAN WASHINGTON (@FABEWASH31) November 25, 2016
While Iowa's defense remained stout, it did give up its first points in over 89 minutes when it allowed a Drew Brown 35-yard field goal in the second quarter.
But it made up for it with another touchdown that was set up by another big play, a 56-yard run by Daniels down to the Nebraska 8-yard line. He would punch it in from four yards out two plays later.
Salem Radio Network's Steve Deace believed these two teams shouldn't have been on the same field:
This lookalike JV vs the Varsity in Iowa City. Hawkeyes imposing their will.

— Steve Deace (@SteveDeaceShow) November 25, 2016
The big plays continued in the third quarter, when Desmond King returned a punt 44 yards deep into Nebraska territory. It helped Iowa take a 26-3 after Beathard hit George Kittle with a screen pass from one yard out.
Nebraska finally got something going offensively, when Armstrong led his team on a 14-play, 75-yard drive that ate up almost five minutes. On a 4th-and-10 on the Iowa 13-yard line, Armstrong hit Stanley Morgan Jr. for the Cornhuskers' first touchdown of the day.
With Nebraska's defense limiting Iowa heading into the fourth quarter, there was a reason for Cornhusker hope, via Robin Washut of HuskerOnline.com:
If there was ever a time to mention Nebraska's +88 fourth quarter scoring advantage this season, this would be it.

— Robin Washut (@RobinWashut) November 25, 2016
But Nebraska gifted Iowa a touchdown after a running-into-the-kicker penalty during a field-goal attempt gave the Hawkeyes a first down.
It allowed Beathard to hit Kittle for another touchdown, this time from six yards out, to put Iowa up 33-10.
It made taking the field goal off the board worth it for Iowa alumnus and former NFL defensive tackle Colin Cole:
That's why we take points off the board! Touchdown IOWA! #NEBvsIOWA

— Colin Cole (@ColinCole91) November 25, 2016
120 Sports tried to sum it up best for Nebraska fans:
It's been a tough day for the 'Huskers in Iowa. pic.twitter.com/BpW5xnog9c

— 120 Sports (@120Sports) November 25, 2016
Iowa would kill the game off with a drive that took more than eight minutes and spanned 45 yards, all on the ground, and ended with Daniels getting his second score of the day.
Nebraska was playing for an opportunity to become Big Ten West championship, which would have brought about a chance to play for the conference title game if it won and No. 5 Wisconsin was upset by Minnesota. However, the disappointing performance destroyed any hope of that.
For Iowa, it's a solid end to an 8-4 regular season, which is somewhat disappointing considering it went 12-0 last regular season.
But with a big rivalry win under its belt heading into bowl season, Iowa could end 2016 on a great note.
Postgame Reaction
Obviously, Nebraska head coach Mike Riley was not happy with his team's performance on Friday, via Chris Heady of LandOf10.com:
Well that certainly was in all different ways very disappointing. It's very obvious what happened. Everyone saw. We gave up big plays, couldn't sustain anything early and were all over the place on special teams… There wasn't any phase of the game that looked good today.
With division hopes gone, Riley had trouble trying to label the 2016 season, via Heady:
It's hard to assess the season after a game like that. We'll get on with it. We'll get a bowl game, and we'll feel good about that, but there isn't a great feeling right now about a summary of this season.
For Iowa head coach Kirk Ferentz, it might have not been a 12-0 season, but he was proud of the way his team played, via Daily Iowan Pregame:
"Win, lose, or draw tonight, this team has done all the right things." — Ferentz

— Daily Iowan Pregame (@dipregame) November 26, 2016
His Hawkeyes will have one more opportunity to do the right things in a bowl game, where they will get plenty of looks for a larger matchup given their two wins over ranked opponents in the last three games.
Stats courtesy of ESPN.com.