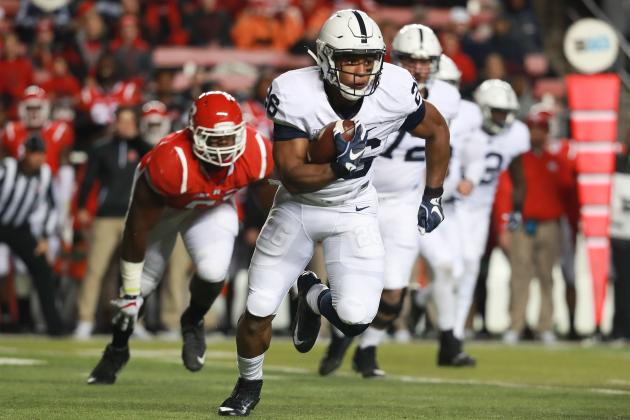 Michael Reaves/Getty Images
Week 12 of the college football season didn't provide nearly as much chaos as Week 11 did, but there is still plenty of drama brewing in the remaining regular-season games.
On Sunday, the Associated Press and Amway Coaches polls released their Week 13 Top 25 rankings as a preview to the College Football Playoff committee's reveal on Tuesday.
Rankings
Reaction
Just like any other rankings release, there were hot takes and confusion after the polls dropped on Sunday as college football fans and personalities took to Twitter.
Alabama held on to its No. 1 ranking with a win over Chattanooga to continue its dominance this season. It will meet Florida in the SEC Championship Game in Atlanta after the Iron Bowl against Auburn.
While not many college programs would want a part of Alabama, an NFL team looks like it does, per SportsCenter:
With the Browns officially eliminated from playoff contention, fans have their eyes set on Alabama. (via @med11n) pic.twitter.com/uysXIqaOAG

— SportsCenter (@SportsCenter) November 21, 2016
Ohio State and Michigan are Nos. 2 and 3 in the AP poll, respectively, which adds even more history to an already-historic rivalry that's set to rekindle on Saturday, per SportsCenter:
For the 2nd time ever, Michigan & Ohio State will face off as AP Top 3 teams. pic.twitter.com/L55kbA5NuD

— SportsCenter (@SportsCenter) November 20, 2016
It gave Go Bucks a chance to bring up Ohio State's current win streak one more time:
1,821 days since ❌ichigan beat Ohio State. #BeatTSUN

— #GoBucks (@LetsGoBuckeyes) November 20, 2016
However, they aren't the only Big Ten schools that are in the Top 10, with Wisconsin at No. 5 and Penn State at No. 8.
If Penn State wins its last game against Michigan State and Ohio State defeats Michigan, the Nittany Lions will play for the conference championship.
A Penn State or Wisconsin Big Ten title could mean a two-loss team would have a chance of making the playoff, which would upset 790 KRD's Howie Lindsey, who covers the former No. 3 Louisville Cardinals, who dropped to No. 11 after their loss to Houston on Thursday:
I know Louisville is out, but Penn State is not one of the best four teams in the country. They might not even be top eight.

— Howie Lindsey (@howielindsey) November 21, 2016
However, if Michigan wins, then it will win the division and help the CFP committee avoid a lot of problems come selection time.
Penn State wasn't the only team that some thought was ranked too high, as Matt Morgan of the Palm Beach Post was trying to figure out how No. 7 Oklahoma got its ranking:
In what universe is Oklahoma better than Penn State? They have only 1 decent win and play tight games against a lot of terrible teams

— Matt Morgan (@MetroMattMorgan) November 20, 2016
For Fox Sports' Stewart Mandel, though, it was too much Big Ten in the Top 10, as he believes those programs will have problems in December and possibly January:
I just have this sneaking feeling this love-fest ends in the Big Ten getting housed in bowl season. https://t.co/L5uGNWH7ou

— Stewart Mandel (@slmandel) November 20, 2016
Other conferences finally made an appearance in the coaches poll this week, too, with Houston of the AAC getting the No. 21 mark after its win over Louisville, much to the delight of CBSSports.com's Jon Solomon:
Coaches poll finally ranks an AAC team again. It's No. 21 Houston. No Navy, which beat Houston & won the division. https://t.co/pmJVYj3eK3

— Jon Solomon (@JonSolomonCBS) November 20, 2016
There are still plenty of questions that need to be answered before a Top Four is clearly deciphered come bowl season.
While Alabama looks safe, the Big Ten basically needs to beat each other up to give college football an idea of who its top team will be. Many already view the Ohio State and Michigan game on Nov. 26 as the conference title game before the actual championship.
But if Penn State makes the title game, or if Wisconsin wins the conference, then a two-loss Big Ten team would come into the mix for a CFP semifinal.
With plenty of football left to be played before the playoff teams are announced on Dec. 4, there are sure to be several more surprises, highlights and hot takes until then.