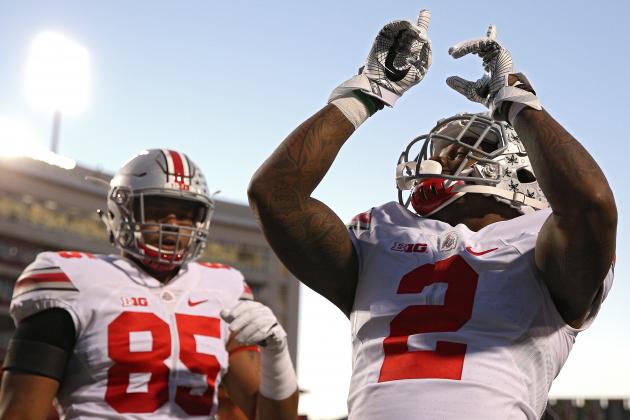 Patrick Smith/Getty Images
Five Top 25 teams lost on a wild Saturday that's sure to shake up the College Football Playoff picture, and those results also figure to have serious ramifications when it comes to this week's Associated Press Top 25 rankings.
Not only did the No. 2 Michigan Wolverines, No. 3 Clemson Tigers and No. 4 Washington Huskies all lose, but the No. 8 Auburn Tigers and No. 10 Texas A&M Aggies both stumbled with chances to make statements as well.
With the craziness still being sorted out, here's a look at fresh Top 25 projections with a focus on some of the biggest potential risers and fallers:
Top 25 Projections Following Week 11

| | | |
| --- | --- | --- |
| Ranking | Team | Record |
| 1 | Alabama Crimson Tide | 10-0 |
| 2 | Ohio State Buckeyes | 9-1 |
| 3 | Clemson Tigers | 9-1 |
| 4 | Michigan Wolverines | 9-1 |
| 5 | Louisville Cardinals | 9-1 |
| 6 | Washington Huskies | 9-1 |
| 7 | Wisconsin Badgers | 8-2 |
| 8 | Oklahoma Sooners | 8-2 |
| 9 | Penn State Nittany Lions | 8-2 |
| 10 | West Virginia Mountaineers | 8-1 |
| 11 | Colorado Buffaloes | 8-2 |
| 12 | Utah Utes | 8-2 |
| 13 | USC Trojans | 7-3 |
| 14 | Oklahoma State Cowboys | 8-2 |
| 15 | Western Michigan Broncos | 10-0 |
| 16 | Auburn Tigers | 7-3 |
| 17 | Florida State Seminoles | 7-3 |
| 18 | Nebraska Cornhuskers | 8-2 |
| 19 | Texas A&M Aggies | 7-3 |
| 20 | Washington State Cougars | 8-2 |
| 21 | Boise State Broncos | 9-1 |
| 22 | LSU Tigers | 6-3 |
| 23 | Tennessee Volunteers | 7-3 |
| 24 | North Carolina Tar Heels | 7-3 |
| 25 | Florida Gators | 7-2 |
Source: Author's projections
No. 2 Ohio State Buckeyes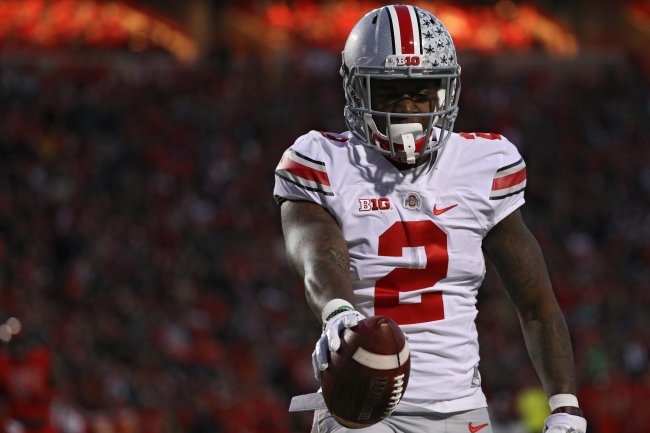 Patrick Smith/Getty Images
For a couple of weeks, it looked like the Ohio State Buckeyes were in trouble.
A loss to the Penn State Nittany Lions was a cause for alarm, and a narrow win over Northwestern the week after didn't inspire much confidence.
But that's all changed.
Back-to-back 62-3 wins over the Nebraska Cornhuskers and Maryland Terrapins have the Buckeyes primed to climb up the rankings, and a Michigan Wolverines loss to the Iowa Hawkeyes will only help matters.
"We didn't take anything for granted," right guard Billy Price said, per the Columbus Dispatch's Bill Rabinowitz. "We've always talked (after) Penn State (that) we took things for granted. We were just so used to winning that it came natural. We took it for granted. (But) nothing in life is given to you at all. A win in the Big Ten is not given to you at all."
Now back on track, the Buckeyes are in a strange position.
Urban Meyer's squad doesn't control its own destiny in the Big Ten East by virtue of the loss to Penn State, which means, if the Nittany Lions close out the regular season 2-0 and the Buckeyes do the same with wins over Michigan and Michigan State, PSU will be playing for a conference title.
However, that scenario wouldn't necessarily disqualify Ohio State from playoff contention.
Should the Buckeyes beat Michigan on Nov. 26, they'll have quality ranked wins over Wisconsin, Nebraska, Oklahoma and the Wolverines. That resume is as good as any in the country, and the fact that their one loss came against a surging Penn State team isn't a huge knock against them.
It would admittedly be strange to see a non-conference champion penciled into the final four, but Ohio State could be the exception when the committee hunkers down and makes its final decisions.
No. 16 Auburn Tigers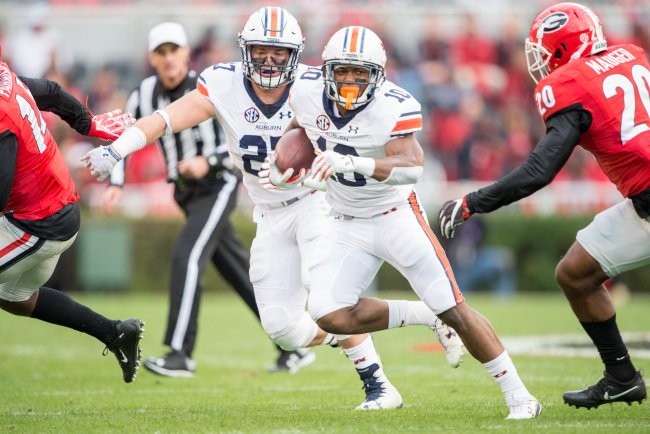 Michael Chang/Getty Images
The Auburn Tigers' outside shot at clinching an SEC West title went up in smoke on Saturday when they fell to the Georgia Bulldogs 13-7 at Sanford Stadium.
As if ceding the division to the Alabama Crimson Tide wasn't bad enough, Auburn was a mess on offense against a Bulldogs defense that ranks 11th nationally in average yards allowed per game (308).
The Tigers completed eight of 22 passes for 37 yards and an interception as a team, and a modest four yards per carry on the ground didn't put them in position to best a Georgia team that moved the ball at a more efficient clip.
AL.com's Kevin Scarbinsky broke down Auburn's offensive struggles:
The play-calling was head-scratching, the decision to stay with wounded and ineffective quarterback Sean White baffling.

Auburn ran 22 plays in the second half against Georgia and gained 32 yards, not once stringing together 10 yards for a first down. Break down those 22 plays, and Auburn ran it eight times and threw it 14 times. Tried to throw it 15 times but White got sacked once.

Let me repeat. The No. 1 rushing team in the SEC, the nation's No. 3 rushing team, threw the ball more than it ran the ball in the final 30 minutes of a one-possession game. Even though its quarterback had trouble throwing and its receivers had trouble catching.
The loss represented Auburn's first since Week 3 against the Texas A&M Aggies, but another knock could be on the horizon.
Although they will have a chance to find firmer footing next week against Alabama A&M, the Tigers will square off against the Crimson Tide in the Iron Bowl on Nov. 26.
And while the Tide don't need a win over Auburn to punch their ticket to the SEC Championship Game, downing their biggest rival with an undefeated season on the line will be too enticing to ignore.
With a four-loss season in play, the Tigers need to tread lightly in order to avoid a drop out of the Top 25 before the season ends.
No. 19 Texas A&M Aggies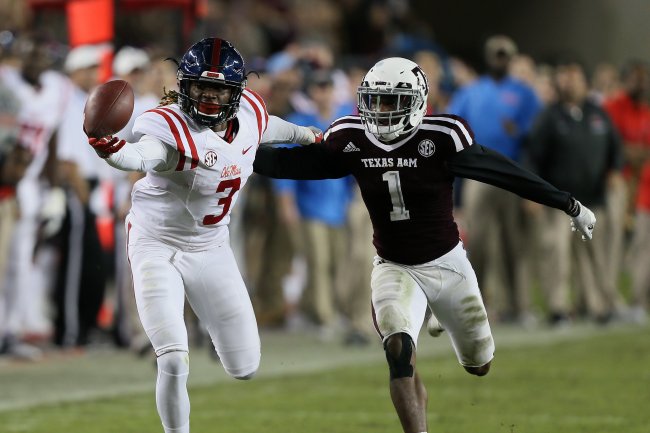 Bob Levey/Getty Images
What a difference two weeks makes.
The Texas A&M Aggies found themselves nestled into the initial College Football Playoff rankings following a strong start to the season, but the wheels have fallen off of late.
As if a 35-28 loss against the unranked Mississippi State Bulldogs wasn't bad enough, the Aggies fell to the Ole Miss Rebels in a 29-28 thriller on Saturday.
Texas A&M is now 7-3 on the season, and its playoff hopes have been dashed with quarterback Trevor Knight sidelined for the remainder of the year with a shoulder injury.
Knight's absence gives the Aggies a small excuse, but losing back-to-back games against unranked competition isn't a good look for head coach Kevin Sumlin since he has a history of coming up short in November, according to SEC Mike on Twitter:
UPDATE: Kevin Sumlin now 3-8 in November SEC the last four years – Ole Miss 29 Texas A&M 29 https://t.co/4umdH31MRQ

— SEC Mike (@MichaelWBratton) November 13, 2016
The Aggies will have a nice chance to get back on track in Week 12 against the University of Texas at San Antonio, but a Nov. 24 date with the LSU Tigers could threaten to drop them out of the Top 25 entirely.